When Patriarchy is a Scheme to Conquer Malnutrition
Mewat is a living example of how Haryana government has failed to look at malnutrition amongst adolescent girls as a socio-economic problem. Neha Dixit reports
"Her father needed money for installing a tube well in the fields, we had no option," says Afra. She is the mother of Humra, 15, who passed away in the Punhana block of Mewat district in Haryana on September 22nd. She bled to death while delivering a child. She was diagnosed with placenta previa. It is the most common risk in teenage pregnancy where the placenta grows in the lowest part of the womb and covers the cervix. The cervix is the opening to the birth canal. Humra's child also died the same day.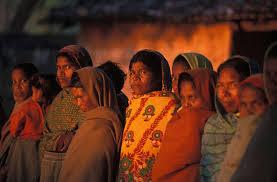 Image Courtesy:en.wikipedia.org
Mewat was carved out of Faridabad and Gurgaon in 2007 and is the newest district of Haryana. It is dominated by Meo-Muslims. They are known to be Hindu Rajputs who were converted to Islam by Moinuddin Chisti's starting from the twelfth century until as late as Aurangzeb's rule. They are classed under Other Backward Castes.
Mewat has one of the highest numbers of child marriages in the country. The average number of family members in Mewat is 8. Not surprisingly, it also has the highest Maternal Mortality Rate at 170 and the worst Infant Mortality Rate at 64 in the country. Doctors often attribute it to anaemia and malnutrition among young girls.
Humra was anaemic with her hemoglobin count at 6. The normal hemoglobin count for a woman ranges from 12 to 15 units. Teenage pregnancy further increased the complications.
Early this year, Chief Minister Bhupinder Singh Hooda announced increased assistance under a scheme that was already riddled with patriarchy and regressive ideas. The 'Indira Priyadarshini Vivah Scheme' launched 'to honor the girl child and prove that she is not a burden to the parents it is befitting that the girls from relatively poor (BPL) Scheduled Castes families and daughters of widows and widows themselves are married gracefully.'
Under this scheme, a grant of Rs. 15,000 was being given to persons belonging to reserved categories and also widows of all the sections of society living below poverty line and Rs. 5,100 was being given to the persons of other sections of the society living below the poverty line, by the Haryana Government. This grant was increased to Rs. 31,000 and Rs. 11,000 respectively. As a result, the expenditure has increased from Rs. 16 crore to Rs 82 crore since its enunciation in 2005. The number of beneficiaries has also increased from 15,000 to 32,000 according to official records.
The land in this area is semi-arid and receives scanty rainfall. Most of the inhabitants are peasants, agriculturists and cattle breeders. Afra says, "Several people have taken advantage of this scheme. Families have been able to get back on their feet, especially those who were battling crop failure." Afra's statement is a bit misleading or say warped in misogynist, patriarchal order of things. Hers is a family of six girls and two boys. Both the boys go to the local school. Humra was married off as soon as she hit puberty, two years back to a boy who was 17 at the time of marriage. "We arranged a school certificate from the teacher in the government school close to our village for Rs 150. That was not a problem." Her father, Abdul applied for the scheme along with the documents to prove that Humra is 18. He received 50 percent of the amount before the wedding and 50 percent after Humra and her husband Haroon's marriage was registered.
Within three months of her wedding, Humra was pregnant. She shared the house with her parent in-laws, husband and 14 sister-laws and brother-in laws. Haroon was the eldest of all siblings. During the sowing season, Humra helped Haroon and her father in law Bashir in the potato fields and cooked for the entire family in the wee hours of morning and dinner in the evening. "She used to make 3kg dough for each meal for the family and eat after everyone. Often, no rotis were left towards the end. Her mother in law used to taunt her for making the next round of dough to prepare rotis for herself," recalls Afra. She had a miscarriage and bled profusely for the next month and a half. After a gap of four months, she was pregnant again.
At this moment, it is important to remember that Mewat's sex ratio, 854 females per 1,000 males, stands significantly lower than the national average, 927 to 1,000. It is also a prime destination for trafficked 'brides.' Rakesh Sengar, a child rights activist tells, "We rescue 5-6 minor girls who have been sold in Mewat as brides. Due to teenage pregnancy, the sex ratio has reached a further low. As a result, girls are regularly bought here as brides."
Scheme after schemes have been launched in Haryana without observing the need for their osmosis on the ground. After the increase in arrear amount in the Indira Priyadarshini Vivah Scheme in 2010, UPA chairperson Sonia Gandhi launched the Janani Shishu Suraksha Karyakram in June 2011. This is when child marriage is on a high and the institutional delivery in Mewat is as low as 42 percent.
Afra, grew up in a family of ten, with a father who was small farm owner. The family she was married into had 18 members. Since the age of 7, she had cooked for all family members often eating the leftover food at last. Before availing the scheme and after, nowhere could it ensure her 'graceful' existence and prove that she was 'not a burden.'
According to a National Family Health Survey III (NFHS-III), 46 per cent of the children suffer from stunting, 43 per cent are underweight and 19 per cent from wasting (weight in proportion to height) in Haryana." The survey has been conducted by Hyderabad-based Nandi Foundation Study, HUNGAMA. The hungama survey came out in 2013
The survey pointed out an important fact that even rich states like Haryana and Punjab could not ensure proper nourishment for its people.
Haryana, in its recent survey under the Indira Bal Swasthya Scheme, that aims to provide preventive and curative healthcare to all children under 18, has recorded a total of 37 percent anemic children in the state. Chief Minister Hooda has announced that these 40 lakh children will be treated through schools. Anaemia is most common in teenage girls who have started menstruating. Lack of iron in the food, lack of proper vegetables in the diet is the primary reason. Humra, did not go to school, neither do many girls like her. Hooda's scheme to tackle anemia then is indirectly meant to benefit, boys like Humra's brothers who already have access both to education and food and are placed higher up in the hierarchy of the list of those who deserve proper meals. And girls like Humra are meant for schemes that are meant for 'honour and grace,' which is not even used for the so-called 'noble' purpose of the scheme. As a woman, she is assumed to be far above the need for basics like food and water
Last year, Afra's sister also married off her 14 year old daughter to buy two goats from the arrear under the Indira Vivah scheme. The government here replaces the buyer in the moduc operandi of trafficked girls, usually calles (called)? 'Paros' in the area. The 'Paros' often deal with disdain even when they are 'brides', for not being familiar with the local culture. Humra, even when from the same area, is no different or better from these 'paros'.
(This story is a one of the six part series on malnutrition. It has been facilitated under the One World-POSHAN fellowship grant.)
Disclaimer: The views expressed here are the author's personal views, and do not necessarily represent the views of Newsclick
Get the latest reports & analysis with people's perspective on Protests, movements & deep analytical videos, discussions of the current affairs in your Telegram app. Subscribe to NewsClick's Telegram channel & get Real-Time updates on stories, as they get published on our website.
Subscribe Newsclick On Telegram