Who Can Tell What Voters of Uttarakhand Really Want?
The Twitterati get a bad rap for being disconnected from ground-level discourses. But at least in one survey, they have risen to the occasion to speak about the needs of all.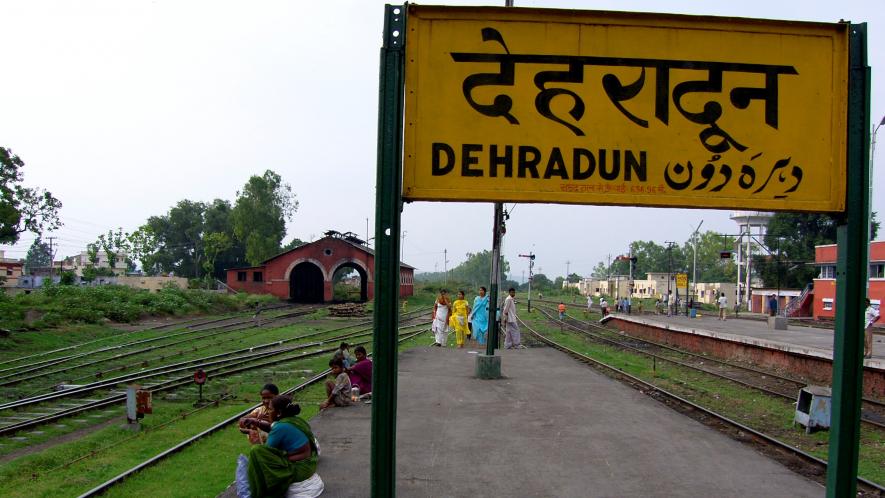 Representational image. | Image Courtesy: Wikimedia Commons
The activists of Dehradun-based Social Development for Communities Foundation sent a detailed online questionnaire asking people in the hill state of Uttarakhand to list their developmental priorities just before the state election on 14 February.
The "Mood of Uttarakhand" poll led by social activist Anoop Nautiyal received over 200 responses via Twitter and Facebook, where the majority wanted their new government to focus on improving employment and health care facilities.
One respondent, Manoj Nautiyal, summed up the prevailing sentiment in the state when he declared, "We were so enthusiastic about the formation of a new state 21 years ago, but our lot has not improved. Lack of employment and health facilities are forcing thousands of young men to leave their aged parents behind to seek employment in metro cities."
This comment brings us to one of the most critical issues affecting this state: the over five lakh people who have migrated to other regions in the last ten years, primarily from the upper areas of Tehri, Pauri, Chamoli and Pithoragarh. The State Migration Commission has confirmed that 60% of the hill-based population has migrated to the plains. Of Uttarakhand's 16,500 villages, 734 are now totally uninhabited ghost villages.
Another respondent, Rajendra Prasad Kuksal, reflected the desperation amongst the hill-dwelling communities when he wrote, "The state government has focused on providing facilities, whether tube wells, poly-houses and cold storage equipment to farmers in the plains, but done little to provide facilities for the hill folks."
Vijaypal Singh Rawat said on Facebook, "Whereas employment, health and migration are the key issues facing the public, the politicians' focus is on illegal mining, selling liquor and generally making money by hook or by crook."
Ritesh K. Bhattacharya makes the same observation. "Our villages have emptied out or are on the verge of emptiness. Old people have been left to their own devices," he wrote.
Uttarakhand has 70 Assembly seats, of which 34 are in the hills. Some respondents highlighted how fundamental issues of man-animal conflicts, environmental destruction and better educational facilities had been sidelined by the inflammatory rhetoric of BJP candidates, especially after the so-called Dharma Sansad at Haridwar.
A respondent who wrote under the nom de plume Dilliwala expressed regret about how the elections are being taken over by "Hindu-Muslim" talk. While the ruling Bharatiya Janata Party (BJP) has accused the Congress party's leaders of "appeasement politics", the Congress, in turn, has accused the saffron party of playing the polarisation card.
Dehradun-based Vidhu Gairola, a mechanical engineer by training, is horrified at political parties manipulating religion. "Religion needs to be divorced from politics. Why is one religion being pitted against another? This can have horrific consequences," he said.
Ashish Dwivedi summed up the views of the man-on-the-street when he tweeted, "Hame aisi sarkar chahiye jo mandir masjid nahi rojgar de—We want a government that gives employment, not temples and mosques." The National Statistical Office survey found unemployment had crossed 27% during the last quarter of 2020 and was higher than the national average of 25%.
Alcoholism and increasing drug use have found a mention in these responses too. Naresh Kala believes that Uttarakhand should be made dry because of the "easy availability of booze". "The drinking mess is nothing less than a pandemic," he wrote.
Dunning Kruger highlighted how "Hard drug usage among kids and young adults [has gone] through the roof. [There is] easy access and cheap price for low-level drugs," he warned.
Environmental destruction through rapid deforestation and increased sand mining along rivers is a concern for citizens, but it hardly reflects in the high-pitched rhetoric of the political class.
Shobha Gairola wondered why Uttarakhand had not followed the footsteps of Sikkim, which has been declared an organic state. "We have plenty of indigenous herbs and if facilities are provided to hill farmers, it will help them generate a substantial income," she wrote.
Shailesh Parihar writes, "Forget about big things. Outsiders are selling even our nettle leaves in the name of Uttarakhand for Rs. 800 for 100 grams, and farmers who are growing it are getting pennies. And we think Uttarakhand has nothing. The only thing we don't have is financial support, a marketing plan and a simple idea."
Deforestation has accelerated the man-animal conflict. According to the Forest Department, by December 2021, there were 900 deaths due to animal attacks and 5,000 were injured in the two previous decades. Kruger also complained that monkeys have destroyed standing crops and orchards in the Almora region.
Political accountability is another demand made across all respondents. Love Bedwal's sarcastic view on this subject is that the MLAs have "only one vision, to earn enough money that their seven [future] generations can wallow in luxury. An MLA here has bought land for Rs. 10 crore."
Balesh Makreti writes, "We need proper enquiry into the amount of money each MLA earns during his five-year tenure."
Road connectivity and the growing incidence of landslides is another issue politicians need to address. Mohit Uniyal Sharma, a social activist who was the Congress candidate from the Doiwala constituency located next to Dehradun (before his nomination was shot down), believes road connectivity needs to improve. He cites Badkot village, where young boys and girls have to walk 16 kilometres on dangerous mountainous paths to reach school. "Schools cannot be opened in every village, but basic civic amenities must be provided in far off mountainous regions," he said.
Improved health facilities is another recurring theme. Baljinder Singh, a prosperous businessman from Dehradun, believes a comprehensive health policy is a must. Singh said, "This whole thrust towards privatisation has created a situation where the public...have no choice but to pay up."
The respondents complain about how the quality of life has fallen and the lack of reliable water or electricity supply. "When I ask the concerned authorities why we failed to receive our regular water supply on a particular day, I am often informed that the source of water has dried down. Can I say my source of money to pay my dues has died down?" asked Gairola.
Commenting on the need for public transport, Ashish Sood tweeted, "A country is not rich if everyone owns a car. It is rich if nobody needs a car." Another respondent, Abhishek Bhatt, wrote, "Jhoothe vaadon se aazadi, berozgaari se aazadi, Jai Uttarakhand—Freedom from false promises, freedom from unemployment, Hail Uttarakhand."
S. Gairola tweeted that the government must introduce a law to regulate the sale of land. The demand is echoing across the state for a rule like in Himachal Pradesh to prevent indiscriminate land sales, especially to the land mafia.
Vishesh D Areyou's cynical comment sums up the mood of voters who believe the election agenda is no longer dictated by what people need. "It will boil down to selling religion, naked nationalistic jingoism, tomfoolery, rather than employment, jobs and better health care for everyone, the environment," he tweeted. His views echo with Atul Khanduri's, who said, "Issues are immaterial, people will vote on Modi's name, caste, party loyalty, personal affiliations, no government does anything about the core issues of the state."
This is why political parties can survive despite steering away from discussing the rising frequency of calamities in the state. The flash floods in Raini village in the Chamoli district, which left several dead and over 200 missing a year ago, should have been a major election issue. Sadly, disaster prevention gets little attention in the current electoral discourse. The good news is that the public believes this needs to change.
The author is an independent journalist. The views are personal.
Get the latest reports & analysis with people's perspective on Protests, movements & deep analytical videos, discussions of the current affairs in your Telegram app. Subscribe to NewsClick's Telegram channel & get Real-Time updates on stories, as they get published on our website.
Subscribe Newsclick On Telegram