Who Were 23 People Killed in UP During Anti-CAA-NRC Protests?
Most of the dead were Muslim daily wagers who succumbed to alleged police bullets. Close to a month after the killings, only three families have received post-mortem reports, say activists.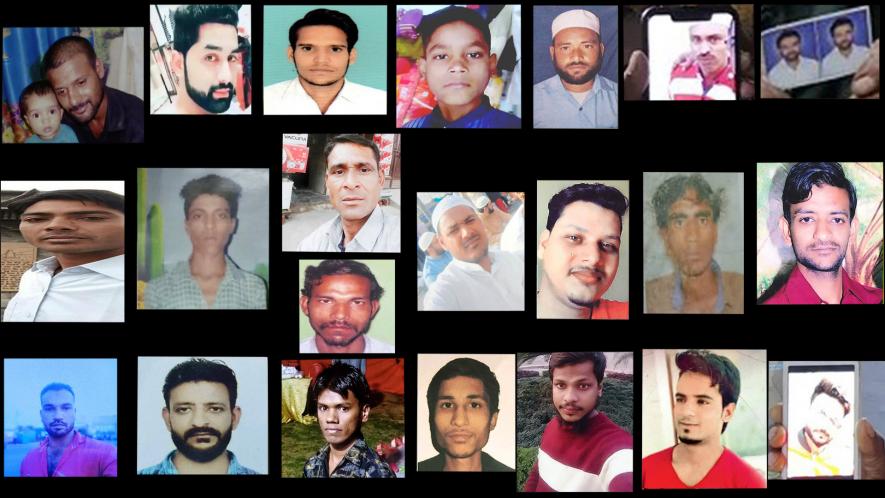 New Delhi: Twenty three people were killed in the brutal state crackdown during the anti-Citizenship (Amendment) Act, 2019 (CAA) and the proposed nationwide National Register of Citizens (NRC) in Uttar Pradesh. Chilling details are now emerging about the kind of repression unleashed in the state that has left many questions unanswered.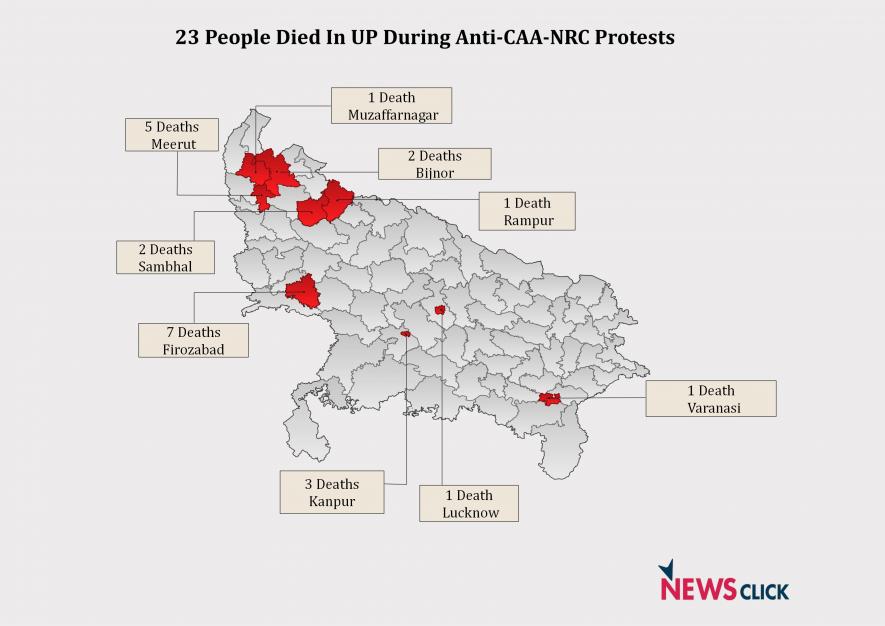 The highest death toll in the crackdown is reported from Firozabad district, with seven people killed, followed by Meerut which saw five casualties, three in Kanpur, two each in Bijnor and Sambhal and one each in Lucknow, Muzaffarnagar, Rampur and Varanasi, Prime Minister Narendra Modi's home turf.
CAUSE OF DEATHS
According to media reports, 21 casualties took place due to bullet injuries, one minor was crushed in a stampede during lathi-charge and one person reportedly died of head injury hit by a stone. However, several political parties and various fact-finding committees have alleged that most of the deaths were caused by police bullets.
Ironically, only three families of the deceased have received post-mortem reports while the remaining 20 families are still awaiting the same. CPI(M) Polit Bureau member Subhashini Ali, who visited Meerut, Bijnor and Kanpur and met families and relatives of those killed in the violence, claimed that all the deaths were caused by bullet injuries and the victims were hit above the waist.
"As of now, the figure has already reached 22 after a young man from Firozabad died three days ago. It's a very tragic thing but most of the men killed were young, belonged to extremely poor families, all belong to the minority community and all of them were killed in police firing. Of the 23 families, only three have received the post-mortem reports. These are the families of Anas and Suleman, who were killed in Nehtaur area of Bijnor district. The autopsy report mentioned that two were killed by bullets. The post-mortem report of Mohammad Wakeel, killed in Lucknow, has also been given to his family and, I believe, he too was killed by a police bullet. Families of other victims who were killed by bullets haven't received the post-mortem reports. Neither have these families filed any FIR against the police, nor they are going to receive any compensation. This is extremely unjust and illegal thing that the UP government has done," Ali told NewsClick.
When asked why the authorities in UP were not giving the post-mortem reports to the families of the victims, Ali said, "The reason is the government wants to hide the fact that police actually shot these young men dead. All of them have been shot above the waist. Some in the head, some in the eye, some in the stomach, some in the chest, and others in the back. This is something the government wants to hide. To begin with, they were saying that not a single bullet was fired, now they will have to change the statement."
Explaining the pattern of alleged police brutalities and chaos in Muslim localities, the former MP from Kanpur, added, "We must remember that all the firing and stampede occurred after chief minister Yogi Adityanath made that statement asking for revenge, and police officers acted accordingly."
Earlier, the families of the victims told NewsClick that they could not file FIRs and complaints against the police as they did not receive post-mortem reports. Also, several families did not opt to file complaints out of fear of reprisals by police that they could face false cases.
Earlier, Adityanath had warned that he would confiscate properties of those who were allegedly involved in violence during the protests in the state. "I have called a meeting over this. You cannot indulge in violence in the name of protest. We will take strict action against such elements. Will seize the property of those found guilty and claim compensation for damage to public property," he had said.
Fearing confiscation of properties, activists have alleged that many families were in fear and did not seem interested in taking on the police.
It may be noted that the police crackdown on protesters across the state intensified after Adityanath's controversial "revenge" remarks on January 19.
"They (protesters) have been captured in video and CCTV footage. We will take 'badla' (revenge) from them. There was violence in Lucknow and Sambhal and we will deal with it strictly. All properties of those involved in damaging public assets will be seized and auctioned to compensate for the losses," he had said.
The families of most of the protesters killed during the violence hail from poor financial backgrounds. And most of the victims were daily wagers.
In Meerut, five of those killed due to bullet injuries were Mohammad Aasif (20), Aleem Ansari (24), Zaheer Ahmed (45), Asif (33), Mohsin (28).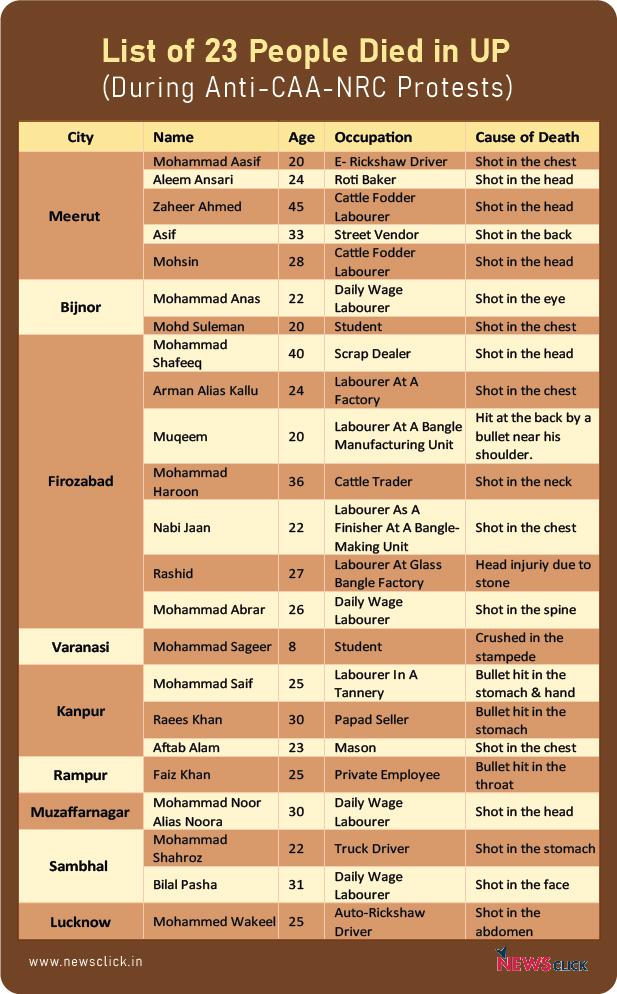 The victims-Mohammad Anas (22), Mohd Suleman (20) are from Nehtaur in Bijnor district. Mohammad Shafeeq (40), Arman alias Kallu (24), Muqeem (20), Mohammad Haroon (36), Nabi Jaan (22), Rashid (27), Mohammad Abrar (26) are from Firozabad. Mohammad Sageer (8) is from Varanasi. While, Mohammad Saif (25), Raees Khan (30), Aftab Alam (23) are Kanpur. Faiz Khan (25) came from Rampur, while Mohammad Noor alias Noora (30) was a resident of Muzaffarnagar. Shahroz Usmani (22) and Bilal Pasha (31) were from Sambhal and Mohammed Wakeel (25) from Lucknow.
NewsClick spoke to the families of Anas and Mohammed Suleman who lost their lives in police firing at Nehtaur in Bijnore district. Suleiman was a civil aspirant and Anas was daily wager in Delhi. "He stepped out to buy some milk for his child. He had nothing to do with the protests," Anas's father Arshad Hussain told NewsClick.
Rashid from Firozabad succumbed to head injuries and a 28-year-old HIV patient was killed by firearm injuries sustained during Friday's (December 20) protests in Kanpur.
Faiz Khan from Rampur was reportedly shot in the throat, while Zaheer, Aleem, Mohsin and Asif, succumbed to alleged firearm injuries sustained during the December 20 protests.
The brutal repression and subsequent death of 23 people in Uttar Pradesh, most of them in alleged police firing, during anti-CAA protests give a clear indication of how the state government failed to tackle the protests in a humane way.
Taking cognisance of the police brutalities in UP, several civil society organisations
organised a 'People's Tribunal' in New Delhi on January 16. After receiving multiple testimonies from victims' families and reports of fact-finding committees on the biased action of police on December 19-20, the jury made scathing remarks on the conduct of UP police officials.
"We are convinced that the entire state machinery acted with grave prejudice and perpetrated violence targeting the state's Muslim population and the social activists leading the movement," said the jury comprising Justices A P Shah and Sudarshan Reddy, among others.
'IMPROPER' AND HURRIED BURIAL
There is a common thread in every death — insistence on speedy burial, no funeral procession, no proper funeral rites and families forced to conduct last rites and burial before dawn. Many families claimed they begged with folded hands before the police to allow them to bury their loved ones in their local graveyard but the police didn't give them permission saying that it could flare up communal violence.
NewsClick met five families of those killed in Meerut and two in Bijnor and spoke to several families in Firozabad and Kanpur over phone. Everyone narrated the same story -- that not only did the police force the burial away from the cities, but accompanied the body to the ground. In a few cases, police did not even allow the family to wash the dead body, which is must in Islam.
In Bijnor, Anas and Suleman were buried in their 'nanihal' (maternal grandparent's village). Similarly, all five burials were done in a great hurry as police pressured them, the families said.
The five killed in Meerut, all Muslims, were daily wagers, e-rickshaw driver or labourers. The seven killed in Firozabad were mostly labourers at the local bangle factories for which this city is famous. Kanpur, a city known for its leather industry, swathe death of three daily wagers who used to work in a tannery. The two who died in Sambhal were a truck driver and daily wager. The one who died in Muzaffarnagar was also a daily wager. A young man who died in Lucknow was an auto-rickshaw driver, and the two dead men in Bijnor included a daily wager in Delhi and a civil service aspirant.
Get the latest reports & analysis with people's perspective on Protests, movements & deep analytical videos, discussions of the current affairs in your Telegram app. Subscribe to NewsClick's Telegram channel & get Real-Time updates on stories, as they get published on our website.
Subscribe Newsclick On Telegram