Why Demolition Strategy is Recipe for Social Chaos
Opposition must protest targeted home demolitions, for they destroy faith in real justice. Once-in-a-while tweets will not stop the wheels of injustice pushed by the State.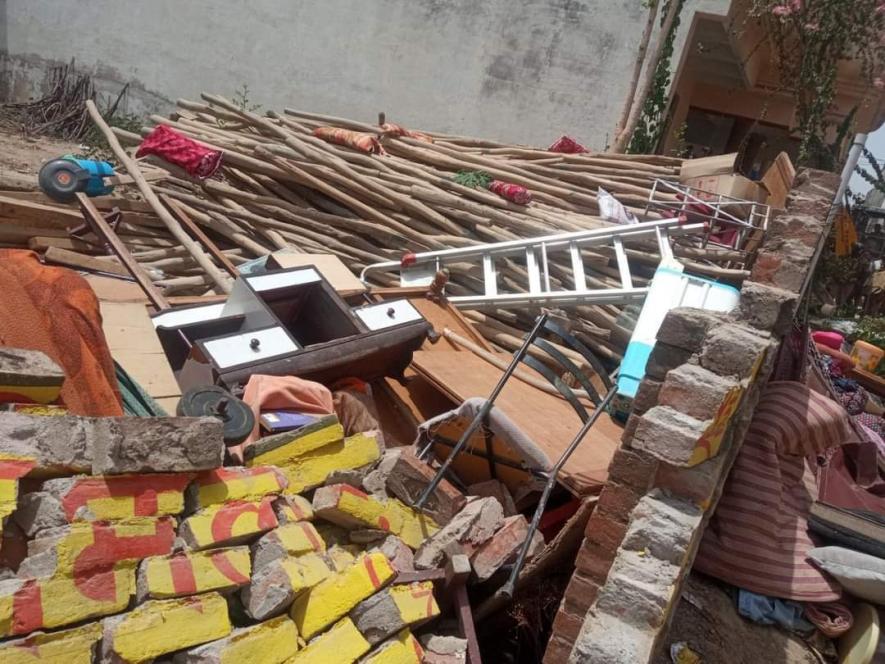 On 10 June, after stone-pelting and violence in Allahabad (now Prayagraj) after Friday prayers, the police first called Javed Mohammad the main accused, then arrested him on Saturday. But on Sunday, the Prayagraj Development Authority (PDA) landed at his house and demolished it. The PDA said in a statement that the Welfare Party leader's house was built illegally, and it had served him a notice about it in May. But the case does not appear so cut and dried. The Indian Express newspaper cited Mohammad's younger daughter, 19-year-old Sumaiya Fatima, as saying the house in question is not registered in her father's name but that of her mother, Parveen Fatima. Mohammad's family produced a receipt the Prayagraj Water Department issued on 8 February, which shows Fatima paid a bill of Rs. 4,578. According to a PDA certificate dated 28 January, the house is in Parveen Fatima's name, and house tax was paid for 2020-21. 
Despite this, the Prayagraj administration demolished the house on Sunday, after just one day's notice. The notice did not mention Parveen Fatima's name either. It referred to her husband, Mohammad Javed, instead. Even though the house belonged to Parveen Fatima, we see a wave of happiness in the cow belt states over the demolition. About a year ago, under the existing Bharatiya Janata Party (BJP) government in Uttar Pradesh, the state police had killed criminal Vikas Dubey in an alleged encounter. Even at the time, people raised no questions about the murder or how it took place. Instead, there was visible only a sense of appreciation for the police and administration. (Recall that late Justice Anand Narayan Mulla of Allahabad High Court once compared the manner of functioning of the Uttar Pradesh Police with that of "dacoits"!) 
For many years, an atmosphere has been created in the country in which people are bound to lose faith in the law and order apparatus. But ever since the BJP has come to power, the conditions created by targeting a particular community are even more chilling. It seems as if the public can start baying for someone's blood, and the government will entertain such requests "on public demand". Does it mean someone will have to die whenever such demands are raised? 
Today's situation did not arise in a day. All leaders of political parties in power and everyone holding a position in an institution of accountability has played a role. It is why, after the attack on Parliament, the Supreme Court ordered a hanging for the sake of the "collective conscience". 
The way Javed Mohammad's house has been destroyed is proof that the rule of barbarism, not law, has been established in this country. What the Uttar Pradesh Police have done during the chief ministership of Yogi Adityanath also proves that in our country, anyone's property can be destroyed and sometimes, someone can even be murdered! 
Even earlier, those who held state power would project the members of Dalit, backward and Muslim communities as criminals, and many were killed in 'fake' encounters after being labelled as criminals. Even then, a small section of the society used to rejoice over encounters. However, most educated people, irrespective of caste or community, opposed encounter killings. Today, rising Hindutva has captured the collective conscience. The status of intellectuals has been reduced to almost nothing. As a result, the voice of the educated and intellectual sections has been entirely suppressed in the clamour of building a 'crime-free' society. 
Javed Mohammad was arrested for allegedly organising a protest although he had written two posts on Facebook on Friday. In the first post, he wrote at 11.22, "If you want to speak with the government on any issue, the best way is to present your issue or demand through a memorandum to the authorities. This city has always been peace-loving. In view of the current situation, we should silently pray to Allah by offering Friday prayers seeking peace for all. Everyone has the right to express their opinion by staying within the legal limits… No one should gather on the road unnecessarily, for which the whole community has to suffer. Read the Friday prayers, go home and pray for peace and love." In the second post at 11.28, he wrote about preparing a memorandum for the State or central government or President, then said, "...No one should unnecessarily gather on the road so that the entire community has to suffer. Read your prayers, go home and pray that peace and love remain intact."
Despite this, the government called him the mastermind of the violence on Friday, and on Sunday, demolished his wife's house. And till date no powerful voice, other than those from civil society, has arisen in protest! The main opposition parties of the state, especially the Samajwadi Party and Bahujan Samaj Party, fulfilled their duty by giving the government advice through tweets. 
True, on Sunday, the authorities targeted the home of Javed Mohammad, a Muslim. True, the ruling party has targeted his community for eight years, and true, the parties they have supported for years have also abandoned them. But imagine for a moment if it was the home of a Yadav or Jatav being demolished for a similar 'crime' as Mohammad's. In that case, would Akhilesh Yadav or Mayawati have absolved themselves of responsibility with just a tweet or two? But why go by caste or identity alone, what if the home of a relative of Akhilesh Yadav's or Yadav's or Mayawati's own homes were to be demolished? What would they have done in that case? The sad fact that triggers despair is that even if the houses of Rahul Gandhi, Priyanka Gandhi, Tejashwi Yadav, or any other leader are demolished today, the question will not arise in anyone's mind why justice is being destroyed and summary justice implemented in its place. 
One may well wonder why Javed Mohammad is being compared with Akhilesh Yadav, Mayawati or Rahul Gandhi. The only answer is that when the rule of law ends, someone's house can be broken into, and someone can be murdered. It is not necessary that the homes of only those who have committed any crime will get demolished. It also means that the house of all those who question the government can be destroyed. The next person whose house will be broken will not just be the alleged criminal: it could be any of us. 
The author is an independent writer. The views expressed are personal.
Get the latest reports & analysis with people's perspective on Protests, movements & deep analytical videos, discussions of the current affairs in your Telegram app. Subscribe to NewsClick's Telegram channel & get Real-Time updates on stories, as they get published on our website.
Subscribe Newsclick On Telegram