Why Does Jammu Region Have Less Cases But Higher Deaths Than Kashmir?
While doctors blame the double variant of the virus, the dire condition of government hospitals in Jammu cannot be overlooked.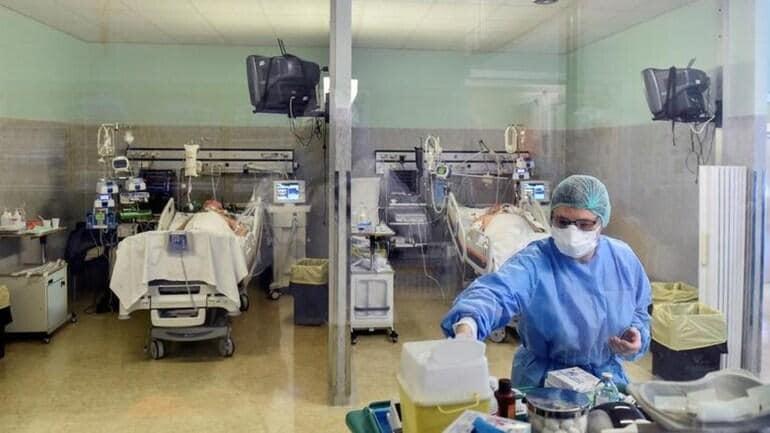 Image for representational purpose. Credit: India Today
Robin Pandita (25) screams in misery every time someone asks him about his mother. He doesn't want to remember how he repeatedly went from the basement to the COVID ward, pleading to every doctor and nurse to put his mother, Pushpa Pandita (51), on a ventilator. According to Pandita, no one knew how to set up a BiPap machine, which is a non-invasive form of ventilator, and there was no senior doctor in sight. 
"I requested someone from outside who arrived and helped us with the equipment," Pandita said. 
Four hours later, Pushpa died hooked to a ventilator at Jammu's Government Medical College, leaving her wailing son behind. 
"I regret taking her to the hospital. She was better at home. She might have survived," the 25-year-old said. 
Different Death Rates
The death graph in the Jammu region of Jammu and Kashmir is witnessing an upward surge. Confirmed Covid-19 cases jumped from 1.3 lakh on April 1 to 2.3 lakh on May 13 while deaths increased from 1,998 to 2,967 in the same period. But these aggregate figures conceal a bizarre difference between the two regions of Jammu and Kashmir divisions. 
As the charts below show, the Kashmir division has reported consistently a higher number of confirmed cases over this period of the second wave. But Jammu division, despite having less cases, has more daily deaths. Data is from media bulletins on the novel coronavirus, Government Of Union Territory of J&K.
In the last fifteen days – May 1 to May 15 – Jammu region has recorded 23,481 (36.5%) of the Union Territory's total cases while Kashmir reported 40,903 (63.5%). In the same period, Jammu has reported 519 deaths (64.3%) whereas Kashmir has recorded 288 deaths (35.7%).
The number of recoveries from both the regions also varies significantly. The Jammu region has recorded 13,662 (33.7%) recoveries between May 1 to May 15 while Kashmir has reported 26,799 (66.23%) recoveries. 
Amidst this dire scenario, doctors and health administrators are struggling to explain the difference between the two regions. Census 2011 had reported that Jammu division had about 54 lakh population and Kashmir division had 69 lakh. So, the difference between the number of Covid-19 cases may be understandable. Kashmir, with a higher population, is likely to have a higher caseload. But more deaths in Jammu division remain a mystery.  
Double Mutant Strikes Jammu?
Doctors have argued that the variants of the coronavirus including the double mutant are more prevalent in Jammu as compared to the Kashmir region. 
"Jammu is better connected to the rest of India than Kashmir. In adjoining areas like Punjab, the double mutant virus is more prevalent and many travellers have come from there. Moreover, the patients are getting hospitalised late – when they are already in a severe condition," said Dr Bharat Bhushan at GMC.
While the effect of this double variant – which is more infectious and perhaps causes more severe disease  – behind the surge in fatalities in Jammu might be one factor, the crumbling condition of government hospitals in Jammu cannot be overlooked. 
Hospitals Unable to Cope
The situation inside the COVID ward of one of Jammu's premier government hospitals -- Government Medical College (GMC) -- is grim. Many ventilators are lying defunct, oxygen supply is  inadequate, and many patients are left to fend for themselves, according to members of several families whose relatives have died at the GMC.
Hours before Pushpa died, Robin was asked to arrange a BiPap machine for his mother. The machine which is worth Rs 30,000-40,000 under normal circumstances was available to him for Rs 1 lakh. 
"I didn't worry about the money. All I wanted was my mother to survive. Doctors said they don't have a ventilator available. So, I should get the machine which can be used as a ventilator," Pandita told NewsClick. 
Every night, Pandita recalled, the oxygen supply would fall down, and patients would gasp for air. "During the nights, I watched people die in front of me due to a lack of oxygen."
Ventilators provided under PM CARES to GMC were found to be malfunctioning, according to sources. They were found unused in the hospital's storeroom, with the word "unfunctional" scribbled on them. The hospital, on the other hand, denied such accusations, claiming that all of the ventilators are operational.
"We have 118 ventilators and all are functioning. Earlier, there was some problem with operating them, but that has been sorted now. People are buying standalone BiPap ventilators and that is wrong," Sashi Sudan, Principal, GMC, told NewsClick.
Sudan dropped the call and didn't pick up again when asked why doctors are requesting attendants of patients to purchase standalone BiPap ventilators.
NewsClick had earlier reported about the defective ventilators provided using the PM Cares fund in Punjab, and in Poonch and Rajouri districts of Jammu. With several states reporting receipt of defunct machines, PM Modi has asked for the audit of ventilators provided by the Centre.
On May 14, Gian Chand (80) died at GMC in the early hours after being left unattended for four hours after collapsing. According to his son, Somnath Kathuria (51), hours before his death, the BiPap machine he had arranged on doctors' recommendation could not be put to use.
"The nurses and technicians pushed the equipment on my father thrice. He screamed in agony saying that it was hurting him. So, the nurse left a note stating that the patient was uncooperative. They didn't show up even when my father passed out," Somnath, who has tested positive and is in home isolation, told NewsClick.
Somnath is afraid of getting admitted to the hospital after being his father's attendant for five days. "There are no senior doctors to attend to the patients. The nurses have to be requested to see the patients. Attendants are not given PPE kits or gears. GMC has become a mortuary house," he said. 
Somnath's daughter, Kashish, (20) who has also given her swab for testing, said that the attendants had to do everything from cleaning to feeding patients to changing their clothes. "The attendant has to even look for the doctors and then request them to see the patient. Such is the situation."
The number of doctors and other health personnel at the hospital also appears to be far short of the requirement, resulting in inadequate attention and care for the patients. Senior doctors come around once or twice to see patients from a distance and then leave, according to GMC patients speaking to NewsClick. 
"We understand doctors' apprehensions. They, too, have families, but what have we done wrong? My mother was treated like an animal," Pandita broke into tears.
Late Admission or Severity of Virus Variant?
Another hypothesis going around is that higher mortality in Jammu could be ascribed to late admission to the hospitals. 
The National Health Mission (NHM) released a study of the COVID-19 fatality in J&K after the increase in number of deaths led to questions and apprehensions in Jammu. The study said that 93% of the patients who died in Jammu and Kashmir were not vaccinated. Seven percent had received only the first dose only. Forty-six percent of the deaths occurred within three days of testing positive. Over 43% of the total deaths could be traced to those who arrived at the hospital just 1-3 days before their deaths.
This appears to imply that the virus is one of those variants that is causing very rapid and severe symptoms, but it may also hint that the patients are being brought to the healthcare facilities when the disease is advanced. However, no explanation was forthcoming from the NHM. Speaking to NewsClick, Yasin Chaudhary, Director, NHM said, "I have nothing to add. We have given the analysis of the reason behind the death."
Data collated by Peeyush Sharma of NewsClick's data analytics team.
Get the latest reports & analysis with people's perspective on Protests, movements & deep analytical videos, discussions of the current affairs in your Telegram app. Subscribe to NewsClick's Telegram channel & get Real-Time updates on stories, as they get published on our website.
Subscribe Newsclick On Telegram