Why Mewat Simmered for Years Before Tragic July 31 Clashes
Neglect of the region turned into active hatred under the BJP government. The clashes are a result of the encouragement of hate politics.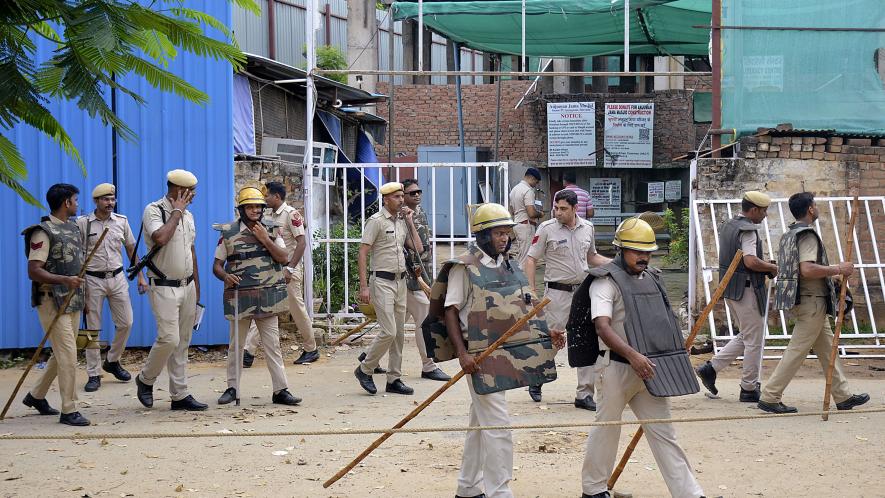 Police personnel outside Anjuman Mosque which was set ablaze in the Sector 57 area, in Gurugram district, Tuesday, Aug. 1, 2023. Image Courtesy: PTI
Haryana's Mewat region had been simmering for long before the tragic violence of July 31. The tipping point was the state government's indifferent attitude after the brutal killing of two Mewati men, Junaid and Nasir, in February in Bhiwani. Men accused of those murders were no less than Hindutva goons, but they wear the garb of cow protectors. One of them—Bajrang Dal member Monu Manesar—has repeatedly targeted Mewatis with vicious hate speeches and worse.
The general feeling in Mewat is that Monu Manesar has been let loose on them. His declarations on social media that he would join a procession through Nuh, the chief town in the region, to mark a Hindu religious event assiduously cultivated by Hindutva groups. The Meos resented this and expressed their strong disapproval, but it was ignored.
The situation proved provocative enough for rioting and counter-rioting to occur in an area that never saw such violence before. This tragedy could have been avoided if the Muslim community had been simply assured—through diligent police work—that the alleged killers of numerous community members did not have godfathers in the ruling regime.
The naive may still wonder why the state government did not harness the blatantly communal characters who provoke the 'other'. They may ask where the intelligence arm of the Haryana Police was and why the authorities waited for rioting before stepping in. And they may as well as if there is an agenda behind it all. But it is a fact that the Mewat region (it includes parts of Haryana and Rajasthan, with small pockets in Uttar Pradesh and Outer Delhi) and its people have been repeatedly treated like a monolithic Muslim 'crowd'—shunned, ostracised and abused.
Mewatis are constantly accused of being cow slaughterers, an allegation that forced many of them to give up the makeshift biryani stalls that once dotted the highways and afforded them a minuscule income. Nobody in the state cared to examine why Mewat remains under-developed in relatively prosperous Haryana. Is it because Mewat is a predominantly Muslim region that successive governments decided to ignore its development?
Mewat's Meos, a so-called martial race, neither migrated from nor to Pakistan during India's tumultuous Partition. They did choose to remain in India rather than shift to a new country. And they struggled hard for India's independence, for which the British particularly hated them. The British Raj launched the exercise to deny the entire region of all modern facilities—it is now as it was then. People whose parents and grandparents died unsung during the freedom struggle now face today's communal frenzy. The hatred has grown so much that even mosques and Imams are unsafe.
The disadvantages of the Meos are compounded by the region's failure to produce a robust political leadership beyond a couple of politically-inclined families, who, too, never could take centre stage. A strong independent India could not develop a matching Muslim leadership almost anywhere. So, the big question is—why not?
This author reported for the Hindustan Times 'Sunday Magazine' on the living conditions of the Meos many decades ago. Suffice it to say that the conditions were deplorable. My next visit to Mewat was to report rising tuberculosis infections and deaths in Jakhopur village in the region. It was in 1995 after NDTV said that out of 1,150 people, about 128, including the village sarpanch, had symptoms of the disease, and dozens had died. A villager told me, "The biggest disease here is not TB but poverty."
In 2016, a national daily reported on the backlash against the management of a public school in Mewat which had held a function to highlight the significance of Eid. So, anti-Muslim propaganda had crept in due to ignorance of the region, and it has also grown in response to such self-imposed ignorance.
A report published in The Tribune on May 11, 2022 said that government schools in Nuh had not received their free textbooks for two years. Primary students faced the worst, as, given the no-detention policy, they were promoted to the next class though they could barely read or write.
An editorial published in The Tribune on August 24, 2012 highlighted the reasons for Mewat's poor performance on polio vaccination—It had a 40% immunisation rate, the lowest in India, against the 65% national rate and 60% in the rest of Haryana. The editorial said, "A region backwards in all respects cannot prove to be an exception in matters of health care." It also said that Mewat, with a population of about 15 lakh Meo Muslims, had just one boys' college and none for girls. Almost all girls in the region are married by 15, and the female literacy rate is 10-15%, the country's lowest.
In 2022, I went to Mewat twice. Once, to respond to appeals for warm clothing during the winter for its poorest residents, whose children were falling ill in the severe chill. Then, in spring, I was in Nuh for the inauguration of a new jail. Before the ceremony, a click-bait headline of a news report in the same English daily caught my attention: "Nuh villagers celebrate new jail, read on to know why". Apparently, the jail was a long-standing demand of Nuh residents, some of whom distributed sweets over its inauguration.
It was a boon for locals because around 40% of the inmates in the Faridabad and Bhondsi jails in Haryana were from Nuh. Their families could not afford to visit them in these far-off prisons. "The new jail will be nearer, and we can now easily meet our children," a resident of Jamalgarh says in the report.
What will it take for the state government to draw the connection between poverty and crime—a tendency reflected across the country?
In the 90s, I met Meos upset by the propaganda unleashed against them that they don't bathe. Locals told me, "We want to bathe ten times daily, but where is the water? The region does not have even one canal."
Agricultural output in Mewat is also affected by poor water quality. Their one source of livelihood—raising cattle—has been severely affected by goons attacking them in the name of saving cows. Most Meo families are hit by unemployment like never before. This author has seen families so poor they no longer mark Eid with a traditional goat sacrifice—only watery kheer.
It is obvious the Meo want to improve their lives but are helpless against life and fate. The young want to leave the traditional setup and venture out, but financial hurdles, social insecurities and a lack of role models stand in their way.
Only the odd activist, NGO or academic strays into this region, thanks to the hate directed towards Mewat and its people. Myths and misinformation about them have widened the gap. When two young Meos were killed a couple of years ago, Prof VK Tripathi, a Delhi-based academic activist, visited their families and helped raise funds for the survivors. Activists of Khudai Khidmatgar also go to Nuh and Mewat. When I last heard from them, they were gathering books for a library in a village school. These activists follow the philosophy of Mahatma Gandhi and Frontier Gandhi, Khan Abdul Ghaffar Khan, to reach out to our disadvantaged fellow citizens. That is what Mewat needs.
The Meo gave their lives when the country most needed it—India cannot deprive them of that.
The author is an independent journalist. The views are personal.
Get the latest reports & analysis with people's perspective on Protests, movements & deep analytical videos, discussions of the current affairs in your Telegram app. Subscribe to NewsClick's Telegram channel & get Real-Time updates on stories, as they get published on our website.
Subscribe Newsclick On Telegram