Women Storm Raj Bhawan in Chennai on Mahila Kisan Diwas
On Mahila Kisan Diwas - January 18 - Chennai witnessed a fiery protest demonstration solely by women.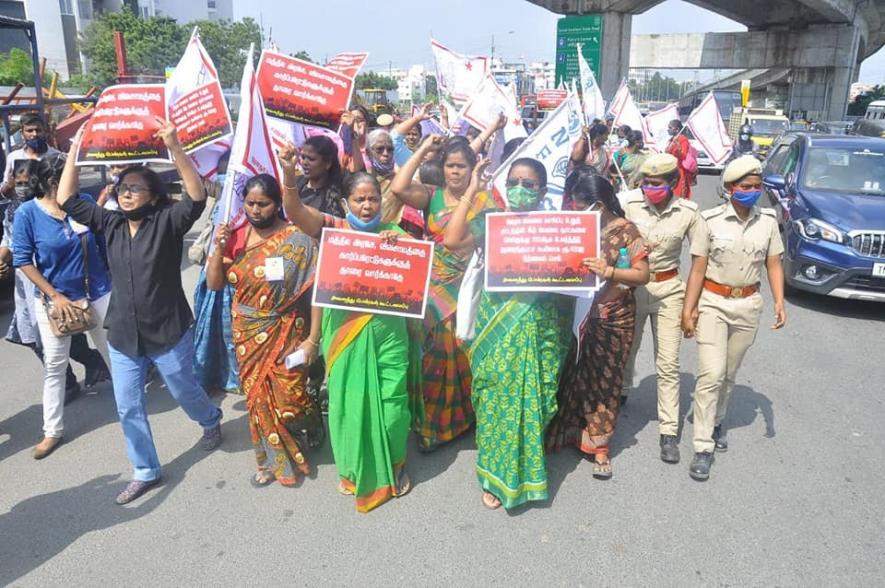 On Mahila Kisan Diwas - January 18 - Chennai witnessed a fiery protest demonstration solely by women. The protesting women marched to the Raj Bhawan reiterating the demands of the protesting farmers in Delhi. They stressed on the demand for legally acknowledging women involved in agriculture work as 'farmers' and for ensuring equal pay for equal work in the agriculture sector.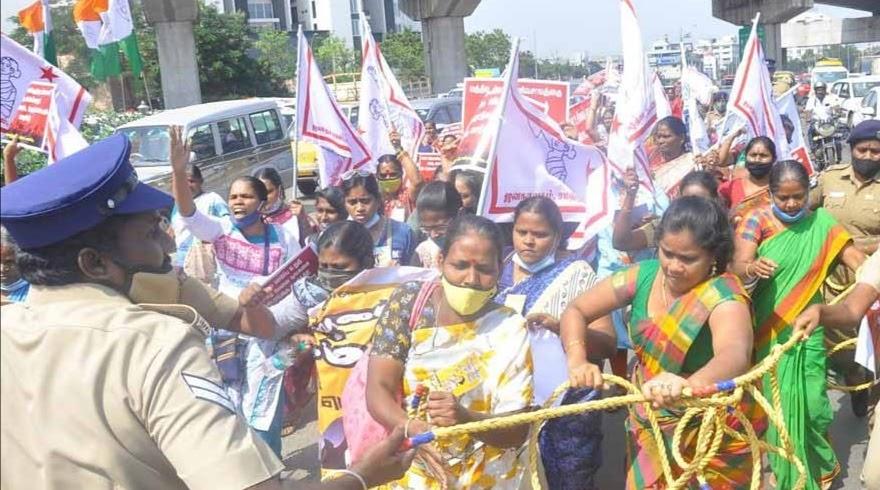 The all-India call to observe the Mahila Kisan Diwas was given by five Left-women's organisations including All India Democratic Women's Association (AIDWA) and National Federation of India Women (NFIW). In Tamil Nadu, the call was extended by several other women's organisations. The call for protest was given under the All Women Federation (AWF), which is an umbrella body of around 40 women's organisations.
The leaders of the protesting organisations stressed on the need to rightfully acknowledge the contribution of women in agriculture. Stating that "observing a day for women farmers is an important act as the contribution of women (42% in agriculture) goes unnoticed" P. Suganthi, secretary of AIDWA Tamil Nadu, told NewsClick, "Women have to be equally projected besides the generic image of a male farmer in the fields."
ON THE INSENSITIVE CHIEF JUSTICE
The national call for women's organisations to extend solidarity with the protesting farmers in Delhi on Mahila Kisan Diwas comes a week after Chief Justice of India SA Bobde's insensitive remark about women's participation in the protests in Delhi. During the hearing on the implementation of the farm laws on January 11, he was quoted as saying, "We don't understand either why old people and women are kept in the protests."
Referring to CJI Bobde's remarks, G. Manjula, secretary of NFIW Tamil Nadu told NewsClick that, "Farmers are always viewed as males, even legally this is true. The Court is asking women farmers to leave the site of protest in the borders of Delhi, as though women are not engaged in agriculture work." Thereby, she added, "the need to legally acknowledge women as agriculture workers is very important''.
Also read: Farmers Observe 'Mahila Kisan Diwas', Women Protesters Say Real Nari Shakti at Display
CJI Bobde's comments on women being "kept" at the protest sites, in fact suggests that they must return to their homes. According to P. Suganthi, such a patronising outlook on women farmers by a Supreme Court judge is nothing but an expression of patriarchy. She further added, "This is why we need to strongly assert the contribution of women in agriculture."
DEMANDS OF THE PROTEST
With respect to women farmers, the protesters demanded to provide rights over land for women. Even for women tenant farmers, the demand for right over land and for water was made. Another demand that was raised is that women farmers must be provided 'farmer cards' acknowledging them as farmers.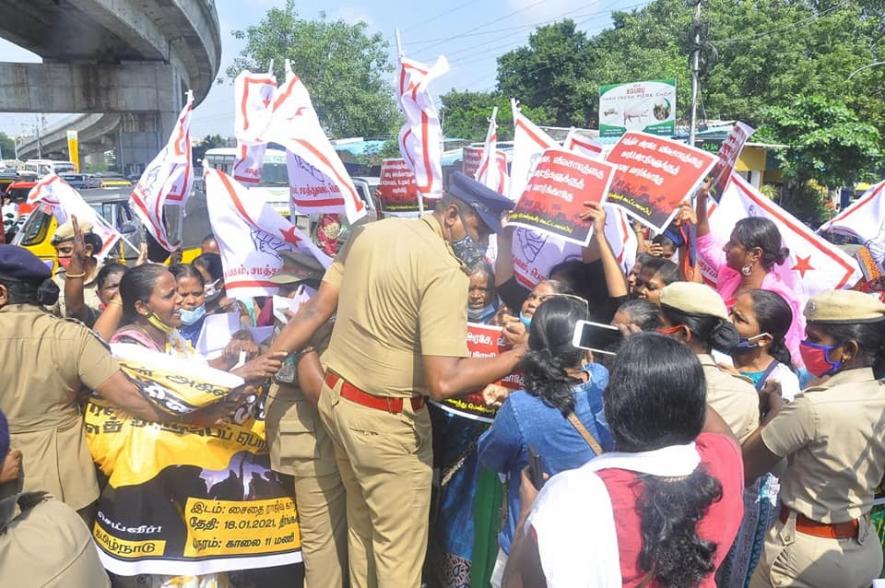 The AWF included demands pertaining to Tamil Nadu as well. The point of proper compensation for crop damage due to heavy rains in the delta region was added. 
Talking about the state government's lack of proper implementation of the Mahatma Gandhi National Rural Employment Act (MGNREGA), P. Suganthi said, "At present only Rs. 150 or Rs. 170 is given per day instead of the full pay of Rs. 263, and hundred days of work is also nowhere ensured. This has to change."
Particular demands were made regarding the MGNREGA, to increase the minimum per day pay from Rs. 263 to Rs. 400 and number of work days per year from 100 to 200. The demand for a similar Act to ensure employment guarantee in urban areas was also raised.
Some of the other demands addressing the central government include: repeal the anti-people farm laws, ensure minimum support price for all agricultural produce, stop selling agriculture to the corporate companies and strengthen the public distribution system. 
POLICEMEN MISBEHAVE WITH PROTESTing WOMEN
Meanwhile, the protesters said that the police behaved in an unanticipated manner with them. Very few women police were stationed at the site of protest, and policemen charged at the protesters mishandling them.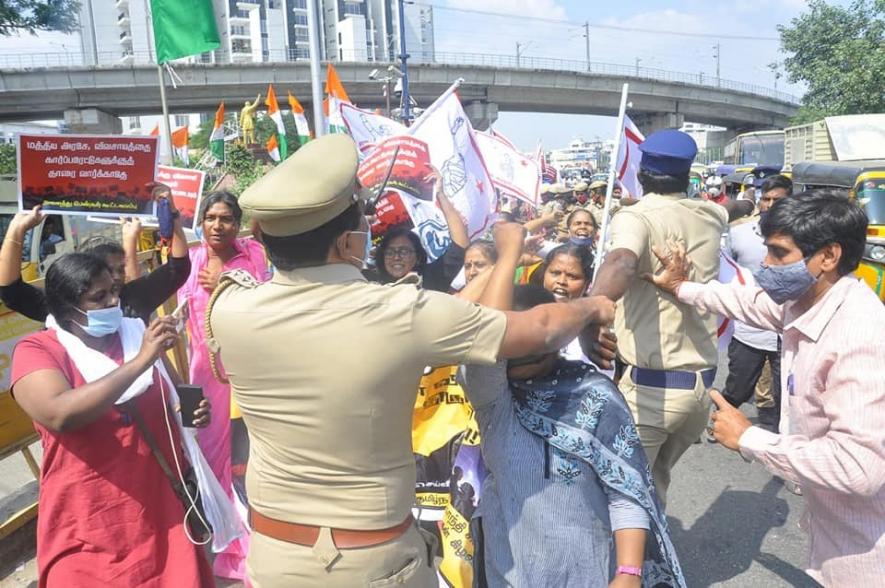 The leaders of the women's organisations plan to meet the DGP over this and submit a memorandum along with photos. Commenting on this, G. Manjula said that, "The police must ensure safety, but they are misbehaving with women."
Also read: 'Reclaiming Our Stake in Movement and Society,' Say Women Protesters Celebrating Mahila Kisan Diwas
Get the latest reports & analysis with people's perspective on Protests, movements & deep analytical videos, discussions of the current affairs in your Telegram app. Subscribe to NewsClick's Telegram channel & get Real-Time updates on stories, as they get published on our website.
Subscribe Newsclick On Telegram