Gujarat's Killing Cane Fields for Women: It's All Work, no Rest in Dang Dist
Story of the tribal women of South Gujarat who form nearly half the workforce of 2.5 lakh sugarcane workers yet are the worst exploited in the sugar industry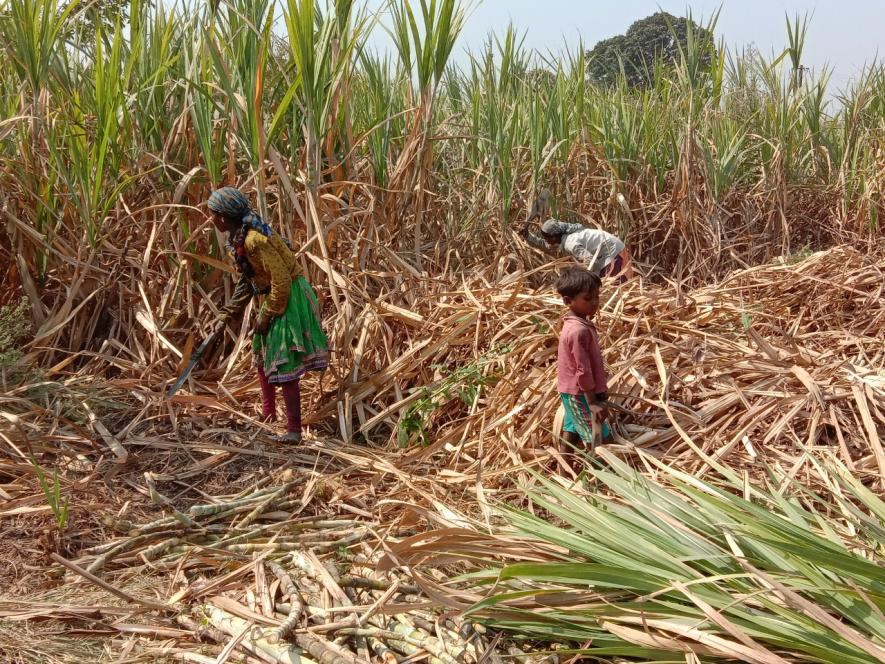 Photos of women working in sugarcane fields with their children beside them 
Manisha Sunilbhai Shinde, a tribal sugarcane worker of Jarsol village in Dang, Gujarat, is a mother of one at the age of 20. Married to a sugarcane labourer at the age of 15, she went from working in her parent's koyta unit to pairing up with her husband as a koyta.
Manisha has been migrating to the sugarcane fields every year for fifteen years now. Her life remained the same when she had learnt that she was pregnant as she continued to accompany her husband through her pregnancy, working for 14 to 15 hours cutting, cleaning and loading sugarcane until she began losing weight while carrying the child.
"In the ninth month of my pregnancy, I got sick but managed to work through it till we came back home. I had no option of taking a break from work as not working would mean less earning. We had loans to pay back. This year we have already loaned Rs 40,000. By the time we leave for harvesting in September or October, we will end up borrowing an added Rs 10,000," tells Manisha, who has a nine-month-old child and a family of seven to take care of.
Manisha, like most tribal children of the area, had to drop out of school to earn as the income of her parents was not enough to run the household.
Manisha Shinde (20), mother of one, has been migrating to sugarcane fields for last 15 years
"I grew up in the sugarcane fields. My parents would take me with them since I was five years old. My brothers and I stayed back home for some years for studying. But my parent's income was not enough. My brothers, who were elder to me, joined our parents. Soon, I had to join them too as a labourer. Since my marriage, my husband and I have been working as sugarcane workers. Five of the seven members of my husband's family work as sugarcane labourers," Manisha tells Newsclick.
Every year, during September and October, about 2.5 lakh sugar cane labourers or harvesters, primarily tribals from South Gujarat and parts of Maharashtra, migrate with their families to areas such as Valsad, Navsari, Surat, Bharuch and Vadodara in Gujarat. Here they are employed by thirteen sugar factories that run on a cooperative structure. They work as koytas or a pair of sugarcane workers. A koyta gets paid Rs 275 after cutting, cleaning, tying in bundles and then loading a tonne of sugar cane, which on average takes 14 to 15 hours a day. Since the income is so meagre, men usually team up with their wives, making women almost half the workforce that migrates each year from the tribal villages.
Research conducted in 2017 by the Centre for Labour Research and Action, an organization that works with workers of informal sectors state, "Every team of 15 koytas have at least five between the age group of 7 to 14 years and eight children who are below 6 years. One-fourth of these children are never enrolled in school. A majority of them who are enrolled are able to attend school for only a few months a year before they finally drop out."
"Migration of women causes children to migrate along with them. Nursing mothers are forced to take their children with them and those who are too young are unable to live alone in the village for so long. There is no concept of maternity leave, health and childcare benefits for women. Even though the work of sugarcane harvesting is backbreaking, the tribal women work through their pregnancy and resume work with their newborn after a few days of break post-childbirth. Taking leave would mean less money for the family," tells Denish Macwan, Secretary of Majdoor Adhikar Manch, a Gujarat-based trade union.
"Primary work of female workers in a koyta is to clean and tie the harvested sugarcane in bundles, each weighing at least 40 – 45 kilograms. However, they often take over when the men get tired of cutting sugarcane. Despite working the same hours as men, the primary responsibility of caregiving for the husband and children fall on women. This is another reason why men insist that their wives travel with them for the seven months of migration. While the men usually have to get up at 3 am to report to work by 5 am, women have to get up even earlier to cook and finish chores before leaving for work," adds Macwan.
The sugarcane workers are recruited by Mukkadams or labour contractors who are tribal men who act as intermediaries between the sugar factories and workers. After recruitment, employers provide one truck for 15 or 20 koytas or 30 or 40 workers. The workers, after travelling about 200 to 300 kilometres crammed in the truck, reach the campsites where they live for six-seven months. The living condition is abysmal, with no facility of drinking water, electricity, toilets or even basic medical aid.
"Women don't have any say in the whole process of recruitment. The mukkadam hires our husbands and we accompany him. It is very difficult for women to live in open with no privacy. We have to wake up earlier while it's still dark to defecate in the open or bathe. Women usually leave the sugarcane fields an hour early. While the men load the harvest, we gather sticks for cooking and then get to household chores. Till the men come back, women are scared for their safety and stay huddled together at the campsite," tells 40-year-old Bibiben Bamjubhai Pawar, a resident of Kangadiya Mal village in Subir taluka, Dang.
Bibiben Pawar has been working as a sugarcane worker for 25 years now. She complaints of chronic body ache but cannot afford to visit a doctor.
"For us, it's a round the clock job. We don't get any rest. When men rest, we tend to children, cook and clean. Women have to work even when they are pregnant. There are many times when women undergo childbirth in the sugar fields with no medical aid. The only help they get is from other women workers. The new mothers don't get time for post-partum recovery, as taking leave would mean no payment. This forces women to get back to work along with their newborn children in just four or five days. As women work, the children are usually left on the sugarcane fields beside her. At times the responsibility of infants falls on the adolescent elder sister, but mostly the mothers have to ignore her crying infant to finish the day's work," she shares.
22-year-old Bharti, Bibiben's daughter-in-law had to work through her pregnancy till she fell sick at work. Her daughter is a year old now, but Bharti still suffers from health issues. As her entire family migrates for work, she stays back home alone with her infant daughter.
"While working in the sugarcane field, I fell sick during the fifth month of my pregnancy. I had lost weight drastically so I could not resume work and had to return home," tells Bharti Pawar sitting in the mud wall shanty where she lives with a family of eight.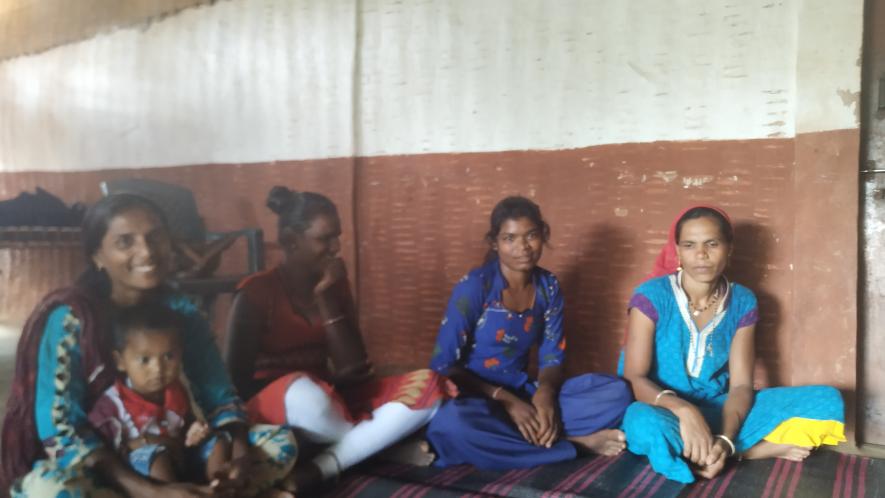 Tribal women workers of Dang (from L to R) Bharti Pawar (22), Jyotsna Pawar (20), Mongla Pawar (18), Bibiben (40)
"It was a painful experience. I never want to go back to work as a sugarcane worker again," she shares.
Research conducted by Oxfam India on the migrant sugarcane workers states, "For women workers, the situation gets more difficult during menstrual cycles due to the inability to maintain menstrual hygiene and use sanitary pads due to lack of toilets and water. Women often use a dirty and damp cloth that increases the likelihood of infections. Symptoms of leucorrhoea are very common among women as well as adolescent girls, which affects their work. Poor menstrual hygiene and care cause fungal and bacterial infections leading to pelvic inflammatory diseases (PID), vaginitis and uterine infections of several forms."
Noticeably, employers don't provide any assistance or paid leave during a health crisis. Being an informal sector, the sugarcane workers are not covered under social security benefits such as Employee Provident Fund (EPF) or Employee State Insurance Corporation (ESIC). Women workers are also denied benefits sanctioned under Maternity Benefit (Amendment) Act 2017.
"Anaemia is common amongst women workers and their children are suffering from malnutrition. Poverty forces them to live a harsh life even during the months of pregnancy. Instead of getting rest and medical care, they have to go through the physical stress of cutting sugarcane. Besides, the food that the workers eat at the camps is hardly nutritious. Mostly they depend on the bajra (millets) and dal (pulses) provided by the employer, the cost of the which is deducted from their salaries at the end of the season. They buy a bare amount of cooking oil, salt, etc. from local markets and can rarely afford vegetables," says Shantilal Meena, an executive body member of Majdoor Adhikar Manch.
"Women and children are most vulnerable during the seven months of migration to sugarcane fields. While children are most prone to fall sick, women have to go through inhuman working conditions during and after pregnancy. Safety is a huge concern for women, especially for the young girls who often are subjected to sexual violence from the employers or local villagers at the dwelling locations," adds Meena.
Get the latest reports & analysis with people's perspective on Protests, movements & deep analytical videos, discussions of the current affairs in your Telegram app. Subscribe to NewsClick's Telegram channel & get Real-Time updates on stories, as they get published on our website.
Subscribe Newsclick On Telegram