World Cup Hits Attendance and TV-rating Highs
Records have been smashed at the Women's World Cup in Australia and New Zealand. Ticket sales are set to hit almost 2 million, TV audiences have been tuning in globally, and media interest has reached a new level.
Stadium attendance and TV viewing figures have broken records at the World Cup
The noise was immense. As Hannah Wilkinson netted the winner for New Zealand in the 2023 Women's World Cup opener against Norway, about 42,000 Kiwis went wild.
It was the biggest crowd to watch a football match in New Zealand, men's or women's, smashing the previous women's record by 26,000. A few hours later, Australia followed suit as almost 75,000 fans cheered on the Matildas' 1-0 win over Ireland.
Now, as the semifinals approach, ticket sales are expected to hit 1.98 million for the entire tournament, which would equate to an average of 31,000 fans attending each of the 64 matches.
That has easily eclipsed the previous record of 1.35 million at the 2015 World Cup in Canada, which averaged out to 26,000 fans per game. 
It should be noted, though, that in 2015 only 24 teams were involved, as opposed to the current 32. This means just 52 matches were played instead of the 64 at this year's tournament. Another factor that may have contributed to the higher numbers is the fact that this time there have been two host nations instead of one – even if New Zealand failed to get to the knockout stage.
Considering that the initial target was 1.3 million and later increased to 1.5 million, the attendance represents a massive success for the host nations. Football has simply exploded in Australia and New Zealand over the past month, and global interest has been equally impressive.
'They're boosting us'
Australia may be a fanatical sporting nation, but soccer has always struggled for widespread attention against rugby and Australian rules football, which dominate the media headlines and TV ratings.
Yet the Matildas' round-of-16 match against Denmark reached 6.54 million people on the free-to-air Seven Network, more than the country's biggest showpieces in 2022: the National Rugby League and Australian Football League grand finales.
"It's been immense. It's so amazing to see all the support we have, whether that's in the stands, behind the TVs, at the live sites," Australian defender Ellie Carpenter told DW after the match. "It's like an extra man when you're playing."
That figure also didn't include viewers on the subscription streaming service Optus Sport, which holds rights to every single 2023 World Cup match.
Australia has shown that it is indeed a soccer nation. Almost 1.27 million tickets will have been sold in Australia alone, with an average crowd of almost 36,000 attending the 35 matches at an average stadium capacity of 93%.
"Home advantage, home crowd, they're boosting us through this tournament," winger Caitlin Foord said. "All credit to them, being loud and being there for us."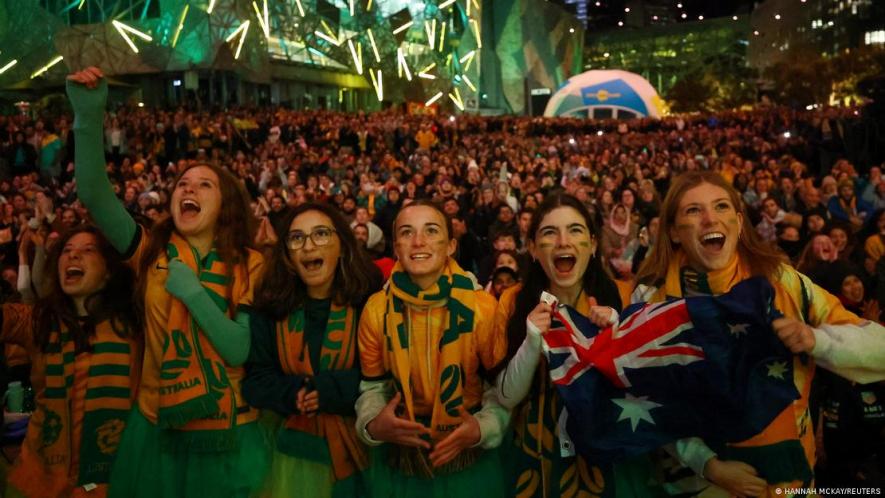 Australian fans have flocked to support the World Cup, and the Matildas in particular
New Zealand overperforms
New Zealand fared a little less well statistically, with about 700,000 tickets sold at an average of 24,500 per match. 
Fixtures in Auckland and Wellington were very well attended, but the decision to hold matches in Dunedin, with a population of just 129,000, dragged the numbers down significantly. The stadium didn't reach 50% capacity across its six games, though it did sell out for New Zealand's draw with Switzerland.
Considering the nation's obsession with rugby, however, and its population of just five million, the numbers outperformed expectations, with the record for the largest crowd for a football match in the country being broken three times in Auckland.
"The noise was deafening," New Zealand co-captain Ria Percival told DW after the Football Ferns' opening day win over Norway. "I've never heard anything like that, and I cannot believe so many people came to watch us play. It was amazing."
Defender Claudia Bunge said: "I never dreamed of playing in front of a sold-out crowd at Eden Park. I hope just being a part of this piece of history has inspired all the little girls watching in the stadiums or at home to go out and be a part of the next generation of the Ferns."
Though the hosts failed to reach the knockout stages, New Zealanders continued to turn up in droves to matches, donning flags from the teams playing on the day.
"We had never watched women's football before," supporter Charlotte Scott told DW in Auckland. "Now we've watched five games, and we wish it was more!
"We have loved the excitement, bright colors and songs that all the different fans have brought," Scott said. "Even when it was a smaller crowd, you find a team like Zambia who had a singing section that just never stopped."
Cynical suggestions that free tickets may have boosted numbers also hold no water, with just 20,000 given away across all four New Zealand cities.
TV ratings have been equally as impressive, especially with most of the matches being shown on Sky and only a handful being streamed for free on Stuff.nz.
More than 1 million people turned on the team's opener against Norway during the course of the match, more than any figure for a men's World Cup match on record.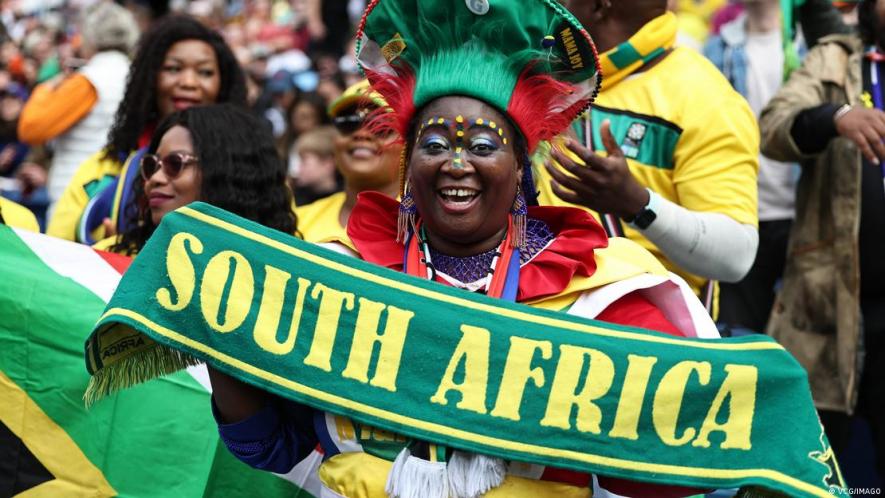 Despite time zone differences, audiences have been up across the globe
World tunes in
There have been impressive numbers worldwide as well, especially considering that many games are outside traditional prime-time slots in many markets.
Despite a 5:00 a.m. start in the Eastern time zone of the United States, the USWNT's last-16 defeat on penalties to Sweden drew 2.52 million viewers on Fox, peaking at 4.07 million. Their four matches averaged 3.80m, up from their first four matches of the 2019 World Cup.
The United Kingdom recorded a peak audience of 5.2 million on BBC One for the knockout victory over Nigeria, which kicked off at 8:30 a.m. in Britain. There were an additional 2.6 million watching on streams.
Germany's ARD reported that 10.36 million people tuned in to watch the nation's defeat to Colombia in the group stage, the highest rating in the country for 2023. More than 9m Colombians watched their team's match against South Korea, a 300% increase of the previous record for a women's World Cup match.
Brazil's opening match against Panama delivered a combined audience of 13.9 million people on TV Globo and SporTV. About 4.58 million viewers watched China's opener against Denmark on CCTV5.
Success Down Under
Considering the boom that women's football received following the 2022 European Championship in England, there were fears that the host countries' unsociable kickoff hours for many time zones could hamper interest.
Those concerns have been well and truly quashed, showing that the appetite for the women's game is following that for men's football.
FIFA has said the tournament is on target to reach an overall audience of two billion people worldwide, significantly up from the 1.19 billion the organization reported from the 2019 World Cup.
The quality on show has also been at a higher standard, even after the tournament increased from 24 to 32 teams, to allow budding nations a chance to test themselves against the very best.
Big scorelines have been few and far between, and many underdogs, such as Morocco, South Africa and Jamaica, produced upsets in the group stages. Not only is the level improving, but the gap between the top and the bottom is decreasing.
With four matches to go, the show isn't over yet.
While New Zealand have been knocked out, Australia still hold hopes to lift the trophy. If the Matildas were to make the final, TV viewership could even rival the eight million that tuned into Cathy Freeman's victory in the 400m at the Sydney Olympics in 2000.
"It's nice to see where the game's going here, how many girls and boys want to play football," Foord said. "It's just nice to know the game's moving in the right direction."
Edited by Matt Ford
Get the latest reports & analysis with people's perspective on Protests, movements & deep analytical videos, discussions of the current affairs in your Telegram app. Subscribe to NewsClick's Telegram channel & get Real-Time updates on stories, as they get published on our website.
Subscribe Newsclick On Telegram