'Anti-Love Jihad' Bill to be Brought in Next Gujarat Assembly Session: Deputy CM Nitin Patel
Activists have questioned the need for and intention behind a new law when Gujarat already has an existing law that requires a person to obtain prior approval from the district authority for consensual conversion.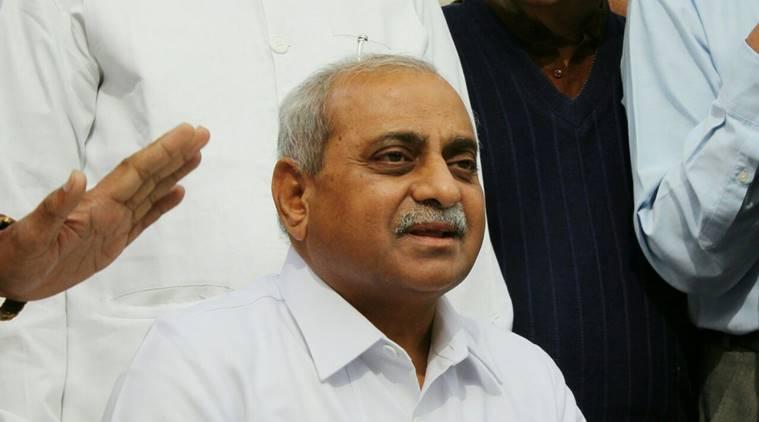 Nitin Patel, deputy CM Gujarat. | Image Courtesy: Indian Express
Nitin Patel, the deputy chief minister of Gujarat, has announced that the government will bring a legislation against 'love jihad' in the upcoming Budget session of the Assembly that is expected to commence from March 1. 
Patel, while campaigning for the local body elections, said on February 18 that the law was "essential for the safety of Hindu girls and women".
In a controversial speech, he said, "The people of other religions mislead our daughters [using] fancy cars and bikes. These are the people who have no food to eat at home and somebody else pays for their petrol. They even appear (look) like Hindus these days to impress and take our daughters and change their religion." 
"We may build schools, colleges and medical colleges and hostels to educate our girls and give fee waivers, but if our girls cannot be safe, then there is no use of any college or hostel. Security is primary for our party. Security was ensured when BJP came to power and we strengthen it with each passing day," he added. 
"To put a curb on such people, our government is seriously planning to bring a law on love jihad in the coming Assembly session. So, I will say not just water from Narmada or roads, but safety is important; of what use are roads, hospitals and schools if our religion and country are not safe," Patel said in his speech at the Gota ward in Ahmedabad. 
Patel's announcement has come just a few days after Chief Minister Vijay Rupani announced the same in a campaign meeting in Vadodara. Earlier this month, Nitin Patel had stated that multiple representations have been made before CM Rupani to bring an 'anti-love jihad' law similar to the ones in Uttar Pradesh and Madhya Pradesh. 
Notably, Gujarat already has an existing law that has a provision to penalise a person involved in forced conversion on the pretext of love or marriage. The Gujarat Freedom of Religion Act, 2003 requires a person to obtain prior approval from the district authority for consensual conversion. 
Under the Gujarat Freedom of Religion Act, one can be imprisoned up to three years and may have to pay a fine up to Rs 50,000 if found guilty of forced conversion. In case of forced conversion of a minor, a woman or someone from scheduled caste or scheduled tribe, the maximum imprisonment can be of four years and fine can go up to Rs one lakh. 
"This subject of a law against love jihad is being brought up at an opportune time ahead of election to polarise the voters. What is the need of bringing in another law when a law already exists in the state? If any such law is brought in, it will be in essence against the spirit of the Constitution of our country. We are prepared to challenge it legally if it comes to that," Mujaheed Nafees, a Gujarat-based minority rights activist, told NewsClick. 
Also read: Sedition, Dissent and The Rights of Accused
"It is no secret that such laws end up being used to harass people who want to opt for interfaith marriage with or without a conversion. Even when a couple wants to marry under the Special Marriage Act, the information about it is leaked and the couple is harassed," added Nafees who is associated with Minority Coordination Committee, a minority rights organisation in Gujarat. 
It should be mentioned that on February 8, the High Court of Gujarat had sought an explanation from Ahmedabad police in a case where a consenting adult woman who was to marry her Muslim partner was held by the police for seven hours.   
The woman, a Lok Rakshak Dal trainee, told the court that following the notice issued to the marriage registry in Ahmedabad, the couple were called to Karanj police station in Ahmedabad and were let go only after seven hours. The woman also informed the court that she was keen on marrying her partner, but it was due to the resistance of her family that had the community's support, she was unable to do so. 
The court directed the police to provide necessary protection to the couple during the entire process of marriage and thereafter. 
Reportedly, 'love jihad' is also being used as a tool to incite communal violence as per a fact-finding report by minority activists of Gujarat. According to Buniyad, a minority rights organisation, small-scale riots post-2002 primarily in small towns and rural areas -- that were unaffected by the riots of 2002 -- has been a frequent phenomenon in the state. 
Out of the (at least) six instances of communal clashes that Gujarat witnessed in 2019, two were caused over 'love jihad'. 
A relationship between a Muslim boy and a tribal girl from Kotda in Sabarkantha district had caused a clash which had caused 12 Muslims families to flee. The girl and the boy, who had been in a relationship for a long time, had left the village. However, the girl was made to return after a compromise was worked out within the two communities. An agreement was signed where the boy's family would give Rs 35,000 to the girl family as a settlement amount. But the couple fled the village few days after the "compromise" following which the tribal community reportedly attacked members of the Muslim locality. 
In another incident, some students of Maharaja Sayajirao University (MSU) in Vadodara staged an anti-ragging protest that turned communal when protestsrs who were primarily protesting against Muslim students accused them of luring Hindu girls into relationships, calling it 'love jihad'. Clashes broke out between two groups following which an FIR was filed against students all of whom were Muslims. 
In Mehsana, a Muslim boy and a Hindu girl, both students of a local college were confronted by Dhaval Barot, a local Vishwa Hindu Parishad leader, who accused the boy of 'love jihad'. Barot threatened the boy but some college boys reportedly came to the rescue and thrashed Barot instead. Later, Barot told the media and stated on social media that he was a victim who was protecting honour of a Hindu woman from a 'love jihadist'. 
Also read: Hindutva, Counter-Culture and Manusmriti
Get the latest reports & analysis with people's perspective on Protests, movements & deep analytical videos, discussions of the current affairs in your Telegram app. Subscribe to NewsClick's Telegram channel & get Real-Time updates on stories, as they get published on our website.
Subscribe Newsclick On Telegram