20 Years of Jan Swasthya Abhiyan: Putting People at Centre of Healthcare
The comprehensive approach – an approach that does not limit healthcare to medicalised treatment, but involves a broader understanding of society, culture and political economy of the country and the world – defines majority of the work of JSA in the last 20 years.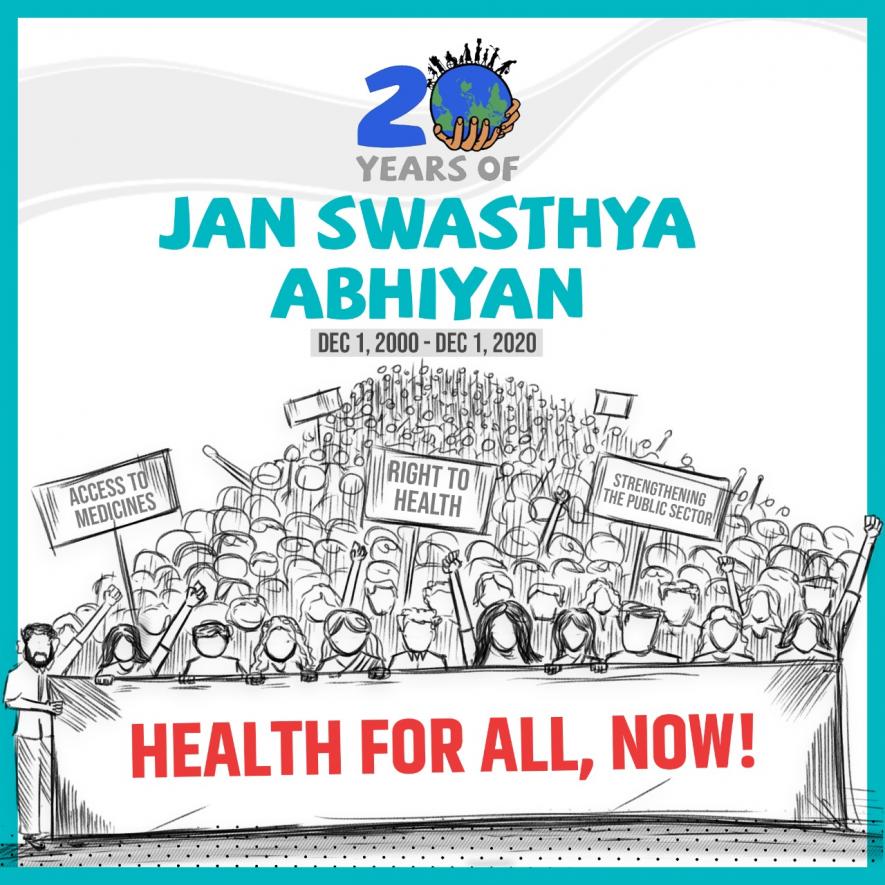 "Globalisation down down!!"
"Health is a fundamental human right!!"
"Fight globalisation to fight poverty and malnutrition!!"
These are some of the slogans with which Jan Swasthya Abhiyan was born in the year 2000 in Kolkata. It was an important year. A promise had to be fulfilled by then, but it wasn't. And people gathered in Kolkata realised that till they do not wage a sustained struggle, they will not be able to achieve their rights related to healthcare.
That promise was made in 1978 at the Alma Ata conference in Kazakhastan. Ministers from 134 countries called for Health for All (HFA) by the year 2000. They selected primary healthcare as the best tool to achieve it. World Health Organisation and United Nations Children's Fund (UNICEF) supported the move. Unfortunately, that dream never came true. On the contrary, the health status of third world populations deteriorated further; more people's health was actually getting worse and morbidity rate and ill-health was increasing day by day.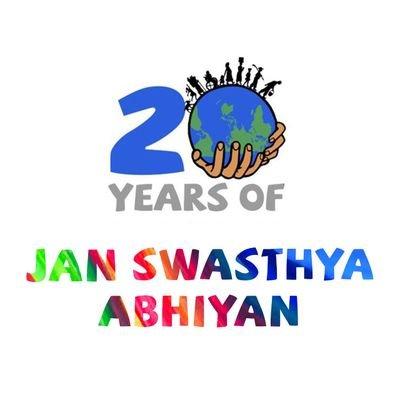 The year 2000 also marked a decade of neo-liberal economic reforms India had undertaken. In this context, the agenda had moved on since 1978. Apart from asking the government to ensure Health for All, the health movement had to additionally fight the might of big corporations which were pushing for increased privatisation of healthcare. 
JSA was formed in November 2000 after a successful National Health Assembly in Kolkata. The assembly saw participation of over 2,000 delegates and 18 organisations from across the country. Mobilisation at the national level happened through a long process of meetings at block, district and state levels. This ground work reviewed expansion of healthcare since the 1978 conference and documented gaps that still existed.
It was found that the marginalised sections did not find much space within such expansion, which in itself was highly limited. Organisation and activists found that the forces of globalisation were not only derailing the process of HFA, rather reversing them. The State had started to abandon its responsibility to create a favourable environment for private sector, making HFA even a more distant dream. The collective knowledge generated through the process was shared with the government authorities.
Also read: COVID-19: Jan Swasthya Abhiyan Issues Eight-Point Advisory to Government
Delegates realised that they need to act collectively to fight the battles together and at a larger scale. Thus, JSA was born as an umbrella organisation of diverse groups across the country. It stands by the declaration that, "We reaffirm our inalienable right to and demand for comprehensive health care that includes food security; sustainable livelihood options including secure employment opportunities; access to housing, drinking water and sanitation; and appropriate medical care for all; in sum – the right to Health For All, Now!" Fight against private interests and globalisation is engrained within JSA since then.
The comprehensive approach – an approach that does not limit healthcare to medicalised treatment, but involves a broader understanding of society, culture and political economy of the country and the world – defines majority of the work of JSA in the last 20 years. The hallmark of the movement has been its association with diverse groups that include feminists, farmers, trade unions, dalits, tribals, religious minorities and other marginalised sections.
Engagement with Right to Food has also enriched understanding of the organisation as nutrition is an integral part of a healthy human being. The organisation has consistently challenged the notion of purity in food. For example, nutritious items such as egg are taken out from mid-day meals for children in the name of hurting sentiments of certain communities. JSA positions itself against such policies and promotes scientific basis of policy-making.
Among the major contributions of JSA is its continuous emphasis on social determinants of health such as poverty and gender. But unlike the Commission on Social Determinants of Health of the WHO, set up in the late 2000s, JSA puts these parameters in the larger context of global politico-economic order. Hence, the fight against globalisation and regressive politics is at the core of its work.
JSA's Contribution to NRHM
JSA's trajectory can be understood from its subsequent National Health Assemblies. Inhad 2007, NHA-2 was organised. It was a defining moment in the history of healthcare in India. The government committed to infrastructure development in rural parts of the country by launching the National Rural Health Mission. It aimed to provide equitable, affordable, and quality health care to the rural population, especially the vulnerable groups. It was supposed to promote decentralised health delivery system with inter-sectoral convergence on a wide range of determinants of health such as water, sanitation, education, nutrition, social and gender equality.
JSA contributed by lobbying to reduce the allegedly pro-privatisation slant of the NRHM, creating spaces for community monitoring of the programme. setting up a parallel independent monitoring system called People's Rural Health Watch to enable those receiving care through the NRHM to monitor the mission's failings and demand improved services.
Also read: Union Budget: Government's Focus on Privatising Healthcare?
NHA-2 was organised in Bhopal in this context. It helped in assessing the NRHM and determining the way forward for the movement. NHA-2 also raised issues which were not prominent at that time but needed urgent attention. Occupational and environmental health, struggles of the displaced communities, challenges faced by victims of violence were among such issues. Knowledge on issues of occupational and environmental health was still limited in the context of India and it was important to put them on the national map, especially because there was a surge of private companies in mining, real estate and other sectors. They were reluctant to provide basic safety and healthcare to their workforce.
The assembly brought many young activists in the fold of JSA who also took up positions of responsibility. It was a further move from medicalised system to public health approach in healthcare delivery in the country.
3rd National Health Assembly
NHA-3 was organised in Raipur, Chhattisgarh in 2018 in run-up to the general elections of 2019. By then, the country had witnessed five years of rule by the Bhartiya Janata Party which gained majority in Parliament in 2014 in the name of development. However, sooner than later, the agenda of Hindutva became the driving force of the ruling establishment. It was clubbed with receding of State from welfare measures and promotion of privatisation. This was impacting health services adversely in the entire nation.
Close to 1,500 participants attended the assembly. It had wide national and local media coverage. Key themes for the assembly were Defending Public Sector Health Systems; Privatisation and Healthcare; Gender and Health; Access to Medicines and Diagnostics; Social Determinants of Health. The idea was to put health on the national agenda.
Since the Assembly was held just before elections in some states, the content of the NHA-3 was fed into the political parties' manifestos where elections were held in October-November, namely Rajasthan, Chhattisgarh and Madhya Pradesh. It had an impact on policies of the newly formed governments, especially Chhattisgarh. 
However a major setback for the movement came with the death of one of its founder Dr. Amit Sengupta. He was a leader par excellence who played a key role in establishing the principles of JSA and mentoring many in the younger generation. He used to say. "Health is about caring…The struggle for health is a struggle for a more caring world." He believed that health movement is about building a more caring world. JSA continues to take his legacy forward.
The COVID-19 pandemic has put the agenda of health at centrestage of today's discourse. Never before had we seen that despite massive technological development, improvements in science and possibilities of knowledge sharing, a virus has meddled with the usual functioning of the world. It has brought out inequalities in society more starkly and brought us face-to-face with the reality of a disintegrated healthcare system. There is a general sense now that the business-as-usual approach of healthcare delivery won't work for the majority. It is time for JSA to organise itself and fight for equitable access to all COVID and non-COVID related healthcare.
Get the latest reports & analysis with people's perspective on Protests, movements & deep analytical videos, discussions of the current affairs in your Telegram app. Subscribe to NewsClick's Telegram channel & get Real-Time updates on stories, as they get published on our website.
Subscribe Newsclick On Telegram