2019 ICC World Cup: Bat vs Ball (No) Contest in Modern Cricket | On the Ball
England, the stage for the 2019 ICC World Cup, has long been known for bowler friendly conditions and pitches. But the notion could be broken this summer -- a revamped England cricket team (and indeed outlook) could ensure batsmanship takes centre stage, writes R Kaushik in his column, On the Ball.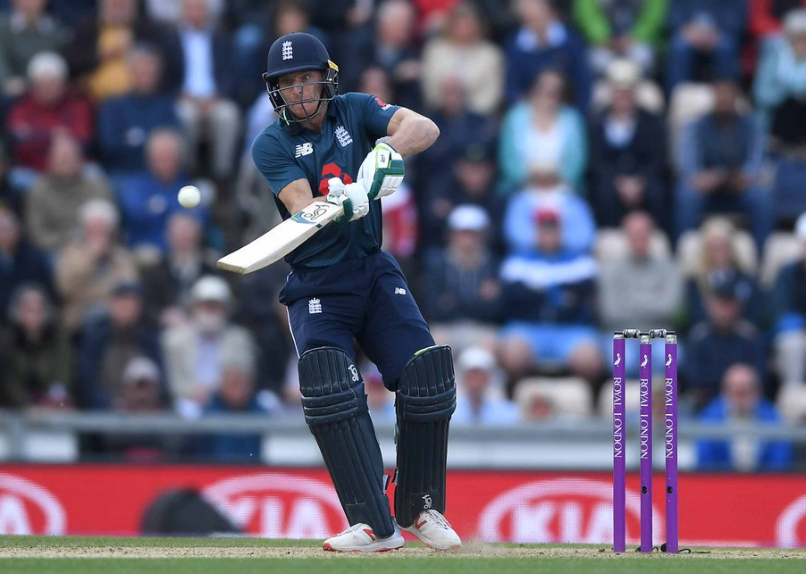 Since the 2015 ICC World Cup, in 46 matches at home, England cricket team, led by batters such as Jos Buttler (in pic), have breached the 300-barrier 23 times, 50% of the matches to be exact.
For a long, long time, England loomed as the last haven for beleaguered bowlers in the unforgiving world of limited-overs international cricket. Over the last four years, however, England has become as much of a graveyard for the white-ball bowling community as any other staging nation.
Perhaps, it is no coincidence. Perhaps, the flatness of the pitches is an offshoot of the uber-aggressive new England that has emerged in the aftermath of the fiasco at the 2015 World Cup, when Eoin Morgan's men failed to advance beyond the first phase. The over-reliance on data under coach Peter Moores has given way to a more instinctive, more free-flowing brand of batsmanship in particular, with a pronounced onus on batting in top gear at all times.
Armed with this new-found approach, England set out building a core group for the 2019 World Cup almost immediately after their elimination from the 2015 edition in Australia and New Zealand. But their aggression would only pay off if it was married with common sense, and if it was aided by the conditions. No one has any control over the atmosphere, over the gathering clouds that can make even ordinary bowlers appear the most dangerous exponents of swing. The production of pitches, though, is a controllable. England have rolled out the most wonderful tracks for batting in the last four years; armed with their gung-ho attitude and feeding off their familiarity with small but odd-shaped grounds, England's batsmen have flourished in 50-over cricket like never before. Fortunately, the trend hasn't spilled over to red-ball cricket. Yet.
Read More | Women Storm Male Refereeing Bastions in Cricket and Football
From the time when bowlers of all ilk with a run-up in excess of 10 yards were queuing up to exploit assistance in the air and lateral movement off the deck, limited-overs bowling in England today has been reduced to a sideshow. The unerring, sometimes monotonous regularity with which the ball disappears into the stands is a sad commentary on the state of affairs at a time when the bowlers are already feeling short-changed because they feel a majority of the rules are stacked in favour of the batsmen. That it is eventuating with nauseating frequency at the last bastion of the bowling community is a particularly bitter pill to swallow.
England's tryst with ODI cricket in a staging capacity dates back to August 24, 1972. Old Trafford in Manchester hosted the first limited-overs international in the country, a 55-over affair against Australia. The visitors were restricted to 222 for eight, England cruised home with six wickets and nearly six overs to spare.
Between then and September 2014, when they amassed 294 for seven against India at Headingley, England made just 16 scores in excess of 300 in their own backyard in 255 matches. Some of these games were 60-over marathons, some others 55-overs-a-side; since 1996, however, all matches were 50-over showdowns. In effect, England touched 300 just 6.2% of the time in the first 42 years of ODI cricket at home.
The transformation has been little short of astonishing. Since the 2015 World Cup, in 46 matches in their den, England alone have breached the 300-barrier a whopping 23 times – in exactly 50% of the matches. They have topped 400 three times, and Friday (May 17) marked the third consecutive occasion when they posted more than 300 in the ongoing series against Pakistan. Lest it should convey the impression of only home dominance, it must be pointed out that even though they have surrendered the series 3-0, Pakistan have amassed 361, 368 and 340 in these three encounters. Come on!
Video | Igor Stimac: India's New Coach (420 Grams Season 1, Ep. 23)
The distinct slant towards batting-friendly surfaces is a conscious decision made largely to facilitate England's deviation from a conservatism that has prevented them from translating their overwhelming experience of limited-overs cricket to tangible, trophy-winning performances. It is also in keeping with the global trend of reducing bowlers in white-ball formats to human bowling machines whose privilege it is to serve the batsman's cause and watch the ball dismissed to all corners of the park with scant regard for reputation and pedigree.
While there is no denying the ripples of excitement among the audience when sixes cascade off the willow repeatedly in 20-over cricket, a similar phenomenon in the extended format is a lot less edifying. Like the players, the spectators too turn up hoping to witness a reasonably equal contest between bat and ball, and a popular home victory, of course. A few months back, Greg Chappell, the former India coach, told me, "Test cricket is at its best when the balance between bat and ball is pretty even and it is slightly in favour of the ball." As far as ODI cricket goes, it ought probably to be the other way round, with the scales tilted marginally towards the bat. The deliberate and concerted flattening out of pitches in cricket's original motherland goes against the English grain whilst embracing the norm in other parts of the world where, too, surfaces have assumed a predictable sameness.
Cricket's inherent charm lies in the diversity of conditions, and therefore challenges, that each host country throws up. The heat, humidity and slow turners in the sub-continent. The pace and bounce in parts of Australia and South Africa. The swing and seam in England and New Zealand. They necessitated batsmen to adapt, to hone techniques, to toughen up mentally, even in limited-overs play. Some of the greatest games of cricket have unfolded on tracks that have assisted the bowlers considerably, thus influencing low-scoring thrillers dotted by pendulous swings and undulating ebbs. But with commerce gradually beginning to call the shots, with broadcasters wary of being short-changed and with advertisers demanding value for money, the shift towards shirt fronts to ensure as long a game as possible has been nothing if not perceptible.
Read More | Wicket-Taker vs Economy Bowler: Indian Cricket Team's Call Defines Its Philosophy 
Unless it is a terribly bitter English summer that encourages the quicks, or a searingly hot one that will thrill the spinners as the tournament unspools, the 2019 World Cup is unlikely to produce too many low-scoring nail-biters. It will boil down to 'whose daddy strongest'. That's the indication from the England-Pakistan series currently underway, and gleaning from events of the last four years. The bowlers haven't remained static and allowed time to pass them by; they have worked on variations, on sleight of hand, on cunning and craft, on guile and deceit. But there's only that much they can do when they understand that the margin for error is miniscule, and that chunky but light bats can deposit even miscues out of reasonably smallish playing areas.
The ennui of watching the bat dominate the ball might be dispelled somewhat if the home team, or India – easily the most patronized side – are doing the running. But that's only a deliberate and consolatory compromise in partaking of an unequal battle between the mighty batsman and the helpless bowler. Why, oh England, why?
(Kaushik is a veteran cricket writer who has reported on over 100 Tests. He co-authored VVS Laxman's autobiography '281 and Beyond')
Get the latest reports & analysis with people's perspective on Protests, movements & deep analytical videos, discussions of the current affairs in your Telegram app. Subscribe to NewsClick's Telegram channel & get Real-Time updates on stories, as they get published on our website.
Subscribe Newsclick On Telegram