What Went Wrong for the Indian Cricket Team at Edgbaston? Shortsightedness, Denial, and Some More Denial
Indian cricket has lived in denial for a long time and the Edgbaston loss against England only made those issues prominent. Since the days of Ravi Shastri and Virat Kohli, the team management has denied that the team has big holes in it, citing some marvellous (at times miraculous) wins.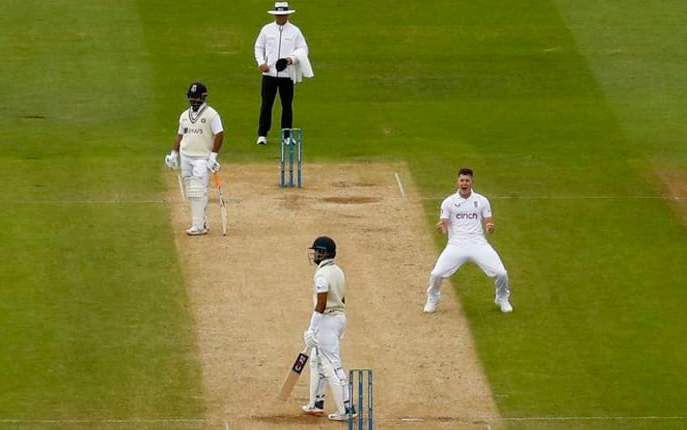 The east with which England dismissed Shreyas Iyer in both the innings at Edgbaston was also disheartening to see. One ball towards the body got Iyer in the first innings, and a similar plot brought out his demise in the second essay as well (Pic: Channelnewsasia.com, Twitter).
It is fine to be upset with the result of a cricket match, but a folly to not appreciate the novelty it produced, irrespective of the result. For sport, at its best, is akin to any performing art and novelty is the essence of art. Therefore, it is important to celebrate England's way of playing Test cricket before discussing what went wrong for Team India at Edgbaston.
It is curious how a country's sports ecosystem reflects the national character. India, for almost a decade now, has been a country living in denial. Majority of Indians deny our economy is in shambles, democracy is in grave danger and society is being torn apart. England, Great Britain if you like, has also been a country going through strife – Brexit being the biggest proof. However, people are still allowed to ask questions there, the government is still held accountable. On June 6, reports came out that at least 32 British lawmakers, including finance minister Rishi Sunak, have left Prime Minister Boris Johnson's government in less than 24 hours because they believe he tried to suppress the sexual misconduct of a lawmaker of his own party.
This spirit of criticism from all quarters, and owning up to faults within the system, was reflected in the appointment of Rob Key as the new team director of England's men's cricket team in April. It came after the team's performance hit rock bottom with a demoralising series loss to the West Indies, following a 4-0 Ashes defeat. 
Key did not have to push Joe Root. He resigned as Test captain and neither fans, nor former cricketers or journalists were angry over it. In the following months, Key changed everything that could be changed. Brendon McCullum and Ben Stokes replaced Chris Silverwood and Root, respectively, at the helm of the Test team. And last week, white-ball captain Eoin Morgan, dogged by injury and poor form, retired. Jos Buttler was given his job without much ado.
Also Read | How Many Headlines Can Systemic Abuse Warrant? At What Point Should the System be Burnt for Letting its Athletes Down?
You can only do something new when you are open to drastic changes. No wonder England came up with Bazball, the new way of Test batting, that enthralled us in England's New Zealand series and at Edgbaston. The insistence of Indian experts that there is nothing new in England's approach except the moniker, shows exactly what is wrong with the Indian ecosystem. Sure there have always been batters who played Tests with a high strike rate. But never before has an entire batting line-up been told by their captain and coach that saving a match in the fourth innings is not a consideration, our only target is to win. 
To say England's batting at Edgbaston was just sensible batting and nothing new, is like saying Sri Lanka's batting in the 1996 World Cup was nothing new. One has to admit, England have revolted against Test batting just as Arjuna Ranatunga's men had revolted against ODI batting of the day. Who could imagine a Test captain saying at the toss that his team is confident of chasing? Who talks about defending or chasing before a Test match? Stokes changed even the lingo of Test cricket right there.
Of course, we would have to wait before saying it is a revolution, till England are able to do it overseas in different conditions. But sadly, not just Indian experts, even India's fourth innings bowling and field settings, betrayed our national character of denial. The team management was clearly in denial of Bazball, so did not plan anything specific to counter it. Jasprit Bumrah & Co. looked unprepared when the unheralded English opening pair started scoring at five an over. A couple of good deliveries from our stand-in captain induced mistakes, and a stupid run out were the only things that came in England's way thereafter. India not only failed to take a wicket; they never looked likely to take a wicket. The denial of Bazball can also be seen in the way India batted in the third innings. The lower order thought there was already enough on the board, and nobody, except Cheteshwar Pujara, seemed to take time as an important factor.
In fact, Indian cricket has lived in denial of a lot of problems for a long time. Edgbaston only made those issues prominent. Since the days of Ravi Shastri and Virat Kohli, the team management, the majority of former cricketers and other experts have denied that the team has big holes in it. Citing some marvellous (at times miraculous) wins, the team director kept saying his is the best travelling team India has ever produced, and many clapped. The fact that India failed to put up big totals repeatedly was hardly discussed as the incredibly consistent bowling attack bailed the team out more often than not. Wins on tailor-made turners at home and the two series wins Down Under, creditable as they are, were used to sweep repeated failures in England, New Zealand and South Africa under the carpet. And we are only discussing Tests here. 
Video | One on One with Igor Stimac
The Edgbaston defeat, coming after the series loss to Dean Elgar's young side, is alarming because it shows nothing has changed with the change in management. Just that the infallible bowlers have begun to falter more often. Let us discuss what has not changed. Statutory warning: bitter truths ahead.
Playing all-rounders to cover fragile middle-order
Ajinkya Rahane was cooling his heels at home when India slumped to 98-5 in Birmingham. He must have felt deja vu. Because he was part of the trio Indian fans had imagined would be heir to Dravid-Tendulkar-Ganguly overseas, but seldom turned up after the 2018-19 tour of Australia. It is true that Rahane was repeatedly pushed and shoved once upon a time to make way for Rohit Sharma. But he did get a long rope afterwards which he could not make use of. The Melbourne century after 36-9 was a flash in the pan; consistency had long deserted him. However, Virat Kohli and Cheteshwar Pujara are enjoying longer ropes. The triumvirate have failed together on more occasions than they have succeeded.
To cover for that, Shastri-Kohli went fishing for all-rounders; Hardik Pandya and Ravindra Jadeja became favourites despite not much bowling success. When injury consumed Pandya, in came Shardul Thakur. The loss at Edgbaston has made it clear once again that these all-rounders are no replacement for a class spinner like Ravichandran Ashwin, who could add vital variety to the pace attack, particularly if the pitch flattens out.
The truth about Jadeja is that he has improved drastically with the bat to become a batter who can roll his arm over in overseas Tests. His bowling could be deadly on Indian pitches but is innocuous outside. However, he has to be played as he and Rishabh Pant are the only consistent batters when India travel outside the subcontinent.
Speaks volumes about the declining abilities of Pujara and Kohli. The third innings half-century notwithstanding, Pujara is averaging 28.31 in 23 Tests since November 2019. His place is at least debated. He was dropped, too, from the previous Test series against Sri Lanka. But hardly anybody discusses how Kohli's failure impacts the team. Everyone is happy anticipating his 71st international century, while he averages 29.64 in 20 Tests in the same period. The Rahul Dravid-led team management seems as sure as the previous one that his runs are just round the corner. A bowler's slot has to be sacrificed till then, playing two half all-rounders.
The vanished prince
Yes, we are talking about Virat Kohli. He is too important to be dismissed with three sentences. Every Indian captain who could not score as long as he hasn't, lost captaincy. But his woes are continuing even after losing it. He and Root are a study in contrast. There was no drama around Root giving up England's leadership. Since then he has looked like a man who found a new girlfriend after a painful divorce. He has been piling on the runs, adding new shots to his repertoire (outraging purists with a shot that can be loosely termed reverse scoop) and smiling all the time. On the other hand, Kohli looks like a man who lost childhood sweetheart to his best friend and blames the whole world for that.
Also Read | Serena Williams Brushes Aside Retirement Talks, But for How Long?
Such a long bad patch must be a technical issue, but Kohli insists it is not. He and his dear former team director said a few days ago that he needs a break. He got it after the Indian Premier League, but nothing seems to have changed. Kohli had failed miserably on the tour of England in 2014. Back then he recognised something was wrong with his technique, rectified it and scored a lot on the next tour. Why the obstinacy now?
In the first four matches of this series last year, he was standing well outside the crease, supposedly to negate swing. It did not work. Nevertheless, he did the same at Edgbaston. Who is at fault here? Dravid and batting coach Vikram Rathore, who have not spotted the problem and suggested a change? Or Kohli himself, by not listening to anyone? Supposing he does not feel comfortable with them, what stops him from approaching the batting maestros who do commentary stints round the year?
Youngsters taking their places lightly
Tough competition for each place is good only when players treasure their places in the team.
Rohit Sharma, Mayank Agarwal, KL Rahul and Shubman Gill – all have opened for India in the recent past and succeeded. When all are available, someone misses out. But how many of them are desperate for that opening slot? Rahul had mastered the English conditions and bowling attack when the early part of this series was held last year, but missed this important Test (and the T20I series against South Africa) with an injury that did not stop him from playing in the Indian Premier League. Rohit missed the Test with Covid-19, which gave Gill an opportunity. But did he want to make the most of that opportunity? He perished in both innings flirting with deliveries that could be left alone. The 22-year-old is already 11 Tests old but is yet to complement his flair with persistence. Playing a few exquisite shots and then getting out has become his habit. He is one for the future, but that future would not be bright if he remains happy with cameos.
Also Read | World Swimming Body Got it Wrong With Trans Women
England's ease in dismissing Shreyas Iyer was also disheartening. Short-pitched stuff is not Anderson's strength, neither is he among the quickest. But one ball towards the body from him got Iyer in the first innings and as soon as he walked in in the second essay, McCullum told his wards he should be targeted with similar stuff. Iyer did not try to move away from those deliveries but tried to hit his way out of trouble; departing soon and proving McCullum right.
'Natural game' is a phrase that was used to justify everything during the previous regime. Going by Dravid's words, it is still in vogue in the dressing room. While natural game play can be an acceptable justification for a freak like Pant, if it becomes a shield for everyone in the team, improvement becomes impossible. If nobody can be told to change anything, how would the results change?
Dravid and Rohit were put in charge amid a lot of commotion. Fans and well-wishers of Indian cricket are still fighting over it online and offline, but everyone expected fundamental change. Fans of the new dispensation dreamt of it, detractors dreaded it. Dravid's handling of Wriddhiman Saha indicated things were moving in the right direction. But the change seems to have stopped in its tracks.
(Pratik is an independent journalist based in Kolkata. He loves to write on politics, society and sports.)
Get the latest reports & analysis with people's perspective on Protests, movements & deep analytical videos, discussions of the current affairs in your Telegram app. Subscribe to NewsClick's Telegram channel & get Real-Time updates on stories, as they get published on our website.
Subscribe Newsclick On Telegram