Break From Cricket Has Uncluttered Virat Kohli's Mind
The former India captain has looked more confident since, certainly calmer, and more assured of his batting (and fielding) skill set.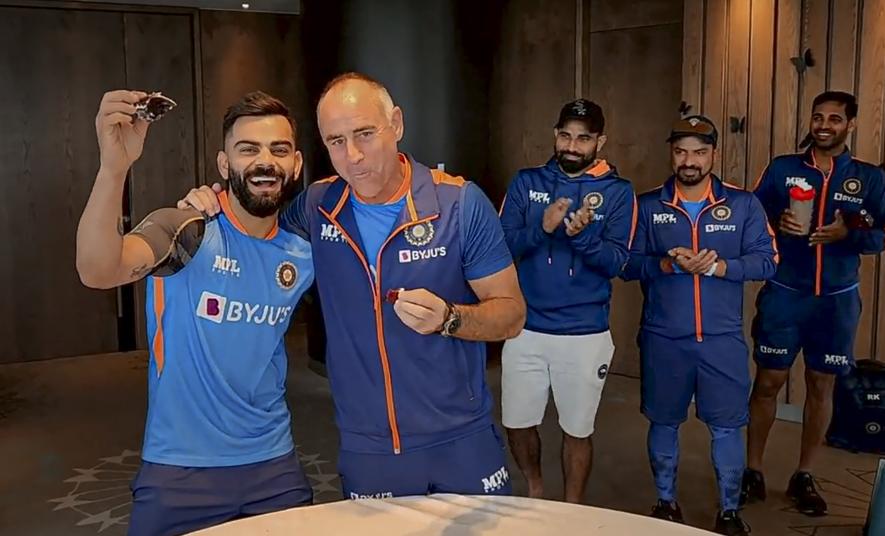 There's a very interesting and noteworthy pattern in his 37 fifty-plus knocks that run-machine Virat Kohli has played in 106 T20 International (T20Is) innings. On seven occasions when he has made a half-century, he has notched another in the immediate next match. And on three separate occasions, he has scored half-centuries in three successive matches. Another interesting aspect of Kohli's half-centuries – including a century -- is that all of those have come while batting first.
Kohli's 53-ball 82 not out against Pakistan in Melbourne on October 23, followed by a 44-ball 62 against the Netherlands on October 27 in the T20 World Cup is the latest and the seventh instance of his back-to-back half-centuries. And the number of his successive half-centuries would have been more had he scored a few more runs spread over the matches in which he missed the 50-run mark by a whisker. The latest occasion when he missed it was in the second T20I against South Africa on October 2, when he remained unbeaten on 49 in Guwahati.
Even without such personal milestones, Kohli's place in cricket's Hall of Fame would have been secured, and that too very high among the greatest who have wielded the willow successfully. Kohli has been in glorious touch lately. The 34-year-old hammered a match-winning 82 not out against Pakistan, won the Man of the Match award, and more importantly, shut his critics firmly. He followed it up with another 50-plus score, against the Netherlands.
Many experts and critics had been baying for his blood for some time, not necessarily for cricketing reasons entirely. But, to be fair, Kohli had never gone out of form really, as his scores in the three formats suggest. He has been playing well even before he supposedly 'returned' to form. It is just that he, by his own high standards, had not been scoring centuries as frequently as he used to in international matches, and that there was a long pause after his 70th. He, finally, scored his 71st after 1,020 days, against Afghanistan in the Asia Cup in September in Dubai.
Cricket legend Sunil Gavaskar put things in perspective beautifully. "He wasn't scoring centuries; he was scoring runs. Because of the lofty standards that he has set where he is scoring hundreds, when he doesn't get them, people say he isn't scoring runs. He was getting 60s and 70s and, yes, that odd failure here and there, but every batter goes through it," he said after watching Kohli ensure a win for India against Pakistan.
Gavaskar explained the point further: "The point is when Federer, Djokovic and Nadal don't win semi-finals, finals, people think that they didn't do well. When Tiger Woods was in form, when he finished second or third, people said he didn't do well. Anybody would be happy to get those 70s and 80s. These are the standards great players set and that's why we think that they are not at their best."
Kohli went into the Asia Cup supposedly under pressure -- of scoring a century. He began the tournament well, with a 34-ball 35 against Pakistan. Then, he scored 59 not out against Hong Kong, 44-ball 60 against Pakistan followed, failed to score against Sri Lanka, before hitting the much-awaited ton against Afghanistan.
That century came after 72 international matches, 83 innings from which Kohli aggregated 2,708 runs at 36.10. These are no throwaway statistics by any standard. However, more significantly, during this period he scored no less than 26 half-centuries. These half-centuries, which included 12 70-plus scores, are important to counter those who termed him 'out of form'. For clarity, these 26 half-centuries do not include the 50-plus scores of the IPL.
That century against Afghanistan -- Kohli's first ever in T20Is, and coming after a month's break he had taken to rejuvenate himself -- seems to have given him a new perspective on life and fresh impetus to his cricket career. He has looked more confident since, certainly calmer, and more assured of his batting (and fielding) skill set. He has always been cocky, and now there is a new spring in his step. And his mind is clearly now free of doubts, if there were any. This is reflected in his assured strokeplay. All this is visible for those who want to see (read his critics).
The biggest reason for regaining his so-called 'lost form' is Kohli's fresh and uncluttered mind. It seems that the month-long break helped him delete the 'temp files', so to say, from his mind, which were occupying space. The break seems to have given him a new outlook towards life -- beyond cricket. He himself alluded to this a couple of times since the start of the Asia Cup in September. Didn't he close his eyes and point a finger skywards after guiding India to victory against Pakistan on October 23? That was possibly another indication of his new found calmness. He seems to have figured out what to do for the rest of his life, whatever that might be.
Kohli hasn't revealed it fully so far, but one day he may provide the details of how he cleared his mind of "fake intensity" to which he candidly admitted before the start of the Asia Cup. Also, it is important to note that he has pointed to a lot of things happening around him, outside the cricket field.
Although Kohli didn't mention it, India captaincy was surely one of things that affected him mentally. He first resigned from the T20 captaincy last year to manage his heavy workload – he has been an automatic starter in all three formats – and then the BCCI removed him from ODI captaincy, saying there would be only one white-ball captain. He then resigned from Test captaincy, seen as his reaction to the sacking.
The "faking intensity" that Kohli referred to must have occurred around that time, when so much was happening off the field, and on it, he was not getting that pressure-relieving century despite crossing 70s and 80s. And, then, he took that welcome and well-deserved break from the game. On his return, he revealed that he didn't touch a bat for a month to completely freshen up his mind and body. That bore rich dividends, as is evident in the sequence of his T20I scores since his return from the holiday: 35, 60, 0, 122 not out, 2, 11, 63, 3, 49 not out, 82 not out, 62 not out, 12, 64 not out, and 26.
All positive things have been happening to Kohli since his return from the break, on and off the field. SportsPro, a leading sports website based in London, ranked him the seventh among 50 most marketable athletes of the world, ahead of renowned gymnast Simone Biles (11th spot), tennis legend Rafael Nadal (16th), football great Neymar (17th), and current India captain Rohit Sharma (20th).
And when there are positives all around, even your big mistakes are not noticed or talked about. Kohli made a huge error early in the match against Pakistan that could have cost India big time. However, he redeemed himself with that famous knock. Off the fifth ball of the second over, bowled by left-armer Arshdeep Singh, Kohli, at short mid-off, failed to run out Shan Masood from almost a handshaking distance when he hadn't opened his account and Pakistan were one wicket down for one. Kohli just smiled and put his hands on his head; nobody criticised him.
Nobody would remember that huge miss, which could have made India pay big time. After the reprieve, No.3 Masood held the Pakistani innings together after early Babar Azam jolt, and went on to top score for his team with a 42-ball 52 not out. Had Kohli not scored that match-winning innings, India could have lost, with that missed run out being one of the major factors. No wonder, a much-relieved Kohli rated this innings as the best one of his career. Amid the celebrations, nobody asked him about that run out.
Kohli's innings against Pakistan, played in front of an appreciative 90,293 spectators at the Melbourne Cricket Ground, could have made him think afresh and seriously about extending his T20I career, if he had been thinking of quitting the shortest format at all to focus solely on ODIs and Test matches. Evidently, he has many years of T20 cricket left in him and there is no shortage of motivation for him, even as he turns 34 on November 5. His 82 not out alone is sufficient to spur him on – with an eye on Sachin Tendulkar's 100 centuries, of which he is 29 short at the moment.
The author is a cricket reporter based in New Delhi who has covered the sport for over three decades.
Get the latest reports & analysis with people's perspective on Protests, movements & deep analytical videos, discussions of the current affairs in your Telegram app. Subscribe to NewsClick's Telegram channel & get Real-Time updates on stories, as they get published on our website.
Subscribe Newsclick On Telegram