Bihar: Kumhar Labourers in Gaya Struggle as Market Declines
While the summers increase the demand for articles such as clay cups and earthen pots, this doesn't translate into much employment. In general, most kumhars are leaving the art and the tradition seems to be in decline.
Rabri Devi working on matkas
Rabri Devi, a woman in Bhagalpur near Bodh Gaya, spends most of her day kneading matkas (pots) of clay and drying them near her house to sell in the market. It is good business for her, and the demand has improved in the summer season. "I have been doing this work for a long time; I have my elder son for whom I have gathered pennies for years. I sent him to China to learn Chinese, and now we are waiting for opportunities to guide Chinese Buddhist tourists in Bodh Gaya," Rabri said while punching and shaping her pots.
Bhagalpur is one of the villages with a considerable kumhar population, a caste traditionally engaged in the artisanal work of making items of clay. Some 70 to 80 houses of kumhar people live here. While the summers increase the demand for articles such as kullhadd (clay cups) and matka, this doesn't translate into much employment. In general, most kumhars are leaving the art. This tradition seems to be in decline.
"Here in Bhagalpur, only some 10-15 houses do the work of kumhar, while the rest do other petty work. Some run thelas, and some do labour work as raj mistri. Few are in the public sector," says Nandlal Prajapati, the president of the Bihar Kumhar (Prajapati) Samanvay Samiti. The Samiti is a caste association that represents the interests and demands of the kumhar community.
Nandlal says the Samiti has come into being due to the desolate condition of the kumhar samaj. "When we saw several other caste communities moving forward and finding better jobs in the public sector, and political representation in the state, some intellectuals from our community aimed to unite the kumhar people and fight to move forward," he says.
One of the main concerns is that the market for clay items is in decline. "The government may provide us with some sort of help, such as this one recent thing they did at the start of the year was to distribute 100 electric chaaks (turntables running on electricity on which a kumhar makes clay articles) to many kumhars in the area. This helps in our production and is a good initiative by the state government. But the larger concern here is that we have no market. The articles of clay depends on either the season or on festive occasions," Nandlal says.
Mainly, the kumhars used to make khapra (clay tiles used to roof old houses) and clay utensils. Both of these have become obsolete as newer house roofs are cemented, and steel and plastic utensils are preferred in all contexts.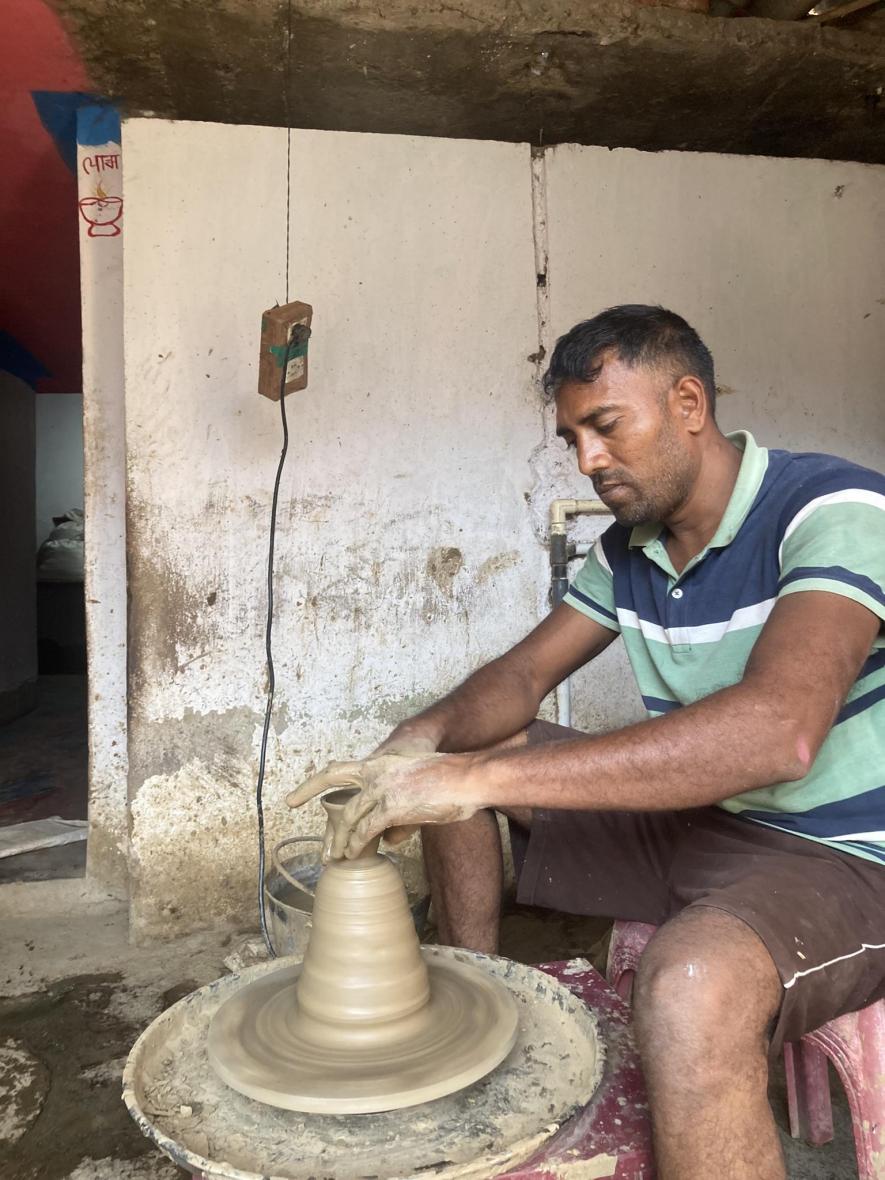 Pawan Prajapati making kullhadds on an electric chaak
Pawan Prajapati, a kumhar who recently got an electric chaak, has a much easier time making kullhadds. "The electric chaak runs automatically, so I no longer need to run the chaak physically. It used to be that on a single turn of the chaak, I could only make 7-8 kullhadds, now it is all automatic, and hence it reduces so much effort!" Pawan says.
While the work of making kullhadds for the summers goes on well, Pawan is anxious about what comes after. For the raw material for making clay items, some of which are specific types of clay such as kaala mitti and riverside clay, firewood to 'cook' the clay items, are elusive. "It has been increasingly becoming difficult to find mitti. We have no land of our own and other castes, who own land, are not willing to give us any mitti. Recently, there has been mining in a public lake nearby. So we somehow managed to get some mitti; we got two truckloads which may last us this year. But there is no certainty that the government will always provide us such amounts of clay," Pawan said.
This points to some of the inadequacies in government efforts. "Neither is it like the market for our articles is sustainable. We barely make our ends meet, as most work is seasonal. Most work on idols depends on festivals," says Pawan, adding that "I won't want my children to continue as I have faced many difficulties filling my family's stomach."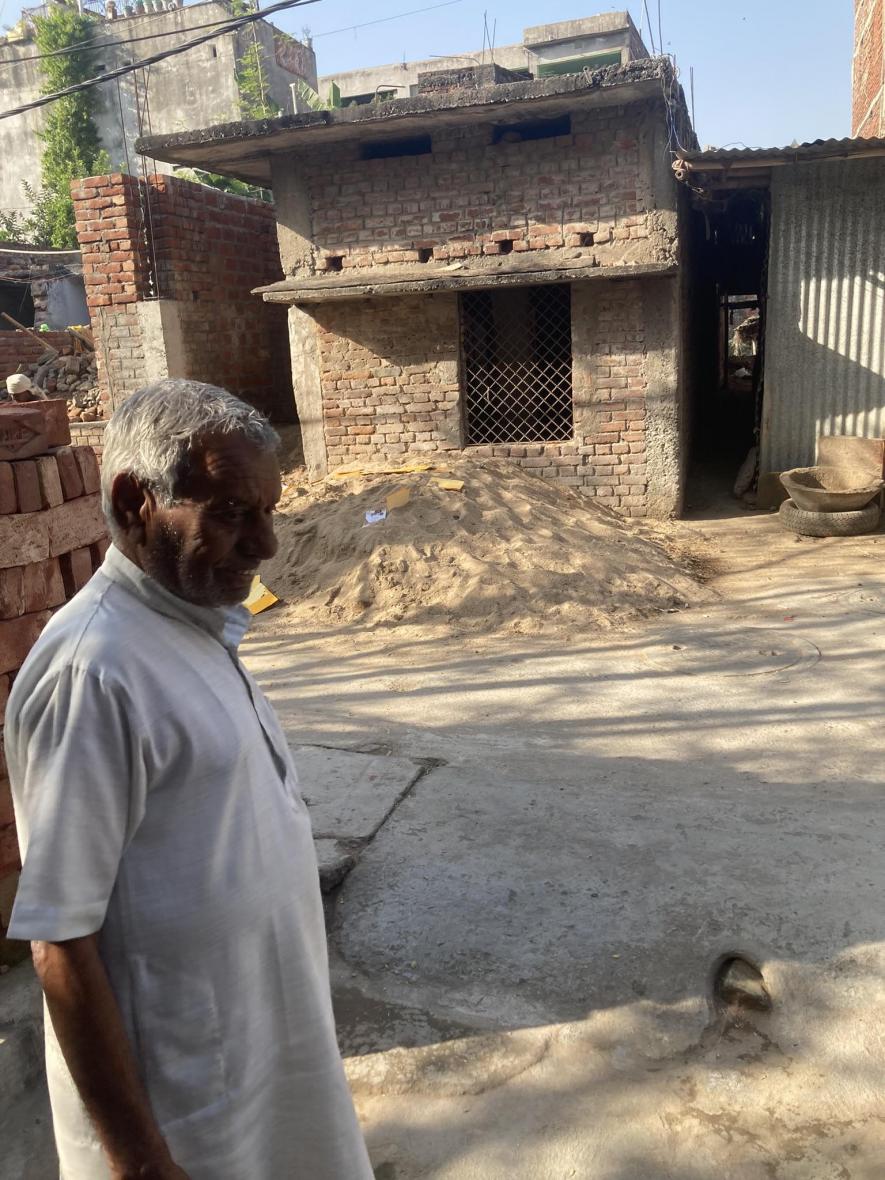 Nandlal Prajapati in Bhagalpur
Nandlal explains that the community's backwardness is a pertinent reason for today's crisis of raw materials. "You see, our community has always believed in serving the people. Decades ago, it was enough for a kumhar family to do their artisanal work and live off it. The average kumhar never felt the need to own land as village life supported their livelihood. As we have modernised, elites have bought out acres of land for themselves, and the fact that we have more needs and things are becoming costly, the kumhar doesn't find a place between landlords who shoo them away if they ask for clay. In the same way, firewood is also hard to procure," he said. He reminisces of the past, when in Bodh Gaya, the institution of the Hindu-Shaivite Math, known as Bodh Gaya Math, owned thousands of acres of land. The kumhars used to get clay for free from the land owned by the Math.
"But after a series of movements before and after the independence of India culminating in the 70s (recounted here), the land was liberated and distributed amongst the landless and harijans (Dalits)," he recalls. But what has happened post the redistribution is that the upper castes or more privileged lower castes have been able to buy off the land from the victors of the movement. "Everything went to the dabanags (elite castes); hence we have no clay, no wood or own any land. It is so bad for many that they have to mix sand into the small amounts of clay that they own. The situation is desperate," Nandlal asserted. He demands that the government allot land to the kumhar community to procure the raw materials.
A similar plight of the kumhars surfaces in a village called Bishnuganj, situated near the Gaya International Airport. Ram Brij, an elderly man, around 70 years old, who retired from the position of a security guard at the airport, now spends his time in the village while his kids are out to do labour work in the city of Gaya. He recalls the old days when he used to work as a kumhar.
"I did kumhar work till the age of 24; it was laborious work to collect the clay and then rotate the chaak to work on it continuously. I wanted to leave, and hence I joined as a security guard at the airport. Later I did the same job in Munger," Ram Brij said. He further informs that the business of kumhars was profitable only in the past, "now it is difficult to sustain as a kumhar. Kumhars used to take mitti from zamindars, and now the zamindars have started to use their land for other activities, and hence they do share any mitti with us. Nobody works as a kumhar in this village anymore, and everyone has moved away to do agricultural work."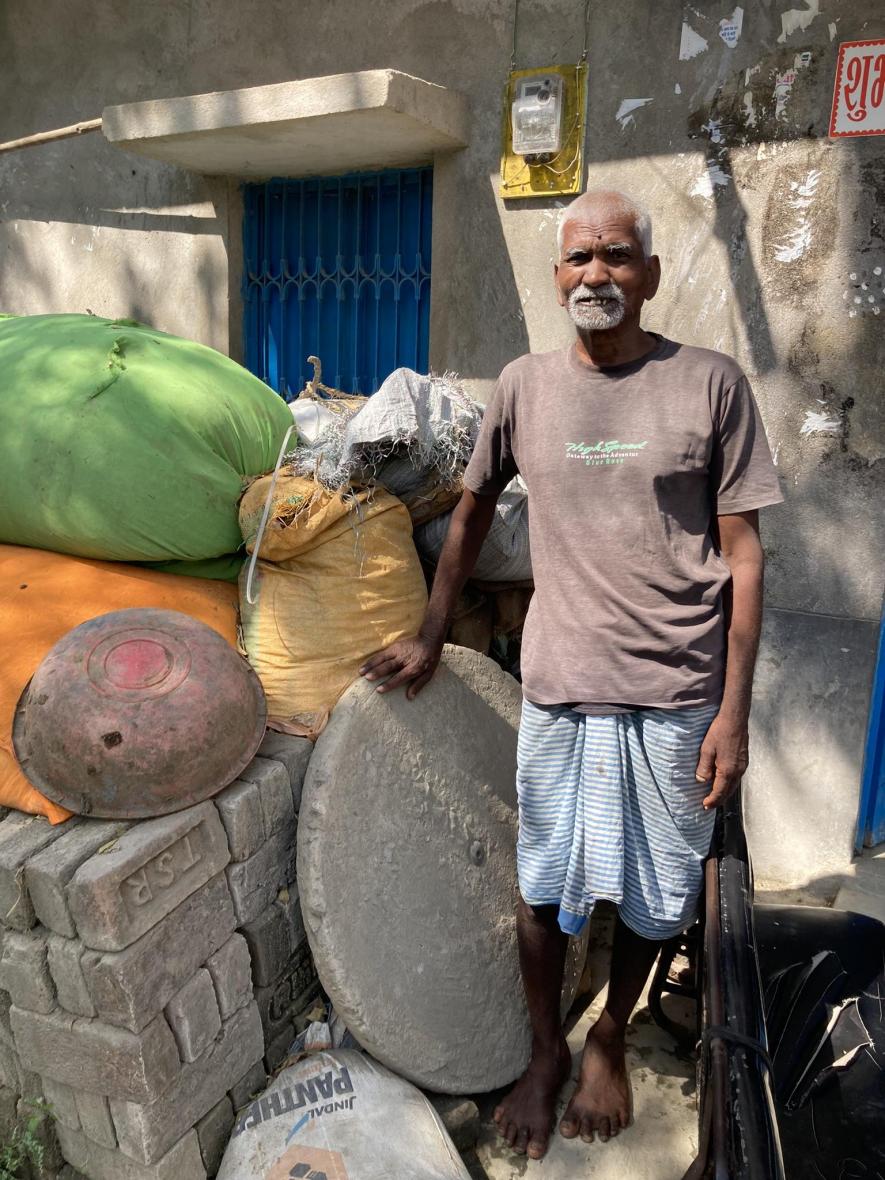 Kamlesh Pandit in Bishnuganj, posing with his chaak
Dilchand Pandit, another person from the kumhar community, confirms the same. "This is a village of kumhars and yadavs and manjhis, and almost everyone is involved in agriculture in some capacity," Dilchand said. The decline and obsolescence of the profession of the kumhar have much to do with landlords as with demand of the articles. "It was only 6-7 years ago that many in our community were able to work as kumhars and make ends meet. We used to carry mitti from a village of forward-castes nearby, called Jaitiya. Later they sold their land, and hence we didn't have any source to get mitti," Dilchand said.
He adds that the demand for khapra has declined, but utensils still have a small market. But that is not enough for one to sustain oneself as a kumhar. "Slowly over a few years, we never encouraged our children to work on the chaak. Some got other jobs, some became teachers, and many are still preparing for government services. Why would anyone want to go back to kumhar work? It has no benefits," Dilchand says.
An older man named Kamlesh Pandit remains in the village and owns a chaak which he uses seasonally. "During any festivals, I make diyas and sell them in the Bishnuganj market. Other than that, my children do other labour work; they don't do kumhar work," Kamlesh said. He is then the last of all kumhars in the village to be doing the decaying artisanal work. On the other end of the spectrum, Pawan Kumar comes from a family of kumhar who has earned a PhD. in Biochemistry from University of Gaya. His father, Kamleshwar Pandit was a traffic police inspector.
Showing us his chaak, which belonged to his father, and now covers a small drain in the backyard of his house, Kamleshwar says, "This is just to keep a memory of our work. We no longer engage in it. Only my father knew how to run the chaak." His other son has been able to get a government job, while Pawan, post obtaining a PhD is applying for a professorship in different colleges across Gaya. "I am happy that I am one of the only few from our community who have achieved such a feat of obtaining a PhD. It is all thanks to my father," Pawan said. But he is also conscious of the concerns of his community.
"The government has to take a lot of initiatives for our community: be it the crisis of procuring raw materials or the overall backwardness and lack of capital in our community. Special provisions are needed to look after the concerns of our community," Pawan asserts.
The road to uplift the community from its desperate condition goes through representation in the political sphere as well as continuous engagement and pressing for fulfilling demands of the community.
"We have no MLAs from our community across Bihar. Neither the OBC reservations have been able to help us. The 20% reservations have been hounded by privileged OBCs such as Telis, Sahukaars, Koeris, Halwais, and so many others," Nandlal says, "there is an old saying in the dehat (rural locality): ekwar badhai, dowar lohar, baale bacche lage kumhar. (It takes one carpenter, two ironsmiths, but the whole family of kumhars to make ends meet."
He says that it points to the condition of those who have not been able to uplift themselves, who keep on trying to survive in this declining profession with their whole families.
He has pressed for several demands in the past, after the distribution of 100 electric chaaks in the district. Some of the demands include the provision of providing free mitti for the kumhars through the arrangement of gair majarua land (land which is not used for farming) to be entitled to the kumhar community by the government. Distribution of other raw materials has also been demanded. "We also want a Mitti Kala Manch, a body that has been established in the states like UP, Madhya Pradesh, and Jharkhand. It aims to promote the art of the kumhars and meditate on the problems and find solutions to the community's problems through direct funding from the government," Nandlal said.
Above all the troubles and difficulties, Nandlal hopes that something can be done. The work of the Samiti not only works to help the business of the kumhar samaj but also brings together various sub-castes within the kumhar community. "There used to be discrimination between some subcastes of kumhars, namely the kannaujiyas were considered untouchables for they reared donkeys in their houses. The Samiti has actively brought everyone together, hopefully, so that everyone can progress together," Nandlal said.
Get the latest reports & analysis with people's perspective on Protests, movements & deep analytical videos, discussions of the current affairs in your Telegram app. Subscribe to NewsClick's Telegram channel & get Real-Time updates on stories, as they get published on our website.
Subscribe Newsclick On Telegram