CAA/NRC: Journalists Covering Protests Face Police Ire Across States
In Delhi, the Kerala Union of Working Journalists held a protest on Saturday.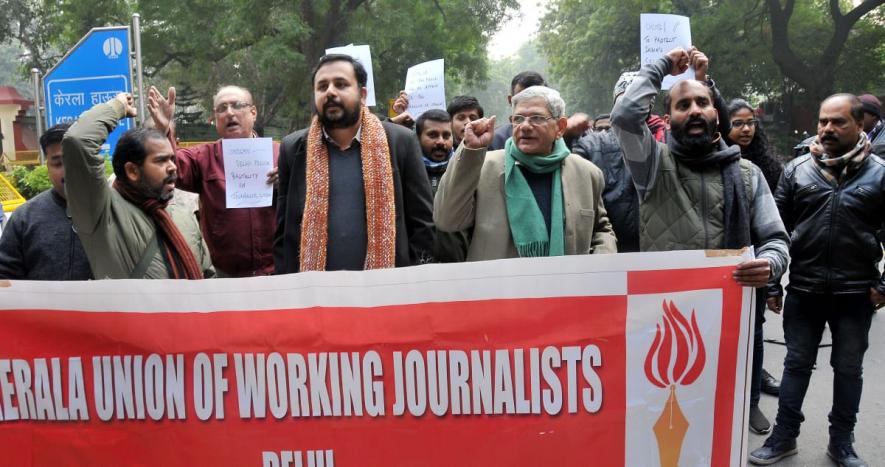 New Delhi: Amid countrywide protests against the Citizenship Amendment Act (CAA), 2019, and National Register of Citizens (NRC), mediapersons, too, have faced the ire of the police while trying to report the protests, including in Mangaluru, Uttar Pradesh and Delhi.
Condemning the attacks on journalists, the Kerala Union of Working Journalists' Delhi chapter conducted a protest gathering at Jantar Mantar on Saturday afternoon, calling for defending media freedom. Several journalists, including from Kerala, had been detained by the Mangaluru Police on Friday after widespread violence and police attack even in a hospital where the post-mortem was being of two people who were killed on Friday.
Addressing the protesters in Delhi, CPI(M) general secretary Sitaram Yechury said:
"I was shocked to hear that some of the journalists from Kerala have been severely injured and they were hospitalised. In many parts, it is happening and probably the worst is what is happening in Uttar Pradesh. So most of the violence that is taking place over this protests is all made in BJP-ruled states. Where there is no BJP rule, the protests are peaceful."
Read More: CAA-NRC: Batons, Bullets and Conspiracy
In Lucknow, a journalist with The Hindu, Omar Rashid, was picked up and detained on Friday by the Uttar Pradesh police from a restaurant. The police accused him of being involved in the protest in Lucknow on Thursday, though later they claimed "mistaken identity" and released him.
"I was using someone's WiFi in the hotel. Suddenly about four to five people in plain clothes came and they started interrogating my friend. They asked him to identify himself. The asked me to identify myself. They then put him in a jeep and ask me to also come along. I identified myself as a journalist and told them who I am. They insisted I went with them," Rashid said in an interview to NDTV.
"They locked us up in a room. They took away all my belongings including my phone. They beat up my friend brutally. They questioned him and linked him to the violence. They also linked me to the violence saying I am a key conspirator in the violence. They were asking me questions about certain Kashmiris coming here and participating in the violence. Each time I was trying to ask them something they asked me to shut up. They used expletives and said you can put your journalism elsewhere, we don't care about it. They told me they had proof against me. They put us in a jeep again and took us to an outpost. Another police officer used a lot of communal slurs against me and said he would tear my beard," Rashid added.
In Mangaluru, on Friday morning, 12 journalists, eight of them working with various media houses in Kerala, were detained by the Karnataka police while reporting the aftermath of police firing on Thursday afternoon which claimed the lives of two people. The phones and cameras of journalists were confiscated by the police and the police even destroyed the vehicles of the media outlets.
On Friday, the Delhi Union of Journalists in a statement condemned the crackdown by Karnataka police on some journalists in Mangalore. DUJ also joined a solidarity rally with Kerala journalists. In separate statements, the Press Association, Indian Women's Press Corps and Press Club of India also condemned police attacks on journalists covering the CAA/NRC protests.
Read More: CAA/NRC: 15 Held for Violence in Daryaganj, Bhim Army Chief Taken Into Custody
Shortly after the attack on journalists, Bharatiya Janata Party's Karnataka chief, Balaji Srinivas, tweeted: "50 goonda elements from Kerala tries to enter Venlak hospital in Mangalore in the name of journalists. Sources say the gang was carrying weapons and cameras to create ruckus."
Resonating the views of the BJP chief, Mangaluru police commissioner PS Harsha told the Times of India that people from Kerala had entered the city in the guise of journalists and had fomented trouble.
The journalists from Kerala, however, were only released and permitted to cross the border into Kerala after widespread protests in Kerala and intervention by Kerala chief minister Pinarayi Vijayan.
In Delhi, reporter and camera person from the Kerala-based Mathrubhumi were attacked by the police at Daryaganj on Friday while they were filming police brutality on peaceful protesters.
"Since we reached there at the time of police violence, we filmed what the police had done to the protesters. The police beat me up from the back and destroyed our camera. It was with the sole intention that visuals of police brutality should not be aired," said Vaisakh Jaipal, the camera person of Mathrubhumi News.
On December 15, Bushra Sheikh, a journalist with BBC, was attacked by the Delhi Police while she was covering the students' protest in Jamia Millia Islamia in South Delhi. "I came here for BBC's coverage. The police took away my phone and broke it. A male cop pulled my hair. They hit me with a baton and when I asked them for my phone, they hurled abuses at me", Sheikh was quoted as saying.
Get the latest reports & analysis with people's perspective on Protests, movements & deep analytical videos, discussions of the current affairs in your Telegram app. Subscribe to NewsClick's Telegram channel & get Real-Time updates on stories, as they get published on our website.
Subscribe Newsclick On Telegram