CAA-NRC: Gaya's Shanti Bagh Turns Into Mini Shaheen Bagh
Thousands of people, mainly women, from all communities have been gathering in the cold, singing songs, reciting poems and listening to speeches for a common cause – saving the Constitution.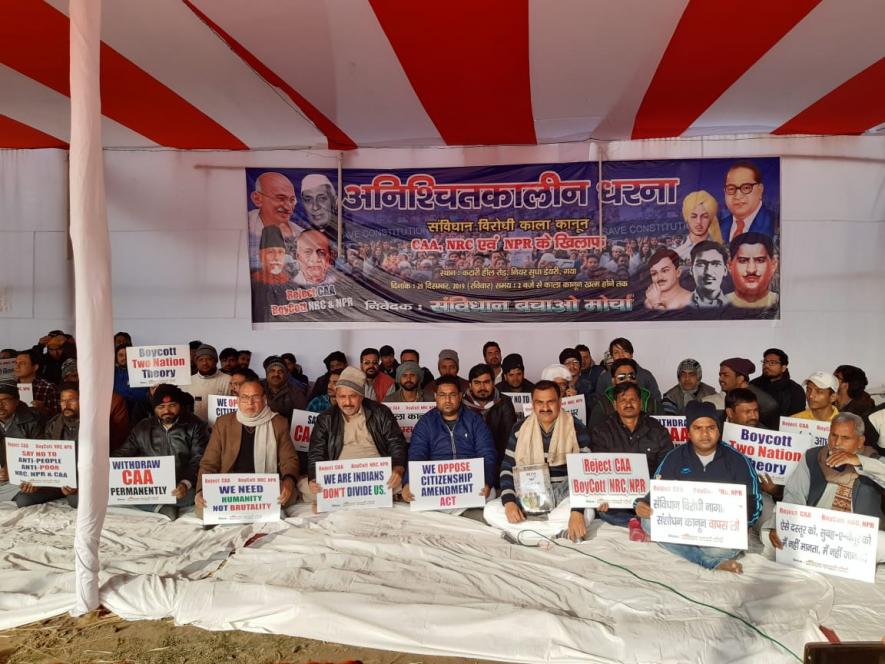 Shanti Bagh (Gaya/Bihar): On a cold January afternoon, Dulari Devi and Shaziya Perween, sit under the open sky, singing national songs and Faiz Ahmed Faiz's poems. In between, they also join slogans raised by others at the sit-in protest against CAA-NRC, turning the site into a mini Shaheen Bagh in Delhi, where a sit-in protest, mainly by women, has been going on for over 25 days.
The protest in Shanti Bagh in Gaya, where hundreds of people, mainly women and students, have gathered, has been going on 24×7 since December 29, but has hardly drawn any media attention so far. But, undeterred, the sit-in protest is continuing with overwhelming support from the common people in Gaya town, widely known as the holy land where Gautam Buddha attained enlightenment.
The protest against the Citizenship Amendment Act (CAA) and National Register of Citizens (NRC) at Shanti Bagh is the only of its kind in Bihar, and entered the 14th day on Saturday.
As the name Shanti Bagh (Peace Garden) suggests, the protestors have been talking peace, following a peaceful path of protest and sending have been sending messages of social harmony to strengthen idea of Mahatma Gandhi's India, that is inclusive.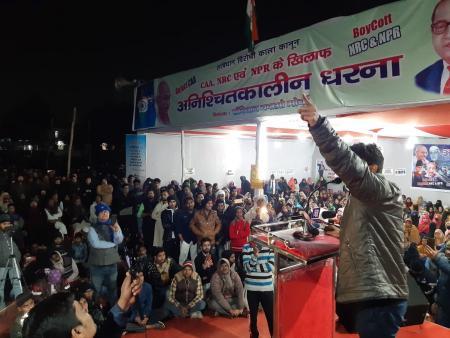 "I have been coming here daily since the past 10 days to join the ongoing sit-in protest against CAA-NRC, which is not only unconstitutional, but is also against the basic fundamental rights of citizens. I will not go back till CAA is repealed by the Central government", said Dulari Devi, a housewife, who lives not far away from Shanti Bagh.
Dulari is one among hundreds of women who are regular at this sit-in protest. There are others like Nusrat Hasan, Mamta Devi, Naghma Perween, Fatima Khan, Karuna Kumari, Mariyam Farhad, Suman Saurya, Rozy Khatoon, who have been spending hours at the sit-in protest to express their opposition to CAA-NRC.
Slogans of Inquilab Zindabad (Long Live Revolution), Ladenge Jeetenge (We Shall Fight, We Shall Win), Hindustan Zindabad (Long Live India) regularly rent the air, while a few youth on a small stage set up in Shanti Bagh grounds keep raising slogans and different speakers express their views. Colourful placards, posters and banners dot the protest site.
Another protester, Shaziya, said "singing national songs and reciting Faiz and other poems gives us confidence and keeps all of us warm in this cold weather under the open sky."
Naghma, covering her head to save herself from the cold wind, said Shanti Bagh's sit-in protest was an example of Hindu-Muslim unity to peacefully fight against CAA-NRC.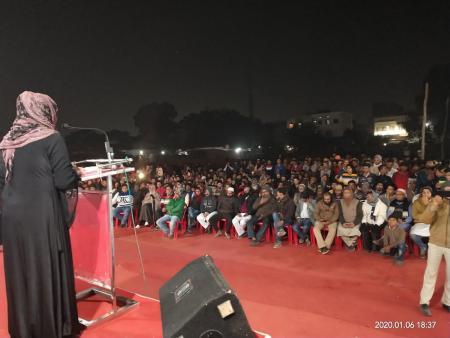 "Anyone can come and see that if Naghma, Farzana Perween, Kahkashan and Wasim Naiyar Ansari are here, then there are Mamta Devi, Suman Saurya, Mukesh Kumar, Muni Devi, Rajendar Yadav and Mukesh Choudhary also", she adds.
Karuna Kumari said: "We are taking part in the sit-in protest here despite bone-chilling cold since last December and will continue till it the end. It is wrong to say that only Muslims are protesting against CAA-NRC. Hundreds of non-Muslims, particularly Hindus, Christian and Sikhs also taking part, and I am one of them".
Satish Kumar Das, an active face behind the sit-in protest being held under the banner of Samvidhan Bachao Morcha, said oeople from all walks of life and communities have been making it a protest with a difference, something never seen in decades in Gaya. "People in large numbers gather here every day to save the Constitution from the biggest attack", he said.
Das said the participation of women in the sit-in protest is more than expected, as more than 1,000 of them are turning up daily on an average.
"It is a big number for a small town," he added.
Shanti Bagh's sit-in protest has turned into a mini Shaheen Bagh in Delhi, where the protest, mainly led by women, has been going on since mid-December. The only difference is that Shaheen Bagh has hit international and national headlines, while the Shanti Bagh protest has hardly made new, except as a small news item in local Hindi dailies," Das, who runs Ambedkar Sangharsh Morcha, told NewsClick.
Das is right, as very few people outside Gaya are aware of Shanti Bagh's sit-in protest despite the fact that it has been drawing huge crowds and has become a platform to express anger, unhappiness and peaceful resistance.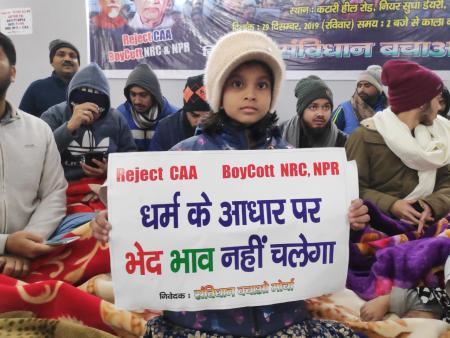 The convenor of Samvidhan Bachao Morcha, Omair Khan alias Tikka Khan, said the protest was going on round the clock. "There are no less than 4,000-5,000 people here on a daily basis. The number increases on Saturday and Sunday. More than 200 protesters, mainly youths, stay here at night after different programmes end. We sing songs, recite poems, organise talks. This is something new for Gaya. People are joining on their own for a cause to save the Constitution", he added.
But, unlike Shaheen Bagh in Delhi, several Opposition political party leaders have addressed the protesters here, including senior Congress leader Nikhil Kumar, who is the former Governor of Kerala, former Bihar Chief Minister Jitan Ram Manjhi, who is president of Hindustani Awami Morcha, former Speaker of Bihar Assembly, Uday Narayan Choudhary, former minister and Congress MLA Awadesh Singh, RJD MLAs Surendar Yadav and Samta Devi, former JNUSU president Shakil Ahmad Khan, who is a Congress MLA, and former MP Pappu Yadav. Left party leaders and members have also been taking part in the sit-in protest.
Shamshir Khan, an activist and coordinator at the sit in protest, said they had requested former JNUSU president Kanhaiya Kumar and former IAS officer Kannan Gopinathan to also join and address the protestors in the coming days.
Prof Mashroor Ahmad, who teaches Physics at Gaya-based Mirza Ghalib College, said Shanti Bagh's protest was a joint Hindu-Muslim action, who have come together to fight for a larger national cause. "The message is clear from here -- that youths, students, women and the elderly from all communities come together to save the Constitution," he added.
Danish Ahmad Khan and Shoib Akhtar, who have been regularly coming to the protest site, said they join the crowd in singing national and revolutionary songs and poems to express solidarity with all those standing against CAA and NRC.
Das said the sit-in would continue here till the Central government scraps CAA-NRC. "We know that the district administration has not given us permission for a sit-in protest in Shanti Bagh, but we are protesting thanks to the support of the people".
In Gaya, the police have lodged cases against 67 people and arrested four people on charges of violence during the anti-CAA protest march on December 16.
"Innocent people were named in the FIRs and those arrested were poor people, earning their livelihood by selling vegetables and doing odd jobs" said Das.
Meanwhile, peaceful protests against CAA-NRC continue across Bihar, including by students in Patna University.
The state has till now witnessed two shutdowns—first by the Left parties supported by the other Opposition parties on December 19 and again on December 21 by Rashtriya Janata Dal, supported by all opposition parties and Left parties.
Get the latest reports & analysis with people's perspective on Protests, movements & deep analytical videos, discussions of the current affairs in your Telegram app. Subscribe to NewsClick's Telegram channel & get Real-Time updates on stories, as they get published on our website.
Subscribe Newsclick On Telegram