COVID-19: Kolhapuri Chappal Makers in Debt Due to Lockdowns, Several Test Positive
Kolhapur has the highest case fatality rate in Maharashtra; it took just 10 days for reporting of more than 1,000 COVID-19 deaths as opposed to months earlier.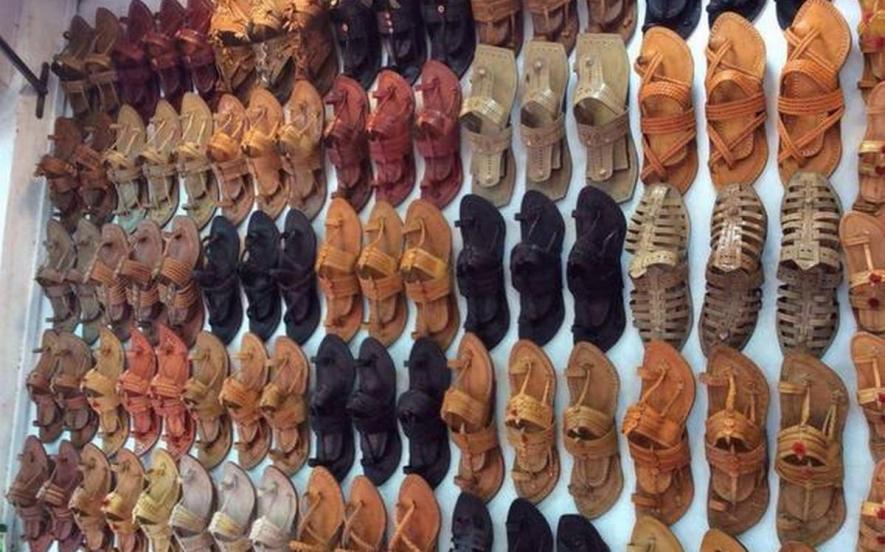 Image Courtesy: Business Line
KOLHAPUR: Running a shop outside a typical government office is arguably a sure-fire way of ensuring food on the table for many hawkers who survive on the week-long heavy footfall there. There are often cobblers seen nearby such offices, sitting under an open sky throughout hot afternoons; they make a petty buck by polishing boots for all the officials inside. Subhash Hudle (41) is one such cobbler near the Regional Transport Office (RTO) in Maharashtra's Kolhapur. His speciality is making the famous Kolhapuri chappal. 
Hudle said that he would leave the craft in a heartbeat as it is full of hardships. "Give me a better-paying alternative and I have no problem shutting the shop," he said. The crowded RTO lane would look like a ghost town only on the weekends; no sellers and no buyers, no officers and no cobblers. But the times we live in are not normal. The entire city is a ghost town yet again owing to the COVID-19 surge after months of lockdown last year, and many chappal makers like Hudle have shut their shops once again. 
Most of them, including Hudle, identify themselves as those belonging to the chambhar/charmakar caste. They live in the close-knit slums of Subhash Nagar, where at least 50 makers have tested positive for COVID-19 recently, according to the local corporator Gopal Shete. 
Shivaji Mane, vice-president of the district Handicraft Artisans and Labourers' Association (HALA), said every chappal maker starved during the last lockdown. Now 60, Mane has been a chappal maker since he was 10 years old. 
"At least 8 to 10 chappal makers in Subhash Nagar have [possibly] died due to COVID-19," he added.
Deepak Yadav, the president of HALA, said that there are about 3,000 to 4,000 chappal makers in the city.
Also read: India's Second 'Wave': Of Short-Term Measures and COVID Fatigue
The chappal makers of Subhash Nagar are scared. Frequent oxygen and temperature tests by the city health authorities have frightened the children. Overnight, all of them saw their neighbours and their loved ones being rushed to hospital. 
Sharada Powar's husband, Ramesh (52), who is also a chappal maker, was hospitalised after he tested positive for COVID-19. "The government distributes rations, so what? Is that the end of their duty? Do we not have other expenses?"  
When the first lockdown hit last year in April, the couple heard that Rs 500 would be transferred by the Modi government to their bank account. 
"We went walking to the bank but there was no money. It was just a rumour," Sharada said.
Ramesh said that the governments have mishandled the pandemic. He added, "It is because of the people that governments exist. They are not the powerful, we are. Once the people rise up, they can shoo away any government." 
Sharada and Ramesh cannot read or write. Before the lockdowns, their son (25) worked on contract in the canteen of one of the most elite schools in the city. But now he is unemployed, Sharada said, adding that the school did not help in any way. 
"We are getting by on the loan from our bachat gat," she said. The family was burdened with medical expenses, and the money is now going to run out soon. Ramesh has made a lot of chappals since the pandemic which are just lying around. It takes about eight days to make one chappal. When asked why he didn't get vaccinated, he said he did not want to fall sick and stop the work. 
HALA has written multiple letters since last year, and as recently as April 14, to the Chief Minister's Office (CMO) requesting compensation for the losses due to COVID-19 and frequent lockdowns that followed.  Among other things, there is a demand for a monthly pension of Rs 6,000 for handicraft workers above the age of 55, a life insurance scheme, and a no-cost medical treatment for workers and their families. The association sent a similar letter to the District Collector's Office who then sent it ahead to the office of the State Chief Secretary (CS). 
The CMO forwarded all the queries regarding the matter to the Principal Secretary of Relief & Rehabilitation Department. There has been no response yet. There were also multiple emails sent to the CS but none have been addressed as of now. 
Vidya Kurade (30), who is involved in designing a Kolhapuri chapppal, is a single mother of a nine-year-old girl. "We took heavy loans last year. I kept my gold as a mortgage with a goldsmith," she said. The debt has not been paid yet. To make matters worse, Kurade is burning through her savings. Her 29-year-old sister tested positive for COVID-19.
Some Turn to Selling Vegetables
Some chappal makers like Sanjay Lokre have been selling vegetables since the last lockdown. He said that they wake up at 5 a.m. and rush to the market. He is amongst the few fortunate ones who have built a network over the years. "Many of our customers from Pune or Mumbai have taken our numbers and passed them on to others," he said.
Lokre couriers handmade chappals to other cities when he gets orders on the phone but it is not very frequent. However, he boasts that recently one high ranking police official from Mumbai called him for a pair of  Kolhapuri chappals. 
Also read: Maharashtra: Spike in Covid Cases Causes Worry, Restrictions in Pune
As I request for a photo, Lokre sits on the chair and poses with his handmade chappals lined up in front of him. After I click a few pictures, his son asks him to sit on the floor. He insists that I click a picture of his father while he is sitting on the floor and not on the chair. His son said, "Other people will say that a chambhar has become the boss, it does not do us any good." 
Digital Divide and A Vexing Process
Adding to their problems, many chappal makers at Subhash Nagar are unfamiliar with the online process to book a vaccine slot. Not many in the area have a smartphone, in the first place. There is also a little bit of fear about the after-effects of the vaccine, Kurade said.
Kurade said that her phone broke a few months ago. It will cost her Rs. 4,000 to fix it, but that's not a priority right now.
Uttam Bamne, who belongs to the same caste as other chappal makers, owns a keypad phone. The kind that many of us used in the early 2000s. He said many in the area do not understand what online is in the first place. On top of this, the language on the Cowin portal, which is the vaccination booking portal, is not Marathi or any other vernacular language, it is by default English.
Also read: COVID-19: Rural Maharashtra in Crisis as Hospitals Run Out of ICU Beds, Essential Medicines
The Kolhapur district health officer, Dr Yogesh Sale, said that there is still a lack of awareness when it comes to COVID-19 vaccines. He added that the district administration is collaborating with NGOs to help the poor with the registration process. However, residents of Subhash Nagar say that this effort has not translated on the ground in their area.
Data Point 
Kolhapur district has a case fatality rate of 3.2 %, which is the highest in the state. What is worrisome is that it took just 10 days for the district to add more than a 1,000 deaths as opposed to months earlier i.e. as of May 21, the death toll is 3,055 while it was only 2,011 on May 11. It is noteworthy that the first COVID-19 death in the district was on May 5, 2020 and by September 15, the death toll was 1,018. There are 14,406 active cases in the district, bringing the total since the pandemic to 96,492. These are just the official numbers and many public health experts believe that the real COVID-19 data is much higher across the country.  
It has been the summer of deaths around the country. A lot of young people are dying in this second wave, according to several media reports. According to the National Centre for Disease Control, the total number of COVID-19 cases in India is now 2,57,65,802 out of which 21.79% of patients fall in the 21 to 30 age group, while 21.92% are in the 31-40 age group.
The writer is a student at the Asian College of Journalism. The views are personal.
Get the latest reports & analysis with people's perspective on Protests, movements & deep analytical videos, discussions of the current affairs in your Telegram app. Subscribe to NewsClick's Telegram channel & get Real-Time updates on stories, as they get published on our website.
Subscribe Newsclick On Telegram