Covid-19 Exposes Gaps in Indian Laws to Protect Workers
From Aadhaar details to get on Shramik trains, to filthy quarantine centres and police beatings; the journey home is stripping workers of rights and dignity.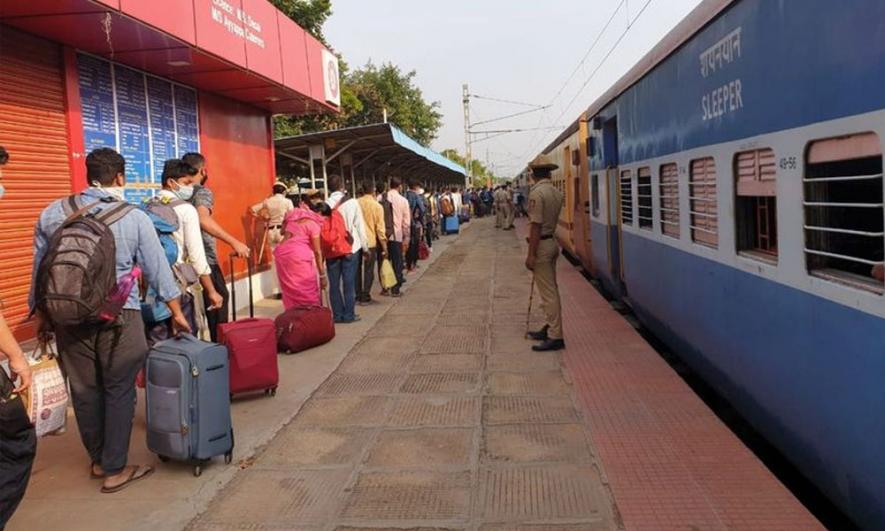 After being stranded since March—walking back home on foot, peddling their bicycles, hiding in trucks—migrant workers have finally been given a dignified option to travel back home. On 1 May, International Labour Day, the Indian Railways started running "Shramik Special" trains to move them to their home states.  
The Indian Railways order dated 1 May instructs "All Zonal Railways" that special trains will operate with a "fare for sleeper mail express trains along with superfast charge of Rs 30 and additional charge of Rs 20." Several state governments have promised that workers will not pay any fare for their travel, but as politics and confusion prevails the dilemma for 136 million inter-state and intra-state migrant workers (Census 2011) continues. 
The Covid-19 pandemic has laid bare the pathetic conditions in which our migrant workers live, work, and are eventually left to fend for themselves. The Inter-State Migrant Workmen (Regulation of Employment and Conditions of Service) Act, 1979 lays down entitlements for millions of migrant workers in India. As per the Act, migrant workers are entitled to a displacement allowance and a journey allowance in addition to their wages. The Act also specifies basic amenities such as suitable residential accommodation, adequate medical facilities, protective clothing to suit varying climatic conditions and suitable conditions of work, taking into account that they have migrated from another state. 
Many state governments—Haryana, Bihar, Odisha, Uttar Pradesh and others have announced online portals for the registration of migrant workers for inter-state travel. But, there are already reports of chaos at the authorised centres for registrations. While on the one hand there is an issue with online registration in itself during a lockdown, the even bigger issue is that registration requires Aadhaar details. It is mandatory to share Aadhaar details in order to get registered. Take the example of Odisha—seven percent of the population is not enrolled under Aadhaar in this state. 
Moreover, many migrant workers who travel often for work between cities don't carry their important documents with them. So for those without an Aadhaar card, the governments have not presented any plan to help them get back home. 
The journey of workers back home has already become traumatic. Consider 33-year-old Nirmal Sahoo, a migrant worker who, along with four colleagues, headed home to Odisha from Andhra Pradesh on 11 April. They started off on this arduous 540-kilometre journey, but for polio-stricken Nirmal it was the hardest thing to do. Despite working at the factory for the last 12 years and sharing a 140-square feet room with six of other colleagues, his employer paid him only half his wages. 
Sahoo and his co-workers have no health benefits or social benefits. As soon as the lockdown was announced, the factory manager asked the workers to leave immediately. The factory management also cut the electricity and water supply to their rooms. They had no choice but to leave.
During their journey, he and his friends were stopped by the police at Srikakulam, a bordering district of Andhra Pradesh and Odisha. Nirmal says he and his friends were treated like criminals—like animals. There was no water nor food. He asks if he had come from a foreign country would not he and his colleagues have been treated differently?
It was around 9.30 pm; they were told that they would be taken for a medical check-up for Covid-19. And only if they were found negative would they be allowed to proceed. They spent the night on the roadside of National Highway-16. 
Though the Supreme Court has ordered that migrant workers trying to return home should be treated in a humane manner, and provided with adequate food, water, beds and supplies as well as psychosocial counselling in shelters that are run by volunteers and not security forces, the reality is far from ideal.
On the next day, Nirmal and his friends were taken to an engineering college which had been converted by the Andhra Pradesh government into a Covid-19 quarantine centre. It was crammed with about 500 people. By the time he and his friends reached the centre, breakfast had been served and was over. They also saw a person being beaten by the police for asking for food. They were expected to sleep on the ground—no cot, no mattress. "The place was unhygienic and not fit to live in," he told Odiya Channel, Kanak News. 
In a desperate bid to get home, Nirmal and his friends called the Odisha state Covid-19 Control Room. On getting no response, they called the district collector of their home district. They were told to call the local police station. They called. "Why did you leave the place? We cannot help you," pat came the reply. Nirmal continues to languish at the quarantine centre in Srikakulam.
Migrant workers in India are not organised enough to demand their rights. The Inter-State Migrant Workmen (Regulation of Employment and Conditions of Service) Act, 1979 also does not talk about the role of the employer in a crisis situation, such as the current one. And no one seems to be talking about it even now. 
The National Sample Survey 2008 pegged migrant workers to be 24% of the workforce. Now that the plight of the workers—their living and working conditions, wage structures and their social benefits are being talked about, by at least those who care it is time the government steps up with a plan for the migrant workers. Apart from providing emergency relief support for the stranded migrant workers and figuring out how to get them home, this is the perfect time for the government to design a long term plan of action that will ensure a dignified life for the migrant workers in India. 
Pravas Ranjan Mishra is a programme coordinator at Oxfam India, Bhubaneswar Regional Office and Manoranjan Mishra is editor, Kanak News, Bhubaneswar. The views are personal. 
Get the latest reports & analysis with people's perspective on Protests, movements & deep analytical videos, discussions of the current affairs in your Telegram app. Subscribe to NewsClick's Telegram channel & get Real-Time updates on stories, as they get published on our website.
Subscribe Newsclick On Telegram