Neither Work, Nor Housing, or Food!
In case of extension of lockdown, urgent proactive intervention by the government is required to hold back remaining migrants in cities.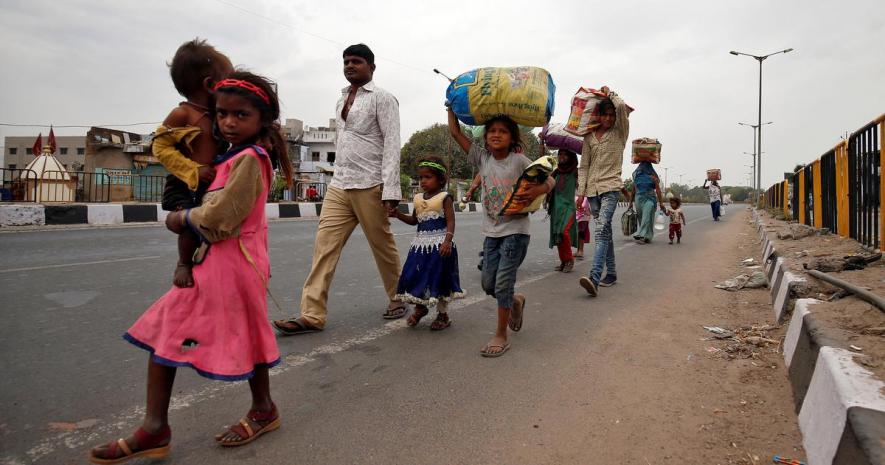 Representational Image. Image Courtesy: Reuters
Now that it seems inevitable that the lockdown period in the country will be extended, it is essential that the Central government does not repeat its previous mistake of leaving the poor and the marginalised to fend for themselves. The Central government needs to realise that the reverse migration (from cities to the countryside) that we all witnessed and the miseries that the migrants faced, for which the Prime Minister has even apologised, was just a tip of the iceberg.
Why? Because the number of people we saw on the streets do not comprise all the people who migrate to cities from villages or smaller towns. There are a large number of people who are still living in cities with meagre means of survival, and if nothing substantial is doled out to them, they may also be forced to move back to their native places.
According to the World Bank, there are nearly 450 million internal migrants in India. Most of them managed to stay back in the cities, but with another lockdown looming large, the plight of these migrants is anybody's guess.  As of now, nearly 110 people have died because of the lockdown. Many more will starve to death if something proactive is not done by governments, both at the Central and state level.
This does not mean that the lockdown must be lifted. Not at all! If at all the lockdown is eased in different parts of the country, where there were no cases in the recent period of four weeks, there ought to be an exit strategy in place. Else, the poor will become more vulnerable.
During the lockdown, if migrant workers cannot be given gainful employment, they can at least be given bare minimum foodgrains/ration to survive.
Why is the situation so precarious? It is precarious because of the stark reality existing in our cities where there is huge inequality and inequity of assets that have accentuated in the past six years of the Narendra Modi government's rule. The capacity of the working population to bargain vis-à-vis the employer has also got substantially reduced.
In addition, the services that the State used to render to citizens have been commoditised over a period of time, especially in the past three decades, making it increasingly difficult for the working class to even sustain itself for a period of 15 days.
A majority of workers in cities are engaged in construction, services sector, platform- based services, street vendors, sanitation etc., comprise almost 94% of the total urban workforce. There is a huge informality of labour that prevails in our cities across regions, as a large majority of workers are either on contract or are employed on casual basis.  
Another startling truth is that 82% of workers have no written contract with the employer and 69% have no access to social security benefits. Recently, there were reports that 94% of construction workers are ineligible for direct cash transfer, which was announced by the Centre, as they are not registered.
There is another form of informalisation that has taken credence in cities -- the growth of App-based or platform-based workers. For example, Ola and Uber drivers, food service workers employed with brands like Zomato, Swiggy etc., who have hardly any security of wages or work, leave alone social security benefits. Barring few, most of these workers have been completely ruined by the sudden lockdown. The Centre of Monitoring Indian Economy (CMIE) has projected that nearly 12 crore people have lost jobs in the recent period.
On April 10, workers in Surat city of Gujarat came out in the open, defying curfew and demanding salaries and safe passage back home if the lockdown is extended. This could happen in many other towns if urgent proactive measures are not taken by the government. In the given situation, it is impossible to hold such a huge population back in the cities with no guarantee of subsistence.
Another stark reality is that 57% of urban workers earn less than Rs 10,000 per month. Around 59.3% causal workers get wages less than Rs 5,000/month. If another 25% of wage bracket of Rs 5,001-7,500 is added, then around 84.3% casual workers are being paid less than Rs 7,500/month as wage. How is it possible for such a large chunk of the population, who has not earned a penny in the past few weeks, to survive in the cities?
Shelter or housing is another big hurdle for migrant workers to continue their stay in the cities. It is shocking that in the homeless shelters in Delhi, 95% of those staying are workers, not beggars. They cannot afford housing or rent, hence they have moved to shelters. According to Professor Ravi Srivastava from the Institute of Human Development, for any developing nation the bare minimum of 25% housing must be provided in the formal sector and the private or informal housing market can cater to the balance 75%. However, in India, formal housing has fallen from 6% to 3% during Modi raj. In such a situation how can one expect migrant workers to stay back in the cities? They have neither work, nor housing, nor food!
In this scenario, there are two examples that stand out -- Kerala and Shimla (Himachal Pradesh) -- where there are labour hostels to accommodate migrant workers. Hence, one did not witness acute outward flow of migrant workers from both these places.
Though labour hostels cannot be constructed overnight, something needs to be done to hold back migrant workers in cities, else the second outflow of the migrant population could be highly detrimental for the people and the country. The running of community kitchens, as practiced in Kerala, can be one of the important interventions in cities.
The Central government has interacted with chief ministers and other leaders of the political parties, however, it has not reached out to trade unions or city representatives. The mayors or city governments, which are in the centre of interventions, have not even been consulted for this entire exercise. The city governments throughout the country and its elected representatives were the first to respond during the crisis by not only handling a disaster-like situation but also providing relief to the migrant population. The city governments must, therefore, be brought on board to fight the challenges of COVID-19 and mitigate the crisis of migrant workers.
In brief three important engagements and interventions are required for the second lockdown to ensure that minimum damage takes place:
First, the government must engage with city governments who are more organically linked with urban people. Some of the cities have funds under the smart city fund. These funds must be allowed to be used to run community kitchens for migrants. There are over 500 cities under AMRUT. These cities also have funds for infrastructure development. Immediate measures must be taken to run kitchens and install shelters for migrant people in such city centres.
Second, free ration should be provided to workers. It is a pity that in 13 states, the NGOs have fed more people than the respective governments; Gujarat and Andhra Pradesh are the worst performers with 93% and 92% of the remaining migrants, respectively, being fed by NGOs. The government must step in to ensure that nobody goes hungry. The city governments are the best to identify areas where workers. Also, ration distribution should not be limited to ration card holders.
Third, the government must engage with representatives of trade unions, especially in large cities. The unions have the capacity to more organically reach out to the working population and providing relief to them. They have the experience and wherewithal to hold large gatherings in cities and even to run shelters, and must be approached to ensure that migrant workers are not left to the mercy of bureaucratic structures.
Get the latest reports & analysis with people's perspective on Protests, movements & deep analytical videos, discussions of the current affairs in your Telegram app. Subscribe to NewsClick's Telegram channel & get Real-Time updates on stories, as they get published on our website.
Subscribe Newsclick On Telegram