Why India Should Let Migrant Workers Return Home
India must understand Covid-19; then go beyond the obvious to tackle it, by striving for praise from the vulnerable, not just the strong.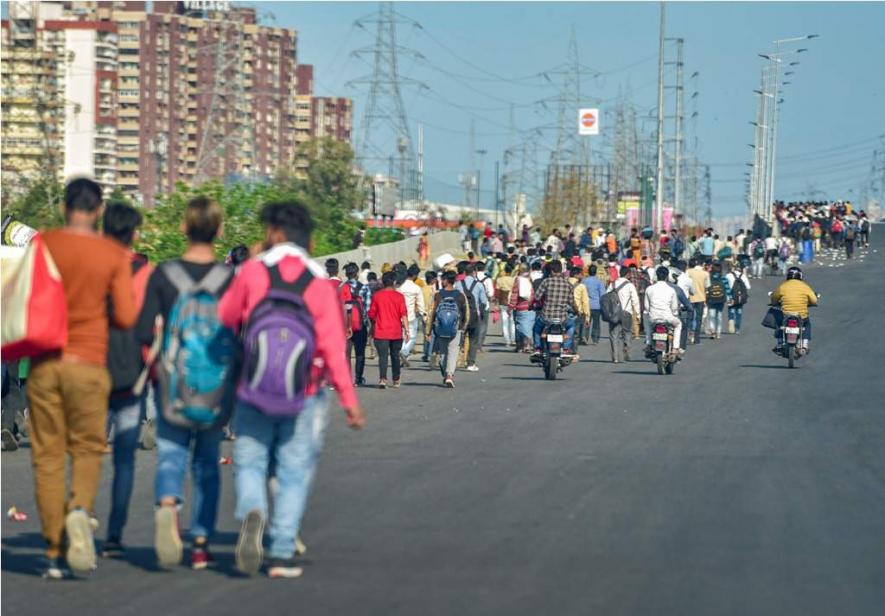 The mathematics of six feet apart is easy to understand: It requires each one of us to keep a minimum of six feet distance from others around us. It helps to keep the new coronavirus at bay. However, cracking this formula successfully on the ground is very challenging and requires complex decision-making in a densely-populated country like India. 
For the migrant workers and daily wage earners, living in crammed tiny tenements, it is impossible to live by this formula. But they have been running away from far scarier conditions of their lives than the impossibility of remaining six feet apart. 
No other country has seen such images as thousands of bodies of migrant workers gathered in one place as one moving mass, jostling and rubbing against each other, desperate to reach their homes. The visuals could make anybody break a sweat. 
The migrant worker's situation remains a tight knot difficult to untie and smoothen. Even today, workers can be seen walking down highways, on roads, circumventing the vigilante police and sneaking their way home on foot. Such is their desperation. 
A large part of the government machinery is geared toward handing the food crisis for the poor and marginalised and in the upkeep of those who moved out of their regular places of stay to shelter homes and camp sites. But that is doing the obvious. 
What is beyond obvious is what will ultimately define how well India did when this unprecedented historic crisis struck and stared us in our face. How we respond will definitely be written about, for many years to come, so it is better we adopt some clear thinking now and take some difficult but massive, humongous, hard steps to get cracking on this challenge. 
There is no point in praising and appreciating too often—as has happened in the speeches of Prime Minister Narendra Modi—those who are already in safe places and who have the blanket of internet access, binge-watching, home-cooked food, food supplies at their doorstep and also the support of financial savings. Beyond having to be at home all the time and feeling bored and depressed, there don't seem to be many challenges there. Appreciating their effort to keep body and soul together is not where the country's energies and thoughts should be spent. 
It is our migrant worker's souls and bodies coming undone right before us that should be our concern. It is time to bring comfort to the man or woman who is last in line. 
The issue of workers is aggravating even further today, as fixing two meals a day for her/him is getting tough. Even NGOs and volunteers, the major forces handling food distribution alongside government, are either running thin on resources or enthusiasm, or both. 
Added to this challenge is the state of worker's health, which is an advantage for us so far, but may not be so tomorrow. They may slowly see a drop in immunity of their young bodies as they are squeezed dry of money, go hungry, are exhausted, tense and worried about themselves and their families. Therefore, today is when we should act. 
A migrant worker cannot afford to be corona cautious. That too makes him different. He often comes out on the roads in desperation, hoping to catch a train or a bus, or demanding one be arranged for him, throwing all caution to the winds. We have to be cautious for him. 
And here comes the Catch-22. If the migrant workers are allowed to go home to the various nooks and corners of the country, they may spread the disease far and wide, rendering all the advantages gained till today null and void. But if they are made to stay 'jahan ho vahin', or where they are, then they would not only face hunger themselves but may trigger a bigger raging corona fire albeit in the limited geographical areas where they are huddled together. Even in ordinary times, their desperation makes our migrant worker to not stay in one place and move about a lot and this has been difficult to manage in spite of inhuman police danda. 
Therefore, the focus should now shift to solving this unique Catch 22: how do we do both, get the worker to his home to bring peace to his soul and rest to his body and at the same time not let him be the spreader of the virus far and wide.
That is the challenge the government should take head-on now. Meet the historic crisis in an equally historical, unprecedented sort of way. 
Is it that workers are seen more as a mass of infection-carrying bodies, and less as those who themselves need rescuing, protection from the threat? Here lies our bias and probably double standard.
Our bias becomes visibly starker when seen against certain other events such as bringing back in 28 high-end buses a batch of 1,599 tourists to their homes in Gujarat and about 200 others to Uttar Pradesh, Delhi, Bihar, Andhra Pradesh and other states, for they were stuck in Uttarakhand's Haridwar. Similarly, the Uttar Pradesh government has sent some 300 buses to bring back students stuck in Rajasthan's Kota so that they don't panic and get depressed. True, the tourists and students were stranded and caught unawares and needed to be helped, but so are workers, they too have been caught unawares and are stranded. 
This reflects how little thought and concern we show to those who work the hardest in our country. Definitely they don't receive even an ounce of the love that is being showered on the tourists and students. 
All the 300 buses that were arranged for the stranded students were sanitised, arrangements were made for food and water, masks and sanitisers, as also for screening them for Covid-19.
One would not deny that there are lakhs of workers compared with the relatively small number of tourists and students. It is also true that in the very initial stages of the lockdown, some arrangements were made to transport workers, but that service was abruptly ended and was not effectively planned. Does this mean we are to do only what is easily feasible and manageable? Isn't this a crisis sweeping the globe which needs extraordinary efforts on part of everybody? 
Here is a challenge—and it brings an opportunity to make history. As also it may even mean good politics. The sheer numbers of workers who need assistance to reach home is sure to win hearts and leave the world awe-struck. It may even earn India and the government global praise like never before.
There is a strong case for running buses and trains especially for workers for 4-5 days. This should be an exception and a special operation. This does not mean the start of regular transport services. It needs to be well-arranged and well-planned, with every eventuality calculated for. A strong will is what is needed.
Workers, too, can be screened at the starting point of their journeys, just as passengers at airports and the students from Kota were screened. They all can be given masks, gloves, food, and water. 
All possible chaos and herding together that this can cause must be anticipated, avoided and managed through proper planning and communication.
Transport should be only from end to end. Railways stations and bus addas at both ends can be sanitised by spraying disinfectant and workers can be screened again on arrival. Those found sick can be separated and isolated. The scale is massive but India can do it—it must at least attempt this. The elections that are held in India are a kind of challenge that no other country faces. This is something only as massive as that—if we can do that, surely we can do this? 
Currently the country is under lockdown. The roads and highways are all empty and the railway tracks clear. A lot of people are free, too. Many more volunteers can be roped in to contribute to this massive challenge. There is no dearth of Good Samaritans in India. In fact, there are perhaps so many that India is quite unique in that sense too. 
With our effort we would not only be setting an example but also untie this Catch-22 juggernaut that we are trapped in. Fatalism appears to be rife in our thinking pattern. Running such an operation of hope and relief can help us break it.
Once the workers reach home, the local police stations and village and town clinics can be roped in to monitor their health. Strict physical distancing instructions are already being communicated in rural India. We need to believe that everyone will do their best to protect their own 'jaan' (lives). 
If workers can only get home for the lockdown, the burden on shelter homes and camp sites will probably become more manageable. In any case, for how long can the ongoing, very often piecemeal, relief work sustain the many thousands who are unable to access basic daily meals?
Perhaps many of us believe that the suffering of the poor is a necessary price to be paid to tide over this deadly pandemic. This is because, somewhere deep down, we believe that workers are "used" to living in sub-human conditions and they can bear with this too. That, again, is our bias and it is preventing us from trying to accomplish the extraordinary. We can break this too. This is the time to do our own hard work for our hard-workers. The task is challenging but not impossible.
First, we need to acknowledge that it is the workers who hold our economy together. Their work is what matters the most. The construction worker, the pushers of carts, the delivery workers, the farm workers, the factory worker, they all do the most essential work that gives us the life that we now lead. Not that they need to be valued and loved simply because of their usefulness to society, but because they are humans. 
Before our workers end up in the intensive care for non-Covid causes, we need to realise that it is our ability to reason and plan that is already in intensive care. It needs massive doses of oxygen to recuperate to new life.
There is a strong case to listen to the desperate cries of video-making, foot-journeying, pleading workers and move the wheels of the trains and buses for them and help them reach the safety of their homes and in the lap of their own support system. 
Once we all are well spread out, we would have worked out the six-feet-apart mathematics on ground. 
The author is a documentary film maker and a screenplay writer based in Mumbai. The views are personal.
Get the latest reports & analysis with people's perspective on Protests, movements & deep analytical videos, discussions of the current affairs in your Telegram app. Subscribe to NewsClick's Telegram channel & get Real-Time updates on stories, as they get published on our website.
Subscribe Newsclick On Telegram