Kolkata—A Brave and Eternal City
Kolkata will be restored, not only by clearing roads of fallen trees, repairing electric lines, and reconstructing buildings but by the resilient spirit of a people who have suffered, endured, hoped and dreamed of the future.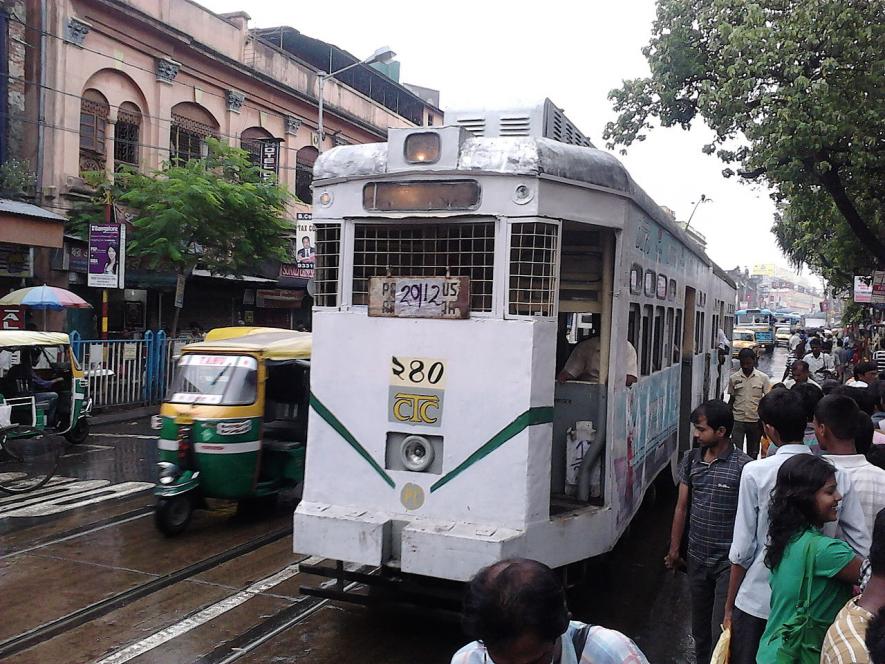 Representational image. | Image Courtesy: Wikimedia Commons
Kolkata is not an eternal city in terms of time. It does not figure in our epics or legends. When the great cities of India—Tahskashila, Varanasi, Thanjavur, Puri, Delhi—were shaping Indian civilization, Kolkata was a cluster of swampy villages. Then people cleared the marshes, grew paddy, cotton and jute on its fertile alluvial soil. The Pala and Sena dynasties encouraged trade in rice and textiles. Banga grew in opulence. Under Alivardhi Khan and his successors, Bengal was said to be the richest province of India. And this became its Achilles heel.
Armenian merchants from across mountains, traders and adventurers across the seas—Portuguese, Dutch, French and British—came to seize its wealth. Massive plunder required military support so Bengal had to be conquered; this was accomplished, thanks to stupid avarice of Judas Iscariots like Mir Jaffar and Jagat Seth who thought they could use the East India Company for their own mercenary purposes.
The East India Company built a new capital—Calcutta—joining several existing villages on the banks of Ganga-Hoogli. The marauder-soldiers needed a port for harbouring ships that would bring and take merchandise, soldiers and administrators. But alongside the ruthless soldiers and venal East India traders, another community soon spread its wings over the city. Governor General Warren Hastings not only supervised wars and annexations; he also commissioned stately buildings of neo classical style, broad tree lined avenues, embankments by the Ganga that resembled those by the Thames, and a port that became the most important one in Asia.
But Hastings did more. An unabashed imperialist, he was also inspired by Hindu metaphysics and Sanskrit literature; he established the Asiatic Society in Kolkata which was the commencement of a re-discovery of India by the Western world and by Indians who had been intimidated by several centuries of alien rule. Hastings gathered around him gifted and brilliant scholars - Sir William Jones, Nathaniel Halhed, Charles Wilkins—who were dedicated to the task of translating Sanskrit classics and forgotten chronicles and decoding disused edicts and scripts. This opened up new vistas of ancient Indian civilization. Around this time, a Russian scholar and traveller, Gherasim Lebedev established the first modern theatre in Kolkata where Indian classics and European dramas were enacted.
Another imperialist governor general Marquis Wellesley established Fort William College in Kolkata where young British administrators and soldiers were taught Indian history and languages. Indology became a serious and scholarly discipline. Legion was the British scholars who translated ancient and medieval texts and chronicles of India, that were read by Indian and foreign scholars. Sir Alexander Cunningham established the Archaeological Survey of India to promote study and restoration of Indian sites and monuments. When numerous ancient sites were discovered the Indian Museum was established in Kolkata to house remnants of Indian physical heritage. Later scrolls, paintings, jewelled artefacts were added to the massive collection. From Calcutta, Lord Curzon, Viceroy of India, passed legislations to safeguard Indian heritage. By the mid-19th century Kolkata became the second city of the British Empire—elegant, colourful and vibrant.
Spurred by the rediscovery of their great heritage as well as the external ferment caused by exposure to the West, Kolkata became the centre of the Indian Renaissance in mid 19th century. Raja Rammohan Roy had led the movement; Ishwar Chandra Vidyasagar, Bankim Chandra Chattopadhyay and the Tagore family were part of this effulgence. While these eminent Bengalis adopted Western science and rationalism for modernisation of India they also promoted the cultural revival of India.
A spiritual renaissance had begun some decades earlier on the banks of the Ganga where India's modern saint Ramakrishna Parahamsa established his Belur Math which became the centre of a religious-humanist movement. His disciple Swami Vivekanand established the Ramakrishna Mission which spread the message of Hinduism and Daridra-Narayan Seva, or service to the divine poor across India and abroad. Not far from Kolkata is a place where the international Krishna Consciousness movement began in a strife filled world.
When the flowering of cultural renaissance was accompanied by political awakening, the British government reacted; Curzon ordered the construction of the Victoria Memorial to tell Indians that the British were there to stay. Then he sought to divide Hindus and Muslims by partitioning Bengal which had become the centre of the revolutionary movement. Kolkata witnessed a unique event in August 1905 as Rabindranath Tagore led a mammoth procession of Hindus and Muslims from Nakoda Masjid to the Viceroy's Palace, singing "Amar Shonar Bangla." Hindus and Muslims performed rakhi-bandhan to demonstrate their brotherhood. Faced with this massive peaceful resistance, Lord Curzon rescinded the act of partition. Gandhi and Nehru were not so successful in 1946 when flames of communal violence ignited Kolkata. In 1908 Kolkata held the first meeting of the Indian National Congress for which event Rabindranath Tagore composed the song that became India's national anthem.
The nationalist-revolutionary movement compelled the British to transfer their capital to Delhi. Despite the Durbar of George V and Lutyen's edifices, Kolkata still remained the second city of the British Empire. Parts of it were "sahebi para" (saheb's neighbourhood) with its Western restaurants, (Flury's, Trinca's) The colonial Great Eastern and Grand Hotels, shops at New Market, cinema and theatre houses (Metro, Lighthouse) which coexisted with the Bengali, Marwari, South Indian areas. The Western clubs debarred Indians who formed more formidable associations where the downfall of the British Empire was plotted.
It was from Kolkata that Gurudev, now Sir Rabindranath Tagore, Nobel Prize winner for Literature, citizen of the world, flung back the knighthood gifted by the British government in retaliation to the massacre of Indians at Jalianwala Bagh. This gesture humiliated Britain; the world condemned the massacre. Thus emboldened, the revolutionary movement gained momentum in Bengal which later spread to the rest of India. Young men assassinated oppressive British officials. Khudiram Bose, the trinity of Benoy, Badal, and Dinesh were executed. They went to the gallows crying Bande Mataram. Memorials to these young martyrs stand not far from Victoria Memorial, the symbol of British Raj.
Western educated lawyers, doctors, academics formed the nationalist movement in Kolkata. Their numbers were legion; Sharat and Subhash Bose, Ashutosh Mukherjee and his son Syama Prasad, Jagadish Chandra Bose, B.C. Roy. Successful and wealthy, they gave generously to the freedom cause. Little did these patriots imagine what awaited Bengal and Kolkata.
In 1943, a man-made famine carried away three million people in Bengal when the British government shipped most of the food grains for its soldiers in West Asia. My young parents shared their food with those who came to their door with cries of "One morsel, Mother, one morsel before I die!" Municipal lorryies collected skeletal corpses in the mornings. When my father was a director in the Food and Agricultural Organisation, he described the famine scenes at the inauguration of "Freedom from Hunger Campaign" in the eternal city of Rome.
The British policy of divide and rule finally succeeded. Bengal and Punjab were partitioned. These two states saw terrible carnage and unimaginable misery. The Hindu exodus from East Bengal changed the second city of the Empire. For years it was a huge refugee camp.
But a new city sprang up from the remnants of the British Raj, a city that banished bitterness, welcomed strangers, explored new ideologies, where the image of great Bengalis, particularly Tagore, loomed over the city, where artists like Nandalal Bose and Jamini Roy, film-makers Satyajit Ray and Mrinal Sen quickened the life of the city, where young men abandoned careers to become Naxalites to protest against growing inequalities, where Mother Teresa and her Catholic nuns were as loved and revered as the Ramakrishna swamijis.
Many foreigners say that of all Indian cities, Kolkata touches their minds and hearts as no other city does. Is it because the Kolkata-bashis, enduring and generous, welcome those at their door? When millions of people in East Pakistan revolted against their overlords in West Pakistan and fled to Kolkata in 1971, they were given shelter in a city that could ill afford extra inhabitants. This recalls lines from Gurudev's poem—"they came and never returned."
Seeing the horrific devastation wrought by the Amphan cyclone on Kolkata and its adjacent districts, one wonders when and how Kolkata will recover from such a calamity whose damage is said to be incalculable. Wars and natural calamities have damaged other cities. During the Second World War Nazi Germany and Soviet Russia fought the bloodiest battle in history at Stalingrad. The city on the River Volga was almost razed to the ground. Millions died in the city; combatants, unarmed citizens, women and children. But the city was rebuilt by its valiant citizens.
So will Kolkata be restored, not only by clearing roads of fallen trees, repairing electric lines, and reconstructing buildings but by the resilient spirit of a people who have suffered, endured, hoped and dreamed of the future. A city and a country are defined not so much by its physical contours, relevant as they are, but by the soul of its people. Kolkata's myriad souls have been shaped by its history—rebellious, creative, traditional, spiritual, angry and compassionate.
Such a city will rise again.
The author is a retired civil servant and writes on international history. The views are personal.
Get the latest reports & analysis with people's perspective on Protests, movements & deep analytical videos, discussions of the current affairs in your Telegram app. Subscribe to NewsClick's Telegram channel & get Real-Time updates on stories, as they get published on our website.
Subscribe Newsclick On Telegram