Demolition Drive in Vadodara Is Wiping Out Minorities and Dalits
Vadodara Municipal Corporation is viciously demolishing slums under Smart Cities Mission and the slum occupants on their target are allegedly only Muslims and Dalits.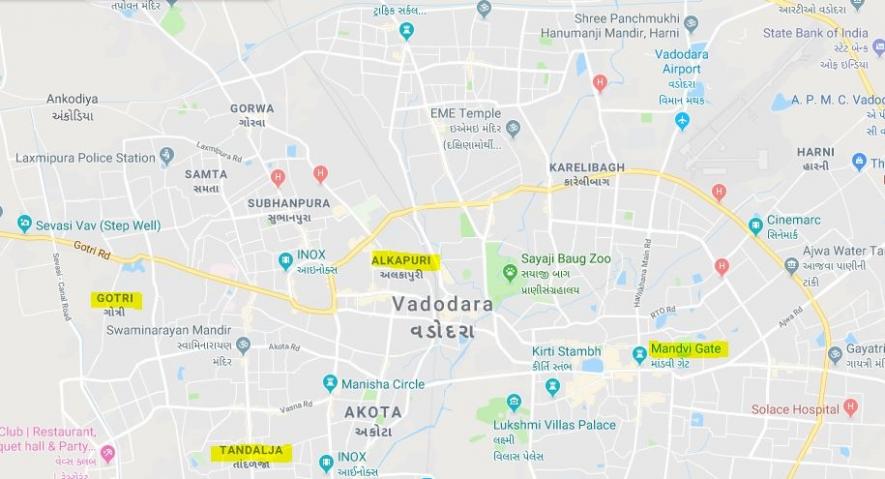 In 2014, Narendra Modi won the Vadodara Lok Sabha constituency with a margin of over 5 lakh votes. As Modi became the prime minister, Vadodara was listed in Modi's flagship Smart Cities Mission (SCM).
NewsClick traced the demolition drives of Vadodara Municipal Corporation [under SCM] to analyse an apparent pattern, by travelling to several distant locations in the Vadodara city from where occupants were evicted. In order to assess the effect of demolition, a set of  parameters including the magnitude of demolition, the social structure of the evicted people, post-demolition condition of the occupied land and rehabilitation were taken into account.
Gotri
Gotri is a locality in south-west region of Vadodara. The demolition drive here targeted the Ramdevnagar slum which had a majority population (almost 70%) comprising of scheduled castes.
Ramdevnagar was once UNICEF's pilot project. The United Nations Children's Fund (UNICEF) spent multi-million rupees in collaboration with the Government of India to build an ideal locality for the poor. The project was completed in 1996. Twenty years after the slum's upgradation, Ramdevnagar, comprising of 1,500 houses was demolished on June 12, 2016, following an immediate notice.
Amit Tewari, a social worker and ex-resident of Ramdevnagar said, "It was a result of conspiracy. They wanted to disperse the non-BJP voters from here. People have been voting for Congress here and that was a negative point." He further alleged, "A local daily, Sandesh published a biased article that water discharge from Ramdevnagar had been polluting the Gotri Lake. It created a furore. Citing this, the VMC advocated for our eviction."
Also read: No Water But Gutter and Garbage: Vadodara's Minorities Living in Hell
NewsClick also found that the demolition was undertaken without the complete consent of majority of occupants. Amit said, "Then VMC Commissioner HS Patel came to our slum with the police; children were thrashed and women were detained."
Mangeshbhai, an ex-resident of the slum now lives with relatives as he can't afford a rented flat. He said, "If the residents of Ramdevnagar had been a reason, the lake here would be clean by now. Ajay Bhadoo, present VMC Commissioner confirmed a month ago that the contaminated water flowing into Gotri Lake was coming from the other direction [Gorwa]."
Some of the evicted occupants have been shifted to Sayajipura, 16 kilometres away from Ramdevnagar. Mangeshbhai said that the specifics of rooms were changed there. He added, "Rooms were made smaller to manage cost. The death rate has risen after displacement; 27 people middle-aged men have died. We don't know for what reason. What else could it be except of pollution?"
Tandalja
On July 3, 2017, 1,428 houses were demolished in Sahkarnagar slum of Tandalja, a Muslim pocket of Vadodara. According to media reports, it was almost a riot-like situation in the area close to the city centre at the time of demolition.
Flats under Pradhan Mantri Awas Yojana were promised but it still remains a dream for the ex-occupants of the slum who are now scattered.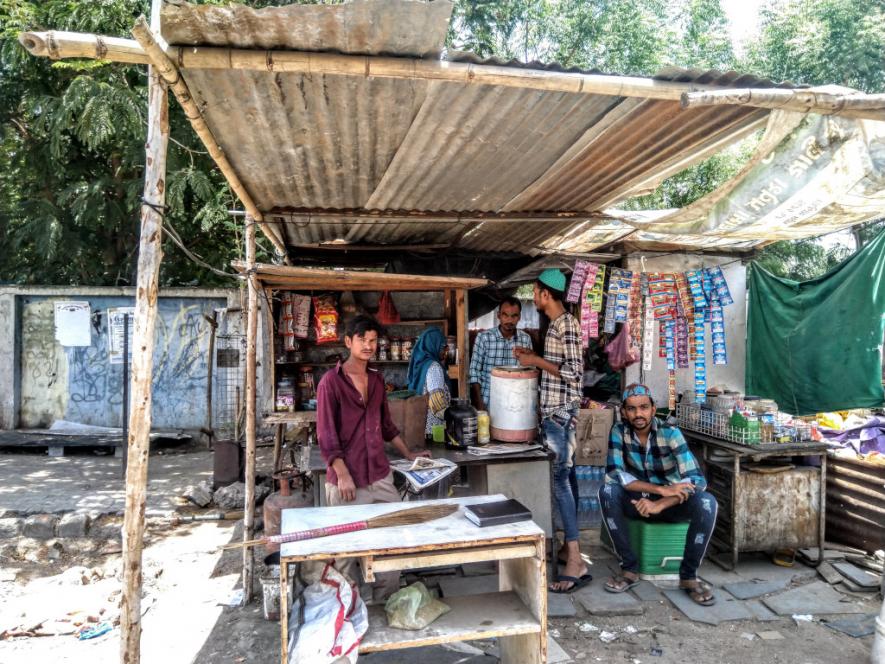 Aiyaz Syyed, showing the plot, said, "There is no trace of construction here. We pay Rs. 6,000 per month to private landlords but government pays only Rs. 2,000 for our rent." Many haven't even received the rent payment of Rs 2,000 per family for the past two months. The contractor here is Cube Construction Engineering Ltd., the Gujarat-based firm which was at the centre of controversy because of its close proximity to Amit Shah and his family.
Also read: Atrocities Against dalits Continue Unabated in Gujarat
Zubedarben Patel, 60, now lives in a motor garage and runs a Gutkha shop. She showed the register of the widowed women of Sahkarnagar. It is also an unending catalogue with the names of several deceased [post demolition] and differently abled people.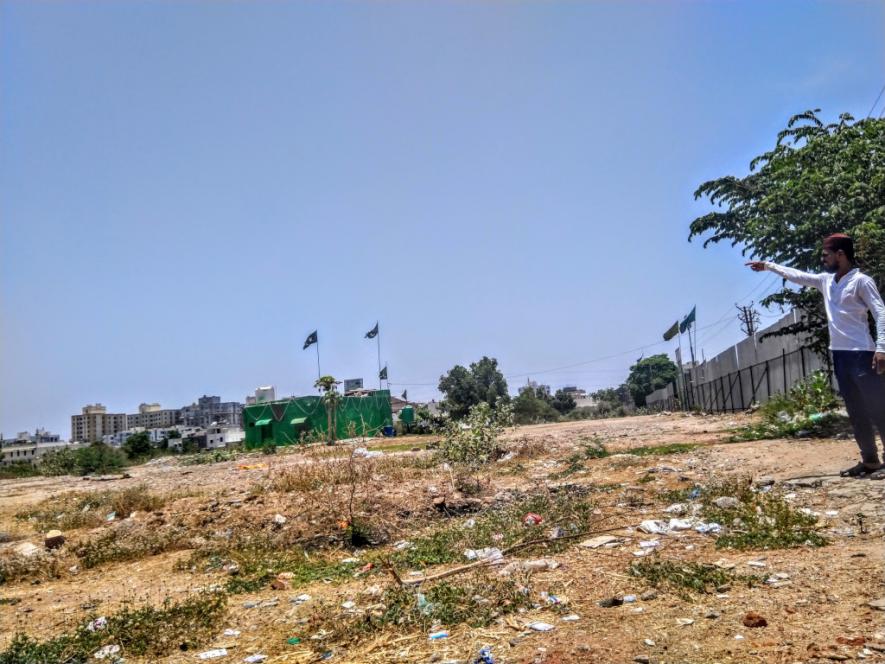 Vijabadar Aminaben is blind but she received no special help from the government. She is surviving on donated food.
Sham Sheikh, now in his early thirties, had shifted to Jamjam Park, a locality near Sahkarnagar in 2004, but he feels disheartened by the plight of his relatives and friends. He said that many old men died because of rift caused due to displacement. "They feel suffocated as they are now away from their childhood friends," he added.
"After demolition," Sham said, "Shabdsharan Brahmbhatt [General Secretary of the Gujarat BJP and ex-Mayor of VMC] came there claiming the presence of a pond which belonged to Hindus. Sham clarified, "It was not a pond but a pothole. It was just a tactic to acquire the land meant for minorities."
Alkapuri [Railway Station Area]
The only non-vegetarian food hub in the city, says Savant Khatik, was the station area. "As the Pathik Bhavan now stands demolished, there is no good variety of non-vegetarian food available in the city central area any more," added Khatik.
Most shops here, which were demolished by VMC, were owned by Muslims.
VMC demolished the Pathik Bhavan in September 2017 in order to build a world-class PPM (Public Private Partnership Model) over 1 lakh sq. ft.
VMC signed the contract with Iscon, a builder highly engaged with the Gujarat Government on PPM.
Also read: Communal Violence: Police Raid on Muslims' Houses in 2 Separate Incidents in Gujarat
Now in 2019, when Iscon is releasing leases for shops, Muslims are suffering marginalisation. Munaf Pathan, a businessman and activist based in Vadodara said, "Many Muslim brothers approached the builder for shop lease but they didn't succeed." He questions, "How does one's religion matter in a business? What is in our names?"
Mandvi [Pani Gate]
In South-East Vadodara, Sulemani Chal had 360 homes. It was demolished on May 31, 2016, so that a government building could be constructed on the plot. It had 80% Muslim population.
Only some 255 families have been rehabilitated so far. They were shifted to Soma Talav which is 8 km away from Pani Gate and from where it costs around Rs 100 to travel to the city.
Md. Sajid Sheikh was not allowed to even collect his belongings. He now runs a signboard writing workshop in front of the demolished area.
Munir Diwan who now works as a labourer in a fabrication workshop in Sardar estate area had a workshop of his own. He had to sell the equipment to satisfy the basic necessities of the family after eviction. He said, "The rent costs us Rs 8,000 per month. I have also borrowed Rs. 1.5 lakh. How will I be able to clear my debt? Mereko pavti hai...proof hai…tab bhi nahi makan mile..kya karne ka ab?( I have all the documents verifying that I was a slum dweller here but I wasn't allotted a government flat. What should I do now?)"
Also read: Is Gujarat Government Trying to Segregate Muslim Students Appearing for Board Exams?
Government had a plan to build a police building in the area but there is no sign of progress at the location. All that can be seen in the demolished area is a deserted compound with abandoned police buses.
In contrast to the demolition drives in the Muslim and dalit majority pockets, many slums like Uttar Bhartiya Chal of Kalyannagar with an aligned vote bank and right wing political representation have faced no expulsion.
Get the latest reports & analysis with people's perspective on Protests, movements & deep analytical videos, discussions of the current affairs in your Telegram app. Subscribe to NewsClick's Telegram channel & get Real-Time updates on stories, as they get published on our website.
Subscribe Newsclick On Telegram