No Water But Gutter and Garbage: Vadodara's Minorities Living in Hell
The people staying in plot survey no. 287 of Ektanagar Rahis Association, mostly Muslims and Marathas, are being intimidated by the VMC to vacate the slum for a Smart City project, even though the Gujarat HC had stayed the demolition order two years ago.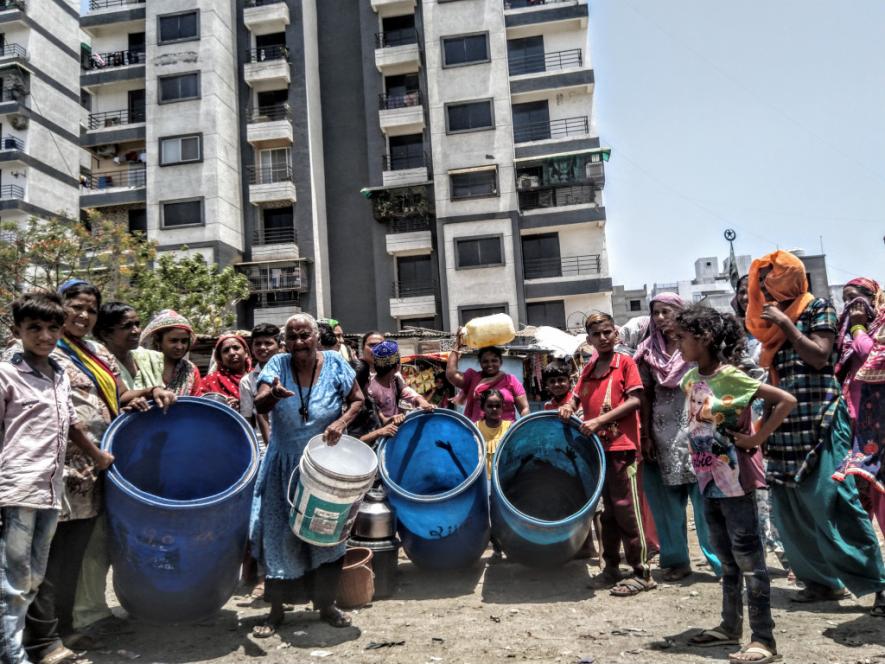 The residents hold empty water cans. Image Courtesy: Ujjawal Krishnam
"We have kept roza (fast) but we have to go to fetch water. There is no water supply. What did we do to the corporation people that they can't even show some mercy to us," says Zubedaben Qadir Sheikh, 45. "Pine ka pani kaise pineka?..Gunh jaisa pani ata hai. (It is almost fecal water, how can we drink it?)"
NewsClick met Zubedaben at the local Anganwadi centre where she works as a sahayika (helper). Because of the water scarcity, she says, it has become quite difficult to prepare meals for the children.
Like Zubedaben, there are several women flocking to the outpost of plot survey (to be demolished) number 287 of Ektanagar Rahis Association to collect water for their daily needs.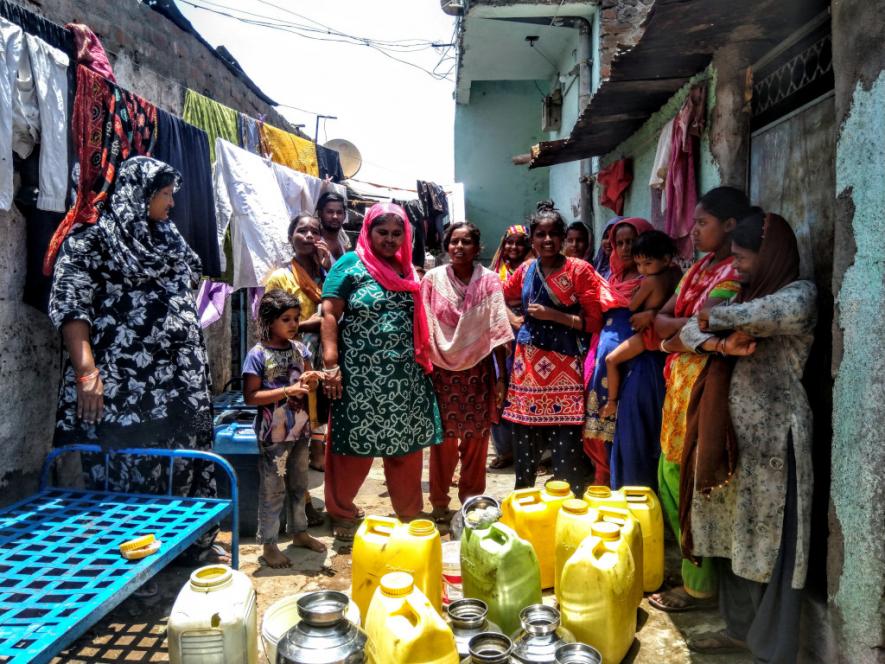 Several women gather everyday at the plot to collect water.
Zainab Syed Husain, a school going teenager who was there to collect water said that it has been three months since she had water supply in her home. She added, "I start collecting water since morning and it takes me up to 2 PM to fill up the cans. We are, of course, poor but we also believe in the Almighty. Don't we have the right to avail the basic needs? Will we keep doing this for lifetime…how will we get time to study in such circumstances?"
Sheikh Sehnaz Balam interrupts angrily, "Inke tyohar me, Diwali me, Dhuleti me, sab me pani ata hai…aur hame pine tak pani nahi? Kaha ka samajik insaf hai ye. (Whether it is Diwali or Holi, water supply is always available to them..and we don't have even water to drink. Is that what you call social justice?)"
The family of Maqbul Diwan had been brought to this area from Bahmanpura, Panigate by the government three years before he was born. Maqbul, now 35, is a daily wage labourer like his father. He says that hundreds of houses were demolished in order to construct a road but it was never actually built.
Also read: Gujarat Polls: Juhapura, The Largest Muslim Ghetto In Gujarat, Is A Picture Of Deliberate Neglect
As he led the way, some 10-15 women were seen carrying canisters. Asked what they are doing, Khatun Bibi, 85, said, "Even private water tanker is not ready to come here. It is badi raat for us tonight. How will we bathe the children? Roza or not, we have to come to fetch water."
Bismillahben, 45, pointing at a private society which shares boundary with the slum's periphery, blurts, "Pay for water, pay for cleaning the road, pay to restore motor…Can't they understand that we are poor. If we had money, wouldn't we be living in that building."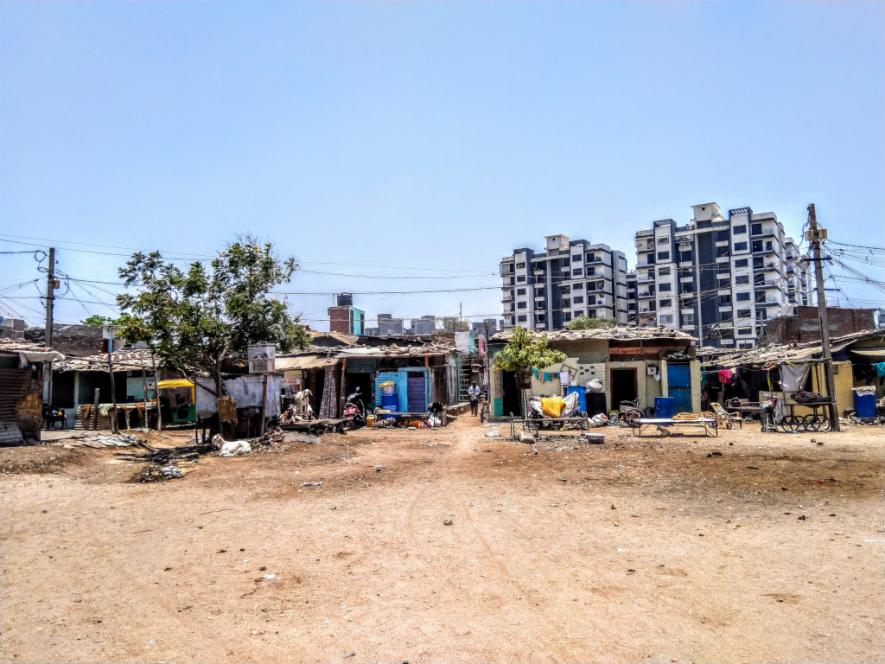 There is abundant water supply in the adjacent slum sectors of Ektanagar where Hindus constitute the majority. While government officiald never visit to ensure water supply in this surveyed plot of Ektanagar, the electricity board, on the other hand, is not lenient on their bills. This reporter was told that if there is even a delay of five days in the payment of the electricity bill, the board does not delay in taking away the electric meter.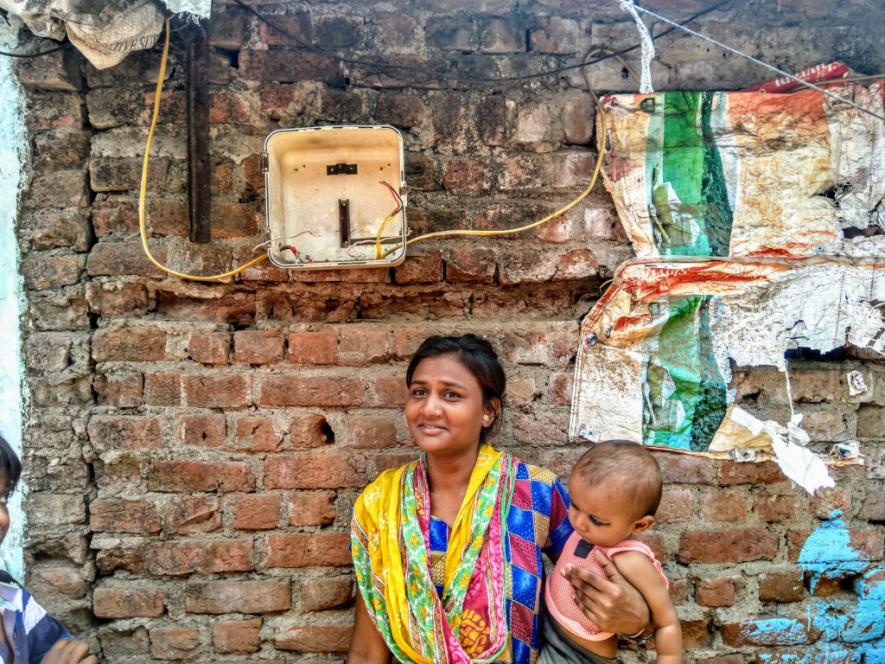 The Vadodara Municipal Corporation doesn't send tankers here. A government water tanker could be seen in the other part of Ektanagar, but none were seen in this part of the slum. A private tanker costs Rs 600 and it can only satisfy the basic water need for a maximum of three families of 3-5 members each.
Shehla Ben has to prepare food for her children, so she comes to the end of the slum to fetch water. Those who let them fill their bottles charge Rs 10 for one can. She expresses her agony, "How can I afford this much with a family income of only Rs 400 a day?"
"Police come to disturb us. They ask us to vacate the slum, otherwise they threaten us that they will not even allow us to collect our belongings as final orders arrive. What valuables do we have except of this mortal body to fear for the future," adds Shabana, another resident.
In another aisle, Ruksanaben was seen carrying clothes on her head. She said, "To wash clothes we have to travel three to four kilometres with the pile of clothes. Should we now remain dirty even in the holy month of Ramazan…Don't know why god is inflicting such pain."
Also read: More Than Half of Construction Workers in Surat Are Homeless
Sahira Banu, showing yellowish brown water with dispersed particulate in it, says, "This is what we call swachha water. A potable water-can of 25 litre costs Rs 30. Can we afford it for a big family?"
Noorjahan Banu, 54, is recovering from paraplegia, a type of paralysis. She has no option except to fetch water for herself. She can't hold back her tears as she talks. Banu grieved, "I can't remain dependent on my family for all chores. I collect 4-5 litres of water, get it boiled and filtered before breaking roza."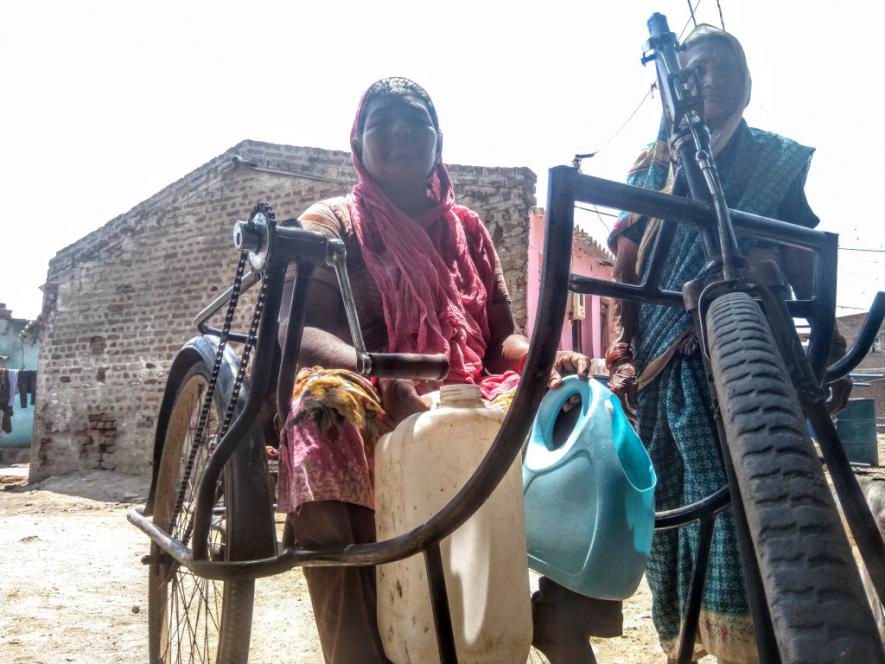 NewsClick then visited the colony of Ambedkarite Marathis which is also on the same surveyed plot that is to be demolished.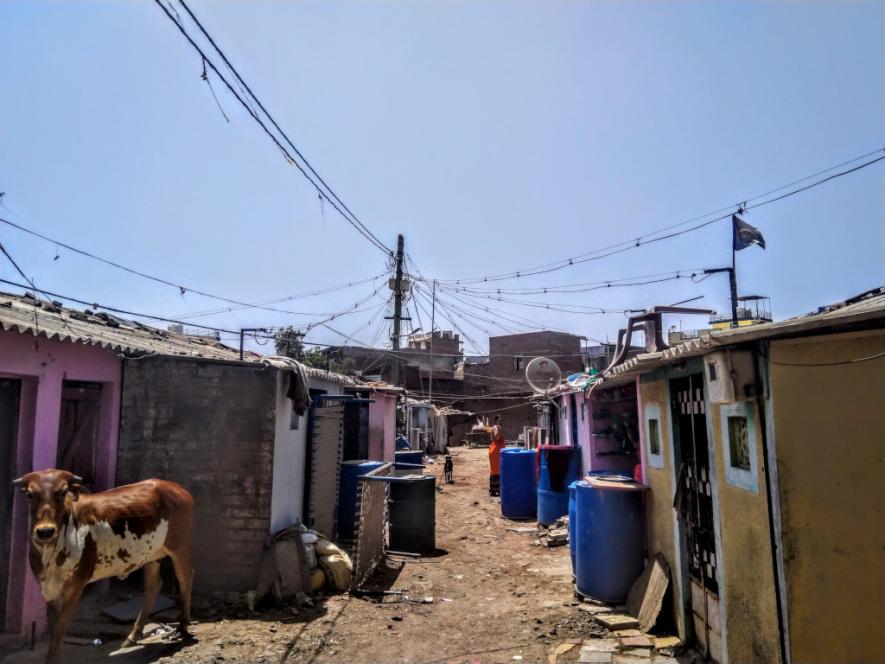 Rahman, 35, who lives in Gali No. 41 of Ambedkarnagar said, "Our whole family fell ill last month because of this contaminated water. This is not only dirty but also smells bad. You can't even wash your hands with this, let alone drinking."
Lakshmiben Balchandra Bhamre, with other Marathi families, moved here forty years ago from Pratapnagar as the latter was demolished. Lakshmiben, now in her early fifties, is suffering the repercussions of irregularities forced onto them after dislocation. She feels that these are manifestations of discrimination because they are not Gujaratis. She said, "Our conditions are worsening with time and it is certainly having some political angle.'
Kamlaben Bhamre, 60, said, "The water supply was restarted two days before elections [Vadodara underwent polling for Lok Sabha on April 23] but the condition changed as elections concluded —we were left to our daily suffering."
Chirag Ali Shah, an activist working for minority rights in Vadodara, wrote many applications to Vadodara Municipal Corporation (VMC) but the appellant authority didn't respond to the issues raised by the slum occupants. Shah said, "There is a vast problem of street lights here. We went to the Electricity Department; they didn't even entertain our plea. They keep sending us from one place to the other."
Several kids point towards a dump. One of them says, "Gutter ka pani pura ghar me bhara rahta hai, koi saaf karne nahi ata. (The gutter water overflows into our homes, no one comes to clean.)"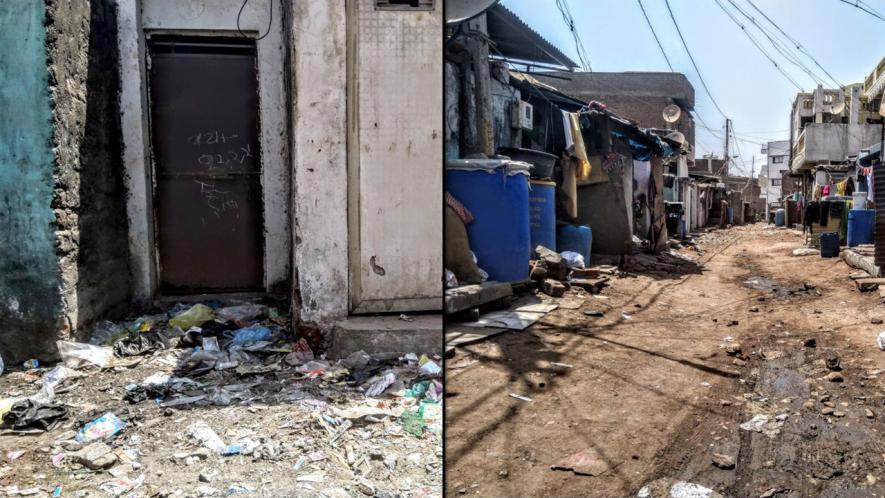 The situation is same in the other extreme of the surveyed slum. Sabiraben Sheikh, 65, told NewsClick that the issue of irregular water supply has been there for two decades but they never faced such a prolonged disruption. She said, "After VMC served us the notice to vacate the slum, this has become a new normal for the slum dwellers."
In November 2016, plot survey number 287 of Ektanagar Rahis Association was served a notice of demolition drive. Plot survey no. 287 is the biggest slum extension in Ektanagar. Ambedkarite Marathis and Muslims constitute majority of the population. Local activists approached the Gujarat High Court for an emergency hearing. Munaf Pathan, a social activist based in Vadodara, says, "VMC served a short notice in the newspaper just before the HC's vacation period so no one could succeed in availing any relief. But we luckily got an emergency hearing on our petition and Chief Justice R. Subhash Reddy ordered VMC to not demolish the slum."
Also read: Slum Dwellers Have a Right to City: Delhi High Court
The order on the Writ Petition (PIL) reviewed by NewsClick demarcates the faulty arguments of the Vadodara Municipal Corporation. The corporation argued that all the occupants had already consented to vacate the existing premises and also had accepted to receive a sum of Rs. 2,000/- per month till they are rehabilitated. The Chief Justice of Gujarat HC immediately stopped the demolition drive as the argument by VMC had proved faulty. Not all slum occupants had consented for demolition nor were they given proper rehabilitation allotments.
NewsClick approached Ajay Bhadoo, VMC Commissioner, for his comments but he directed this reporter to Deputy Commissioner Shailesh Mistry. Mistry disconnected the call on being asked about the issues pertaining to Ektanagar.
The opposition leader in VMC representing Indian National Congress, Chandrakant Shrivastva denied the existence of any such prolonged issues in Ektanagar to the best of his knowledge.
The writer is an independent journalist and serves as an editor at Academia.edu. He writes on social inequality and rights in India.
Get the latest reports & analysis with people's perspective on Protests, movements & deep analytical videos, discussions of the current affairs in your Telegram app. Subscribe to NewsClick's Telegram channel & get Real-Time updates on stories, as they get published on our website.
Subscribe Newsclick On Telegram