Ground Zero: Farmers' Protest is about Corporate Takeover of Rural India, Not Just MSP
Stigmatised but not cowed down, farmers, like a series of protesters before them, are trying to strengthen the very idea of democratic opposition.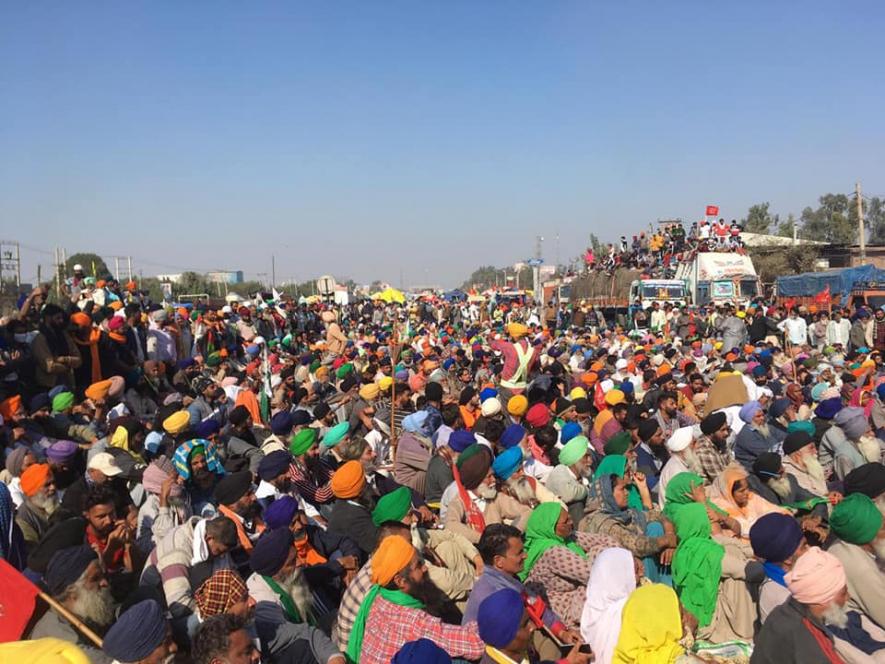 Protest site at Singhu border.
Walk past the concertina fences and concrete barricades erected across the Delhi-Haryana border at Singhu, past rows of police and paramilitary forces amassed there. Then lumber down the queue of tractor trolleys, buses and a smattering of private cars stretching into the horizon. The vehicles are loaded with farmers from Punjab, Haryana, Uttarakhand, Uttar Pradesh and elsewhere, with enough food supplies on board to last for months. Talk to them as you push ahead. Ask them to explain their worries about the three farm bills. You assume they will insist that the Union government must provide legal guarantees not to scrap the Minimum Support Price, ever.
They do indeed talk about the MSP, how it is their lifeline, how without it they would be ruined.
But what dominates their narrative at the Singhu border is the fear of the creeping corporatisation of farmlands. They see the provisions related to contract farming in one of the three new laws as the enabling of corporate influence on rural India. That will be beneficial neither for farmers nor consumers, they say. In their narrative, the lack of legal guarantee for MSP is a government ploy to weaken farmers and mandis and enhance the possibility of corporate and private takeover of rural India. This is why they want nothing less than the three farm laws to be repealed.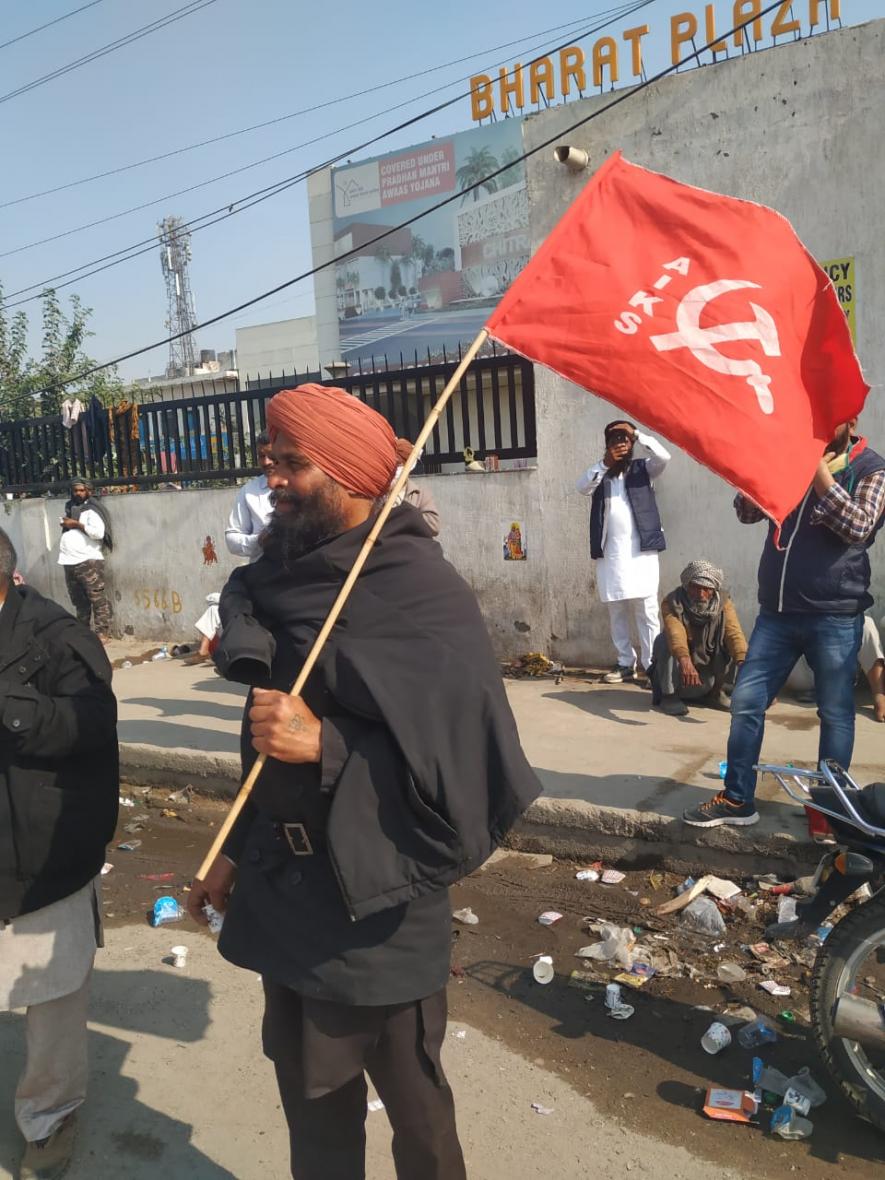 Parked at the Singhu border outpost for six days, ever since Delhi Police barred them from going any further, the resolve of protesting farmers has not diminished. They say they have not come to "negotiate" with the government on which aspects of these laws can stay and which must go. They want them all withdrawn. Entirely, lock stock and barrel. They do not want corporates in rural India.
The farmers insist they have consistently opposed any government's attempt to push contract farming. They say the present government did not seek their consent before passing the new law which allows a private individual to trade in agricultural produce outside the mandis, that too tax-free. They are anxious that when the three laws start operating, in combination, rural India will be devastated. First they will undermine wholesale markets or mandis, then with stocking limits under the Essential Commodities Act, 1955, gone, privately-owned mandis will likely step in, but they will lack in transparency. They would hoard agricultural produce and price them as they will, with farmers having little say, not even in their choice of what to grow. Plus without a reliable mandi, farmers will have no way to independently assess prices of crops.
The farmers are also stunned and hurt that despite their easy-to-understand demands the popular press has repeatedly labelled them as "Khalistanis" or painted them as simpletons who have fallen prey to "opposition conspiracies". This has angered the protesters, who perceive their demonisation as yet another evidence of the "anti-democratic" methods of Prime Minister Narendra Modi. From this perspective, the farmers' protest has taken the shape of a pro-democracy movement in which issues that matter to all citizens are being raised.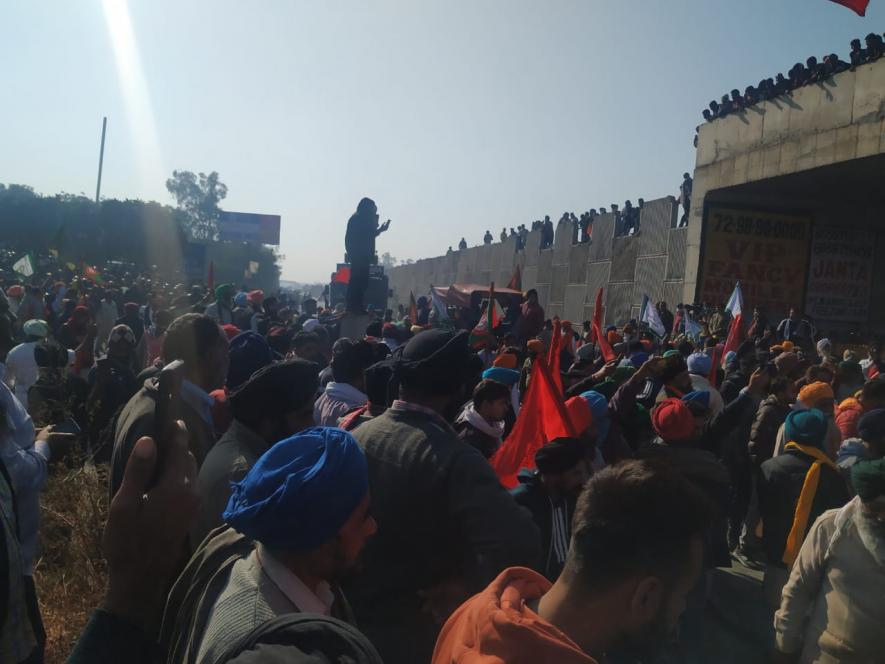 "This government labelled student protesters as 'tukdey-tukdey gang', democratic activists as 'anti-national' forces, intellectuals as 'urban Naxals', anti-CAA protesters as 'Pakistanis' and now we are being called 'Khalistani'," says Suresh Kauth, a farm leader also from Hisar in Haryana. He adds, "We never consented to contract farming, yet when we come to Delhi to oppose it we face atrocities on the way. Are we terrorists in the government's eyes? Do we not have the right to come to Delhi?"
While experts cite clauses and sub-clauses in the three government laws, they miss the point that farmers simply do not trust the Centre to keep its word. For instance, they certainly want MSP, and for more crops than the 23 currently covered. In their experience, however, the promised MSP amount is never paid in reality. Why should they then trust that corporate players will pay more than the government? "It is not as if corporates pay us in proportion to the cost of their packaged foods. We still sell our potato at Rs.2.5 a kilo. But one potato sells for Re.10 once it turns into chips," says Avtar Singh, a farmer from Fatehgarh in Punjab.
That is why the farmers want private warehouses taxed, and oppose contract farming else, they fear, traders will be free to meddle with supplies and prices. "We know this government does not keep its word, so we won't go by assurances. We want the three laws repealed and that assurance in writing," says Kauth. "This government's verbal guarantee would be akin to signing up for a new job with a contract that does not mention the salary," he says.
The angry farmers have added demands to cancel all farmers' loans, waive electricity bills (especially relevant to farmers in Punjab), revoke the law that imposes exorbitant fines on them for burning crop stubble, release farm leaders arrested to prevent the ongoing protest, and so on. "We also seek release of all democratic-minded people who have been thrown in prisons, especially the UAPA arrestees," says Mukhtar Singh Bhalla of the Jamhoori Kisan Sabha from Punjab.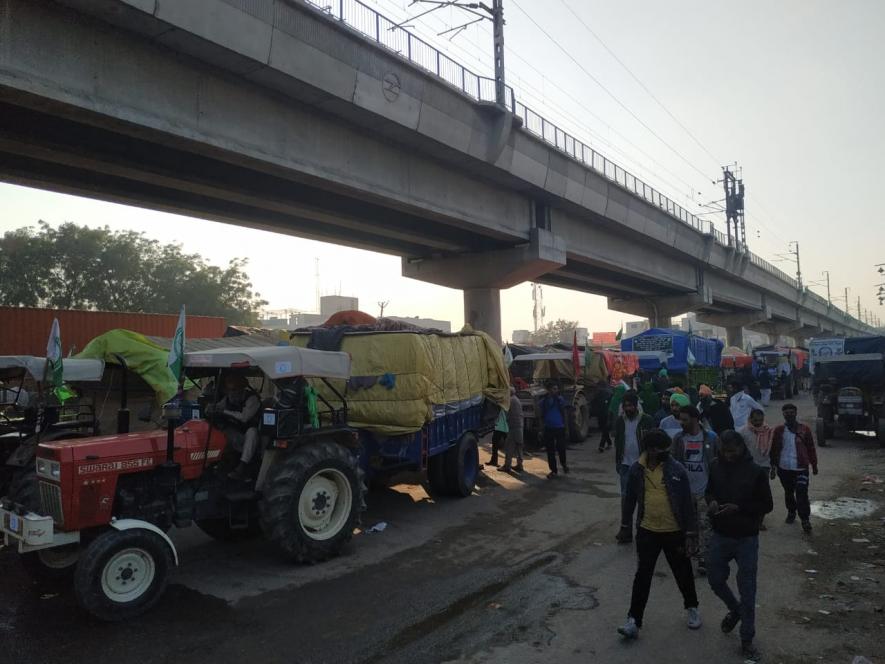 Their fear is that heavily-mechanised and automated farms led by companies and entrepreneurs will lead to joblessness and eventually farmers will lose control over their land. "There is no compulsion for farmers to enter into contracts with companies, but farmers, especially small ones, are unaware of the serious implications these deals can have," says Rajesh Dahiya, a farmer from Haryana. Small rural shops will go out of business as consumers are herded into malls to shop for cereals, vegetables and unhealthy processed foods.
This is basic economics as far as the protesters go: private players will purchase grain and fresh produce only if it can generate profits. That is, industrialised farms will require commercialised farming. Farmers say they were initially puzzled when they saw the ordinary items they harvest, like wheat or rice (even naturally-occurring water), being marketed by companies as giant leaps in healthcare science or as super-foods. They rue the "sun-ripened wheat" they see advertised, or the bottled water that claims to have "more oxygen", or the biscuits mixed with cattle feed that are being sold as a digestive health-boosters, all to clock tremendous profit.
They also fear that to achieve such economies of scale private players will buy large tracts in villages for tech-intensive "experimental" farming, while they, who grow these items, will never have budgets to market them as a "nutrition breakthrough". As Kauth says, "Farmers will become labourers, small farmers will be finished and the rural ecosystem will be ruined."
So, when speakers get on the stage to motivate protesters at Singhu border, they keep repeating that companies will "take over our farms and land". Their doubts and suspicions are growing for they feel ignored by the government, unfairly criticised by the media, and neglected by urban consumers.
In the experience of many farmers from Punjab, crops grown on contract must adhere to stringent agreed-to quality norms or get rejected. Farmers who wish to dispute these rejection, as per the new law, must seek settlement through the Sub-Divisional Magistrate's office, not the law courts. "But an SDM is not powerful enough to stand up to big companies," says Lakhvinder Singh, a farmer from Mohali, Punjab. Or the SDM can be bought over. As the law forecloses the option of approaching courts, a fear has arisen that farmers would have to submit to the whims of private traders.
Farmers rightly wonder how corporate or private buyers who already depend on mandis can give them better incomes, when governments fail to do so. "The government says the arhatia (wholesale mandi trader) is the middleman—but to us he is simply a buyer, not an intermediary," says Arshdeep, a farmer from Amritsar, Punjab. "So far, private traders could only buy and sell agricultural produce at a mandi, but the new law revokes this bar for them. They have been freed—not farmers," says Surinder Litani, a farmer from Hisar in Haryana.
Some protesting farmers see the contract farming push as an echo of the actions of the East India Company, which forced Indian farmers to cultivate opium and indigo for global markets, leaving them dependent on Company buyers and with ruined human and soil health. "They want to make us slaves again. If the corporate sector gets encouraged to enter farmlands, while mandis are demeaned, they will make us work on fields, store the produce when they want and release it during shortages at higher prices," says Dahiya.
As for MSP, farmers hold out the example of Bihar to say they do not want to go the way it has. "The farmers of Bihar are selling their rice for Rs.1,000 a quintal, half the earlier price. Traders and political people are buying from there and selling in other states at higher prices. If we allow MSP and the mandi to collapse, our prices will also drop to half," says Sardar Gurnam Singh Charuni, who heads the Bharatiya Kisan Union in Haryana. Charuni and others were booked four days ago for "attempt to murder" when they ploughed past barricades erected by the Haryana Police to prevent the march to Delhi. "We are also fighting for consumers when we oppose private traders at farms and support mandi," says he. "Did not traders recently sell pulses procured at Rs.60 for Rs.120 to consumers?"
With the trust factor absent, the government's talks with farmers (at 3 pm on Tuesday) are unlikely to succeed. On Monday, Modi said the "historic" new laws favour farmers. This implies nothing significant would be offered in these talks. Farmers are not in a mood for mere assurances, committees or compromises.
"We do not trust what Modi says," says Charuni. "This government says arhatias are 'middlemen', that vegetable vendors are 'middlemen'. Fact is, our government would rather import food from America if it is cheaper, but it won't encourage this country's agricultural economy, which supports the livelihood of our own people," he says.
Stigmatised but not cowed, farmers, like a series of protesters before them, are attempting to strengthen the very idea of democratic opposition. "They are trying to divide us by caste, region and religion but this battle is of class versus classes," says Rashpal Singh—a corporate class versus the farmers and everybody else.
Get the latest reports & analysis with people's perspective on Protests, movements & deep analytical videos, discussions of the current affairs in your Telegram app. Subscribe to NewsClick's Telegram channel & get Real-Time updates on stories, as they get published on our website.
Subscribe Newsclick On Telegram