Karnataka: Mega Dalit Convention Held in Bengaluru to Mark Mahaparinirvan Diwas
The conference was hosted by a coalition of 10 DSS organisations to mark 66th death anniversary of Dr BR Ambedkar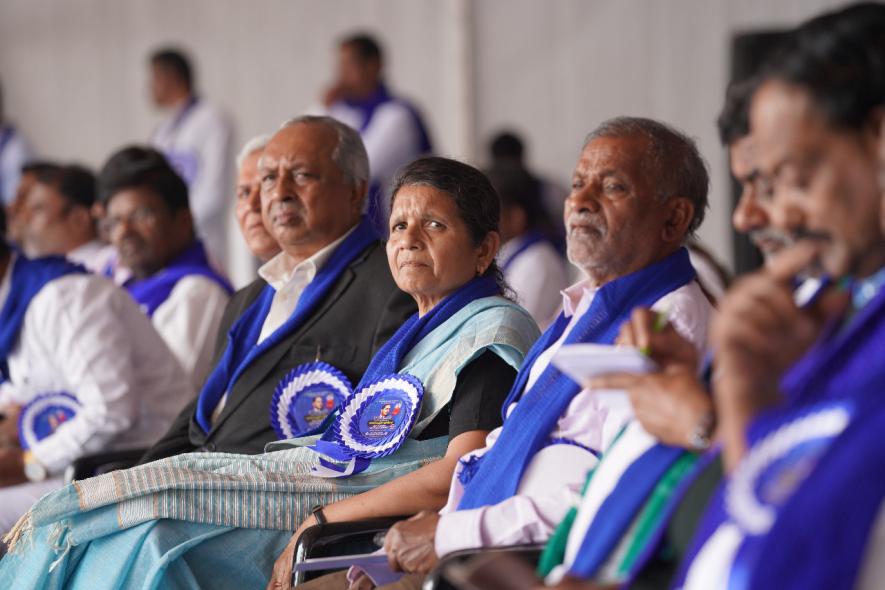 Ramabai Anand Teltumbde shares the stage with DSS leaders (pic
courtesy - Navya Kadame)
Bengaluru: Around 10,000 people gathered at the National College Grounds in Bengaluru on Tuesday to mark the 66th death anniversary of Dr BR Ambedkar. A coalition of ten Ambedkarite organisations in Karnataka came together to jointly host the conference titled 'Dalit Cultural Resistance'. The name of the coalition is Dalita Sangharsha Samitigala Ekya Horata Samiti (United struggle committee of DSS Organisations). The DSS split in the 1990s over various issues.
Ramabai Anand Teltumbde was the chief guest of the program. People started to pour in at 10 AM and dispersed only after 5 PM.
The program commenced with musical performances, including Bhim geet. A troupe called eebhoomi (our land) from Kolar was also present. The conference was kicked off by Ramabai Anand Teltumbde, the granddaughter of Ambedkar. Addressing the audience, she said, "Babasaheb told us to come together and agitate against injustice. In the context of Bhima Koregaon, that did not happen. We should have protested together, but we did not do it. We win our rights only by agitation."
Speaking about the role of women in society, she said, "Babasaheb said that when a woman is educated, the whole family will experience progress. We will start to see changes in society. Women should start taking leadership roles in the family as well as in society. If you want to honour Babasaheb, you must become leaders of the community."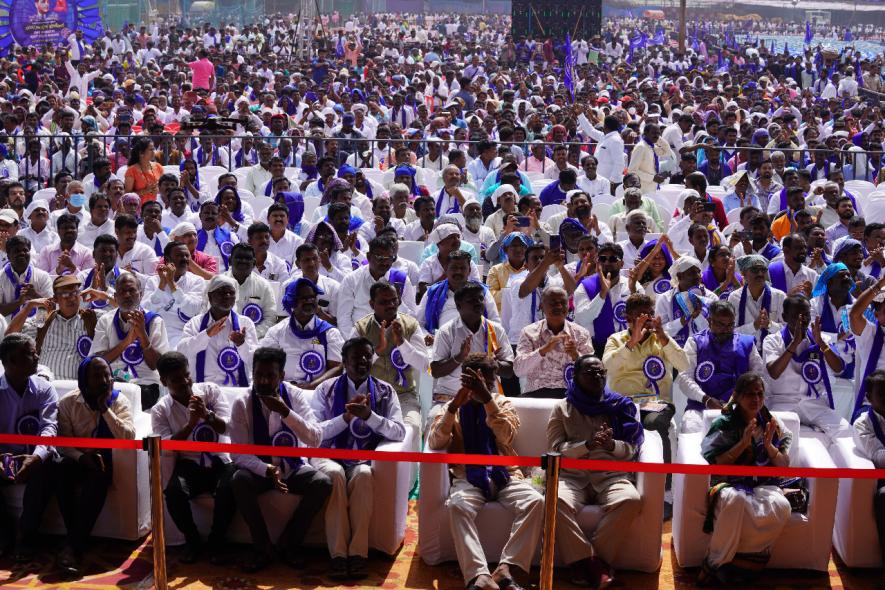 Sea of blue reaches bengaluru (pic courtesy - Navya Kadame)
Speaking about the reversal of progress, she said, "For several years, our rights are being snatched one by one. Scholarships are being denied because they don't want our children to be educated. We have to fight as one to achieve our goals. So I request you all to come together and choose a leader. The responsibility of protecting the Constitution lies with us."
Several leaders of the DDS organisations exchanged their views at the conference. One of the speakers who resonated the most with the crowd was Mavalli Shankar. Addressing the audience, he said, "The capitalists and the followers of Brahminism are attempting to play mischief with the Constitution. We have to show our resistance and throw them out. What is meant by cultural resistance? Buddha, Mahavira, Jyotiba Phule, Savitri Phule, and Ramabai. This is our resistance. The Ramayana was written by Valmiki. Mahabharata was written by Vyasa, and the Constitution was written by Ambedkar. We built this country. And now, in the name of religion, you (casteist forces) are discriminating against us?"
Emphasising communal terror, he said, "The country is in the grip of the communal forces. We must intensify our movements and our agitations. They talk of Kashmir Files (the film). I want to know. Where are the Khairlanji files? Where are the Bilkis Bano files? We will also start opening the files. Do you have the strength to read it?"
Speaking about religion, he said, "Kuvempu used to say that he is not a Hindu. What about you? (asks the crowd). You call yourselves Hindu and do pujas at home. You conduct all the Vedic celebrations in your home. From the clothes you wear to the food you eat, it is decided by someone else."
He concluded by saying, "Our dream is that of an enlightened nation, and for that, our path is that of Ambedkar."
Cultural Celebration
A musical troupe from Kolar called Eebhoomi (this land) was invited to perform at the conference. They are a group of 15 artists who performed with traditional drums known as Thamte. Manjunath, 40, is from the Adi Karnataka community. He is the founder of the troupe. Speaking about the crowd, he told NewsClick, "I was so happy to see the turnout. We rehearsed for two days for this event. Our group is made up of 100 artists. Out of this, there are 15 people who play thamte. Only thamte artists have performed today. We used traditional drums made of goat skin. It has to be treated under the hot sun and then be exposed to heat from a fire. Once this is done, it can be heard for 5-6 kilometres. Now there are drums made of plastic or fibre. It is less effective. We wanted to use our traditional materials for this performance because we are also from this community."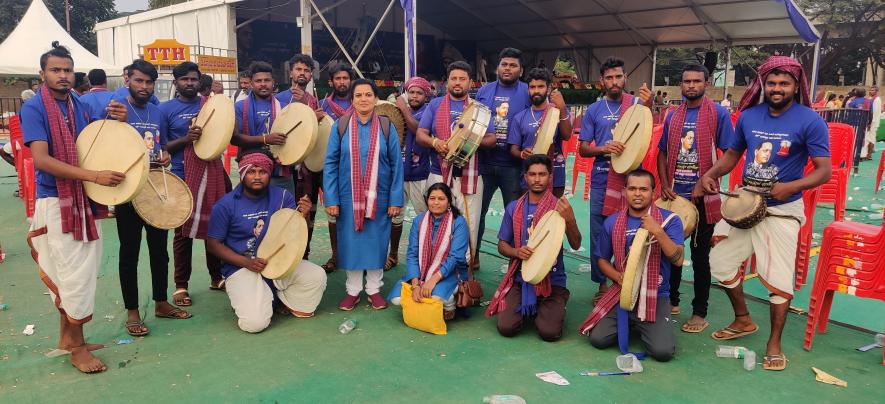 Musical troupe from Kolar, eebhoomi (pic courtesy - Nikhil Cariappa)
People from all walks of life turned up for the event. Yallapa Gaste, 32, from Belagavi, is a Bengaluru Metropolitan Transport Corporation (BMTC) bus driver in Bengaluru. He said he turned up for the event after the end of his shift. Sumanjali V, 24, is pursuing M.A. in Kannada from Bangalore University. She was one of the student volunteers at the conference. Speaking to NewsClick, she said, "This conference was organised to save the Constitution and our democracy. After 25 years, this is the first united conference of DSS organisations in Karnataka. I was proud to be a part of it."
The leaders adopted 15 resolutions during the conference. This includes internal reservations (sub-caste reservation) for Scheduled Castes and Tribes; abolition of contract labour; Amendment to the PTCL Act to help dalits retain lost lands; withdrawal of cow slaughter ban, anti-conversion law, land reforms amendment and EWS reservation; Atrocities against dalits and minorities was strongly condemned.
Get the latest reports & analysis with people's perspective on Protests, movements & deep analytical videos, discussions of the current affairs in your Telegram app. Subscribe to NewsClick's Telegram channel & get Real-Time updates on stories, as they get published on our website.
Subscribe Newsclick On Telegram