Decoded: How MP Doubled Wheat Procurement Despite Lockdown
Record procurement of wheat this year maybe because quality norms were relaxed.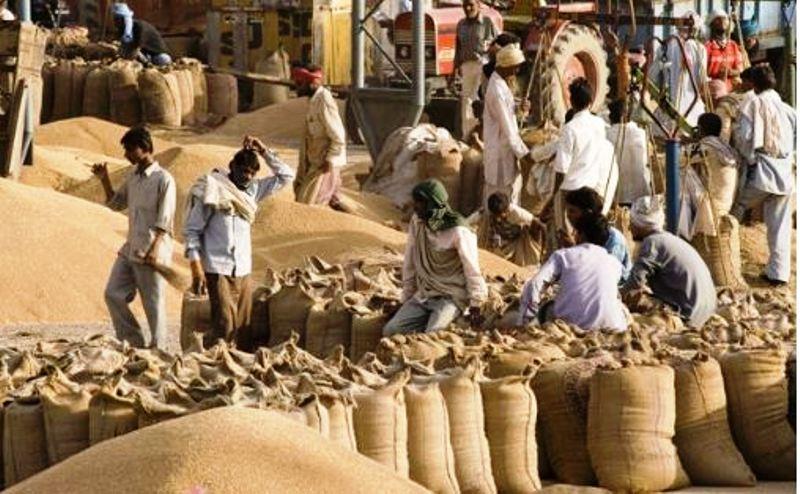 Representational image. | Image Courtesy: Krishi Jagran
Earlier this year came the sensational news that Madhya Pradesh had procured more wheat this year than Punjab, upending the long standing status of the latter as the chief provider of wheat in India. Undoubtedly, it was an incredible achievement for MP, which till a decade ago had to depend on wheat allocation from the Centre to meet its needs. A natural extension of this story was that total wheat procurement for the country, too, reached a record 389 lakh tonnes, a jump of 48 lakh tonnes (nearly 14%) over the previous year. 
This good news became all the more enchanting because wheat harvesting, processing and sale took place during the countrywide lockdown. Although agricultural operations were exempted belatedly by the Modi government, restrictions on movement continued and were only eased somewhat in May. 
But, as it turns out, there are wheels within wheels. Certain relaxations were preferentially given to MP government by the central government that went a long way in boosting procurement in the state.
State wise Procurement of Wheat
But first, have a look at the state wise procurement figures as shown in the chart below, derived from the Food Grain Bulletin put out every month by the Department of Food and Public Distribution. It gives final wheat procurement figures from various states, as on June 30, 2020.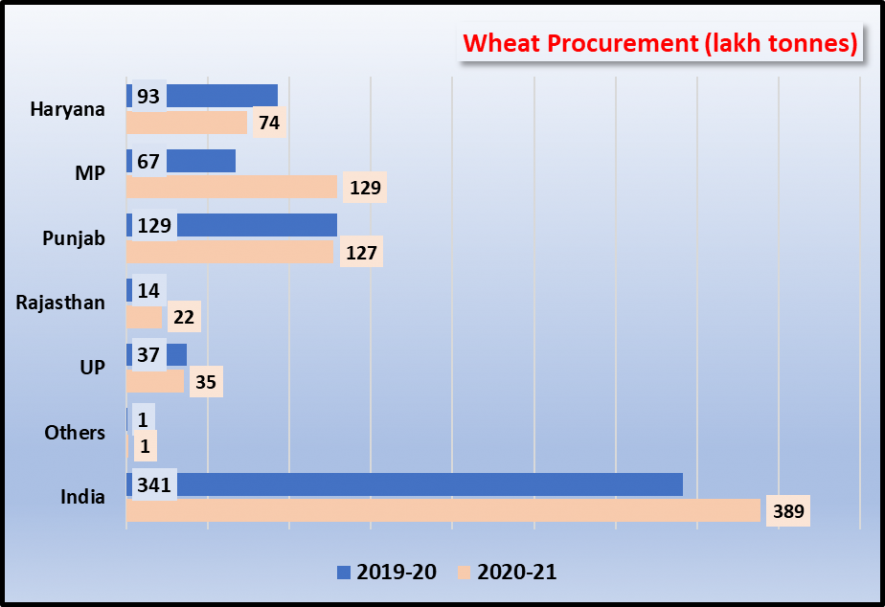 Among the five states that provide almost all the wheat for the central kitty, procurement fell in three, compared to last year: in Haryana (by 19 lakh tonnes), in Punjab (by 2 lakh tonnes) and in UP (by 2 lakh tonnes). In Rajasthan, it went up by 8 lakh tonnes.
So, it is the big jump in MP's wheat procurement that has led to this record for total procurement. In other states, either there is a fall or minor increase, as would be expected in view of the lockdown troubles.
Now, what did MP do to procure such an enormous quantity of wheat – some 129 lakh tonnes, compared to last year's 67 lakh tonnes? That's an extraordinary jump of 62 lakh tonnes, in just one year, and that too amid the lockdown.
Procurement of Damaged Grain
The central government lays down detailed specifications of the quality of wheat that can be procured. Various types of damage – loss of lustre, shrivelled or broken grains, moisture, foreign matter content – everything is specified. There is also a system for reducing the price for a certain range of damage, but with a cut off. Wheat with more than specified damage will not be bought at all. 
However, this year, certain relaxations were put in place by the concerned department, to provide for early rains in February and March which had damaged wheat across most of the northern belt. In the case of MP, the central government made quite substantial relaxations for accepting "loss of lustre" wheat. This condition is visible as the surface of wheat grains is lacking the typical shine (or lustre). It happens because of crop damage and leads to much lower shelf life of the wheat and susceptibility to insect attacks.
Also read: Small Farmers, Big Crisis, and SMS is no Solution, Say Farm Leaders
Usually, a relaxation is made for procuring wheat which has 10% component of "loss of lustre" type. This is what was done in other states. But in MP, relaxations were much higher. In 18 districts, no cut in price was imposed for upto 10% "loss of lustre" damage. This happened even as in other states, farmers' unions were fighting for doing away with the cut in prices. In another 18 districts, upto 30% damaged wheat was allowed to be procured. And, in the remaining 16 districts, damage of 30% to 80% was permitted. In these cases, a price cut had to be accepted by farmers. But they were happy to sell it even at lower price than MSP because otherwise nothing could have been sold. All these details are available in the communication sent by a Deputy Commissioner in the Food Corporation of India (FCI) to the Principal Secretary, Government of MP.    
According to one report, as much as 70% of the wheat procured in MP is of the "Under Relaxed Specifications" (URS) category. In other words, it is damaged wheat, which normally is not allowed to be procured, but has been done this year.
This is the explanation for the extraordinarily high procurement of wheat in MP this year. It can be argued that farmers would have been ruined if this wheat was refused. While that is correct, it is being pointed out that another way out would have been to let them get compensation under the PM Fasal Bima Yojana, or if uncovered, through direct compensation. Perhaps, the private insurance companies would not have been happy to compensate, but then insurance is a risky business, as they know it well enough.
The flip side is that this damaged grain now needs to be stored very carefully in pucca warehouses, and disposed off through usual channels for quick consumption. As of date, the MP government doesn't have sufficient storage for so much extra grain and already reports of grain rotting in the heavy rains are coming in. How the MP government is going to solve this conundrum is anybody's guess.
Also read: COVID-19 in Rural India-XL: In MP's Rohna Village, PDS Delays Challenge Food Security of Villagers
Get the latest reports & analysis with people's perspective on Protests, movements & deep analytical videos, discussions of the current affairs in your Telegram app. Subscribe to NewsClick's Telegram channel & get Real-Time updates on stories, as they get published on our website.
Subscribe Newsclick On Telegram