NLAT 2020: Exclusion in Elusive Island of Excellence
The requirements of the online proctored, home-based exam have led to a question of whether NLSIU is making the dreams of thousands of aspirants redundant with such an exclusionary approach.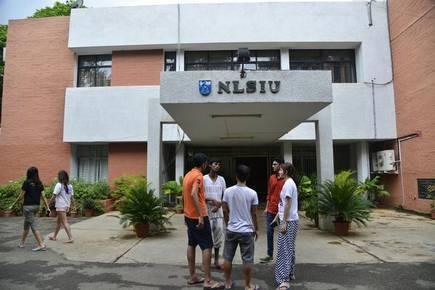 Image Courtesy: The Hindu
On August 27, the executive committee of Common Law Admission Test (CLAT) Consortium, a body responsible for conducting the entrance test towards admission in 22 National Law Universities, received a communication from Prof Nirmal Chakraborty, the Vice-Chancellor of West Bengal National University of Juridical Sciences (NUJS), Kolkata. He informed the committee regarding the West Bengal government's decision to have a complete lockdown on September 7, 2020, and possible repercussions on CLAT aspirants, and hence the committee decided to postpone the exam fourth time from erstwhile decided date of September 7 and shifted the exam to September 28, 2020.
While the committee was planning to conduct this exam, it faced a peculiar position when one of the founding and the foremost established member of National Law University, National Law School of India University (NLSIU) decided to conduct a separate exam, National Law Aptitude Test (NLAT). As per their announcement, this was an online home-based test for its BA, LLB well as LLM programme for 2020-2021. For this exam being scheduled on September 12, the aspirants were given notice of fewer than 10 days with lack of clarity on the modalities of the exam.
The reason cited by NLSIU was the uncertainty attached with the continuous postponement of CLAT and the problems it will face in the form of "Zero years" as it follows a trimester system. Hence, they are uniquely disadvantaged since every academic year is made up of three terms of 90 days duration.
However, without going into the legality of conducting a separate exam by NLSIU, the most concerning fact which arose was of the medium through which the exam was planned to be conducted. The University planned to conduct home-based online proctored exam which required technical requirements such as Windows 7 or above (Windows 10 recommended), Mac OS 10.13 and above, and Linux (ubuntu versions 18.04, 16.04, 15.04 only) systems for laptops and PCs while Android version 6 and later for phone devices. They also mandated minimum internet speed (512 KBPS) and processor requirement of Core 2 Duo and above with a minimum 1 GB of Ram and mandatory integrated/ attached webcam and audio device.
With the final number of registered aspirants being 24,603, around 23,225 aspirants finally attempted NLAT on September 12, 2020. This number can be contrasted with CLAT 2020, wherein around 68,000 aspirants had filled the form thinking of NLSIU as partner-NLU in the CLAT examination.
The requirements of the online proctored, home-based exam have led to a question of whether NLSIU is making the dreams of thousands of aspirants redundant with such an exclusionary approach.
Digital Divide for Aspirants
This online mode has raised the concern of access for a majority of the applicants who might not have access to similar kind of internet, laptop facilities, or even electricity. This is evident from the NITI Aayog Report "Strategy for New [email protected]", wherein it has highlighted the poor quality and reliability of internet as a significant bottleneck in rural areas and also pointed out that 55,000 villages in the country are without proper mobile network coverage. As of 2019, only 45.1 crore population had access to internet out of a population of almost 135 crore. The report has also noted that internet access is plagued by issues related to quality and reliability, outages, call drops and weak signals with a significant portion of our population not having access to devices such as laptops, computers, smartphones, etc.
Also read: Online Open Book Exams During Pandemic -- A Revenge on Students?
Further, as per the NLSIU Diversity Report of the year 2015-16, there were 16 students (4.03%) in NLSIU itself who didn't purchase a laptop on their own but received it as part of assistance/ award/ scholarship. Even for a university where most of the people belong to an economically strong background with the average annual income of students' family being Rs. 19.6 lakh, laptop affordability was not 100%; this number will be even higher for the entire country. Conducting an online home proctored exam, which would necessarily require the availability of such devices, would exclude a significant number of applicants and would be violative of Article 14.
NLSIU later tried to make the exam more accessible by allowing it to be attempted on mobile phones also. However, this shift still did not provide every competing individual with equal and fair opportunity as the majority of Indians still do not have access to mobile phones and particularly smartphones with the Android version 6 and later, which was required for NLAT. A global survey done by a think tank, Pew Research Centre estimated that only 24% of Indians owned smartphones by the year 2018. Additionally, the Telecom Regulatory Authority of India, in the year 2018, concluded that the total internet density in the country stood at around 49%. Of that, 25% lived in rural areas and 98% in urban areas.
Further, even though NLSIU had the potential to compel students who did not have laptops to take the exam on Mobile Phones, that in itself would be unfair as the varying screen size from laptops, tablets to mobile phones would impact the reading speed and ability to concentrate on the exam. This in turn would not provide equal opportunity to all the competing candidates.
The NLAT conducting body also failed to take into account the lack of even primary phone networks at the geographically disadvantaged places. A group of NLSIU students attempted to collate the grievances of the candidates to be placed before the NLAT administration, which highlighted severance concerns due to geographic restrictions. For instance, in the responses, a candidate from Rajouri in Jammu and Kashmir stated their inability to participate in the exam due to lack of internet and no laptop. Another student residing at a border town of Jammu and Kashmir merely had 2G assemblage and a continuously snapping broadband connection at a relative's place. 
These instances backed with data shows that the NLAT also created a divide based on economic background wherein access to fast internet connectivity is not available to everyone, even in cities that have internet. Smoother internet service is still reflected as a matter of privilege in India. The NLAT, in that aspect, might have deprived a lot of meritorious students of a fair opportunity to appear in the exam just due to the economic background they come from.
The model of online home-based proctored examination hence created a digital divide, therefore, denying the right to equality and equal treatment to the competing candidates. The Hon'ble Supreme Court of India in S. Krishna Sradha vs The State Of Andhra Pradesh recognised that the right to equal and fair treatment is a component of Article 14 of the Constitution, that a transparent and fair procedure is the duty of every authority connected with admissions. Denial of fair treatment to the candidate would not only violate their right to equality under Article 14 but also would seriously jeopardise their rights under Article 21 of the Constitution of India.
Problems to Differently Abled Candidates
NLAT created an even more disadvantageous position for people with disabilities. The NLAT was conducted on a very short notice of merely eight days, and the model does not take into account the difficulties which will be faced by disabled people to give the exam in a congenial environment. Swabhiman, a community-based organisation, and Disability Legislation Unit of Eastern India of National Centre for Promotion of Employment for Disabled People (NCPEDP) conducted a survey wherein 86% of differently-abled said they did not know how to use technology. The surveys also found that 67% of students expressed their need for laptops, smartphones, or tabs for educational purposes. Around 74% of them said they needed data/Wi-Fi support for educational purposes while 61% expressed a need for scribes, escorts, readers, and attendants. Around 71% said even when smartphones were available at home, their father was the only person who had a smartphone and was out of home most of the time for livelihood purposes, while 61% of them said they would not be able to afford to buy a new smartphone as it was expensive.
Also read: Only 24% Indian Households Have Internet Facility to Access e-Education: UNICEF
These statistics clearly show the disadvantageous position of disabled people in terms of access to technology. In the first notification, NLSIU didn't even provide a reference to any scribe facilities, extra time mandated by UGC and Bar Council, or accommodations for PwD candidates, which was provided only less than a week before the final exam.
Section 16 of the  Rights of Persons with Disabilities (RPWD) Act, 2016 clearly states that all educational institutions funded or recognised by government have to ensure inclusive education to the children with disabilities and towards that end shall admit them without discrimination. However, the model of the NLAT is outrightly discriminatory and does not provide people with disabilities a fair opportunity to appear in the entrance exam and is henceforth in violation of Section 16 of the Right of Persons with Disabilities Act.
Infrastructural Exclusion in Terms of Electricity and Test Centres
The online home proctored test also failed to take into account the irregular and erratic nature of electricity supply in our country. A nationwide survey of villages by the Ministry of Rural Development in 2017-18 showed that 20% of India's households received none to eight hours of electricity daily, 33% got 9-12 hours, and only 47% received more than 12 hours of power supply daily. Added to that, non-availability of the internet or digital devices to a large section of society is creating inequality amongst the applicants, which further impacts their future and put them under a perpetual disadvantageous position. This disadvantageous position has also been reflected in the LSAT India (a private law entrance exam), which saw the participation of only 50% of the potential candidates.
The guidelines also mandated that no presence or sound of unauthorised person or device shall be observed in the candidate's vicinity. This mandate in itself assumes that every candidate will have access to a private space where they can write an exam without any sound or presence of family members.
Additionally, the NLAT conducting body further created an unfair playing ground of competing candidates by creating 35 test centres in the country on a paid basis from across the country. This provided an unfair advantage to students living in the cities of these centres. At first, the testing facility has been provided not to everyone who wants to avail it but on a first-come, first-serve basis as the number of seats available is limited. This arbitrary condition created an unfettered advantage for those students who could access these test centres during the time of a pandemic and deprived all the competing students a fair opportunity to participate in an examination. Such an unfair system of admitting students to the most premier law university of India results in indirect discrimination. While all students can, on the face of it, register for the exam – the exam can be given by only those who can arrange for a laptop, smartphone and fast internet with access to private space.
Ground Reality of NLAT
NLAT was finally conducted on September 12 with multiple issues like login failures, time lost in the verification of candidates, automatic submission of the exam before the scheduled time, arbitrary warnings being given, website getting crashed with little/no support from helpline number. This exclusionary and arbitrary mode of conducting exam made the fear of many candidates a reality. To add to the mental injury of aspirants, some pieces of evidence even suggested how cheating was possible in the online proctoring mode.
Also read: Online Exams and The Right to Equality
This failure to conduct a smooth exam, which was exclusionary in the first place, raises a question whether NLSIU intentionally decides to put forward this exam to maintain their status quo as the foremost law institute or it was merely a battle of ego between heads of National Law Universities. 
In a college where 68% of the students came from families with 3+ generations of graduates with their parents being either at least postgraduates and where the overall average annual income of students at NLS once stood Rs. 19.6 lakh per annum, this exam has the potential to further send people only with a privileged background to NLSIU.
The university, after receiving multiple complaints on the technical glitches of the exam, has planned to schedule another slot for aspirants to give the exam again on September 14 with the condition that their previous score shall be erased from the system. The problem attached to this re-test is that all complainants of technical glitches are given a chance of re-test without delving much into the legitimacy of the complaint. This extra chance will again probably prove to the detriment of legitimate candidates of the exam.
The matter pending in Supreme Court is scheduled for a hearing on September 16 and is probably the final ray of hope for aspirants – after which it can be deciphered whether this exam will create yet another batch of students belonging to an "elusive island of excellence" or the apex court will step up for individuals who will soon join their legal fraternity.
The authors are graduate students of the West Bengal National University of Juridical Sciences, Kolkata.
Get the latest reports & analysis with people's perspective on Protests, movements & deep analytical videos, discussions of the current affairs in your Telegram app. Subscribe to NewsClick's Telegram channel & get Real-Time updates on stories, as they get published on our website.
Subscribe Newsclick On Telegram