Modi Regime's Blame-Shifting Won't Impress Bengal
By denying them aid, the Centre is punishing ordinary people in states where the BJP nurses high hopes of political gains.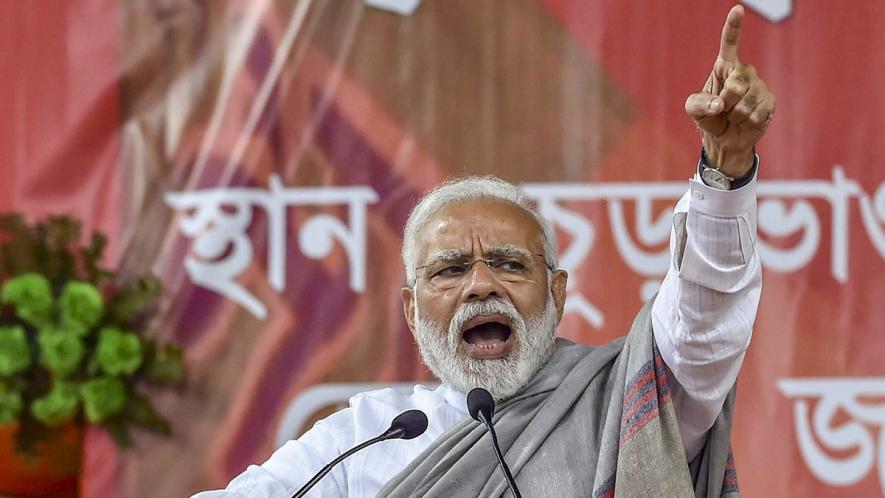 West Bengal Chief Minister Mamata Banerjee refused to attend a videoconference hosted by the Prime Minister on 17 June for state representatives, because she was one of the few invitees who had not been given a slot to speak at the virtual meeting. This might look like a fit of pique that does not behove a Chief Minister, but in context it is actually a legitimate protest. Given that West Bengal is having to deal with both the Covid-19 crisis and the aftermath of cyclone Amphan, it was certainly not unfair to expect an opportunity to present Bengal's case.
As it happens, a month has passed since the super-cyclone flattened Kolkata and three districts while ravaging many others, but the Narendra Modi regime has not announced (forget forked out) any aid beyond the "advance assistance" of Rs. 1,000 crore sanctioned in its immediate aftermath. The damage to the state has been estimated at around Rs. 1 lakh crore.
It should bother the Bharatiya Janata Party (BJP) that other Opposition parties in the state—mainly the Communist Party of India (Marxist) and the Congress—have both backed the Trinamool Congress on this issue and accused the Centre of discriminating against Bengal, despite being bitterly critical on practically all other matters.
The accusations of discrimination gained traction when the Centre announced on Thursday that it would launch a programme worth Rs. 50,000 crore to provide jobs to returned, or returning, migrant workers across 116 districts in six states—Bihar, Jharkhand, Madhya Pradesh, Odisha, Rajasthan and Uttar Pradesh. The criterion for selection was a cut-off quantum of returning 25,000 migrants. There can hardly be any doubt that several districts of Bengal meet this criterion.
Leaving Bengal (and others) out, especially in post-Amphan circumstances, trumpets the Modi regime's intolerance of political opponents and eagerness to use the levers of government to illegitimately pursue partisan ends.
For context, let us remember that Union Home Minister Amit Shah virtually kicked off his party's campaign for the Bengal Assembly elections, due in just under a year, on 9 June, with the customary broadside against Banerjee. While the substance of his oration was the usual, its timing and context raise interesting questions.
Addressing an audience of party workers at a "virtual" rally, he launched an attack that revolved around two themes: the Citizenship (Amendment) Act, 2019; and the travails of locked-down migrant workers. The first was not particularly interesting because it was embedded in a template that was fashioned long ago, but for the record, he attacked the state government for opposing the act, charging it with denying Matuas and others citizenship opportunities. We have heard that one too many times.
But the burden of Shah's song was that Banerjee has been doing an injustice to migrant workers of Bengal who are still stuck in various parts of the country, by refusing to requisition enough Shramik Special trains to get them home. Uttar Pradesh, he said, had requisitioned 1,700 trains and Bihar 1,500, while Bengal had allowed a measly 235—which admittedly left thousands stranded at a time when they were desperate to return home.
And that was not all. Shah said Banerjee had insulted them by denigrating the trains on which they were returning home. "Mamata has insulted workers of Bengal by calling Shramik trains Corona Express. This Corona Express will soon turn into Exit Trinamool Express," he told his audience.
Shah's less than masterful attempt at storming the high ground is risible. The migrant workers, whose plight seemed to have touched him so deeply, will hardly forget the facts. To begin with, it is the BJP government in Delhi which clamped at four hours' notice a draconian lockdown on the entire country, which marooned millions of migrant workers at their workplaces, without work or sustenance and all too often exposed to infection by the Coronavirus. There is just no way of arguing that this was an unavoidable expedient. It was eminently possible for the Centre to have started planning the lockdown early in March and imposing it only after giving migrant workers and others the opportunity by way of reasonable notice to make their way home. That would have obviated the need for sardine-can Shramik Specials, not to speak of long treks, often by foot, for hungry people destitute of resources.
Then again, it took the government, in which Shah is Number Two, 37 days to make the announcement that special train services would be started for migrant workers to return home—a touch more than five weeks. By the time the first train pulled out of a station, almost six weeks had passed.
Even after that, the Centre botched the operation so badly, as it is so often wont to, with a lack of clarity about who would pay the fares, how the workers would book tickets and the negotiations that would have to go into scheduling trains, that a considerable amount of time passed before the operation, and the trains, could start rolling smoothly. Back of the envelope, seven weeks had passed and migrant workers were still uncomprehendingly stuck mid-May.
It also transpired that Modi and Shah's government's only contribution was permitting the trains to run and having the railways operate them. It would play no part in coordinating their scheduling, forget taking on the responsibility of leading the whole exercise. The states would have to do it all themselves and pay for the operation. Unless they wanted the migrants to pay.
There seems to be a problem here. Does Shah really believe that this attempt to shift responsibility and blame will work when his government has been conspicuous by its obdurate refusal to extend a helping hand in any matter? Certainly not with the people who experienced the tribulations of struggling to survive for weeks on end.
Then there is the minor issue of timing. Shah may have forgotten the small matter of cyclone Amphan, but it's not likely that people in this neck of the woods have. Not even three weeks had passed when Shah held his virtual rally. To accuse an administration of deliberately stalling trains when it is dealing with the double hit of the worst pandemic and cyclone in a century somehow does not wash.
Political disaster entrepreneurship of so egregious a character is unlikely to go down well with people struggling to stay afloat. Obvious discrimination is unlikely to be forgiven by people struggling to pick up the pieces. And Modi and Shah's insidious brand of gaslighting is something we are all familiar with. It is unlikely to make people in Bengal begin to doubt their sanity.
The author is a freelance journalist and researcher. The views are personal.
Get the latest reports & analysis with people's perspective on Protests, movements & deep analytical videos, discussions of the current affairs in your Telegram app. Subscribe to NewsClick's Telegram channel & get Real-Time updates on stories, as they get published on our website.
Subscribe Newsclick On Telegram