Hidden in Plain Sight: Poor Left Out of Sanitation Campaign
Field reports from rural and urban settlements shows the poor and weaker sections are being denied the use of toilets.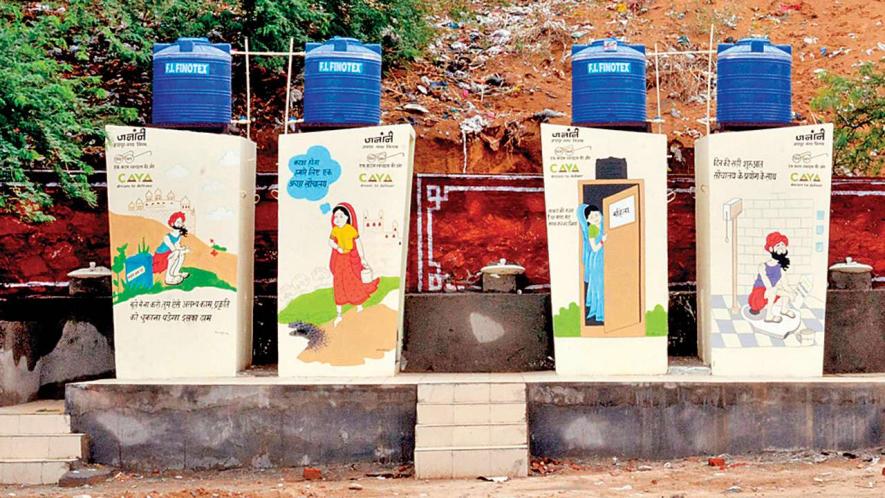 The Covid-19 pandemic has once again highlighted the importance of sanitation in overall development. The government claims that in recent years unprecedented achievements  have been made in  sanitation, which culminated in the declaration, in October 2019, of  almost the entire country as ODF or Open Defecation Free. The government's claims leave room for a few to be left out, but the blame for this falls more on behavioural aspects of sanitation rather than failure of the programmes and schemes to provide sanitation. The argument presented is that it "takes time" to introduce and sustain changes in behaviour. 
In the period after the declaration of ODF, I visited ten settlements where the poor live to check these claims—seven rural settlements in Bundelkhand region of Uttar Pradesh and three urban settlements in Delhi. Contrary to what the government says, in all ten settlements the poor, particularly women, are very keen to have working toilets, and have demanded these time and again, but they have been denied help under existing government schemes. As a  result, an overwhelming majority of the seven rural settlements in Uttar Pradesh still resort to open defecation. And, in the three city settlements of Delhi, the conditions of sanitation remain very inadequate. 
What is more, almost all the ten settlements in Uttar Pradesh experience various degrees of water scarcity, which becomes an acute crisis in most cases. As a result, even if toilets are constructed immediately the chances of their sustainable use will be very low unless the water scarcity is also overcome.
Kuchbandiya basti in Khamora panchayat in Banda district of Uttar Pradesh is inhabited by a very marginalised community. The people here have repeatedly demanded toilets as the existing conditions of sanitation are very difficult. For the greater part of the year, residents have to walk over two kilometres to relieve themselves as the farmers do not allow those who are landless to defecate in their fields. 
As a consequence, during the rainy season, the conditions become even more unbearable. The disabled and sick have to be somehow carried on bicycles. The situation at the time of my visit was that after repeated requests, a project for a small community toilet had been approved by the government, but a dominant individual had intervened to claim ownership on the land where it was to be constructed. So even this small project had got struck. Hence 100% of the people were still defecating in the open at the time of my visit.
In Khirwa Masri settlement inhabited by the same Kuchbandiya community and located a few miles away, a few toilets had been built by the government but these were constructed so badly that they could not be put to use. Hence this settlement was also denied of toilets. Both these settlements suffer from water scarcity as well.
Dafai village in Karvi block of Chitrakut district is inhabited by Kol tribals. They do not have any toilets and the entire community is 100% dependent on open defecation. People here told me that they have raised the demand for toilets several times as the condition of sanitation is very poor. There is only one limited area used as a toilet and this has to be shared by women, men and children, which causes much embarrassment on a daily basis. This area is also close to where stone crushers operate, so there is great risk of  accident involving roughly-driven trucks while going to and returning from the open toilet. This risk is even greater for children, who tend to squat closer to the roadside. There is only one hand pump and the water shortage is acute.
In the Dalit basti of Bharatpur village in the same Karvi block, some toilets have been constructed by the government but these are very few. There is water scarcity and the majority of people are dependent on open defecation.
Jarva Chowki in Naraini block of  Banda district is located closer to an urban settlement and hence open defecation here can be very difficult and, in particular, women are denied a modicum of privacy. A few toilets have been constructed here but a large majority of people in this Muslim settlement are deprived of access to toilets.
Again, in the Dalit basti of Punahur village (in Bisanda block of Banda district) only a few toilets have been constructed which are grossly inadequate to serve the residents. On top of it, there is a growing problem of waterlogging, which worsens the terrible condition of sanitation in the village.
In Bharosapurwa village of Naraini block the sanitation situation is even more serious as there is increasing pressure from the landowning households on the landless Dalits to not use their fields to relieve themselves. As a result the Dalits have to walk a long distance; a few toilets have been constructed but these are too few and poorly constructed. Most people have found them to be completely unusable.
Coming now to urban settlements in Delhi, the people of Bawana JJ colony say that the space left for toilets was not properly utilised and the existing community toilets are too filthy and often lack water. One small community toilet is clean but here Rs. 5 has to be paid per visit which the poor cannot afford. Hence there is still a high level of dependence on open defecation.
In Haiderpur Nirman Camp in Northwest Delhi, the few community toilets that exist are located some distance away from where people live. Desperate people rush to use these toilets, but only to find a long queue already. Also, these toilets are closed at night. Shockingly, the old spot used by locals for open defecation has been cordoned off and if people venture there at night they are chased away by guards carrying sticks.
At the Sabar Dairy New A Block settlement in Outer Delhi, the community toilets that have been built in the marketplace are generally not accessible for women. The woman I interviewed explained that they have to out in the dark to defecate, which is both very unsafe and denies them privacy, even more so as this is in an urban area. The daily routine of defecation has become a regular source of tension, fear and shame.
All these people, particularly women from the weaker sections, feel strongly about being denied their basic need despite the fact that they have time and again demanded functioning toilets and water supply to support their sustainable use. All these settlements are located in areas which are supposed to be ODF, but the conditions are worsening in them by the day.
The writer is a freelance journalist who has been involved with several social movements. The views are personal.
Get the latest reports & analysis with people's perspective on Protests, movements & deep analytical videos, discussions of the current affairs in your Telegram app. Subscribe to NewsClick's Telegram channel & get Real-Time updates on stories, as they get published on our website.
Subscribe Newsclick On Telegram