SSC GD 2018 Candidates Allege Harassment by State at Different Junctures of Their Protest
Students set on 1100km long foot march to register protest, allege state machinery used to contain them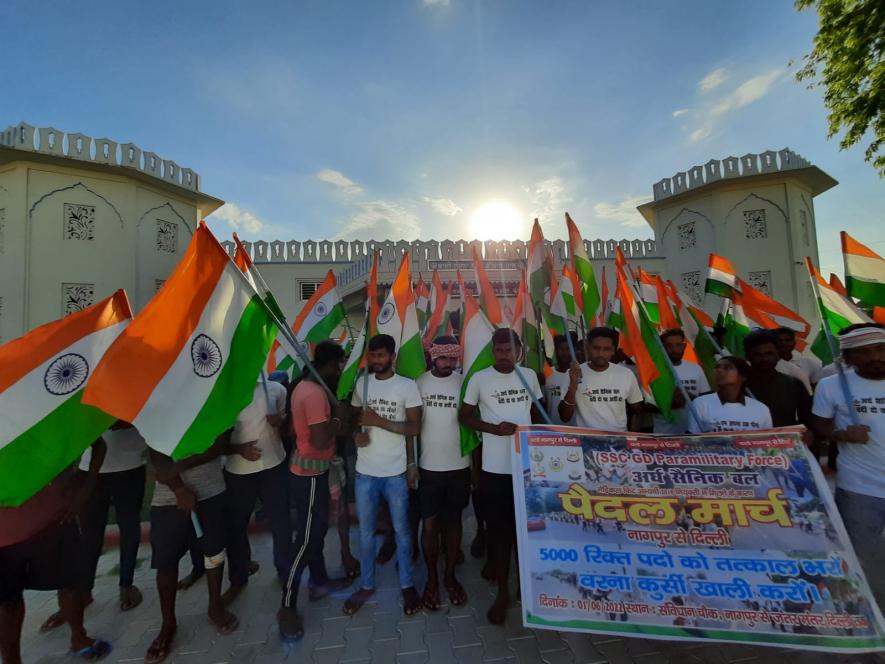 SSC GD Candidates at Agra's gurudwara.
New Delhi: The Staff Service Commission General Duty (SSC) (GD) students in the past 17 months have staged their rage using different forms of non-violent protests. Starting with on-ground protests at Delhi's Jantar Mantar, followed by a 72-day-long hunger strike in Nagpur and later when they received no response from any doors they knocked on, they set on a 1100Km foot march from Nagpur to Delhi.
As of now, at least 150 students have completed 950Kms approximately and were at Palwal, Haryana when they were interfered with by the State police. However, this was not the first instance when, as alleged by the students, State machinery was used to stop them from marching. "It was not until we reached Madhya Pradesh when the State police and IAS (Indian Administrative Service) officers started to threaten us," says Vishal, a candidate from Maharashtra who has been leading the march.
In 2018, the Centre released a notification calling for a total of 60,210 posts in the paramilitary forces(CRPF, CISF, Assam State Rifles), post which exams were held. Three rounds of tests were conducted, at the end of which approximately 1,10,000 students were declared qualified. The Centre finally declared joining for 55,000 students approximately. However, around 4,000 posts were left vacant.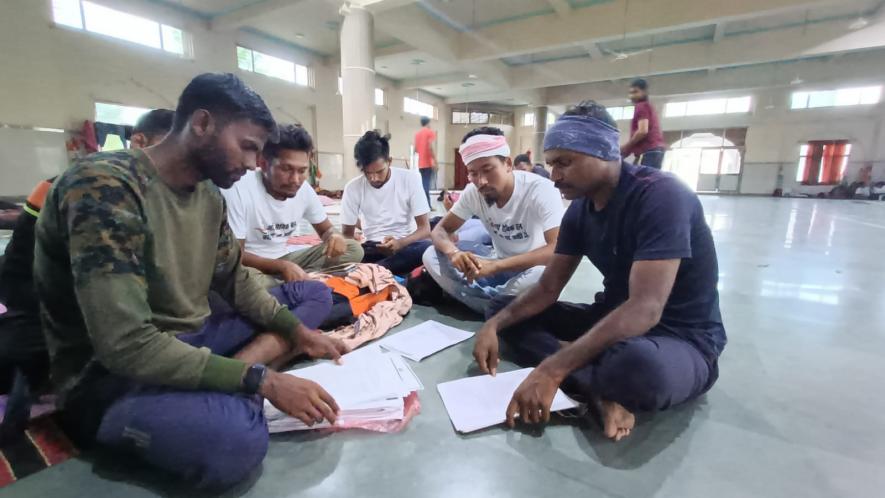 Candidates sitting with their documents that they carry along in the march.
Due process of completing the joining took three years, due to which, many candidates turned over-aged and therefore, cannot apply again for the same position. For many, this was their only shot at a government job. Despite being qualified, if their joining stood rejected, they would have no place to go. Not to forget, most of these candidates come from economically weaker backgrounds.
These protesting students are the ones who although were a part of 1,10,000 qualified students, they were not given joining. Had the Centre filled in the vacant positions, they would have received a joining. However, after all the protests, they allege that they were not heard and the government turned it's back on them. When on-ground protests, social media trends and a Hunger strike did not work out, these students decided to march- on foot,  from Nagpur to Delhi which is around 1,100Km.
The foot march began on 1st June 2022. The students from the very beginning of the march had been facing problems owing to food, water and shelter. The women protestors were facing problems with sanitation, some missed their period and others were not allowed to enter the washrooms in villages just because they were on their period. 
On the 20th day of their march, in Madhya Pradesh's Sagar, they were stopped by the District Collector who came to these students and asked them to leave his area of jurisdiction at the earliest. In a video that surfaced on social media, the Collector along with constables was seen asking the students to leave his area or else they would 'face the consequences'. Explaining what happened in Sagar, Landge made a video that took rounds on social media. In the video, he alleged, "as we marched today, it was raining. Our stay arrangements were made. We had managed to arrange for our food as well, but it seems like before we reached, instructions had been given to everyone to not let us stay in any of these places. The Collector further went on to stop us from staying in Sagar altogether, and all of us had to stay out all day in the rain without any shelter."
When the video went viral on Twitter, journalists, activists and politicians shared it and the Collector issued a notice saying that he had not done any such thing with the candidates. He later arranged for the food and accommodations for these candidates and posted a picture with them on social media. 
The trail followed the SSC GD 2018 candidates as they moved further into Agra. At Agra, the candidates had taken refuge for a day at a Gurudwara near the Agra bypass. NewsClick was on-ground when one after the other, three police vans were stationed at the Gurudwara from where the students were supposed to leave the very next day. 
Pushpa, another candidate who hails from Maharashtra narrated what followed. "At 5 am in the morning, there were knocks on our door. We opened only to find a lady police officer who asked us to take our luggage and get into the police van immediately. We were not allowed to even use the loo or brush our teeth," said Pushpa. The students were divided into groups of 30, their tricolours- with which they marched, were taken and they were all dropped off at far-flung areas. Some in Rajasthan's Dholpur, some in Agra itself, and others in Aligarh and neighbouring areas. "We were divided into groups. Some of us were left stranded on the Highways and asked to go home. The police did not even give us water or food while this happened," she added.
A pattern emerged. Everywhere, the students have been detained. Once they were dropped off at different locations, they again assembled at Mathura and walked to Haryana. However, an alleged member from the Intelligence Bureau (IB) of the Ministry of Home Affairs followed them throughout. In Haryana, on the eve of  August 1, the State police first detained six students who were headed for a press conference in Delhi and took them to an unknown location. Later, the rest of the students were kept at a hotel in Palwal, Haryana, called Trivoli Palace. The students allege that they were brought here with the motive that the administration would provide them with food. However, later that night, buses were arranged and students were dropped off at the Madhya Pradesh border. They also say that the police threatened to ruin their careers if they did not go. 
The police did not only detain students from Haryana but called their parents as well. Delhi Police visited the houses of the candidates who reside in Delhi to get their identification. Rohan, a student from Delhi, witnessed a police force visiting his house for interrogation. He told NewsClick, "the police asked me who was the one taking the videos to social media. They took my photograph and a picture of my Aadhar card too." 
Awadh Raj is a resident of Maharajganj, Uttar Pradesh. He lost his father 22 years back and had only his mother to fall back on. He is one of those medically fit, physically qualified candidates of 2018. In the last few days, he recites that twice, the police have dropped him along with other students in the Chambal Ghati. Two days ago, his mother received a call from the local police. His mother alleges, "the police said that my child's demands would be met if he quietly came back home. They said that an FIR would be registered against him if he did not come back home." He says that the police came twice to his residence for verification of his identity and called him to the police station as well. "My uncle also received a call from the police. He was dictated to call me back else I would be inviting trouble on my head," Raj told NewsClick.
Keshav Yadav is a candidate from Allahabad who has been an active participant in this protest. Lately, the National Crime Investigation Bureau (NCIB) Uttar Pradesh's Twitter handle started following him on Twitter. He did not receive any calls personally but heard from several people that the police were looking for people who were actively posting about the subject on Twitter. 
NewsClick spoke with the officer-in-charge in Agra where the students were detained from inside a gurudwara and later dropped off at different places. Inspector A.K Sahi told NewsClick, "these students are detained and we have instructions to not let them move any further. They will be sent back to their homes, and not allowed to enter Delhi."
Hrishi Raj Anand is an independent journalist based out of Delhi. His views are personal.
Get the latest reports & analysis with people's perspective on Protests, movements & deep analytical videos, discussions of the current affairs in your Telegram app. Subscribe to NewsClick's Telegram channel & get Real-Time updates on stories, as they get published on our website.
Subscribe Newsclick On Telegram