Sex Workers Look for Other Jobs, Few Succeed
From Kolkata to Mysore, women are striving against all odds while governments ignore their legitimate demands.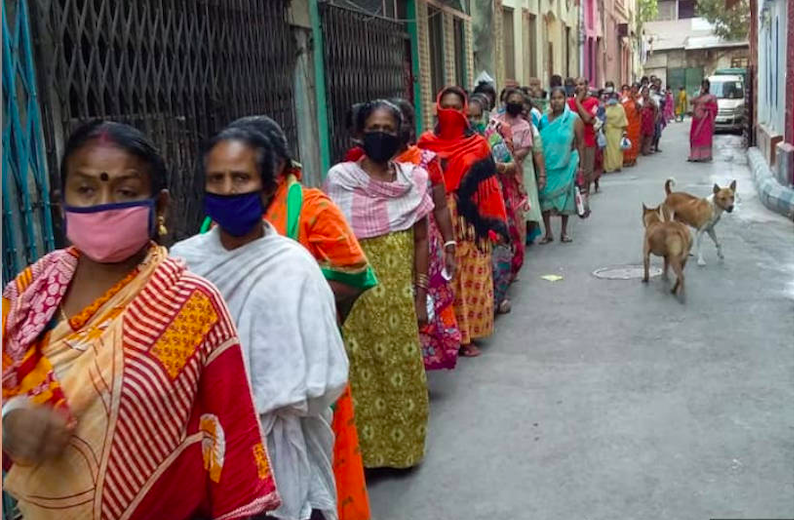 Sex workers and their families in Sonagachi, Kolkata, queue up for food rations distributed by the nonprofit New Light, on April 2, 2020. Courtesy: IndiaSpend/ Rahi Bhattacharjee
The brothels of Sonagachi wear a deserted look. Asia's biggest red light area in Kolkata has seen a sharp decline in customers ever since the Covid-19 pandemic spread its tentacles across the country.
Scared of being infected by the Novel Coronavirus, clients no longer find it safe to visit Sonagachi. This means its over 10,000 sex workers have practically no work and the children are going hungry with their mothers. Many who could no longer afford to pay rent have moved back to their village but some stayed on, with the dimming hope that the situation will improve.
Dr Smarajit Jana, an epidemiologist who works with the Durbar Mahila Samanwaya Committee, a collective that fights for the rights of sex workers says, "Around 35% of the women have left. The West Bengal government is providing dry rations but not all of them have the ration cards they need."
Jana says that when cyclone Alia battered West Bengal in 2016, women from flood-affected areas had moved to Sonagachi. "There was no work in their villages and they were close to starvation. Now, even though cyclone Amphan has wreaked havoc on a large part of West Bengal, the women have been forced to remain home. For one, trains are not running. Many are close to starvation, but they are also scared of getting Covid-19," says Jana.
Twenty eight year old Mamata moved to Sonagachi after cyclone Alia. "These days I consider myself lucky if I get one customer," she says. She does not have a ration card but hopes the Samanwaya Committee will help her get one made.
Tinku Khanna, director, Apne Aap Women Worldwide (India), a grassroots organisation working with women and children in the South 24 Parganas district, says adolescent girls are particularly vulnerable in the prevailing circumstances. Many are lured by young men into pornography or other rackets with small gifts like a mobile phone. "Online porn material has started spreading in West Bengal in a big way. Ultimately, many of these girls end up trafficked," Khanna says. Meanwhile, the women in Sonagachi are struggling to raise money for rent. "The state government should have come up with some exit strategy for them by now," Khanna says. 
Thousands of families hit by Amphan have seen their fields overrun by salt water from the brackish water of the Bay of Bengal. This year's heavy monsoon has confined them to ramshackle shelters under tarpaulin sheets. These destitute families have started marrying their minor daughters off to get a little money. Rishi Kant runs the NGO Shakti Vahini which is trying to curb sex trafficking. He says, "Already, 138 complaints of child marriage have been received by West Bengal's state commission for the protection of child rights," says Kant.
The state commission runs a Childline helpline service which has prevented 114 such marriages, but not a single FIR has been registered against those involved. Kant, who works closely with organisations in the state believes that child marriages will go underground for a few months. Once the lockdown ends and train services resume, many of the married off minor girls will be taken out of the state.
"The parents of these 14 or 15-year-old girls feel it is better to "sell" her and have one less mouth to feed," says Kant, who cautions that during the build-up to Durga Puja, large numbers of girls will end up trafficked.
West Bengal has a high population density, over 1,000 persons per square kilometre, compared with the national average of 462. The basic rations disbursed through the Public Distribution System leaves rural residents clamouring for more and desperate for the virtually non-existent opportunities to work. Domestic violence cases have risen sharply in this time. 
Sukanya Chatterjee, regional manager, East, Indo Global Service Society, which tackles urban poverty, disaster risk reduction and community-based rehabilitation issues, says, "Lack of money and food has raised friction within families. Alternative and sustainable livelihoods are the only way out." She also points out that the sex workers who returned to their villages during the Covid-19 crisis and lack of work in cities found their families also reel under food shortages.
In every metro, sex workers are on the brink of disaster. Inside their small, ill-ventilated rooms at GB Road in the heart of the capital, they are finding it difficult to buy food and medicine. Kusum, president of the All India Network for Sex Workers, strikes a disillusioned tone. "It has been four months since the epidemic struck Delhi. Yet we have received no help from the [Arvind] Kejriwal government in Delhi or from the Centre. We are facing a major health crisis. Women have no money for food and children are becoming severely malnourished," she says.
Kusum says Delhi's administration has not got ration cards made for women who live on GB Road. "Many women are now mentally disturbed, for they have no money to return home and even if they did, it would not help, for their families survive on their earnings," she says. The residents are simply biding their time, contacting private organisations to distribute food.
In Mumbai's Kamathipura and Falkland Road, the situation is just as grim. Kusum says 50% of the sex workers are indebted and going hungry. Even the aid from voluntary organisations has slowed to a trickle.
Mysore's Ashodaya Samithi is a community-based sex workers initiative which also reports a dire and deteriorating situation. "We are telling the women to become street vendors, sell vegetables, open small tea stalls, try their hand at tailoring, even work as labourers," says Bhagya Lakshmi of the NGO. The government gave rations to sex workers in the city for two months. "Now we have been left to fend for ourselves," she says.
Jyothi, who works for an initiative called Jyothi Mahila Sangha in Bengaluru is vociferous about the need for sex workers to explore alternative livelihoods. "Who can predict the future given how Covid-19 cases are increasing," she says. Some sex workers in the city are still working, going to client's homes and so on, but in Bengaluru, most have gone to their villages. "We are in touch and I am encouraging them to look for other work," Jyothi says. Some have started tiffin services, others have become street vendors. "But sales are low because fewer people are shopping," she says. Unfortunately, most factories are closed, so there is little chance of their finding regular sources of income. 
Back in Sonagachi, many women whose villages are in the Sunderbans say they should be considered climate refugees. Some organisations who work with them believe they qualify under the Geneva Convention for Refugees, 1952.  Whether the government or international organisations will come to their aid is one thing. We know that they spend their entire lives, without legal recognition or rights, in the slums of big cities like Kolkata and the pandemic has only made it worse.
The author is a freelance journalist. The views are personal
Get the latest reports & analysis with people's perspective on Protests, movements & deep analytical videos, discussions of the current affairs in your Telegram app. Subscribe to NewsClick's Telegram channel & get Real-Time updates on stories, as they get published on our website.
Subscribe Newsclick On Telegram