Dual Citizenship and Sikkim's Ticking Time-Bomb - I
Post 'merger', Sikkim's old citizenship law has become muddied.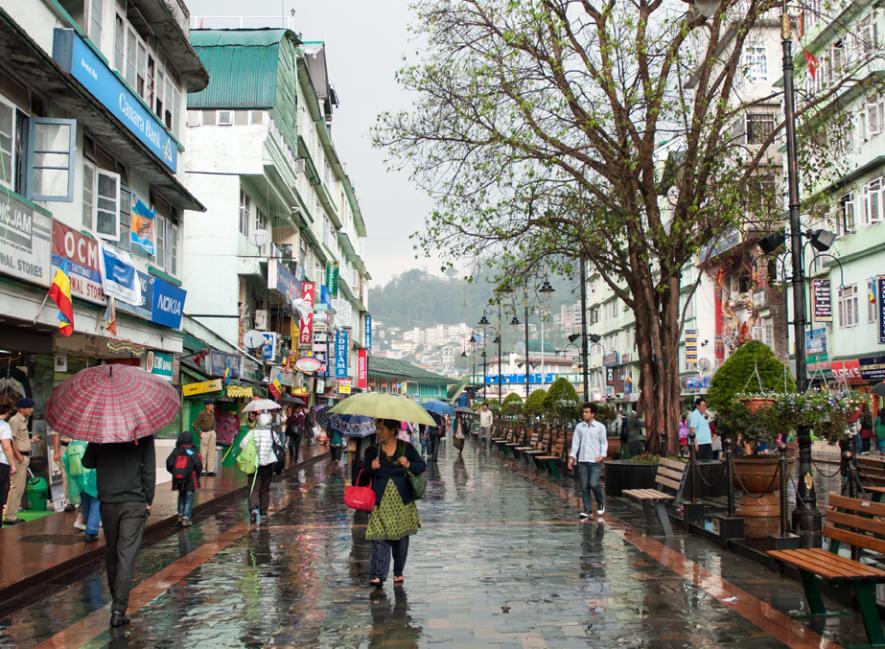 Representational image. | Image Courtesy: eSikkim Tourism
Though Part II of the Constitution of India lays down the general law of citizenship in the country with Article 9 enforcing single citizenship, by virtue of Article 371F there is a class of people in Sikkim who possess a dual citizenship of sorts. This was given effect by clause (k) of Article 371F, whereby all laws that were in force prior to the merger will continue to remain in force until amended or repealed by a competent legislature or any other competent authority.
Sikkim was not alone in having a system of dual citizenship within the Indian Union. While Article 370 and 35A still existed, Jammu and Kashmir, too, had a similar law whereby four classes of persons was created who would be deemed 'State Subjects'. The law in Jammu and Kashmir was made in 1932 and was recognised under the Constitution of India via Article 35A which was inserted by a Presidential Order. In the case of Sikkim, the law was made much later in 1961 and recognised under the Constitution through Article 371F which was passed by Parliament. Another notable difference is that the law with regard to Jammu and Kashmir explicitly empowered the state legislature to amend or repeal the law as they saw fit. Whereas in the case of Sikkim, the power lies in Parliament.
Who is a Sikkim Subject?
The Sikkim Subjects Regulation of 1961 was passed as a Proclamation from the Chogyal and published in the Darbar Gazette. This law laid down the criteria for a person to receive recognition as a Sikkim Subject. The criteria for becoming a Sikkim Subject under this law was that a person:
Must have been born or ordinarily resident prior to the law.

Must have been ordinarily resident for a period of fifteen years.

Is the wife or minor child of such a person.

Has ancestors who were Sikkim Subjects prior to 1850.

A foreign woman married to a Sikkim Subject.

Has made an application for naturalisation to the Chogyal.
On the basis of fulfilling any of these criteria, a person would have their name entered in the Sikkim Subjects Register and receive a Sikkim Subject Certificate (SSC). The SSC would contain the name of the person, the volume number and serial number regarding where their name has been entered and the place of issuing the certificate. All SSCs were issued in the name of the Chogyal. Following the 'merger' in 1975, SSCs ceased to be issued as the Chogyal no longer held effective power. TN Dhakal, who had retired from the Department of Land Revenue and Disaster Management before joining the Sikkim Krantikari Morcha (SKM) and entering politics, told NewsClick that during LD Kazi's unelected time as Chief Minister, SSCs were not issued neither was any alternative made.
Also read: Why Sikkim's Constitutional Position is 'Special'
It was during the time of Nar Bahadur Bhandari, that provisions were made to continue the system, albeit, by a different name, the Certificate of Identification (COI). In 1980, a notification was issued to grant COIs to persons:
Whose names were entered in the Sikkim Subjects Register but had not received a SSC.

Whose names were not entered in the Register but could establish beyond reasonable doubt that their ancestors through the male lineage were registered.

Owning agricultural land and has been ordinarily resident in Sikkim.

Whose father or husband has been in the service of the Government of Sikkim prior to 1969.
It ought to be pointed out here that the Sikkim Subjects Regulation, 1961, made no distinction on the basis of ethnic origin or caste. This meant that it was open for all who fulfilled the criteria laid down to apply and have their names entered into the Register. Hamro Sikkim Party (HSP) leader Biraj Adhikari told NewsClick that at the time many Indians working and living in Sikkim had taken the application forms. However, they were summoned by the Indian Political Officer in Gangtok who instructed them not to apply. This is why not one person of Indian origin, despite their families having lived for generations in Sikkim from the British colonial period, possesses a SSC. Hence, at present, all those who possess SSCs belong to the Bhutia, Lepcha, Nepali and Tibetan communities.
Rights of SSC or COI Holders
Land ownership in Sikkim has been restricted to those who possess SSCs or COIs. Hence, anybody may possess land in Sikkim, but the title will always be in the name of someone who has a SSC or COI. Further, appointments for government service are restricted to those who possess COIs (most SSC holders have either passed away or retired by now). This is also the case for trade licenses. Hence, looking at the legal provisions, it would appear that everything done inside Sikkim would be to the benefit of SSC or COI holders. However, this is not the case.
Non-SSC or COI Holders
If one were to take a casual stroll through any large urban centre in Sikkim, it would appear that a lot of small businesses are being run by non-locals. However, all the trade licenses have been obtained by locals, presumably SSC or COI holders. Though the practice is in fact against the law, for the sake of being able to make a living, those who do not possess SSCs or COIs but live in Sikkim are forced to take up this path. The administration is in all likelihood aware of this, but they turn a blind eye. Of course there are those who have lived in Sikkim for generations. One example of this is Dukhi Pan Dokan.
Dukhi Pan Dokan is now a landmark in Gangtok. It is even mentioned as a landmark in official notifications from the State Government. It was the first pan shop in Sikkim and the proprietor had come to the Kingdom from India. It has been confirmed that every evening after shutting his shop, the owner would walk up to the palace to gamble with the Chogyal. Thus, it is clear that not all the non-SSC or COI holders are actually same.
In 2015, the Government of Sikkim introduced a new system called Residential Certificates (RC). Through this system, all persons who were ordinarily resident in Sikkim prior to April 26, 1975, would be eligible to receive RCs. This would also apply to persons who are descended from such eligible persons. The only caveat would be that the RCs can only by applied for when the person reaches the age of 18, and that the person must be a citizen of India. The rights of RC holders under a subsequent notification in 2015 are:
Ration card

Trade license in municipality and nagar panchayat jurisdiction

Purchase or lease of immovable property in municipality and nagar panchayat jurisdiction with the prior approval of the State Government

Taxi permits for BPL RC holders

Driving Licenses

Admission in Government Educational Institutions

Free Books, uniforms and midday meals in government schools for RC holders who are below the poverty line (BPL)

Exemption of college fees in Government Colleges for BPL RC holders

Free medical services in Government Hospitals for BPL RC holders

Other social welfare schemes as per fulfillment of scheme specific eligibility for BPL RC holders
Looking at the list of supposed rights and benefits of RC holders, one could presume that none of these rights existed prior to introducing RCs. However, though not done by the book, as far as possession of property and trade licenses is concerned, it occurred anyway.
Forgeries
In Sikkim, communalism is not similar as in the general sense in India, meaning it is not on a religious basis. Instead, it is more about ethnic chauvinism rather than religious chauvinism. Here too, it has several layers, meaning it can be expressed in the form of the three recognised communities (Bhutia, Lepcha and Nepali). However, since the Sikkimese Nepalis are not a homogeneous group, it can even be expressed in the form of ethnic communities within the Nepali community, such as Khas, Rai or Tamang, for example. But in the larger context of forged SSCs and COIs, it inevitably tends to fall within the three broad categories of Bhutia, Lepcha and Nepali.
Also read: How Sikkim Became the 22nd State of India
There had for long been a suspicion that persons from the Darjeeling Hills were obtaining forged SSCs and COIs, particularly in the decades immediately succeeding the 'merger'. Further, there were those who suspected that persons from Nepal too were obtaining SSCs and COIs despite being ineligible. Though it need not mean that all those who have obtained forged documents belong solely to the Nepali community, it is only due to numbers that a greater suspicion fell on the Nepali community. For example, there are plenty of Bhutias, Lepchas and Tibetans living in the Darjeeling Hills. It is telling that due to the intervention of the Indian Political Officer at the time of registration, the suspicion never fell upon the Indian community.
Since eligibility to possess SSCs or COIs was premised upon the male lineage, according to TN Dhakal, men coming from outside Sikkim and marrying a Sikkimese woman would obtain forged documents by entering their father-in-law's name as their father's name. Similarly, the children born out of such mixed marriages would often enter their maternal uncle's or grandfather's name as their father's name.
However, these suspicions were never confirmed until the Government of India pushed to implement the Income Tax Act, 1961, in Sikkim. According to TN Dhakal, the move was opposed by Nar Bahadur Bhandari in 1989 primarily because Sikkim had its own income tax law from 1948. The Indian community in Sikkim launched counter protests demanding that the Union legislation be extended to Sikkim.
A Committee headed by P Chidambaram, when he was the finance minister, conducted consultations on the applicability of the Act in the early 2000s. After several rounds of meetings, it was finally decided that only those who possess SSCs or those whose COIs are based on their paternal lineage having SSCs shall be exempt from paying income tax under the Union legislation. TN Dhakal, who was then with the Department of Land Revenue and Disaster Management, was tasked with submitting the names of the SSC holders who would be exempt. According to him, several people told him to just copy the register and submit it. However, he refused stating that many of those whose names are entered are probably dead. Hence, he decided to draw up a list of all the SSC holders who are still alive.
Also read: Article 370: Apprehensions That NE Will be Next
It was through this process that many forged SSCs and COIs appeared. Recognising the extent of the problem, a decision was taken to take stock and weed out all the forged SSCs. However, the problem was that it is impossible to stop people from migrating, hence a person issued a SSC in Geyzing, West Sikkim would have to be verified in Gangtok, East Sikkim, where the district administration does not possess all the records. Hence, a system was developed wherein two forms would be issued. One form was for those who reside in the place where their SSC was issued and the other for those who had migrated to another location. The tally of those who had filled out the form for migrants reached around 40,000, after which gram sabhas were conducted to verify whether the person who had submitted the form was actually from the area. The entire verification process was kept under wraps. The true purpose was not communicated to the public. At the end of the process it was found that 31,180 SSCs and COIs were forged.
The obvious next step would be to take legal action. However, the Department felt it would be better to hold a hearing and give the persons an opportunity to make themselves heard. After a few hearings, people stopped responding to the summons and some even disappeared. In 2009, the Government of Sikkim felt that there was a need to take action against those who had fraudulently made COIs. The idea formulated was to issue comprehensive certificates to the original SSC holders, named the 'pink card' based on the colour of the paper.
TN Dhakal has alleged that the file containing those to be issued 'pink cards' was requested by the secretary, who was taking charge after Dhakal was to leave the post. When Dhakal asked the Secretary BK Kharel the reason behind his request, Kharel responded that the Chief Minister, Pawan Kumar Chamling had made asked for the file. When Dhakal enquired about the reason, the secretary's response was that he was directed to close the file. He also mentioned that Kharel later informed him that RS Basnett, secretary to then CM Pawan Chamling came to his office and wanted the 'pink card' file. Once taken, the file was never returned. Dhakal also alleged that the original list of forged SSC and COI holders has disappeared since the exercise was undertaken.
In 2015, five years after the Government of Sikkim published a pamphlet mentioning the number of forged SSC and COI holders, Biraj Adhikari who was then president of the Sikkim National People's Party filed a petition before the High Court of Sikkim seeking redressal of the forged documents issue. However, it has been four years since and the case has barely moved. It is not inconceivable that there are powerful forces within Sikkim who would prefer that this matter never be laid to rest.
Get the latest reports & analysis with people's perspective on Protests, movements & deep analytical videos, discussions of the current affairs in your Telegram app. Subscribe to NewsClick's Telegram channel & get Real-Time updates on stories, as they get published on our website.
Subscribe Newsclick On Telegram