'We Found Him Lying on Urine-Soaked Bed,' Says Varavara Rao's Family
The 80-year-old poet-activist, whose health has been deteriorating since May-end in Taloja jail, has tested positive for COVID-19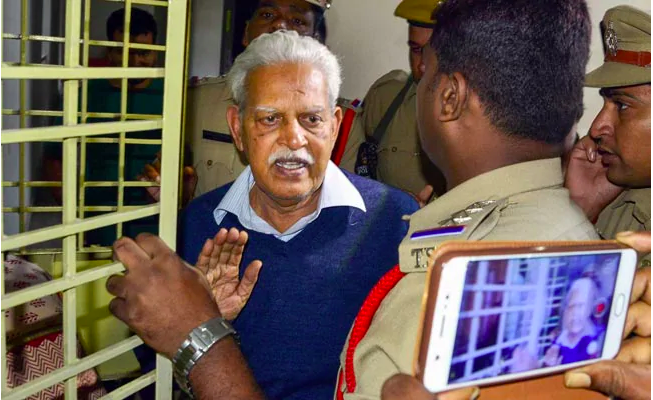 Mumbai: The 79-year old poet, intellectual and activist, Varavara Rao, who has been imprisoned since 2018 in the controversial Bhima Koregaon case, has tested positive for COVID-19 at JJ Hospital in Mumbai.
Rao had been lodged in Navi Mumbai's Taloja prison where his health had been deteriorating since the end of May. He was moved to JJ Hospital on the evening of July 13 for tests after his family members held an urgent press conference raising concerns over his health. 
N Venugopal, Rao's nephew, and a poet himself, said there was no official intimation to the family from the prison authorities. "Though it was mandatory to inform family about these developments, either government or jail, police, hospital authorities did not provide any official information to the family," he said.
The relief of having Rao transferred to the hospital, though, was short-lived. On July 15, when his three daughters, Venugopal, and wife Hemalatha visited him in the hospital, they found him lying on a urine-soaked bed. 
"The ward was stinking, and he was unattended," said Venugopal on the evening of July 15. 
The family had flown from Hyderabad that morning to see the ailing, frail Rao. On Thursday, things got worse. He tested positive for COVID-19.
The veteran poet has now been transferred to St George Hospital, a state-run COVID facility.
Henri Tiphagne, National Working Secretary of Human Rights Defenders Alert, has written to the National Human Rights Commission, to demand Rao's transfer to a super speciality hospital, highlighting the negligence at JJ Hospital. 
"On July 15, 2020, Mr. Rao's wife, three daughters and nephew visited him in the JJ Hospital," Henri's letter read. "They were shocked to see that he was lying in the transit ward "like an orphan". There were no attendants or nurses attending to him and only policemen standing a few metres away. Mr. Rao was lying in a pool of urine on the bed and was still incoherent. He did not recognise his wife or daughters immediately but took some time to recognise them. The family was told by the nurses that there was no equipment or treatment given in the transit ward. When his nephew tried to change his urine-soaked bed sheets, the family was thrown out by the hospital nurses."
The family has been inconsolable for the past two days. "NHRC must see this as a case of Article 21 – Right to Life and immediately intervene," the letter concluded.
Rao's health has been deteriorating since the past month and a half. In a virtual press conference on July 12, the family of Rao pleaded to the authorities, "Don't kill him in jail."
The poet had fallen unconscious in jail on May 28, after which he was taken to JJ Hospital. However, he was hurriedly discharged on June 1. Since then, the family said, he has been hallucinating, delirious and struggling to be coherent. He was shifted to JJ Hospital the day after the press conference.
Over the past three weeks, Rao's co-accused and human rights activist, Vernon Gonzales, had been assisting him in jail, for his inability to walk, brush or even go to the toilet on his own. 
Rao testing positive for COVID-19 has put Gonzales at grave risk too. "Instead of releasing VV and saving his life at the end of March, they have put another person at risk," said Susan Abraham, human rights lawyer and Gonzales' wife.
Ever since the outbreak of coronavirus, human rights activists have been demanding decongestion of prisons in Maharashtra. As early as March 23, the Supreme Court had asked state governments to decongest prisons in order to prevent the spread of coronavirus inside the jail premises. The Maharashtra government, led by Chief Minister Uddhav Thackeray, subsequently constituted a high-power committee (HPC) to decide on the prisoners to be released. 
There are 60 jails in Maharashtra with an official capacity of 24,030 inmates. As of March 2020, a total of 36,061 prisoners, or 150% of the ideal number, were lodged in prisons in the state. Overcrowded prisons are fertile ground for the spread of coronavirus.
But the decongestion process has gone nowhere in these months. On May 31, Maharashtra's 60 prisons had 28,920 inmates. According to the data on June 19, that number stood at 28,950. In other words, 30 prisoners have instead been added in the 20 days of June.
In Taloja Central Prison, there were 2,186 inmates on May 31. On June 19, that number increased to 2,313. The original capacity of the prison is 2,134.
In an affidavit submitted to the High Court on June 15, the Inspector General of prisons and correctional services, Maharashtra, Sunil Ramanand, revealed that two prisoners had died in Taloja. Both were tested for coronavirus after they died. And both tested positive.  
In a virtual admission of the virus having penetrated the prison, Ramanand's affidavit read: "Mass swab testing of asymptomatic prison inmates may not be undertaken until express assurance of quarantine facility is given by the Municipal Commissioners/Collectors as many of the prisons in the state are overcrowded."
Besides Rao and Gonzales, there are seven other activists and scholars lodged in the same prison, most of them aged above 60 years. They are Anand Teltumbde, Surendra Gadling, Varavara Rao, Mahesh Raut, Arun Ferreira, Gautam Navlakha, Sudhir Dhawle, Rona Wilson and Vernon Gonzales. 
These activists are booked under the Unlawful Activities (Prevention) Act (UAPA), and are accused of plotting the assassination of Prime Minister Narendra Modi, and of having links with banned Maoist outfits – charges that have been stoutly denied by all of them. Critics say the charges against them are politically motivated as they all have an exemplary reputation of speaking up for the deprived sections of the society.
The writer is an independent journalist based in Mumbai
Get the latest reports & analysis with people's perspective on Protests, movements & deep analytical videos, discussions of the current affairs in your Telegram app. Subscribe to NewsClick's Telegram channel & get Real-Time updates on stories, as they get published on our website.
Subscribe Newsclick On Telegram