Wounded But Resolute, Delhi Rejects Politics of Hate
Despite a high-powered, extravagant campaign of fear and poison, BJP has lost badly in what was a referendum on its ideology and policies.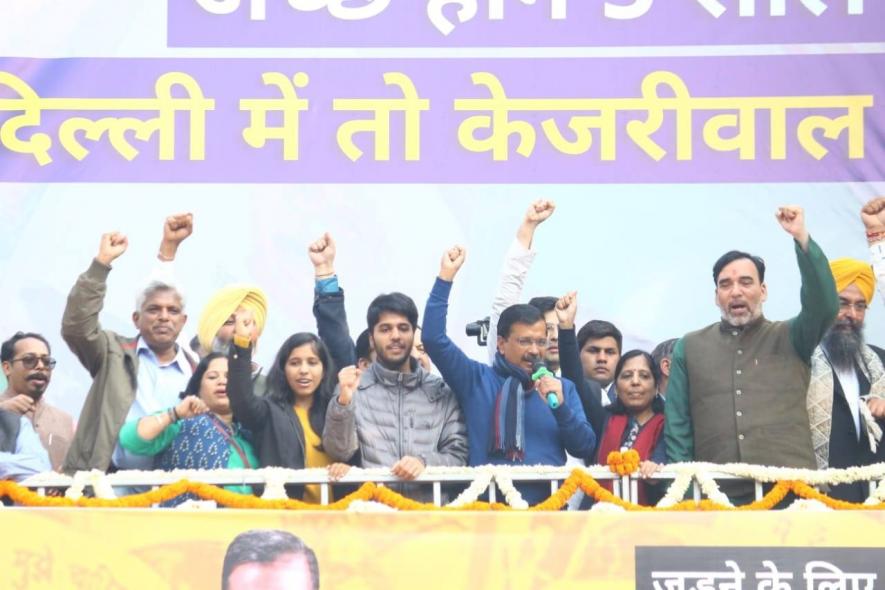 Credit: Aam Aadmi Party Facebook Page
One of the most incendiary campaigns Delhi has ever seen, powered by the full Narendra Modi Cabinet, 240 of its Members of Parliament and personally managed by Home Minister Amit Shah has yielded a result that is astonishing in its clarity and uplifting in its message. 
The ruling Aam Aadmi Party (AAP), led by chief minister Arvind Kejriwal, has bagged 62 seats at the time of writing in the 70-member Assembly, leaving just eight for the BJP. Last time, in 2015, BJP had three while AAP had 67. 
AAP has got a whopping 53.6% share of votes polled, practically the same as last time's 54.3%. BJP, along with its two allies, has received about 40% of votes polled, a notable increase from last time's 32.7%. The third major party in the fray, Congress, has been further decimated, its vote share halving from 9.3% in 2015 to just 4.4% this time round. This was a party that a decade ago, used to get over 40% of votes in the Capital city.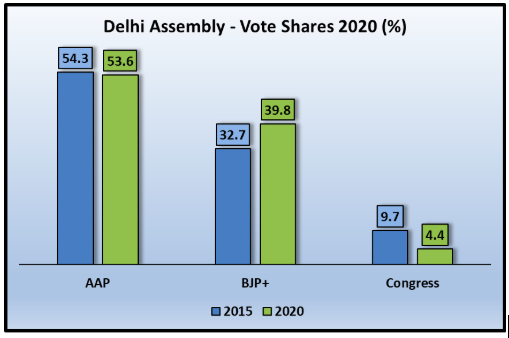 AAP's victory – and BJP's resounding defeat – is a clear choice made by Delhiites not only because the numbers are so stark. It is so because of the intense significance and charge that the BJP infused in the campaign. It posed three key issues, all representing its Hindutva agenda --  Article 370, Citizenship Amendment Act (CAA) and resolution of the Ram Mandir issue. But this was the framework. On the ground, it took the form of an open and shocking blast of hatred against Muslims, with all the lies and perversions used by Rashtriya Swayamsevak Sangh or RSS in full play. This was not some secretive whisper campaign – it was elected representatives roaring from amplifier systems, pumping up the crowd, leading slogans and threatening. Newsclick has documented this in several reports/analyses over the past 20 days.
This left the Delhi voters worried and troubled. The city was aghast, wounded at the flaunting of such disgusting ideas and emotions. The nightmarish vision of BJP was fearsome and had left many confused.
AAP, on the other side, stuck to its designated track of talking about the work done in the past five years. There were several achievements that it could justifiably claim, including the reassertion of the role of government in affordable and good education and healthcare, reduced electricity and drinking water tariffs, etc. This welfarist approach had made AAP very popular, for it provided much needed relief to the struggling people of Delhi, faced with rising unemployment, stagnating incomes and sky-rocketing costs of basic food and other needs. 
There was much that AAP didn't do – including ensuring minimum wages for workers, restraining contractualisation, implementing labour laws, and restraining privatisation of public services. To be fair, it was hamstrung by limited powers available to the Delhi government and an insatiable hostility from the BJP-led Narendra Modi government at the Centre. But, in the balance, there is no denying that AAP and Kejriwal were very popular.
So, it was a battle of two types of politics. One, communal to the hilt, fanning fear of violence, propagating the most outrageous lies, abusive in nature, poisonous in contempt. The other was a typical 'developmental' type agenda, with appeals to different sections and classes, promising cleanness and probity, and secular in approach. Shah himself labelled the battle as between two ideologies, though he called AAP's ideology one of traitors. 
In this background, the choice made by Delhi's voters is not just clear and categorical – it is a deliberate rejection of the politics of RSS, as channelled into Delhi by the BJP. 
Vote Share Equations
Now for some nuts and bolts of the results. As mentioned, AAP has retained its vote share but BJP has increased its support by over seven percentage points. Meanwhile, Congress lost about five percentage points of votes, while all others – Bahujan Samaj Partym Nationalist Congress Party, etc. as well as independents – too declined. Clearly it was a straight fight between AAP and BJP, with the myth of a Congress resurgence well and truly busted.
Does this mean that Congress voters shifted to BJP, as some would have us believe? No, that's a patently erroneous – and lazy – analysis. Last time (in 2015), the bulk of Congress votes were garnered in the Muslim-dominated seats and in lower middle class or working class areas. Not that they got much, but whatever it was, came from these sections, with some traditional middle class thrown in. This time, the Muslim and working class voters shifted to AAP. This was mainly driven by the welfare policies of AAP and by the fact that Muslim AAP candidates had been in the forefront of the recent anti-CAA protests, best symbolised by Shaheen Bagh. 
BJP's Communal Dividend
So, where did BJP increase its votes from? This is where the dangerous legacy of BJP's toxic campaign lies. It was a result of this campaign that attracted a section of people who may have voted for AAP last time but were swayed by the communal rhetoric this time. The silver lining is that this share is not very big. But, it is there. This is potentially a troublesome development because the seeds of communal hatred have been sown by BJP – for narrow electoral gains – and these will yield poison fruits in time, if not countered.
The BJP needs to think about how it is looking at India and her people. In the past year or so, the party has repeatedly lost several state elections despite winning the Lok Sabha in May 2019. Its support is fast eroding because of the disastrous economic policies that it is following. The saffron party retains credibility – at the central level -- only because of its ability to convince people that it alone is the most dedicated defender of the country, and through its politics of hatred which diverts from burning issues. This is helped along by the inability of all political parties, except the Left, to counter their narrative on the ground. But, this will not last for long. As economic distress piles up, and as the medieval dreams of BJP/RSS are exposed for what they really are, this spell is sure to be broken. 
Get the latest reports & analysis with people's perspective on Protests, movements & deep analytical videos, discussions of the current affairs in your Telegram app. Subscribe to NewsClick's Telegram channel & get Real-Time updates on stories, as they get published on our website.
Subscribe Newsclick On Telegram