AFC Fixes Window for India's Postponed World Cup and Asian Cup Qualifiers; Women Players Left in Dark During Pandemic, FIFPro Survey Reveals and More (Football Round-up)
Short Passes (Football News Round-up): Igor Stimac's side will have to play considerably better to stand a chance to qualify for the Asian Cup. India's three pending matches of the qualifying campaign to be staged in March and June next year | FIFPro shows impact of Covid-19 on women footballers, India not included in survey | Former Referees head criticises refereeing in the Premier League | FA structural issues will remain despite the resignation of Greg Clarke, says former England defender Joleon Lescott | Toni Kroos hits out, says players are treated like 'puppets'.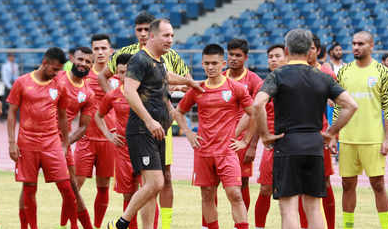 Indian football team will have to play much better than what they have been doing under Igor Stimac so far to stand a chance to qualify for the 2023 AFC Asian Cup.
Under normal circumstances, without a pandemic wrecking havoc to India's irregular and inadequate international football calendar, the national side's FIFA World Cup qualifying campaign for the 2022 Finals in Qatar would have been over. It could also have been a double heartbreak with Igor Stimac's men not making it to the AFC Asian Cup as well — a calculated assumption based on the pathetic manner in which the side had so far played in the qualifying campaign. Under normal circumstances, heads and positions would have rolled. But then, these are the days of new normals, and so, here we go…
India will play their postponed World Cup and 2023 Asian Cup qualifying matches in March and June next year. The Asian Football Confederation's competition committee took a decision on the window on Wednesday. The committee is yet to finalise the dates though. 
As per FIFA's match calendar for 2021 -- pending the vagaries of Covid-19 that is --  the first window is from March 22-30, followed by a date slot between May 31 and June 15.
"… all the Asian Qualifiers Round 2 matches should be completed by June 15, 2021 with Match Day 7 and 8 in March 2021 and Match Day 9 and 10 in June 2021 with Final Round of the Asian Qualifiers beginning in September 2021," the AFC said in a press release.
India are well and truly out of contention to progress into the final stage of the Asian World Cup qualifiers. They can, however, make it to the Asian Cup which would be held in China, provided they do not play like they have been playing so far under Stimac.
Read More | Ban Aid: Streamers Stick on While PUBGM Makers Work To Get Game Back Online in India
India have three matches left in the campaign — vs Qatar (at home) in March, against Bangladesh (away) and Afghanistan (at home) in June and are fourth in Group E with three points from five matches. Qatar lead the table with 13 points with Oman a point behind them in second spot. Eight group winners and four best runners-up will progress to the continent's 12-team final qualifying stage for the World Cup. A third-place finish in the group will help India get a direct berth in the third round of qualifiers for the Asian Cup.
Finishing third is not as easy at it seems. Though India had a great result -- a draw -- against Qatar in the away fixture, the Asian champions will be tough to get a result against any other day of the week. Then comes the tricky away match against Bangladesh, who almost snatched full points from India in Kolkata. Afghanistan is no fluke either. India needs maximum points against both Bangladesh and Afghanistan to ensure they finish third and progress. 
Not making it into an expanded 24-team Asian Cup would be an ultimate failure. Considering the precarious situation India are in at the moment in the continental qualifying campaign -- that too from a group that was considered easy -- one is left wondering at the logic behind the AIFF honchos going about claiming that the country would qualify for the World Cup in eight years time.  
Stimac, whose stint began with calling in players from retirement to shore up a shaky defence, is yet to figure out a possible combo or structure in the playing XI. At least that's what the matches so far have shown. All we could say at this juncture is that the Croatian has been lucky in his time in charge. With the pandemic, he has managed to stay under all critical glares and salvos which would have come his way had the qualifying tournament followed the original schedule. 
Regardless of the sorry performance of the national team, Indian fans have something to look forward to, though. The 'Let's Football' season is here. And, the Indian Super League (ISL) is going to lift the national side to greater heights. Just a matter of time! And Stimac, unlike us, has all the time in the world. 
Women Players Hit Badly by Pandemic
A survey into the impact of Covid-19 on players by FIFPro, the global players' union, found that women footballers had been left in the dark about the future of the game. 52% of the 62 countries questioned between July and October said their national federations did not contact national team players. In 26% of the countries, women's clubs were not included in the return to play protocols. The survey did not include India — a fact that will no doubt provoke a huge sigh of relief in the All India Football Federation (AIFF) offices.
Of the 47 countries surveyed, players unions in 69% reported that communication from clubs had been poor or very poor. 
As well as a lack of clarity in an increasingly uncertain time, the report highlighted wage cuts, job losses and a lack of mental health support as contributing to what FIFPro General Secretary said was a "real danger that progress towards gender equality in parts of world football will be set back years."
A player in India, speaking on the condition of anonymity because they were fearful of reprisal, said they had received no contact from the national federation or even state federations. 
Read More | Big Football Leagues Will Begin in India, But For the Rest There Remains Nothing
"It is great that this study has come out," one players said. "But it will do little to change our situation. No one in India has even looked up to ask about us. I'm employed so now I have started training a little bit on my own, but I haven't played on a pitch since March." 
The player laughed when asked if any help had been forthcoming from the federation about their mental health. 
The Covid-19 bailout provided by FIFA to member nations had guaranteed $500,000 specifically for women's football. The exclusive funds will be provided to the AIFF in a third installment sometime next year. As of now, the AIFF hasn't revealed any details on how it plans to use the funds towards assisting the women's game in the country. 
Another coach who works with a grassroots outfit in Kolkata said that while funding for training is already blocked for this year, a lack of clarity on whether there will be any tournaments at all meant people were apprehensive of releasing the investment. "We are sitting on our hands and waiting," the coach rued. "Although to be fair, it isn't much different from every other year."
Former Referees Head Criticises EPL Officiating
The former head of referees in England, Keith Hackett, hit out at English Premier League (EPL) referees, saying they are not good enough. Hackett also blasted the VAR system and said the domestic game had "lost the plot" over the handball rule.
Hackett, who was a top-flight referee until 1994, told Reuters that while VAR needed to be examined, officials on the pitch needed to look at themselves too. "The standard of refereeing has fallen," the former general manager of the Professional Game Match Officials Board Limited (PGMOL) said.
Read More | Is VAR fighting a losing battle?
"It is run like an old boys' club now," Hackett added. "There is no accountability. They are producing better referees in Europe. You get three or four key refereeing errors per weekend in the Premier League now. The standard is not good enough."
In addition to calling for a "complete review" of the Board's operations, Hackett also criticised the standard of VAR equipment used in the Premier League. "We got VAR wrong from the word go," the 76-year-old said.
"With goal-line technology, cameras around each goal are operating at 500 frames per second. With VAR, the technology is operating at 50 frames per second. That is not enough. We should be talking to the manufacturers – the equipment has to be better."
'FA will Remain the Same With or Without Clarke'
The resignation of chairman Greg Clarke will not bring about any drastic change in the way the English FA functions, believes former England defender Joleon Lescott. In fact, that is the predominant belief in many quarters with the feeling being that nothing is going to improve diversity at the FA any time soon.
Clarke resigned on Tuesday after using "unacceptable" language when referring to BAME players. He referred to them as "coloured footballers" while answering British MPs who were part of the parliament's Digital, Culture, Media and Sport select committee (DCMS).
Read More | Lakshya Sen Flouted Covid-19 Protocol: Ajay Jayaram Opens Up About Tournament Exit and Quarantine in Germany
Lescott, who used to play for Manchester City, described Clarke's comments as "very disturbing".
"One hundred percent of black players want to see change, but that's not going to happen," he told BBC Radio 5 Live.
Lescott believes that Clarke's comment was not as inadvertent as claimed by him. It is indicative of the structural issues within the FA and it would be an herculean task to bring about real change.
"I don't think a 63-year-old man in 2020 is using that phrase for the first time, and that's the problem," he said.
"So we now expect the next person in line will have heard this and have been a part of this. Now he's going to step up and we expect that person to take us forward.
"How do you expect change if the people that are in charge have the same mindset, or similar mindset?"
Kroos hits out, says players treated like 'puppets'
Real Madrid midfielder Toni Kroos has taken a swipe at FIFA and UEFA, claiming the world and European governing bodies are treating players like "puppets" by expanding tournaments and creating new competitions constantly.
Read More | FIFA Plans to Launch New 'Cap' and Rules for Agents as Early as January
Kroos criticised the creation of the UEFA Nations League in 2018, which he competes in with Germany, as well as FIFA's expanded Club World Cup, which was set to take place in 2021 before being postponed due to the Covid-19 pandemic.
"With the invention of all these new things we seem to be just the puppets of FIFA and UEFA," Kroos said on the Einfach mal Luppen podcast the player presents with brother and fellow professional, Felix.
"These competitions are created to suck everything out of every single player physically and to suck out as much money as possible."
The midfielder also lambasted the concept of a European Super League,  saying domestic competitions and the Champions League are "top products" that should not be meddled with.
"When certain things work well it is a good idea to leave them that way," he added.
Get the latest reports & analysis with people's perspective on Protests, movements & deep analytical videos, discussions of the current affairs in your Telegram app. Subscribe to NewsClick's Telegram channel & get Real-Time updates on stories, as they get published on our website.
Subscribe Newsclick On Telegram