AFC Women's Asian Cup 2022: India, Iran Set to Kick Off With Eyes on Making History
The Indian Women's football team will play Iran in their first game at the continental championship in 23 years. Inasmuch as the match is a game changer for Indian football, it is also one for Iran who are making their debut. The focus for both will be getting points on the board and etching a mark in their country's history.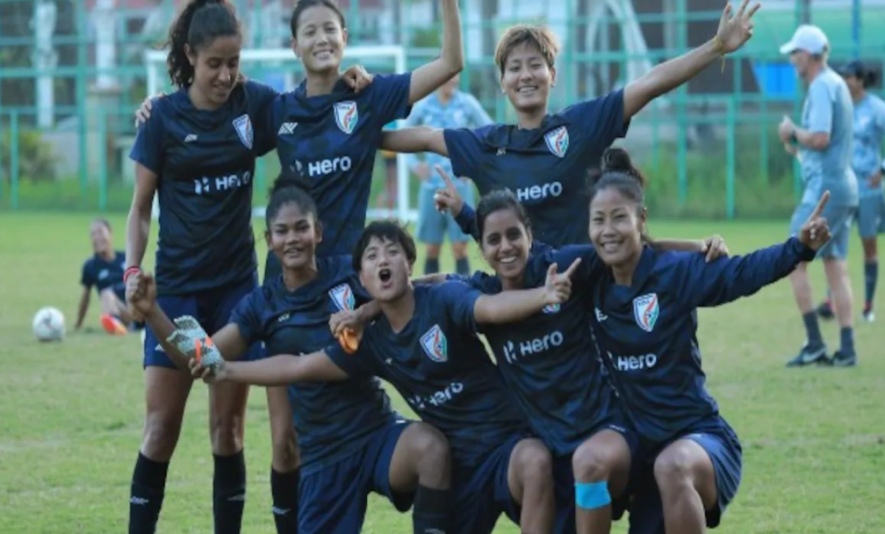 Indian women's football team players ahead of their AFC Women's Asian Cup match against Iran.
"It's going to sound crazy, but it is a football game and football is what all these girls are good at," coach Thomas Dennerby said, and while not wrong, it wasn't quite to the point either. In the spectre of Covid-19, everything becomes about Covid-19. There was no denying how much this was about football but now, even before the tournament has officially begun, it has become about something more. 
Two years into a pandemic that has wreaked havoc on domestic structures, grassroots programmes, national competitions, livelihoods, lives, families, careers; postponed and then cancelled a global football event in the country — before birthing another — 11 Indian women, donned in the national kit will finally (and hopefully) take to the pitch for the biggest women's football game in the country for two decades today. A chance to inspire a generation to not just watch but also play the game. No pressure then. Just football. 
"It's something we always talk about," Ashalata Devi, the captain and stalwart of the Indian women's football team said. "When we leave our camps and go back home, we always make appearances at schools, events to encourage girls to play the game. Convince parents to let them do so…. Humare future ke liye bhi better hai (it is better for our future also)."
Also Read | AFC Women's Asian Cup: What's at Stake for the Women's Game in India
As heartening as it will be to see this team — with a solid few months in camp, training, and then travelling to play matches abroad — take on the might of Asia, it will also be heartbreaking that they do it in front of empty stands. Have no illusions, this event may well have been played in front of half empty stadiums anyway — Indian metropolis' lack of interest in live sport not called cricket is legendary. But the fact that there will, quite literally, be no one there inside to watch them create history is a quirk of our times. "We feel their support on social media," is a sentence that would make no sense in any time other than now. 
There is little to judge this Indian team on. Unlike their male counterparts, they come with little hype and almost no baggage. They have no burdens to bear and fear to shrug away. Dennerby was appointed as head coach of the senior side in July last year, after Maymol Rocky stepped down for personal reasons, but he's not new to the Indian system, having been in charge of the girls' Under-17s till the World Cup was cancelled and put away. Their targets are reasonable even if the route to them isn't. Quarterfinals are the words on everyone's lips, a win away to the World Cup, from there, and blessed with the luck of the draw, they are just three inspiring matches away from achieving them. 
But first things first, which is in this case, Iran. Lest we forget. It's their maiden appearance at the AFC Women's Asian Cup, having qualified the hard way, first beating Bangladesh 5-0, before beating their other group rivals, Jordan, in a shootout to take their own place in history. 
Dennerby may have sought to downplay all the talk of history by diverting it instead to the fact that it is after all 'just a game', but Maryam Irandoost harboured none of that pretence. "Women's football in Iran is newborn. " she said. "Us playing here will hugely help our league, put a light on our girls, and also inspire girls back home to start playing the game." "Girls in Iran don't lack potential, you can see that," the captain Behnaz Taherkhani said. "We may not have a long and fabled history, but hopefully our performances can encourage young girls who play the sport at home."
These are hard talks from insiders who know the baton the team carries and what this simple thing could spark in a country notorious for harbouring a regressive attitude towards women's rights.
Before you swallow and digest that though, here's something worth considering. The Kowsar Women Football League started in 2007, a full decade before the Indian Women's League (IWL). The league was held in 2020-21, despite the pandemic — Shahrdari Sirjan ended up champions — but the IWL hasn't seen the light of day since early February 2020. Think about all of that and then also consider that Shahrdari Sirjan beat the reigning IWL champions Gokulam Kerala 1-0 in the inaugural AFC Women's Club Championship last year. Regressive? Apathetic? A thin line divides them.
In many ways this tournament is a new start for all. The biggest names of women's football — think Mana Iwabuchi, Saki Kumagai, Sam Kerr, Ellie Carpenter — are here, in Mumbai, as we speak. This is the form of the game that the AFC has actually won a World Cup in, and finally after a decade of having done so, they've noticed, pouring money into their flagship continental tournament. 
Also Read | Heart and Hat-tricks: Portrait of the Artist as a Young Footballer - Indian Women's Football History Special Series
For the first time in the tournament's history, the top four teams will take home prize money — $1 million for the winners, $500,000 for the finalists, and $150,000 each for the semi-finalists — a huge step, but more sideways than forward. It is after all worth considering what this money will do for the top four teams of the continent? This kind of trickle down payment will only serve to increase the gap between the haves and the ones trying to catch them. Isn't it worth giving to those less privileged? Maybe even the bottom four of this very tournament. Aid them to develop the game. 
As far as India is concerned, none of this matters. There is no dearth of money here. No dearth of talent either. What lacks is opportunity and interest. Opportunity has arrived, in the form of a continental tournament in Covid-19 times (a PR win for the bosses if all goes well) and the interest, well time for us to supply it. Today is a big day. Rest up, heal your eyes, download the apps, charge your devices and at 19:30, pop the popcorn and turn the screens on. Let's football? Just football. 
Get the latest reports & analysis with people's perspective on Protests, movements & deep analytical videos, discussions of the current affairs in your Telegram app. Subscribe to NewsClick's Telegram channel & get Real-Time updates on stories, as they get published on our website.
Subscribe Newsclick On Telegram