ISL is Not Good for Indian Football and its Future: National Coach Igor Stimac
India needs a longer season of 10-11 months, says Indian football team coach Igor Stimac, who feels the calendar of football should not depend on broadcast etc and that the players need to play at least 50 competitive and high-stakes match which is only possible if the Indian Super League (ISL) is expanded with a relegation system in place.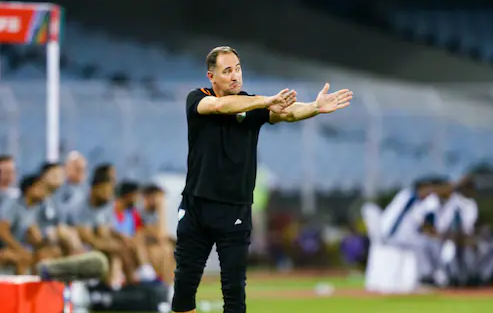 The national team has to do well if India has to fall in love with football. Without that, football will never gain the required popularity," says India coach Igor Stimac during an interview with mediapersons on June 18.
Igor Stimac has more than one message for stakeholders of Indian football. All loud and clear, and conveyed in no uncertain terms.
After logging nine points from three matches in the Asian Cup qualifiers that made India storm into the 2023 final rounds, the happy Indian men's team coach has flown to Europe. Currently in Poland, the Croatian said that Indian football has to change itself on several fronts to achieve the desired results in the Asian Cup and beyond. 
"The national team has to do well if India has to fall in love with football. Without that, football will never gain the required popularity," was something the Croatian said more than once during his interaction with mediapersons.
At the same time, Stimac said the celebrations for reaching the final rounds of the Asian Cup should stop immediately and be replaced by preparations for the bigger battle next year. 
"Our preparations should start yesterday, not tomorrow. I am not euphoric over what we have achieved. Because we were expected to qualify. I don't think it was a great achievement. But at the same time, I am happy with the way India played in Kolkata. 
Also Read | 70 Years of Indian Cricket: Shahid Durrani and His Tryst With the Game's History
"We were very clear. We wanted to have more possession, play more passes, more accuracy and creation in the final third. It took us three years to bring this energy and aggression on the field. I hope we can do well in future. Things are much better, lots of other players are also scoring apart from Sunil Chhetri," said the coach.
Stimac is certainly uncomfortable with the fact the current bosses at the All India Football Federation (AIFF), the committee of administrators (CoA) appointed by the Supreme Court, are in no great hurry to have a meeting with him on the future of the national team and the extension of his contract beyond September.
"I have a contract with the AIFF which runs up to September. I recently read that one member of the CoA said there was enough time to talk to me. It is a complete lack of knowledge about football. It is not the duration of the contract; the work starts in pre-season. The employment is generally done by June or latest by July. I hope someone explains to him how things work in football," Stimac said.
Of course, after a few minutes the former World Cupper laughed and said: "Thankfully, I am not dependent on the salary I receive as India's national coach." 
The coach is of the view that planning for the Asian Cup should start at the right earnest. "We will have two FIFA windows available in the next few months. We must avail them and play four friendly matches. Without that we won't be able to progress. That's the reason why I want the AIFF to act as fast as possible. That's the reason why I want to meet the decision makers," said Stimac.
When asked to comment on India's domestic football structure, Stimac had not too many good things to say. "ISL [Indian Super League] is not good for the country and its future," was his sharp reaction, followed by comments on the inherent weakness of the system.
Also Read | Making Sense of India's Asian Cup Entry and Coach Igor Stimac's New Found Verve to Talk his Mind
"The problem here is people are busy with their own project. India needs a longer season with more games. Like for 10-11 months. Young players need to be nurtured and players should get a six week holiday. That is enough for them if we want to become the best team in Asia. The calendar of football should not depend on broadcast and other things. Our players need to play at least 50 matches. 
"The ISL has to be bigger. There should be at least 18 teams with promotion and relegation. There is too much comfort here for the footballers, they should face much more challenges. Nothing can get better with such a short league. If we compare ourselves with bigger footballing nations in Asia, then  we are lagging eight to 10 years behind. The domestic structure has to get better to catch up with others," said the bronze medallist at the 1998 World Cup.
Stimac was asked what really made him wake up suddenly and find faults with the system after three years as India's national coach. The coach had his answers ready.
"Not that I didn't say it earlier. I did say it a couple of times here and there. We were also not in a position to talk about these things since we were not getting the desired results. I didn't want the boys to lose focus and wanted them to concentrate on the job in hand. Now that we have qualified for the Asian Cup, I thought we should do everything to get the best result in future.
"Yes, when I came here, I knew there were problems. I was expecting things to be sorted out by the stakeholders. But it didn't happen. After that, the world was struck by the pandemic. There wasn't any scope for football. Even coming to India was a problem. For two years we couldn't play a home match. Things turned topsy turvy and nothing could be planned. No one can be blamed for that," said Stimac.
On Sunil Chhetri, the coach said he considered the Indian captain more as his assistant than his player. "He is of great help; he is actually challenging himself every day. He is still racing with the youngsters, with Udanta, with Suresh. To have Sunil around, it's a huge advantage."
Get the latest reports & analysis with people's perspective on Protests, movements & deep analytical videos, discussions of the current affairs in your Telegram app. Subscribe to NewsClick's Telegram channel & get Real-Time updates on stories, as they get published on our website.
Subscribe Newsclick On Telegram