After Unwanted 'Bollywood' Drama, Indian Men's and Women's Hockey Teams Qualify for Tokyo Olympics
Both the Indian men's and women's hockey teams made rough weather of what should have been straightforward victories in their Tokyo Olympics qualifiers. Against cultured opposition at the Games, there will be no second chances and scopes for comebacks.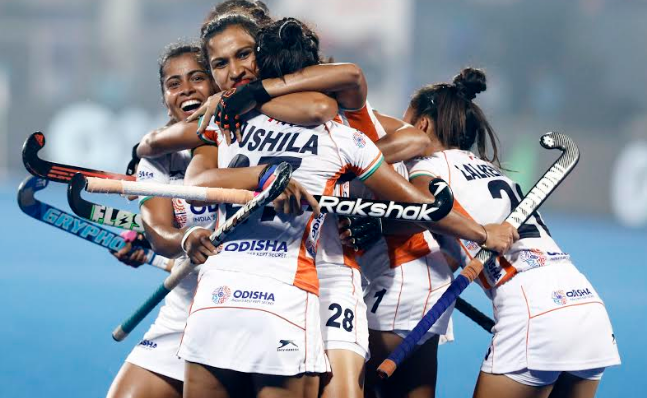 Indian women's hockey team players celebrate after sealing qualification for the Tokyo Olympics after their qualifier match against the USA in Bhubaneswar on November 2.
At the end, Kathleen Sharkey collapsed to the turf and sat there, eyes staring into the distance until a teammate eventually came and lifted her off her feet. Exhausted, she could barely breathe. Barely believe it either. When, at last, she walked, the noise in the stadium deafening, she walked straight into Janneke Schopman's hug wondering how it could have slipped through their fingers like that. 
At the other end, the Indian women's hockey team were reeling in a similar emotion. How they'd managed to scrape through in their Tokyo Olympics qualifier in Bhubaneswar on November 2 will always be a wonder. Hockey, too is bloody hell. 
How inadequate those paraphrased words sound now. All the expletives in the world would struggle to do justice to this. India, both the men's and the women's sides — playing despite their differences in the same way: exasperating, thrilling and panicking — are where they have been before, the Olympics. They have been expected to turn up there, regardless of competition, but they got there in a way they needn't have; a way they shouldn't have needed to; not one comeback but two; not through thrilling, marker laying victories, but scrappy testing games. Dead, revived, dead, revived. Somehow still around.
Also Read | Olympic Boxing Test Event: Nikhat Zareen, Shiva Thapa & Pooja Rani Among Medallists
Deep down, the team will know their vulnerabilities. They have been offered lifelines after lifelines, chance after chance to ensure they get to the Olympics, and they have taken it very coyly.  
"I don't think we change anything," Schopman had said on November 1 after her team suffered a 5-1 walloping by the home team. No one believed her, but she believed it and perhaps that's all that mattered. Then, at half time she said it again, except this time her team were 4-0 up, tied on aggregate and looking the more likely to score the winner. This time she qualified her statement with a potent observation. "We played well even yesterday and had a lot of opportunities, but we didn't convert," she said. "Today they are rewarding themselves."
It was true. The USA had controlled the game a day before, but had barely anything to show for it. When Erin Matson scored her team's lone goal in the 54th minute of the first leg, it seemed like consolation, but also felt like it mattered. It did matter. It gave them confidence. And the last word.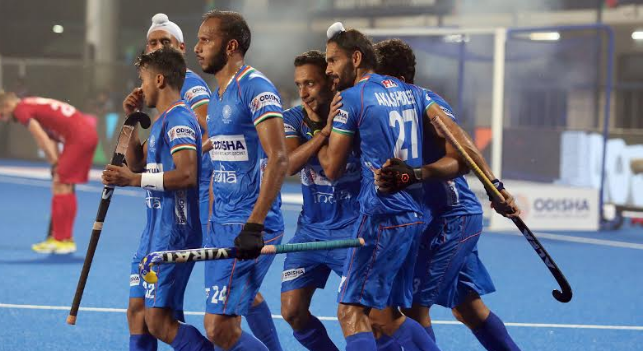 Indian players celebrate after scoring a goal against Russia in their hockey Tokyo Olympics qualifier in Bhubaneswar.
And then an extraordinary thing had happened in two quarters of hockey in the second leg match. The Indian team forgot that they were favourites to go through. They were holding four goals in a bag. If the two legs were, as Schopman said it was, actually eight quarters of one big game of hockey, then the USA had bossed four of them completely. Two were played neck in neck. India, bossed just two. And yet, they were going to the Olympics. Because sport isn't about dominance, it is about seizing moments. 
Also Read | To Dhoni or Not to Dhoni and More: Questions Remain as BCCI Rolls With Cloak-Work Efficiency
The USA threw away too many of those moments in the first game, and took most of them in the second. Sjoerd Marijne's side, meanwhile, walked out at halftime shell shocked, rattled, some players visibly tearing up. They walked back on with their game faces on. It took them over one quarter to get over their nerves yesterday, it took them half an hour today.
They did it as a collective, and then they did it because of an individual, Rani Rampal holding her head steady when everyone around was losing theirs. Somehow, they had dug themselves a hole. And then somehow they had fashioned a ladder out of nothing and climbed out of it. 
If their male counterparts were watching, they did nothing in their own match to show they'd learnt some lessons. Basic stuff, really. Perhaps start from realising this was a different match, another one to win and not casually walk through.
The complaint has always been that the team concedes goals too often too late. They lose focus. They get nervous. It is the final minute jitters. None of that today. They conceded the lead to Russia — the lowest ranked team in these qualifiers — by a goal, in the very first minute. Ridiculous wouldn't begin to describe it. But expletives would help. 
They sorted their feet out soon enough, and eventually blasted seven goals past the hapless visitors, but there is a feeling that coach Graham Reid still has a lot of work to do. His reign was always only going to kickstart by qualifying for the Olympics. If they hadn't the guillotine would've dropped swiftly. Everyone's emotional, physical, commercial energy was invested in this. Judgment for this year and last. They may have qualified but the redemption didn't come.
Also Read | Sultan of Johor Cup Review: Future of Indian Hockey in Nobody's Hands
If anything, these games, the 5-1 and the 1-4, the 4-2 and the 7-1 reveal more about a fault in the system. They suggest that there were flaws but seeing this in physical terms is mistaken, the root cause not yet identified. It is conceptual. We can debate again and again India's hockey identity. A nation, a people and their expected collective imagination fuelling a 'style' of hockey that 11 players are expected to exhibit on a pitch, but there is something inherently wrong. Like a church that has lost its religion. 
And when the opposition, with none of this emotional burden, hurtles towards you in these dying moments — dressed in red and black, green and gold, completely orange, or even a simple black and white — the collective buckles to the pressure. Because they aren't used to this. There is no precedence. The rules are for victory, not in expectation of a contest. Drama kicks in. Common sense goes out. Against cultured opposition there will be no ladders for comebacks. And cultured opposition is what they will get at the Olympics. 
"Little bit of Bollywood was happening. We want to cut that out," Reid offered at the end of the game. He's right. He has earned himself a few months more to drill it in.
Get the latest reports & analysis with people's perspective on Protests, movements & deep analytical videos, discussions of the current affairs in your Telegram app. Subscribe to NewsClick's Telegram channel & get Real-Time updates on stories, as they get published on our website.
Subscribe Newsclick On Telegram