Alchemy Through IQ: How PV Sindhu Flipped the Script to Make History
In her third consecutive trip to the Badminton (BWF) World Championship final, PV Sindhu finally struck gold. And luck had nothing to do with it. The victory is midpoint in a long ranging project that involves a coach who wants to change things, and a superstar willing to listen.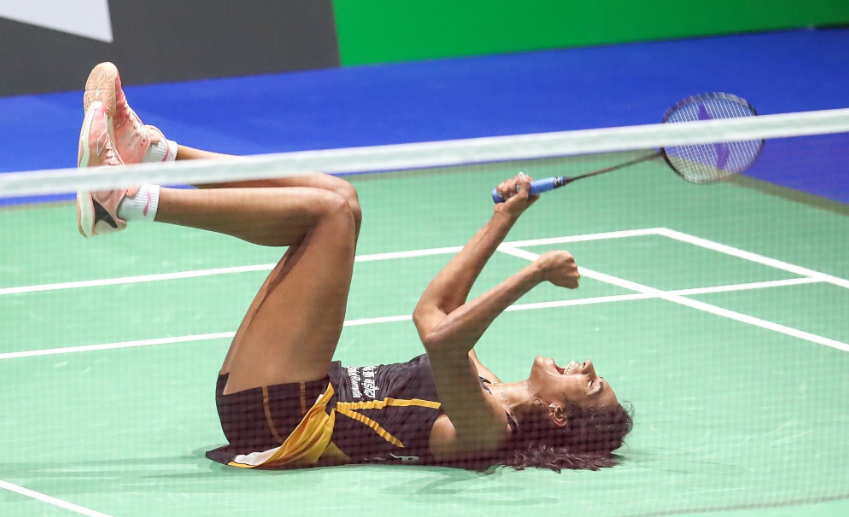 In a long season that was below average by her standards, PV Sindhu peaked at the right time to do a Lin Dan, winning when it mattered, at the BWF World Championships.
PV Sindhu's act of alchemy, converting those silvers and bronzes to gold, was a journey that took the best part of three years. In the period between her loss to Spain's Carolina Marin in final of the Rio Olympics in 2016, to the crowning moment at the expense of Nozomi Okuhara of Japan at the BWF World Championships in Basel on Sunday, there have been quite a few second best finishes. While the wins and losses over the three-year period would have added a wealth of match experience, a deeper understanding of her toughest rivals, and layers of sheer will into Sindhu's game quotient, it is evident from the transition in her game that the most significant steps towards changing the colour of her medal came about in the last five months. 
And that five-month journey, during which she failed to win any tournament, would have tested her faith and resolve. Change always does. And the process demanded a polar shift in the newly-crowned world champion's approach towards matchplay, orchestrated not by Pullela Gopichand, her coach from the time she picked up a racquet, but by a straight-talking, no frills coach from Korea, Kim Ji-hyun.
"The way she plays, I feel it's not smart enough." This was the coaching veteran's assessment of Sindhu's game a couple of days before the start of the World Championships. It is evident that she is a bit too brazenly in your face. 
Video | Chasing the Dream: Spanish Third Division Club Signs Young Indian Footballers (420 Grams) 
"I mean, at the top level, you have to be smart," added the 1994 Asian Games champion, explaining her work with Sindhu for an article in the Badminton World Federation (BWF) website. "It has to be a combination, like your technique, and hitting and mentality."
The fact that Sindhu doesn't mind her coach being outright critical tells us we are in the midst of something special, ain't it? Something Golden!
Sindhu, gold or no gold, is an Indian superstar. After the historic win in Basel, becoming the first Indian to win a badminton world title and equallying the all-time record for the number of medals at the Worlds by a woman (Sindhu and China's Zhang Ning have seven apiece), her stock would no doubt rise from the rarefied heights it was already at last year. She was listed by Forbes as the seventh richest women athlete in the world in 2018. The list was led by Serena Williams, and Sindhu was one of only two non-tennis athletes in the top 10. 
She is revered in India. In a country starved of sporting success on the global stage, the 24-year-old is everyone's darling, a national treasure even. And, from where Sindhu sits, atop a pedestal held aloft by a billion plus, it is hard to forego ego and get down to the drawing board stage to refine one's game. More often than not, the inability to shed skins, notions, a sense of superiority, and adapt, has seen the demise of many great champions. Sindhu, definitely, didn't want to enter that club. 
#PVSindhu at the #BWFWorldChampionships

2013-2018: When you try your best but you don't succeed... 🎶
2019: Lights will guide you home! 🎶😍

Here's to the champion and her perseverance! pic.twitter.com/7Q2uUEw27o

— Star Sports (@StarSportsIndia) August 26, 2019
Enter Kim, and the start of the complicated process of introducing IQ into Sindhu's game which was well endowed with EQ (her mental fortitude is legendary), and power, thanks to her tall and extremely agile, fit frame. The process is anything but simple, as it involves changing many aspects of Sindhu's game without hindering her strengths — the power and speed. The World No. 5 (sure to change in the coming week), meanwhile, entered competitions, won streakily in the opening rounds, but faced losses in the latter parts of tournaments. Far more significantly, old processes were getting chipped away and new ideas shaped.
Also Read | Aishwarya Pissay's World Title and the Reality of Motorsport's Gender Bias
Sindhu's performance against Okuhara — a 21-7, 21-7 victory — saw the Indian decimate a player who had stopped her in a previous edition of the Worlds. The heartening thing about the victory is that it was not just about power. 
Behold this: Backhand to the back court... drop to the front... forehand to the backcourt... deft dab to the front... a loft to the backcourt… a crosscourt near the net… and a crosscourt smash which left Okuhara sprawled on the court. Many of the rallies on Sunday followed a similar script. 
It was clear that this version of Sindhu was not just playing to her strengths, but playing in sync with them, and using her perceived and much highlighted weaknesses to set up retrieve-safe kills. Okuhara had no answer. But, imperious as it is, the demolition of Okuhara was more of a work-in-progress victory for Sindhu. 
That, by all means, is an ominous sign for her rivals, and a happy sight for Indian fans. The best way to assess where she stands in her journey towards a possible gold at the Tokyo Olympics next year would be from Sindhu's quarterfinal match against current World No. 2 Tai Tzu Ying of Taipei. The match went the distance, Sindhu came back after losing the first game, won the second game via tie-breaker, while the third game was an equally tight affair. 
Sindhu has always had trouble with players of the mould of Tzu Ying and there are quite a few of them at the top, including Marin and Akane Yamaguchi of Japan, the current World No. 1. These are players who can play a game of attrition as much as go for flair-filled kills, changing gameplans and tactics midway with nonchalant ease. And, whenever they have come across Sindhu, they have tested the Indian's resolve by stretching rallies till she faults.
Sindhu, historically, has thrived in shorter rallies. In the final against Okuhara, the rallies never went into marathons. The next steps in the Indian's journey would, no doubt, include the addition of attributes that will help her maintain her on-court IQ and gameplan when the going gets tough, or rather long.
Also Read | Fogged Up Vision for a Goal Flourish by a 'Poor, Middle-Class Club'
Marin, for the record, is recovering from knee surgery and sat out the Worlds. Yamaguchi lost earlier in the tournament, while Tzu Ying, heavily criticized in China for failing in big tournaments, remained true to her reputation. Things seemed to have aligned well for Sindhu in Basel, including that holy grail all athletes seek and only legends manage — peaking at the right time.
In a long season that was below average by her standards, Sindhu managed to do a Lin Dan, and won when it mattered. Hopefully, the idea of peaking at the right time is also a corollary of the work that she has put in with her new coach, Kim, even as Gopichand, who was instrumental in making her a badminton elite in the first place, keeps his ever-discerning eye over the proceedings.
Gopi and Kim occupied the seats for support cast during Sindhu's match. It was heartening to see an Indian coach step back and let things flow in the direction which is in the best interest of his or her ward. In the past, across disciplines and in alarming regularity in athletics and wrestling, coaches have stunted development of their trainees by not allowing them beyond their personal spheres. 
The world of sport is dynamic and the goalposts are ever shifting. We always stress on the importance of athletes needing to know when the time is up to make changes, or even retire. That holds true for coaches too. It is important that a coach realises when it is time to expand the horizons of the athlete. Gopichand seems to have mastered that fine art, which also involves looking beyond petty self interests, and the results have been immediate. He is a coach and mentor to a world champion now. 
This change in approach, like many things in Indian badminton, has also got something to do with its original flag bearer — Saina Nehwal — who has been an inspiration for many including the world champion. In fact, Saina's exploits is what drives young girls across the country to pick up the racquet, and dream. Her significance in Indian badminton as a role model is evident in how it remains one of the rare sports in the country in which women outperform men in the international arena. 
Also Read | Dodgy Star and Missing Bouts: Déjà vu for Indian Boxing as Mary Kom Avoids Nikhat Zareen
In 2014, after developing a feeling that things were heading towards a dead end, Saina split ways with Gopichand to work with Vimal Kumar. Then came her injury just ahead of the Olympics in 2016. Saina's comeback, in 2017, was not working as planned, and the 2012 London Olympics bronze medallist decided to get back with Gopi. 
The whole episode had quite a bit of bad blood involved too. It is clear that Gopichand learnt quite a bit from it. He ensured Sindhu never hit a dead end progress wise. Meanwhile Saina — who is ranked No. 8 in the world at the moment and had lost in the Round of 16 in Basel — by getting back with her original coach, has renewed her faith in the processes Gopi adheres to.
Now, with two top 10 players, one of them a world champion, it is hard not to dream of a double presence atop the podium in Tokyo 2020. Sindhu, Saina, and the Olympic gold... That shuttle is ready for takeoff!
Get the latest reports & analysis with people's perspective on Protests, movements & deep analytical videos, discussions of the current affairs in your Telegram app. Subscribe to NewsClick's Telegram channel & get Real-Time updates on stories, as they get published on our website.
Subscribe Newsclick On Telegram