Asian Games 2018: Bajrang Punia, From Indian Wrestling Protege to Protagonist
An Asian Games gold is the beginning for what could be a career path littered with success for Bajrang Punia, India's newest wrestling star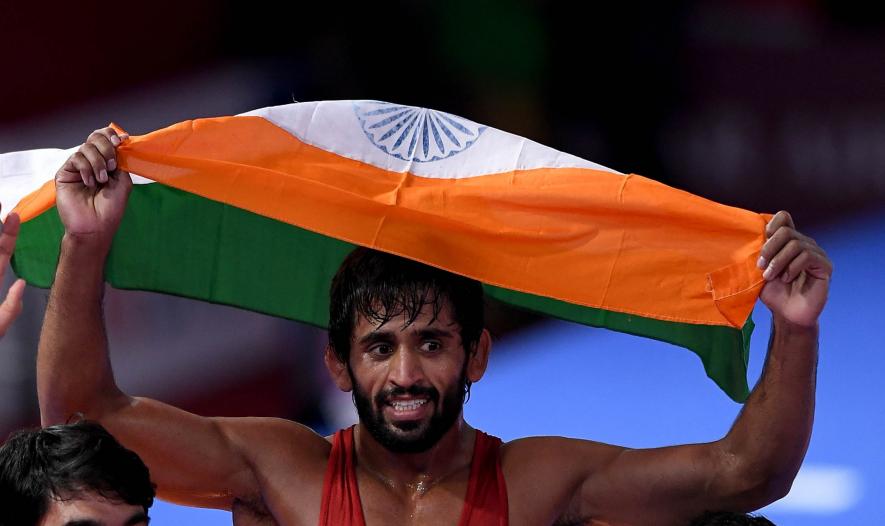 Bajrang Punia won India's first gold medal of the Asian Games 2018 in Jakarta Palenbang, with three victories via technical knockout, before triumphing 11-8 in the final to clinch the top prize (Pic: IANS).
The year was 2013. Bajrang Punia, aged 19, sprung a pleasant surprise on the Indian media, by winning bronze at the wrestling World Championships in Budapest, Hungary. The out-of-the-blue medal "surprised" Bajrang as well, though there was never a feeling in the wrestler's mind that he had overachieved. After all, his achievement yardstick was set by mentor Yogeshwar Dutt, and, unlike the usual rhetoric for Indian wrestlers, medals on the world stage, gold even, were not aspirational, but a goal laced in reality.
Bajrang's act of alchemy at the Asian Games 2018 in Jakarta-Palenbang on August 19 -- turning his silver from the previous edition to gold this year -- is part of the realistic journey he has set, towards what would be the biggest prize of his career, at the Olympic Games.
Bajrang beat Daichi Takatani of Japan 11-8 to finish on top of the podium in the men's freestyle 65kg event at the Asiad in Indonesia, retaining India's continental stranglehold in the weight division. Dutt had won gold in the same class at the previous edition, and while the old champion is going through an unannounced "retirement" routine, it was evident from Bajrang's roll at the Jakarta Convention Centre Assembly Hall that a change of guard has taken place in Indian wrestling.
Also Read | Asian Games 2018: Sushil Kumar's Heart Set for Gold, Throws Fall Short
Bajrang's climb to the pinnacle in Asia was foreseen by Dutt, and by many in the fraternity in fact. But, after his silver in the last Asian Games, the 24-year-old wrestler went through a lull period in terms of performances. It looked as though he would also fall by the wayside like many other promising grapplers before him who did well in the junior ranks and failed to make a mark in the big league.
Bajrang couldn't match his exploits, or go higher up, at the World Championships, while the pruning of weight divisions meant he was forced to sit out the 2016 Rio Olympics, giving up his chance for Dutt.
It is a fact that Bajrang lost out on valuable seasoning at the last Olympics, and that could prove crucial when he guns for glory on his Games debut in Tokyo, in what could be the prime years of his career. However, at this point, the eclipse on his wrestling career -- something Bajrang himself don't mind, owing to his devotion to Dutt -- doesn't seem to have hampered his development as a wrestler.
Bajrang's run to silver at the 2014 Incheon Asiad -- in the now non-existent 61kg freestyle division -- showcased a wrestler who had strong technical versatility and mat sense, but with many chinks that could be exposed by the elites. He exuded an immaturity that opened him up to domination at critical phases in a bout. There was also a feeling that he lost out on physicality while facing some of the stronger (in terms of brute strength) wrestlers in the field.
Also Read | Ranked Favourites But Tricky Gold Quest for Indian Hockey Teams at Asian Games
Bajrang, the 2018 version, looked the part he was destined and trained to live and play. The four-year journey from a 20-year-old protege to a 24-year-old spearhead was complete much before the Asiad final where he beat Takatani, his nemesis from the last Asian Championships. The journey achieved fruition when he, after going down 0-3 in the pre-quarterfinals, dominated Sirojiddin Khasanov of Uzbekistan to close the bout via technical superiority, a 10-point difference in layman's terms.
Technical superiority in wrestling is the equivalent of a technical knockout in boxing. It batters the ego and confidence of the opponent, while pumps up the morale and sense of invincibility of the victor. Bajrang wrested that sense of invincibility in the opening bout of his Asian Games campaign, and in the subsequent faceoffs, he looked unstoppable, his movements on the mat through the bouts carried a sense of inevitability -- an Indian victory.
Technical superiorities followed -- 12-2 against Abdulqosim Fayziev of Tajikistan in the quarterfinals, and a thumping 10-0 in the semifinal against Batmagnai Batchuluun of Mongolia.
Also Read | In Hima Das' Triumph, a Caution for Indian Sports Administrators
He looked a notch above Asia in quality, and that would mean he is on par with the world. But the bout against Takatani showed he is not quite there yet. A good sign as with two years to go to the next Olympics in Tokyo, the coaches around this developing wrestler could set his internal ticker to prime just when the Games come along.
That's quite a tricky task for the Indian wrestling think tank though. The have always had an existential predisposition towards archaic systems of training. And its where Punia's personal coach, Shako Bentinidis, will come in. The Georgian, and not chief coach Jagminder Singh, was seen on the chair at Bajrang's corner right through the bouts.
That's a strong sign, a positive one too. It must be in tune with what Dutt has prescribed for his protege. You need a fresh and scientific outlook and approach to mould world beaters on the mat.
Bajrang, the Asian Games gold notwithstanding, has a lot to improve to make it to the podium in Tokyo. To start with, the final in Jakarta exposed two of Bajrang's weaknesses -- single leg takedowns and ankle taps.
Also Read | No Indian Football Team at Asian Games; Blame Babus in IOA, AIFF
Takatani explored both to score his eight points, while the Indian managed to edge out thanks to his superior 'par terre' (ground fighting) skills, and the scissor lock (Irani), which earned him an initial cushion of points.
Bajrang understands the weak links, it seems. He was quoted before the Asian Games talking about how he is working on negating the takedowns. A wrestler's journey moves forward by a clear understanding of their weak links, turning them into strengths, and fine-tuning these strengths, making those attributes unstoppable.
That process begins and continues through his career only if he himself is aware of where he is, and where he has to be in the coming years. It is easier in a quantifiable arena such as athletics, where distances or timing would give you a fair idea. In wrestling, one needs to listen to the instincts and the cues from bouts -- training or competition.
Bajrang has shown through the years that he is good at both. And, to add to that, he has the advantage of a second voice -- that of Dutt. That, and the milestone of an Asian Games gold (something his mentor earned at the fag end of his career; and Sushil Kumar never managed) has set him on a solid platform from where he can aim for glory, and be Indian wrestling's protagonist in the years to come.
Get the latest reports & analysis with people's perspective on Protests, movements & deep analytical videos, discussions of the current affairs in your Telegram app. Subscribe to NewsClick's Telegram channel & get Real-Time updates on stories, as they get published on our website.
Subscribe Newsclick On Telegram