Award, Reward and the Politics of Nomination in Indian Football
IM Vijayan's nomination for the Padma Shri, while commendable, is long delayed. Indian football's history is littered with instances where players and coaches have been overlooked or wholly ignored, their achievements and legacies relegated to footnotes that are fading fast.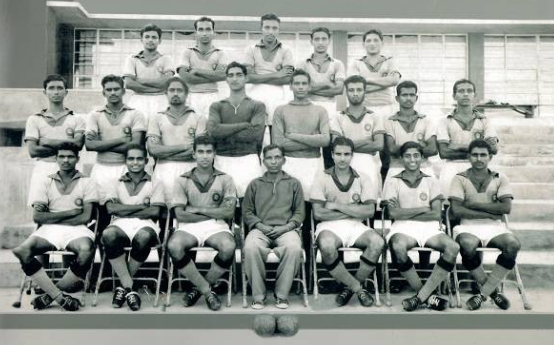 Syed Abdul Rahim (seated, centre) was in charge of the national team for three Olympics and two Asian Games and is still considered as one of the greatest Indian coaches of all time. The establishment never recommended his name for an award or honour.
In 2002, when Hyderabad hosted the National Games with pomp and gaiety, the then chief minister of Andhra Pradesh threw a dinner party to honour great sportspersons the state had produced over the years.
On the day of the dinner, this correspondent bumped into celebrated football goalkeeper Peter Thangaraj at the Lal Bahadur Shastri Stadium. A towering figure, who guarded the Indian goal in two Olympics and three Asian Games, Thangaraj wore a rather sad look.
Also Read | Tour de Resilience: West Indies Take a Big Step Forward, Into the Unknown and the Known
What Thangaraj said was an old story, with a fresh twist. The CM's office, somehow, didn't consider Thangaraj good enough to be among eminent sportspersons. Hence, it never bothered to send the 1962 Asian Games gold medallist an invitation for the dinner.
Thangaraj was disappointed, but he wasn't the first sportsperson in India to be left in the lurch. Many incidents of a similar nature have come to light in the Indian sporting arena over the years, only to be forgotten quickly. 
Thangaraj began his career in Hyderabad, and one does not have to look too far to find precedent for the treatment meted out to him. Consider the case of another legendary football figure from the same city, who also happened to be Thangaraj's coach. Syed Abdul Rahim (1909 - 63) was in charge of the national team for three Olympics and two Asian Games. He is still considered among the greatest Indian coaches of all time.
In the 18 editions of Asian Games since 1951, 10 nations have won the gold medal in football. South Korea and Iran have walked away with the yellow metal five and four times, respectively, in the post-1970 era. Chinese Taipei, Myanmar and India hold the next best record; all three emerged champions on two occasions. 
Led by defender Sailendra Nath Manna, India's first Asian Games triumph came in 1951. Eleven years later, Chuni Goswami's immortals bagged the gold for the second and last time in Jakarta.
Both Manna and Goswami were conferred the Padma Shri award in their lifetime. Seven of the 11 players who figured in the Jakarta final, received the Arjuna award for seven straight years between 1961 and 1967.
There was only one thing common between the 1951 and 1962 Asian gold winning teams. Both teams were coached by Rahim. 
Fifty-seven years have passed since Rahim breathed his last. Successive governments in the country made no effort to recognize the contribution of the man, who held a hundred percent success record in Asian Games and guided India to a fourth place finish at the 1956 Melbourne Olympics. 
"As far as I know, the All India Football Federation (AIFF) has never recommended my father's name for any award," says Rahim's son, SS Hakim, a 1960 Olympian and former FIFA referee. "They should have, but I have no idea why they didn't."
Also Read | Despite Eleven Positive Tests, PCB Remains Confident That England Tour Will Go Ahead
True, there was no government award for coaches till the Dronacharya award was constituted in 1985. The Dhyan Chand award for lifetime achievement came much later in 2002. But the least the AIFF could have done was to recommend Rahim's name for a Padma award posthumously. No coach has produced more international stars than Rahim did in his lifetime. 
In fact, starting from Brigadier VHB Majendine, the first president of the AIFF in 1937, to Praful Patel, the present incumbent, no one can match what Rahim did for the game in India till his passing at the age of 54. 
But again, Rahim's son shouldn't have any complaints. By now he knows that awards and recommendations in Indian football have little to do with logic. In the lockdown period of 2020, the AIFF has recommended former national captain IM Vijayan's name for the Padma Shri. A laudable decision indeed. But hasn't the recognition come a little too late for the 'Kerala Deer' of Indian football? 
Post the 90s, India has had three strikers of international calibre. To adhere strictly to seniority, they are: Vijayan, Bhaichung Bhutia and Sunil Chhetri. Bhutia was conferred the Padma Shri in 2008, Chhetri in 2019, both when they were active footballers. What made the AIFF consider Vijayan, 14 years after he hung up his boots, is a question that can only be answered by the officials themselves. No wonder Vijayan himself has said he will only comment on the issue once he actually receives it. 
A source in the federation said members were mostly kept in the dark while taking these decisions. "As far I know such things rarely came up for discussion in executive committee meetings. Maybe one or two senior officials made the decisions on their own," the source said.
Chuni Goswami, PK Banerjee and Tulsidas Balaram were the trio of strikers, who largely made India's triumph in the 1962 Asian Games possible. Chuni and PK received the Padma Shri, but Balaram was ignored. Now 84, Balaram says his name nearly made the list once but politicking in the federation denied him the award at the last moment. But then, the incident occured many years ago. The present generation of officials can in no way be blamed for the folly of their predecessors.
Also Read | East Bengal Faces a New Identity Crisis, Lost In A Web of Its Own Making
But there are ways to rectify things. Of the 1962 Asian Games gold winning eleven, seven won Arjuna awards. The other four – Trilok Singh, O Chandrashekar, FA Franco and Prasanta Sinha – never received any recognition. 
Trilok Singh did not live long and passed away at the age of 45 in 1979. Sinha died at the age of 77 in 2015. Octogenarians Chandrashekar and Franco live in Kerala and Goa, waiting for the nation to remember what they did that summer in Jakarta.
A footballer from the 80s, considered one of India's all-time greats, had the best thing to say about all of this. "They hardly bothered to remember Rahim sahib. To forget him is like forgetting Indian football entirely. In that case, what right have I got to add to the noise pollution?"
Get the latest reports & analysis with people's perspective on Protests, movements & deep analytical videos, discussions of the current affairs in your Telegram app. Subscribe to NewsClick's Telegram channel & get Real-Time updates on stories, as they get published on our website.
Subscribe Newsclick On Telegram