Bajrang Punia's Millennial Dilemma: India's Olympic Favourite Shows Chinks in Defensive Armour
Over the past year, despite his meteoric rise, Bajrang Punia's two losses are a cause for concern. Both came against young, attack-minded wrestlers who disregarded the Indian's reputation and put his defences to the test. If Tokyo 2020 is part of the plan, the chinks need to be ironed out now.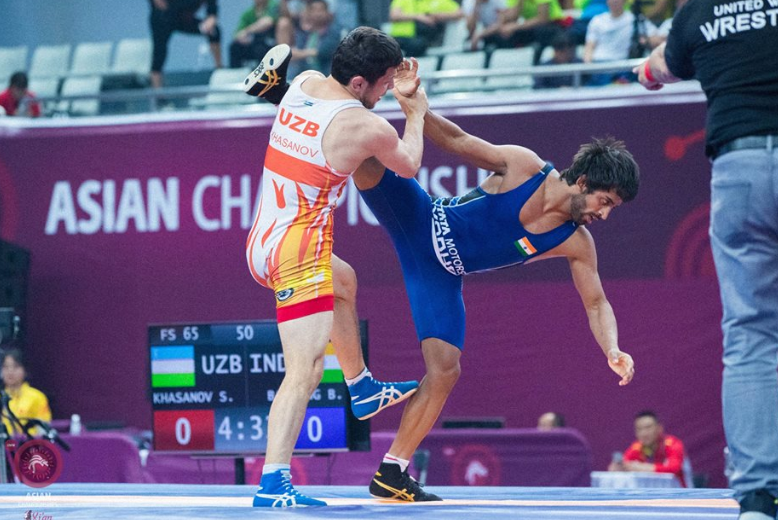 Bajrang Punia (right), the current World No. 1 in 65kg freestyle wrestling, goes about his business on the mat maintaining an attacking tempo, using a stance that opens him up to takedowns.
Wrestler Bajrang Punia seems to be having some trouble with millennials. And, perhaps unlike the more superficial annoyance that grate on the nerves of us "elders", Punia's could ultimately cost him dearly. The Olympic gold he is so determined to capture in Tokyo is very much at stake.
The 25-year-old, World No. 1 in 65kg freestyle wrestling, was in the middle of a winning spree which no other Indian, including double Olympic medallist Sushil Kumar, has achieved in the past. The better part of last year and the first half of 2019 saw Punia win back-to-back gold medals in continental competitions and invitational and ranking wrestling tournaments across the world. The two blots — a loss at the 2018 UWW World Championships in Budapest in October, and the loss at New York's Madison Square Garden in the 'Grapple at the Garden - Beat the Streets' last weekend.
Enter the Children — Punia tamers Takuto Otoguro of Japan and Yianni Diakomihalis of the US.  
Also Read | Asian Games 2018: Bajrang Punia, From Indian Wrestling Protege to Protagonist
Debutant Otoguro, then 19, became Japan's youngest world champion when he beat Punia 16-10 in the final in Budapest. On May 6, at the Madison Square Garden, Diakomihalis, a sophomore at Cornell University, got the better of the World No. 1 with a slightly closer scoreline of 10-8.
It is a given that wrestling score lines can be misleading and, more often than not, don't reflect the rumble and tumble on the mat. In fact, they never do. In both bouts, the action was much closer than the score indicated. Having said that, both young wrestlers were also more assertive on the mat and in control against the more experienced Indian, whether maintaining a lead or controlling the tempo in the latter stages where Punia has proven in many bouts to be at his most effective.
It would be no exaggeration to say that they both caught Punia by surprise. That takes us to the rather perplexing question. What did the two teenagers do differently to trouble Punia, who has run through many former world and Olympic medallists of late? The answer could prove to be the difference between an Indian gold in Tokyo, or a near miss.
The solution for Punia could involve tweaking his strategy and repertoire. It is not as simple as tinkering a stance or a technique, for the small chinks in his armour have a lot to do with his rise in stature — out of the shadow of Yogeshwar Dutt — as the undisputed alpha wrestler in the country.
Also Read | Asian Games 2018: Sushil Kumar's Heart Set for Gold, Throws Fall Short
Like in any sport, being undisputed shows Punia's class. But, Punia, or Dutt, Sushil and many good Indian wrestlers before, is not just undisputed but unchallenged too. Here lies the problem.
Punia has not fought in the national championships for a few years now. Being an elite wrestler, he gets direct entry into camps, and even direct selection for international competitions. The choice, more or less, rests with the wrestler himself. That's how things roll in Indian wrestling and it ruins things not just for Punia but jeopardizes future generations too.
Having said that, one has to also admit that the mindset of Indian wrestlers is hardwired for hero worship so much so that if Punia decides to fight at the nationals, most of his bouts would invariably end as walkovers similar to the fiasco one witnessed in 2017 when Sushil decided to compete in Bhopal.
This serious flaw in the system — in fact, it happens to be a serious flaw in the wrestling tradition in India — reduces the shelflife of Indian champions in the international arena. They slowly lose their edge, comfortable in the knowledge that their past laurels set them up quite nicely. No young wrestler would step up or will be allowed to step up to challenge the senior 'pehalwan'.
Video | NBA Champ Harrison Barnes Interview: From Steph Curry to Indian Curry
And, while the Indian champion, talented and strong gets tested in elite tournaments, those from wrestling powerhouses such as the US, Iran, Japan, Cuba, Russia,and other Eastern Europe, get pushed right at home. Their systems end up churning prodigiously talented wrestlers such as Otoguro or Diakomihalis on a regular basis. They burst onto the scene as world beaters, with the youthful vigour and fresh, uninjuried bodies (both important factors in an injury prone and mentally taxing sport like wrestling) helping push the envelope further. Part of that drive stems from the knowledge that their place in the national team depends on it.
Let's get something straight, though. There is no doubt Punia is trying to push his personal envelope, focused on the big prize in Tokyo 2020. His personal coach, Georgian Emzarios Bentinidis, has charted out a tightly curated plan for him to achieve that. His exemplary work ethic ensures he is on his toes.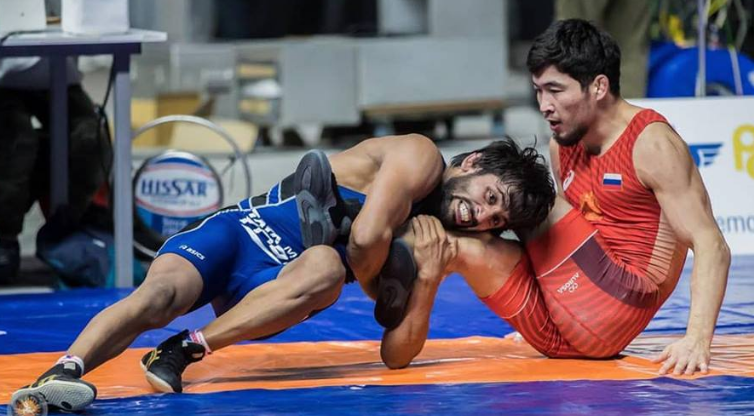 Bajrang Punia's run of victories, which began in 2018, included gold medals at Asian Games and continental championships (April 2019), the Commonwealth Games and other UWW ranking tournaments, with two losses coming in the period.  
The missing link — tough competition for him to figure out his shortcomings and strategies — is something his team is working on at the moment. And that involves exposing Punia to elite tournaments where the more technically and technologically savvy wrestling think tanks are watching and deciphering the top dog's every move on the mat.
Countries such as Russia, Iran or Japan even, rarely expose the wrestlers reared for World and Olympic glory in continental or lesser competitions. They have the luxury of simulating tough tests and dry runs within the system, and take advantage of it perfectly.
That was evident in how the Beat at Madison Square Garden only had American wrestlers (including an UFC fighter) alongside Punia, and two below par Canadians. The competition was more a festival than an elite wrestling tournament, while the absence of top wrestlers from other nations (like the previous year), sheds light on the stage those grapplers are in their preparations for the Worlds, Olympic Qualifiers and the Games.  
Another example from which we can comprehend this is how Japan's Otoguro skipped the Asian Games last year and the Asian Championships last month. He will definitely come out for the Worlds later this year, and most probably will be one of Punia's challengers at the Tokyo Games in 2020.
Video | 420 Grams Summer Sessions: Dream Head Coach for India's Football Team
The systemic flaw — which is beyond Punia's control — will continue for now. What he can control is the small flaws that the two teens have exposed in the course of their victories. Punia's leg defense, though better than what it has been earlier, is still atrocious for an elite wrestler. To give up a lead early in bouts where a lot is at stake is suicidal, be it against young or old wrestlers, and Punia does that, be it during victories, or rare losses.
Punia's game revolves around maintaining an attacking tempo, which is a double edged sword. He attacks with a stance that opens him up to takedowns. The only way to negate this would be to become relentless in attack, which is very difficult to pull off at the elite level. Punia has the fitness to stick to that kind of strategy but then he doesn't have the technical versatility of say a Dutt or former world bronze medallist Ramesh Kumar to maintain that game without becoming predictable.
Punia and coach Bentinidis were quoted recently as saying that they have included a few new techniques into his arsenal — trump cards for big moments to be exact — which need to be tried out in competitions. So far, one has not seen those trump cards out in the last three competitions he fought. He stuck to his tried-and-tested routines — takedowns, a reversal throw from a exposed position on the mat (which failed thrice and landed once at Madison Square Garden), gut wrench and the Irani (scissors lock).
One can understand the difficulty of trying out new techniques while in competition against top wrestlers. But Punia has to do that on a priority basis now or those new techniques won't play out the way he needs when it matters most. Then again, trying them would also mean exposing them for the world to decipher. The bright side is he can also do some deciphering of his own. Otoguro and Diakomihalis, for example, will be relative known quantities to Punia by the time he rolls up to Tokyo.
Working a bit on the defense, without forsaking his attacking stance, seems the only way out for the Indian since his problems, beyond Millennialism, lie against all wrestlers who have a naturally attacking game. The problem is compounded by turn of the century wrestlers who, young as they are, throw caution to the wind and show little respect for either reputations, or the age-old tactic of going defensive to protect a lead.
Get the latest reports & analysis with people's perspective on Protests, movements & deep analytical videos, discussions of the current affairs in your Telegram app. Subscribe to NewsClick's Telegram channel & get Real-Time updates on stories, as they get published on our website.
Subscribe Newsclick On Telegram