Bhiwani Horror: Does Haryana Cow Slaughter Law Have Role to Play in the Killings?
Through an amendment in 2019, the state criminalised transportation of cattle, emboldening self-proclaimed cow vigilantes.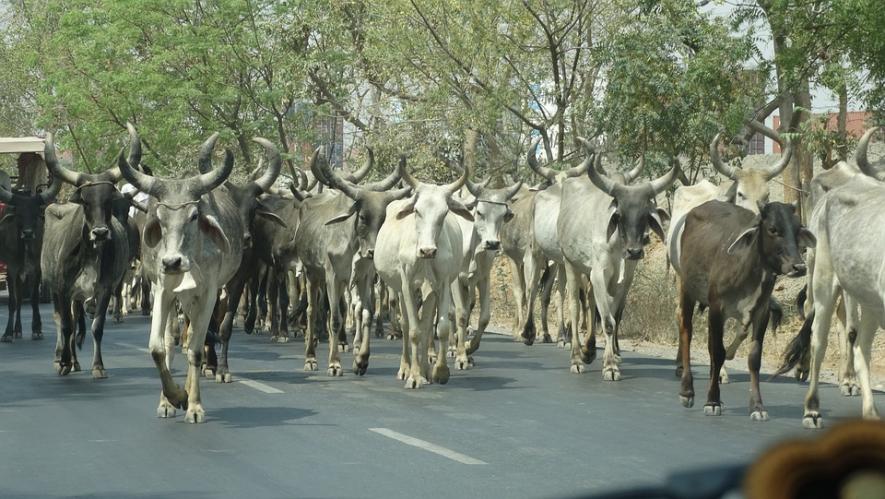 Representational Image. Image Courtesy: Max Pixel
New Delhi: Even though a suspect of the Bhiwani killings has been arrested, a deeper look at some recent lynching incidents reveal that the amended Haryana anti-cow slaughter law might have had a role to play in emboldening cow vigilantes and thereby indirectly facilitating the burning of two Muslims (Junaid and Nasir) from Ghatmika village in Rajasthan's Bharatpur district.
The accused (Rinku Saini) who has been arrested in connection with the case is said to be part of special cow protection task force of the state.
Haryana added stricter provisions to its anti-cow slaughter legislation in 2019 and notified a special cow protection task force — including officials and members of local 'gau rakshak' (cow protector) committees. This has given a greater licence to vigilante groups to heavily arm themselves, conduct raids and dispense brutal 'justice'.
Even though the slaughter of cows and bulls is prohibited in the state, the Haryana Gauvansh Sanrakshan and Gausamvardhan Act, 2015 had no provision with regard to transportation of animals. Only animal cruelty laws used to be applied and that too to ensure the cattle were treated humanely while in transit.
Through an amendment in 2019, the state criminalised the transportation of cattle for slaughter with imprisonment of up to 10 years.
Emboldened Cow Vigilantes
The self-proclaimed cow protectors often stop vehicles carrying cattle for trade purposes, thrash drivers and other occupants and even burn them to death in full public view. They attack without any evidence of illegality. Far from taking action against them, the police either stand by helplessly or in some cases even provide them protection.
Such gangs have gained notoriety in posting its vigilante-styled attacks on the social media without any fear of law.
The self-proclaimed gau rakshak', sources told NewsClick, have of late set up a strong of network of informers across Haryana, especially in the Muslim-concentrated Mewat region, who tip them off on transportation of cattle — no matter if it is legal or illegal — from their respective areas.
"If you have to catch a train in the wee hours from Bharatpur (Rajasthan) or Gurugram (Haryana), you will leave your village when it is dark. The informers in the village pass on information with regard to your scheduled movement to the so-called cow protectors, who ambush you at an isolated place on your way. If you successfully reach a deal with them and give them the money they demand, they will let you go unhurt. And if you don't, you will be assaulted to the extent that you may even die. So, in the name of 'gau raksha' (cow protection), the 'gau rakshaks' are operating an organised extortion racket," said a local resident on the condition of anonymity.
The villager further said that Meos are a Muslim cattle-rearing community. Dairy business is their source of livelihood. They keep buying fertile cows to make their herd more productive; and therefore, they need to transport the cattle they buy elsewhere.
"Even if they have valid documents, they are mercilessly beaten if they refused to pay the vigilantes. This targeting of the community has become an occupational hazard," he said.
Another villager, requesting anonymity, claimed the informers, who are paid Rs 20,000-30,000 every month by the vigilante gangs, not only share 'intelligence' on the transpiration of cattle but also about all kinds of developments (arrival and departure of outsiders, marriages, purchase and sale of lands, etc) taking place in the respective villages.
The vigilantes then share the intelligence they gather on suspected cattle smugglers with the police, and often even accompany the raid party.
The Bhiwani Horror
New details have emerged in the Bhiwani horror case: three of the five cow vigilantes who allegedly killed Junaid and Nasir and allegedly set them on fire in a white Bolero at Bhiwani in Haryana worked as police informers to crack down on "cattle smuggling".
According to the FIRs related to alleged cow trafficking registered in the past two months at Ferozepur Jhirka and Nagina police stations in Nuh, Rinku Saini, Lokesh Singla and Shrikant have been described as "informers".
NewsClick has viewed four such FIRs (two registered in January, while the rest two in February). The vigilantes had even accompanied Haryana Police during the raids against the alleged cow smugglers.
Part of the Bajrang Dal-led cow vigilante groups, these men are among the five accused initially named in connection with the murder of Junaid and Nasir. The list also includes Monu Manesar, a Bajrang Dal member and the 'face' of the cow protection task force of the Haryana government in Gurgaon. After arresting Rinku, the Rajasthan police added eight more persons to the list of accused.
Junaid and Nasir were allegedly abducted by the vigilantes, brutally thrashed and taken to Firozpur Jhirka police station in Haryana's Nuh district in a serious condition. But, the police, instead of arresting the assaulters and rushing the victims to a hospital, sent them away — citing jurisdiction. The victims were then allegedly taken to a forest in Bhiwani district, made to sit on the rear seat, tied with a belt and then turned into ashes. Their skeletons were later recovered from inside the completely charred vehicle.
The records accessed by NewsClick suggest that most of the cases the 'gau rakshaks' had got registered against several people, fell apart in courts in the absence of clinching evidence.
An officials close to the investigation said Rinku Saini's cell phone location and call detail record (CDR) confirmed his presence on the crime scene. However, they said they were investigating the role of prime accused Mohit Yadav aka Monu Manesar whose mobile phone location has not been found at the spot in the preliminary enquiry.
"But we are not at all giving him a clean chit. His role is being ascertained as Rinku belongs to his team," said the official, revealing that there are two separate teams of vigilantes who operate in Jind and Firozpur.
The police have added the name of three others — Monu Rana, Anil Murthal and Vikas Arya — whose involvement they are suspecting.
"We have found the number of the vehicle the deceased were travelling in. The number has been sent to him by someone," said another official source.
According to the police, Monu Manesar had a humble economic background till about seven years ago. His father is dead. They are two brothers and Monu is the eldest. He has a sister who is married.
Monu Manesar -- From Rags to Riches
Monu Manesar has earned both money and fame over the past seven years. His wealth is estimated in crores, say local sources, refusing to be named.
"He used his network to extort money in the name of cow protection," alleged the sources, adding that though his modus operandi has always been "unlawful and controversies", yet he enjoys "sheer impunity".
It is said that Monu Manesar could earn 'name and fame' and so much wealth because of the "police protection" he enjoys.
Monu reportedly had several cases of assault, attempt to murder, threats, loot etc. registered against him at different police stations. These cases were recently withdrawn. It was said in hushed tones that these cases were withdrawn due to his "political influence". "The petitioners against him did not pursue their cases because of the reign of terror. And, therefore, cases against him were either withdrawn or settled," alleged some people in the know.
Get the latest reports & analysis with people's perspective on Protests, movements & deep analytical videos, discussions of the current affairs in your Telegram app. Subscribe to NewsClick's Telegram channel & get Real-Time updates on stories, as they get published on our website.
Subscribe Newsclick On Telegram