Bihar: In a First, Soil Erosion Risk Maps for Entire Koshi Basin Developed, Claims Study
The objective of the study by researchers from Kathmandu-based ICIMOD is to develop a conservation priority map to prevent erosion, inundation and displacement.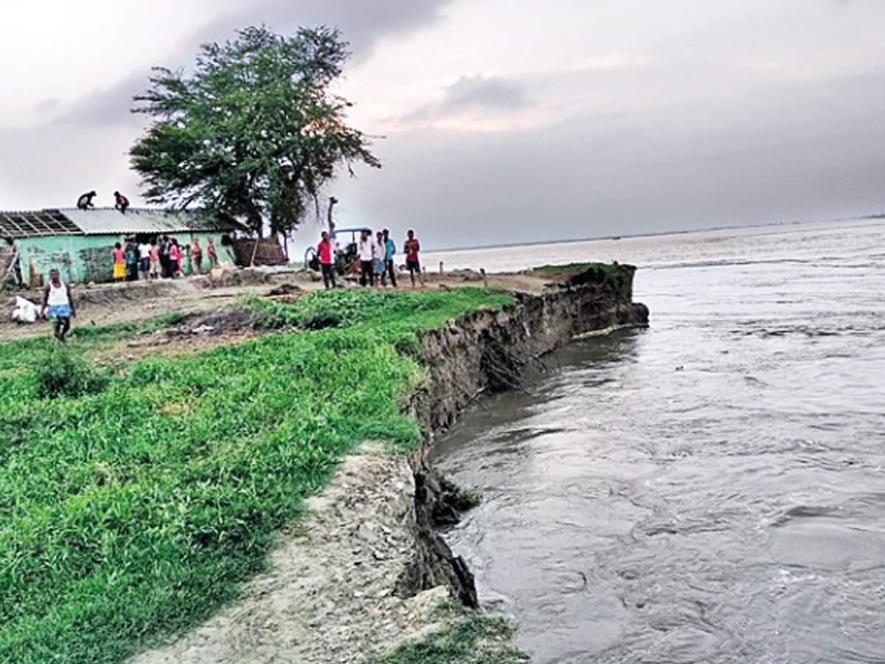 Image Courtesy: Times of India
Patna: Climate change-induced heavy monsoon rainfall in the Himalayas, the catchment areas of Koshi, one of the major rivers, is causing more soil erosion in some regions of Bihar. Village after village is facing fast soil erosion, impacting livelihoods and leading to displacement.
Nageshwar Mandal and Rameshwar Yadav, both marginal farmers, were displaced this month after their houses were swallowed by swollen Koshi river in Bihar's Madhepura district. They are among thousands of people who have been displaced after losing their homes and farmland due to erosion in the Koshi region, comprising Supaul, Saharsa and Madhepura districts.
Unexpected surplus rainfall since mid-June in the catchment areas of major rivers in the state and neighbouring Nepal has resulted in floods and rising incidence of erosion is threatening the existence and survival for thousands people who inhabit these areas.
In, perhaps, the first assessment of erosion dynamics at the basin level, a latest research study has been done by a team of experts using remote sensing (RS) data and geographic information system (GIS) to estimate the spatial distribution of soil erosion across the entire Koshi basin, and identify changes between 1990 and 2010.
The objective of the study, done by a team of researchers from Kathmandu-based International Centre for Integrated Mountain Development (ICIMOD), is to develop a conservation priority map.
The study, "Estimation of Soil Erosion Dynamics in the Koshi Basin Using GIS and Remote Sensing to Assess Priority Areas for Conservation", indicates that erosion risk class (divided into eight classes from very low to extremely high) remained unchanged between 1990 and 2010 in close to 87% of the study area, but increased over 9% of the area and decreased in over 3.8%, indicating an overall worsening of the situation.
According to the study, the high levels of water-induced erosion in the transboundary Himalayan river basins are contributing to substantial changes in basin hydrology and inundation.
"Soil erosion risk maps were developed for the entire Koshi basin using Revised Universal Soil Loss Equation (RUSLE) in conjunction with GIS and remote sensing data. The study area was divided into eight erosion risk classes, from very low to extremely high, based on the estimated erosion rates," it says.
The study found that the southern area of the basin was less erodible, and the central area was highly erodible. The differences in erosion levels between the northern, central, and southern parts of the study area were mainly due to topography.
The areas in the very low erosion class were mainly located at the lower elevations where the terrain is relatively flat. As per the study, the estimated maximum per hectare average soil loss occurs at elevations between 1,000 and 2,000 MASL (minimum achievable soil loss) and the minimum at elevations between 70 and 100 MASL.
The study further found that the maximum mean soil loss rate estimated was 22 t/ha/yr (tonne/hectare/year --  a measure of mass soil that has moved per unit area) from barren land. The total soil loss from barren land was estimated to be 18 million tonne in 1990 and 15 million tonne in 2010. The total soil loss from agricultural land was estimated to be 10 million tonne in 1990 and 14 million tonne in 2010. The estimated total soil loss in the entire Koshi basin area was around 40 million tonnes (39 million tonnes in 1990 and 42 million tonnes in 2010).
"The Koshi basin suffers from a very high level of erosion, which not only affects the land but also results in many negative impacts from sedimentation downstream," says the study, adding that "it is important to design and implement erosion control practices for the basin, but the area is large."
The study, therefore, suggested that to maximise effectiveness, "erosion control measures should be targeted at the most vulnerable areas, where the impact is likely to be greatest."
 It pointed out that high level of erosion result in high levels of sedimentation which affect storage infrastructure (filling of dammed lakes), can destroy agricultural land, and contribute to downstream flu-vial hazards.
"Although it is well known that the high level of erosion and sedimentation is primarily the result of the young, fragile, and tectonically active nature of the Himalayan mountains, little is known in detail about the contribution from different geologic/geomorphic units and landscapes. This poses challenges for planning, especially planning of water infra-structure such as hydropower and irrigation schemes, where knowledge of the potential sedimentation risk is paramount, and planning to reduce erosion risk," it said.
The study pointed out that in order to be able to control erosion effectively, it was first necessary to have information about its spatial and temporal distribution.
"Erosion control also has an important role to play in reducing flood risk in the flood plains of Nepal and Bihar, where siltation following floods is one of the major causes of loss of useful agricultural land," it added.
The study said that first it was important to identify the most sensitive areas for soil erosion in the Koshi basin, so that priority areas can be identified for conservation measures.
However, this could be challenging, as soil erosion management strategies in the Koshi basin are constrained by the scarcity and fragmented nature of the available data, it said, adding that "most studies on erosion in the Koshi basin have focused on individual plots or catchments in the middle mountains of the Nepal Himalayas because the topography, land use dynamics, and high spatial and temporal variability in rainfall lead to higher levels of erosion."
The Koshi basin extends from the Tibetan Plateau in China, through Nepal, to the Gangetic plains in India. It has a diverse topography, geology, and geomorphology, and a wide range of land use practices that have led to soil erosion, sediment transport and land degradation.
The basin contains a rich biodiversity and is a source of valuable ecosystem services that sustain the lives and livelihoods of millions of people in China, India, and Nepal.
Get the latest reports & analysis with people's perspective on Protests, movements & deep analytical videos, discussions of the current affairs in your Telegram app. Subscribe to NewsClick's Telegram channel & get Real-Time updates on stories, as they get published on our website.
Subscribe Newsclick On Telegram