Bikash Yumnam and India's Fading Memory of Long Throw-In Maestros
Bikash Yumnam has become folklore with people celebrating his naming in a British publication's list of top 60 footballers of the next generation. The young Manipuri player's greatest skill, the long throw-in, is being highlighted as unprecedented in Indian football, a short sighted view. Indian football's history is rife with players with that ability and the youngster will do well to emulate them.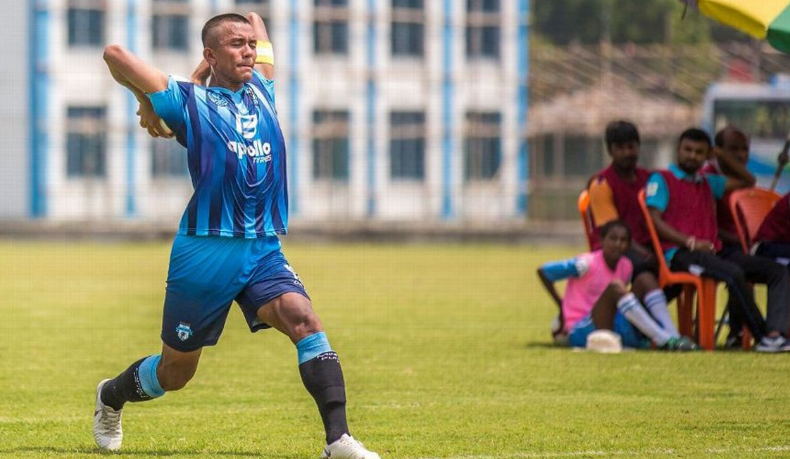 Bikash Yumnam, who plays for Punjab FC, has a long way to go to establish himself as a defender of reckoning, with credentials and footballing attributes to match (Pic Courtesy: Minerva Academy). 
Many years ago, when appointing an Indian as the chief coach for the national football team wasn't out of fashion yet, Syed Nayeemuddin had issued a warning. "As the national coach, I am struggling to find suitable central defenders," he said. "The clubs all over the country are using foreign footballers in that position. The excessive use of foreign stopper backs could cause trouble for Indian football."
His words were dismissed at the time. Half a dozen coaches have come and gone since Nayeemuddin's exit, but few have managed to solve the problem he predicted. It's a real struggle for the current occupant of the chair, too. That Igor Stimac had to force Anas Edathodika to come out of retirement is indicative of his desperation.
Indian football has a big central defender problem and given the dearth of talent, it came as a surprise to see a young Indian stopper back being named in The Guardian's 'Next Generation Top 60' list this year. 
Also Read | Carlton Chapman Obituary: The Focused Midfielder, a Restless Man
Bikash Yumnam, 17, was an unknown name in Indian football till the British daily included him in a list that also figured youngsters from Real Madrid, Barcelona, Manchester United, Arsenal, Paris Saint-Germain and many other footballing hotbeds. This year, players born in 2003 were considered. The selection criteria — and its inherent subjectivity — used is not clear though.
Yumnam, the publication explains in the small write-up against his name, made it to the list thanks to his stellar role at the 2018 Under-18 Asian Championships: a tournament where India did not progress beyond the quarterfinals. The side, however, never conceded a goal in the group stages and the central defender in the mix would have had something to do to ensure that. 
The publication has been preparing one such list every season since 2014 and it has in the past thrown up players like Barcelona's Ansu Fati (2019), Real Madrid's Rodrygo and Takefusa Kubo (2018) and Manchester United's Mason Greenwood (2018). This year, there are many players with pedigree, from the stronger footballing nations in the world. Of course, the ranking or stature of the country does not matter when it comes to talent. If an Indian is considered good enough, that's great news, no doubt. 
But the inclusion, to put it bluntly, has stumped the Indian football fraternity. Even ardent followers of India's age group football are left perplexed about the achievements of this young stopper back who comes from Manipur. 
Indian football's PR mechanism has not missed a beat though. Yumnam, and his performance, were never highlighted earlier — something to do with the role he plays on the pitch. Central defenders are important but they hardly become superstars from the word go. And, Yumnam is both literally and figuratively at the start of his career. 
It is clear that some on that list would be on the cusp of a big signing at a big club in Europe. The Indian, however, is currently with Punjab FC, and is not exactly sure of the career trajectory ahead. 
This is not a new narrative in Indian football, though. If we look at Yumnam's India teammates, or the fellow players at Indian Arrows, All India Football Federation's (AIFF) development squad, we would see raw talent waiting to be chipped and shaped, and sharpened. One may also find players arguably much more talented than Yumnam. 
So, at the risk of being branded a killjoy, let us take this talented boy getting featured in a foreign newspaper's list with a pinch of salt. Celebrations can wait. The real picture of Yumnam's arrival would be painted in a couple of years when The Guardian goes back to their shortlisted players to see where they have reached in their respective careers. The newspaper does that, you see, and that could, indeed become a reality check, not for Yumnam but for Indian football. 
At the moment, Yumnam is just a player with potential. However, he is not exactly a one-in-a-generation kind of player either. At least not yet. His coach from the Indian Arrows set up, Mahesh Gawli, is sure Yumnam is a good player but unsure how he was selected in the first place. He is a work in progress, according to Gawli, once a top central defender and now a coach with the Arrows. He trained Yumnam last season. 
"I really don't know why he was picked up for the list of 60. I have no clue. But Bikash is certainly a good player. He is tall and possesses good physique. With more training and dedication, I am sure, he has all the quality to shine at the top level," Mahesh says. 
The sudden spotlight on him might end up helping Yumnam though. A possible contract from the big and rich domestic competition — the Indian Super League (ISL) perhaps. Or it could hamper him too, the weight of expectation at being listed as one of the best young talents in the world. People have started celebrating him, and that, in itself, is a tricky situation for the teenager. A footballer, talented or not, could get easily lost in the social media melee, losing focus as well as the idea of what real success in the game is and should be. 'Arriving' is certainly not via getting  mentioned in a list by a foreign publication, which, it seems, picks the continent's players based on the opinion of one of its Asia-based seasoned journalists. 
Also Read | Meritocracy is Dead. Moneyocracy Rules Indian Football
Like it or not, Yumnam is already getting scrutinised by many, some to justify his inclusion in the list, others to see what substance the player possesses that warranted it.  A video has emerged with him launching the ball hard from a throw in against Mohun Bagan in the I-League. The ball travels nearly 30 yards to land right inside the rival penalty box.  It is an asset, Mahesh agrees. 
"We were not particularly aware of his abilities when he joined Indian Arrows from Minerva Academy. We have a player named Rafi, who also has long throws. Looking at him, Bikash claimed he too had long throws. Then we discovered the special quality in the boy," he says.
The football fraternity and fans in India are delighted that Yumnam's throw-ins have been praised by Liverpool's celebrity throw-in coach Thomas Gronnemark. Looking at his attempts, he commented below the video: "A good example of the long throw-in. It's a bit too high…. but good quality."
However, let us not miss the irony here. The AIFF's fabled talent nurturing system is so fickle that they were not even sure of the attributes players under its wings possess. Indian football's ironies do not end at one or two though. Even as Yumnam's throws get celebrated -- almost as if it's unique and unprecedented -- none seem to remember that players with powerful throw-ins are nothing new in Indian football. 
Many in India would remember Liverpool scoring 14 out of their 85 goals last season from throw-ins. However, it would serve Indian football better if we gather an historic understanding of the game in the country and not just the English game. History, after all, is paramount if one is keen to build towards a better future.
Getting back to throw-ins, not many of us would remember a lanky central defender named Naushad Moosa, whose effective and mammoth throw-ins played a crucial role in India's victory in the 1997 SAF Championship in Kathmandu. Having drawn 2-2 against Maldives in the group league, the Indian camp was a bit jittery when the two teams met again in the final. Bhaichung Bhutia was not at his best till the semi-finals and was having serious differences with coach Nayeemuddin added to the headache. But Moosa made all the difference. 
Bhaichung, of course, was in roaring form in the final. To add to it, the Maldives defence simply couldn't cope with Moosa's deadly throw-ins. Two of the goals resulted from them as India romped home 5-1.
There were others, too. Salgaocar and India star Bruno Coutinho had strong throws. In the 1960s, defender Bikram Debnath, who played for each club of the Kolkata Big Three, was known for his long throws. If Bruno was one of India's best, it was also for his other qualities in the attacking line. Debnath was not exactly a front ranker ever. Moosa was a decent and reliable central defender, but one needs some more firepower within to be spoken in the same breath with Jarnail Singh, Arun Ghosh, Manoranjan Bhattacharya or Mahesh Gawli. Even Sandesh Jhingan, currently the best in that position in India, has a long way to go. 
Of course, by that measure, Indian football has a bit of catching up to do as well with the constantly evolving global game. Former India footballer and coach Subash Bhowmick puts that fact out bluntly when he says the concept of taking advantage of throw-ins or for that matter of set pieces were nonexistent in Indian football till a few years ago. "During our days, we all wanted the ball on the ground. So, the thrower rarely tried to make the ball travel in the air. Things, however, has changed."
It has, certainly. East Bengal, for who Bhowmick spent some glorious seasons in the 1970s, are the first Indian club to appoint a set-piece coach. Under their new investors, the club has recruited Terrence McPhillips, a former Blackpool FC manager, as the set-piece coach, who is expected to take the red and golden brigade to the next level.
No doubt, football, of late, has become all about squeezing out time and space from the opponents. With very little space and time available, things like set-pieces and throw-ins have turned crucial. But again, football is still a game of skills – extraordinary talent and individual brilliance still play decisive roles in making football the number one sport. The other part is played by the game's serious thinkers, who constantly strive to push the envelope of the game with new ideas and rules.
Winds of change could reach the humble throw-ins too. Interestingly, Arsene Wenger, currently head of FIFA's Global Football Development, has suggested some possible changes on off-side and throw-in rules. On the latter, Wenger feels throw-ins put the team in possession at a disadvantage, which is why he is proposing a different approach to restarts from the touchline.
"Five minutes before the end, a throw-in for you should be an advantage, but in these situations you are facing 10 outfield players in play, whilst you only have nine," he said.
"Stats show that in eight out of ten of those throw-in situations, you lose the ball. In your half of the pitch, you should have the possibility to take a kick instead," said the former Arsenal manager. 
Well, no one is saying that Wenger's suggestion would lead to a change of throw-in rule in near future, leaving all capable throwers and specialized coaches redundant. As far as the game goes, it is an important skill to possess and if that has enabled someone like Yumnam to  be clubbed with the most promising lot then, so be it. However, football greatness is not attained by one-trick ponies. To reach the top, and to stay there for a long time, one needs to have the collection of many more skills in the arsenal, along with attributes such as physicality, game sense and intelligence. Those come with game time. It would be interesting to see the number of hours Yumnam has managed to play this year and compare that one of the other players in the 60 list. That should paint a telling picture of Indian football, listed, unlisted and the whole other lot!
Get the latest reports & analysis with people's perspective on Protests, movements & deep analytical videos, discussions of the current affairs in your Telegram app. Subscribe to NewsClick's Telegram channel & get Real-Time updates on stories, as they get published on our website.
Subscribe Newsclick On Telegram