Bulgarian Football Coach Praises Kerala for Effective Handling of Covid-19, China's Football Squad Left 'Anxious' in Dubai and More (Football Round-up)
Short Passes (Football News Round-up): Bulgarian Football coach praises Kerala government for effective handling of Covid-19 crisis | China's Football Squad left 'anxious, homesick' by coronavirus, says coach | Messi pays tribute to health workers | Ex Chelsea star Didier Drogba offers hospital to government in order to fight coronavirus pandemic | No artificial means to end the Premier League, says Roy Hodgson.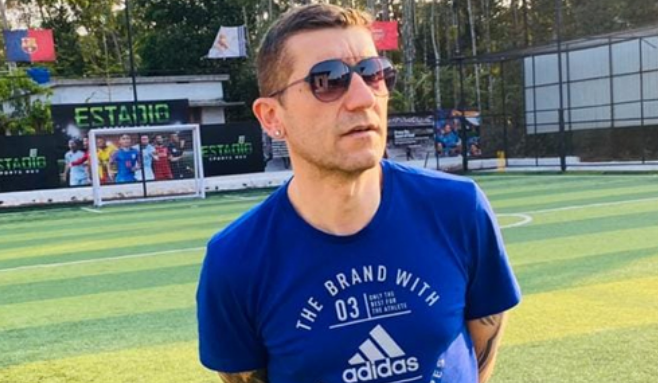 Dimitar Pantev, football coach from Bulgaria, was in Kerala studying the feasibility of setting up an academy when the Covid-19 lockdown began (Pic: FB-Pantev).
Bulgarian football coach, Dimitar Pantev applauded Kerala government for its effective handling of Covid-19 cases. Pantev was quarantined in Pattambi in Palakkad district on March 4. He was in India doing a study on the feasibility of setting up a professional training centre at the request of Dubai-based H16 Sports Services.
Also Read | Locked, Stocked and No Smoking Barrels
Writing on his Facebook page, Pantev said that he "was and am still dumbstruck to hear about the spread and the disaster coronavirus has created in Europe and I feel truly blessed that Kerala is the place that I was at in the times of the virus". He even praised the Chief Minister Pinarayi Vijayan and Health Minister K K Shailaja for their leadership and contribution towards preventing the spread of the deadly virus. 
Kerala has started showing signs of declining coronavirus infection and has also been considered ahead of other states in fighting the coronavirus pandemic. 
China's Football Squad Left 'Anxious'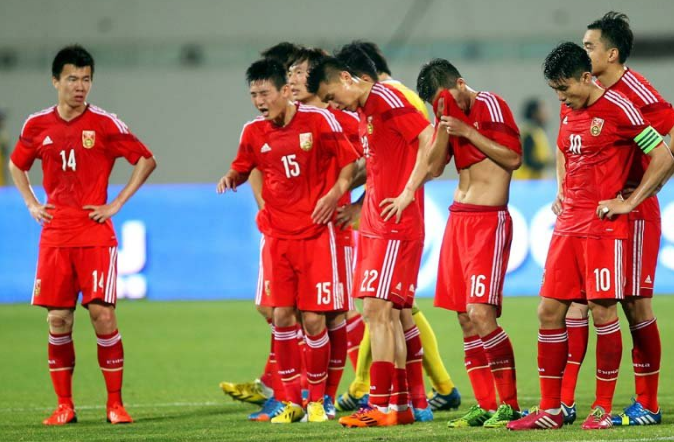 China national football team (Pic: Asianews.it)
In a conversation with Chinese Television, Chinese football coach Li Tie disclosed that the forced extension of the national camp in Dubai to five weeks due to the pandemic took a psychological toll on the players. Previous reports by Chinese media have also stated that the football squad was mentally exhausted due to a combination of training and being quarantined and away from their families in such difficult times.
Also Read | An Irrelevant, Sad Stade of Existence Beckons Cricket
"With the epidemic situation in Dubai worsening every day, the number of guests in our hotel was decreasing day by day," Li told Chinese television. The team spent much of March in Dubai, where many Chinese Super League (CSL) teams also took refuge, before returning home when the outbreak began to subside in China.
"During that time, all our players and staff were under great psychological pressure. Everyone was anxious, homesick and worried about our own safety." he added.
According to Xinhua news agency, Li's team left Dubai on March 23 and flew to the Chinese island of Hainan for training under quarantine. The players who tested negative for Covid-19 returned to their clubs just last week to prepare for the CSL (Chinese Super League) season.
Although there are no confirmed dates, Li believes the 2022 World Cup qualifier will resume only in October or November. 
Messi Pays Tribute to Health Workers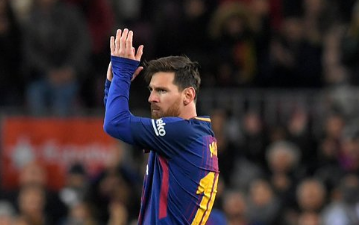 Lionel Messi (Pic: Twitter, AFP)
FC Barcelona player Lionel Messi paid tribute to health workers across the world working under extreme stress round the clock during the pandemic. Following the conclusion of the World Health Worker Week on Saturday, Messi  took to Instagram to praise the efforts of the "anonymous heroes who endure long days and nights away from their families, so that ours can be safe from #COVID19."
Messi wasn't the only sportsperson expressing their gratitude on social media. Earlier, New Zealand cricket captain Kane Williamson had also praised doctors and nurses for their efforts in these trying circumstances.
Writing in the New Zealand Herald, Williamson addressed the doctors, nurses and caregivers directly, saying "We're so grateful you have our backs. People talk about the pressure sportsmen and women are under to perform, but the truth is we get to do something we love every day for a living. We play games."
Drogba Offers Hospital
Former Chelsea forward Didier Drogba offered his hospital in Ivory Coast for the fight against the coronavirus pandemic, a local politician said.
Drogba, multiple time African Footballer of the Year, offered the use of the Laurent Pokou hospital in Abidjan.
The facility, located in the Attecoube district, is not in a working state yet but can be used at times of crisis. "It's up to the state to validate it and make it functional," Mariam Breka the director of Drogba' foundation said.
"We thank Drogba for this gift, considered as an act of patriotism," said, Vincent Toh Bi, head of the city's Chelsea regional council.
Hodgson On Ending EPL Season
Crystal Palace manager, Roy Hodgson, says the Premier League's (EPL) season should be finished after the Covid-19 lockdown is over rather than using "artificial means" to decide the champions along with the rankings and Champions League spots.
In England, football has been suspended since 13 March because of the pandemic. Hodgson says teams are going to accept the heightened safety restrictions and the fact that they will have to play more games in a shorter period when the season resumes.
"We don't want artificial means of deciding who wins the league, who gets into the Champions League, who gets relegated and promoted," Hodgson said. "Ideally our players would have three or four weeks minimum to prepare for the first match back, but I accept there may have to be a squeeze on that timeframe."
The season was initially suspended till 30 April but a return timeline is undecided, with games only likely to resume after medical advice and government support.
Get the latest reports & analysis with people's perspective on Protests, movements & deep analytical videos, discussions of the current affairs in your Telegram app. Subscribe to NewsClick's Telegram channel & get Real-Time updates on stories, as they get published on our website.
Subscribe Newsclick On Telegram