Locked, Stocked and No Smoking Barrels: How Indian Shooters are Faring in Covid-19 Uncertainty
While the NRAI is bent on announcing the Tokyo Olympics squad one and a half years before the Games (as per the current schedule), the shooters — young and seasoned — and their coaches are taking it one day at a time. From training drills focused on the basics, to simulators, hobbies and household chores, they aim for the future, waiting to pull the trigger again.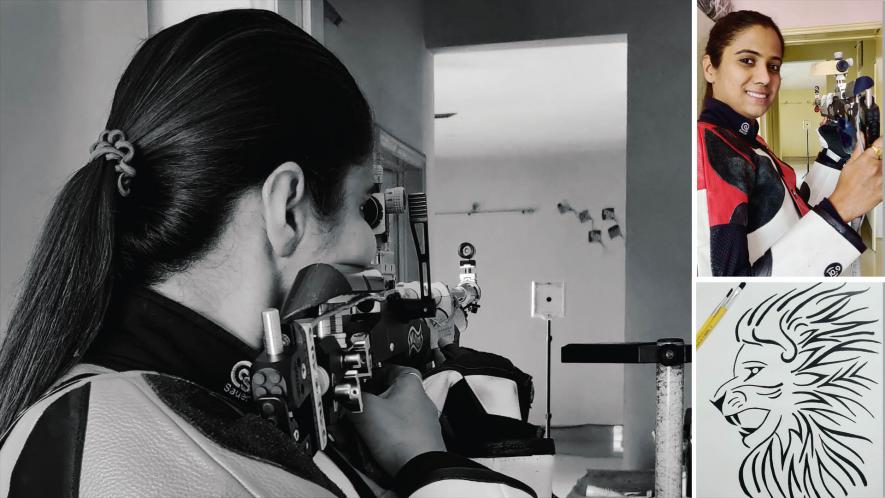 Pooja Ghatkar, seasoned as she is with the ups and downs in her sport, starts her day in lockdown with meditation, followed by the drills, work on the simulator, and her hobby — painting.
In February, much before everything went into lockdown, Pooja Ghatkar knew she wouldn't make it for the National Rifle Association of India's (NRAI's) trials scheduled for March 16. Ghatkar, who competes in the 10m air rifle didn't think it was worth the risk. "By then there were already different measures being put in places in Maharashtra, schools had closed, ranges had shut, you were hearing about Covid-19 cases cropping up. There was no point of exposing myself and then exposing others to the risk," she says.
Ghatkar who last competed at the RWS-CUP in Dortmund in January, stayed home in Pune with her mother, a range simulator and hobbies to catch up on. 
It so happened that the trials (to select the Olympic team) were held in Delhi to immense scrutiny and questioning. The NRAI justified, saying extreme precautions had been taken for the safety of the shooters. Subsequently, the ISSF Shooting World Cup in Delhi was postponed (then cancelled), the trials for the World Cup were cancelled and the national camp was postponed. It was the ripple effect in sport, shooting forced into decisions, rather than making them. The postponement of the Tokyo Olympics has thrown a bigger spanner in the works. Will these trials stand the test of time? One year? 
With the camp postponed and the trials over, almost all the shooters hurried back home. Without exception, all of them have been locked in, denied access to the range, targets and their daily monastic routines.They could be despairing, but are instead improvising. 
Also Read | An Irrelevant, Sad Stade of Existence Beckons Cricket
"Thank god for the Internet," Suma Shirur laughs. "I spend a lot of time taking away phones and access to the Internet and social media from the kids in camps. And now I'm thankful for it. How ironic."
Shirur, the High Performance Specialist Coach for the junior Indian rifle shooting team, has always had a style of mentoring that has been more about empowering athletes than mollycoddling them. Now, video conferencing is all they have. She is monitoring them from a distance, keeping her lines open at all time for them to call for anything they want. 
"I worry for the younger ones," she says (Shirur is also the chief coach of the MP shooting academy in Bhopal, famed for a rigorous grassroots programme). "The ones who have only been shooting for two years or so. I worry that they will fall off the routines, lose muscle memory, and unlearn form. I worry they will get disillusioned with no immediate targets for them to chase." 
For now, Shirur insists they work with long-term targets in mind. Prepare for the ultimate goal, and hone your basic skills accordingly. "Every day we do power yoga sessions with the junior shooters on zoom, instructors and athletes all together," she says. She has seized on their inconvenience to inculcate in them basic habits often neglected in camps. "I tell them to keep doing their wall holding exercises. Basic stuff I always recommend they do, but ones they shy away from the moment they have access to a range," she says. "It's brilliant because now they gladly do it," she's giggling now. "It's something they can do that offers them an escape back into some sort of shooting routine."
Back in Pune, Ghatkar isn't one of the young shooters who needs monitoring and guidance on a regular basis. She is almost a veteran in the sport. She takes care of herself. Wall holds are basic. Floor exercises fill another part of the day. And of course there is also the simulator. 
"I'd bought it in 2015 as something to give me instant feedback as well as data for analysis on my stance, my form etc. It was supplementing the shooting I did on the range," she says. "I never ever thought I would end up using it as a substitute to the real thing. It is a lifesaver."
She mixes up her regimen, spending anything from 40 minutes to two hours exercising, wall holding and shooting. That leaves almost 12 hours blank and wide awake. William Blake's catchy lines about eternity in an hour come to mind. 
"Shooting has a hectic sporting calendar. There is something or the other happening every month. You are constantly travelling. It's actually good to get some time out of it. Gives you perspective," she says. The first weeks were a blessed relief. Then she discovered old habits, and started learning new ones. 
"I paint a bit. I've always liked it. And no it's not good enough to show everyone so don't ask," she laughs. "I spend some time with that. I live with my mum so cooking, cleaning, jhadoo pocha, it's a full blown house life." 
Shirur would be thrilled. She recently took to her Twitter to start an online challenge daring her young wards to engage in household tasks and treat them as exercise. "It's all a bit of fun," she laughs. "It is also grounding. If they can have fun, learn something that will teach them humility, make them understand life outside their bubble, I am all for it." 
Also Read | Playing Patience on an Island: Story of Andaman and Nicobar's Elite, Yet Poor, Cyclists
Shooting is a lonely sport, a deeply personal experience where an athlete is almost always not competing against others but themselves. Despite that, just the simple act of going to a range, seeing other shooters, talking to them, and having basic interactions help lighten things up.
When they return, she hopes they will come back mentally stronger, something that will help them get back to peak performance sooner. 
"Shooting is a tough sport. You have to stay at it everyday, no matter the results. The brain is the strongest weapon you have. A lot of young shooters learn how to be resilient via competition," she says. 
The individualistic nature of the sport also sometimes puts athletes in a bubble they do not consciously make for themselves. The sport becomes all encompassing. Results, performance, technique, form, practice, shooting, training, repeat. Sport becomes life.
"This void will perhaps make them realise how inconsequential it all actually is," Shirur says. "At the same time it will also show them how important shooting is to their lives. Give them more purpose and make their decision making skills better."
Ghatkar is confident she will manage that. Having been around the highest levels of the sport for a long while she has a firm grasp on things. She has experienced the highs and the lows of peak performance. She came within a shot of making the Rio Olympic team. She was in place for a silver medal at the Asian Olympic Qualifiers in Delhi in 2016, and it would have landed her a spot on the team. Her final shot, an 8.8, put paid to that and Ayonika Paul pipped her to the post. A lot of water has flown under the bridge since then. 
She chooses to focus on the present, obliquely also hoping for a brighter future. "It will take a while for the ranges to open, and then for all of us to get our feel back. But we may be slightly better off than other sports," she says. Stillness after all is a shooter's second nature. 
Also Read | Kerala's Sports System Adds Massive Volunteer Base to Covid-19 Containment Effort; Stars like CK Vineeth Pitch In 
She knows, though, that there is a technical aspect of the sport that no amount of isolated training can replicate. "Just that feeling of taking a shot. It's not like our guns have any recoil, but pulling the trigger on a gun than a controller is completely different. It will take getting used to again."
Ever since competitive sport has come to a standstill, administrators have been put under the spotlight. Almost everyone has focused on what steps (or missteps) they take to confront the surreal present that has hit them. The NRAI went through with their Olympic trials in Delhi despite the state having already ordered a closure of malls and sporting events and banned public gatherings. Subsequently, better sense prevailed and the selection committee meeting was postponed to a later date — when physical distancing restrictions were lifted. 
Once the IOC announced a postponement of the Olympics, it seemed every sports federation on the planet could collectively gather for holiday margaritas. Not long after though, NRAI president Raninder Singh told The Tribune that the Olympic squad would be announced within the month. 
"It is certain that we will not get any tournaments in the near future.We must take stock of the situation and prepare accordingly. We must be prepared for everything," he told the paper.
There is literally no future projection that suggests the virus will be done away with by July next year. This simple fact — with the added caveats of a world economy that will sink, societal norms that will change and alliances that may be realigned — has exposed big sport's duplicitous and selfish nature. Many commentators have found these actions by various federations desperate to get things back to normal, misguided, and deeply pretentious.
Furthermore, the simple question: How much sense does it make to pick a squad for an event over a year away? There is a lot that could change.
Even within the community there is a difference of opinion. Two Indian Olympic medallists, Gagan Narang and Abhinav Bindra, have expressed misgivings over this rushed selection policy and suggested a change. "It may not help to announce the team, and hope that they all would be in prime form when the Olympics come around," Bindra said. "A year is a long time, especially in a sport like shooting."
Active shooters such as Apurvi Chandela, who won the quota place in the 10m air rifle in 2018 feel differently. She felt holding out on selection increased the pressure on shooters. 
"Agreed, current form is a prerequisite," she said, right after the qualifiers in Delhi. "To make sure the selected shooters are in prime form the federation can monitor their progress later this year and early next year. If it isn't satisfactory they replace that person with the next in ranking." 
Narang suggested the federation consider naming not just a team but also a reserve squad, expected to fill in in case things turn.
Shirur takes a similar measured tone. She understands the fickle nature of form but thinks the move may actually end up benefiting the selected few. "We can protect them, give them training regimes, keep them ready," she says. "This isn't an ideal situation. But that's true for everything right now. Maybe at a later stage we can help the selected team do things differently. Get equipment through to them, help them get access to ranges… it could end up being a good move."
Not much moving right now though. Everything is static and simultaneously up in the air. "I start my day with meditation," Ghatkar says. "In these times, it's always good to get the head clear early in the morning. It helps."
Get the latest reports & analysis with people's perspective on Protests, movements & deep analytical videos, discussions of the current affairs in your Telegram app. Subscribe to NewsClick's Telegram channel & get Real-Time updates on stories, as they get published on our website.
Subscribe Newsclick On Telegram