Chronicle of a Merger Foretold: The Swift Death of the Legacy of Mohun Bagan
Mohun Bagan and ATK, the champions of the I-League and the ISL, have merged into one club. But the merger is far from equal. All decision making power resides in the hands of the ATK management, who have chosen to simply cut loose several players who were part of Bagan's title winning squad.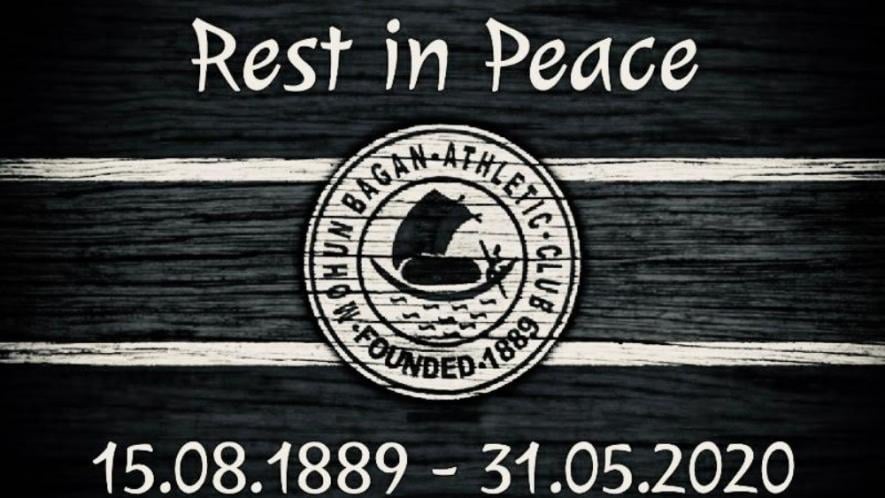 A picture shared by Bagan fans for a campaign on change.org titled 'Save the Mariners. One name. Mohun Bagan Athletic Club. One jersey. Green and Maroon'.
For football fans across the world happy days have returned. Football leagues are back on track. Bayern Munich have hit the pitch running.  Lionel Messi's FC Barcelona will resume their season against Real Mallorca this Sunday. The Premier League's runaway leaders Liverpool soon after.
But what about those nearer home? Those who played their hearts out to win Mohun Bagan a second I-League title and ensure the 130-year-old club's 'merger' with ISL franchise ATK looks a bit respectable.
The merger has come as a boon for Indian football, All India Football Federation (AIFF) officials claim. Many of Mohun Bagan's local players in the 2019-20 season beg to differ. To them, the merger has done what the lockdown did to migrant labourers. Many youngsters from the championship winning side have been made redundant.
It is no secret that having bought 80 per cent shares of the club, the ATK management are now calling the shots. The brave face put forth by Mohun Bagan officials notwithstanding, the ATK management has more say in deciding things; whether appointing a coach, selecting the support staff or recruiting footballers.
Also Read | The Indian Premier League: A Monster That Threatens To Consume Its Maker, And Cricket Itself | Outside Edge
If club insiders are to be believed, several Indian footballers in Mohun Bagan are without contracts for the new season as no club official has come forward to talk to them. Well, they can't. Simply because they have no power to decide things. 
"It is definitely unfortunate," says defender Gurjinder Kumar, who captained Bagan to the title this season. The Phagwara boy says he was never offered a new contract.
"For the moment, I don't mind it because I have an offer from an ISL club. It is okay for me. If the offer comes good. But as far my knowledge goes, many of my teammates are still without a club. I know the lockdown has created problems for club football all over the country, but it shouldn't happen with footballers of the champion team," he says.
Among Mohun Bagan's goalkeepers, Sankar Roy has signed for East Bengal. But things could be tricky since East Bengal themselves are in troubled waters. Roy did a wonderful job under the bar this season and deserved to be offered a chance to continue. But who bothers about quality when retrenchment bullets are fired indiscriminately? 
Roy is still lucky. At least, he has an offer on his plate. Sources say two other goalkeepers, Debjit Majumdar and Shilton Paul, are stranded despite serving the club diligently for several seasons. Paul in fact is considered a 'ghorer chele' (member of the household). The 32-year-old has played more than 250 matches for Mohun Bagan since 2006. It certainly hasn't impressed the new management.
Majumdar and Paul are not exceptions. Dhanachandra Singh has no taker yet, Arijit Bagui is still looking for a team. Surabuddin Mollick and Azharuddin Mallick, again two local boys, are sailing in the same boat. The fate of VP Suher, Britto PM and Lalchhawnkima is still unknown. All of them were an integral part of Mohun Bagan's I-League squad. 
Also Read | India U-17 Squad Girls Struggle to Survive as Football Big Boys Talk about Return of Big Leagues
"I have no team yet," Azharuddin admits. The boy from a small village in Hooghly district, West Bengal has three goals against East Bengal under his belt. That is considered a huge achievement in Kolkata football.
"I have spent five seasons in Mohun Bagan. Previously they had always contacted me at the start of a new season. This time I haven't received any phone call. I can safely assume they are not interested. Now I have to look for a new club," he says.
There are few lucky ones. SK Sahil and Ashutosh Mehta did extremely well this season. The news is, they could find a place in the combined ATK-Mohun Bagan main squad, while youngsters like Kiyan Nassiri and Deep Saha could be retained for the second team. 
That Mohun Bagan officials have little say in raising the squad for the new season was amply clear when coach Kibu Vicuna, the chief architect of the title triumph, was shown the door since ATK wanted to retain Antonio Habas. Even two of Mohun Bagan's support staff – assistant coach Ranjan Chowdhury and goalkeepers' coach Dipankar Chowdhury – have no place in the new set-up.    
Senior Mohun Bagan official Debasis Dutta doesn't agree that Vicuna was a victim of the merger. "He was neither told to go, nor shown the door as projected by the media. His contract with Mohun Bagan was for one year. So where does the question of not retaining him arise," he asked.
Technically, Dutta is absolutely right. Even the footballers not retained by the club were mostly on a one-year contract. They shouldn't feel hurt for not being offered extensions. That's part of the professional world.
There is another side of the story, though offered by a former Mohun Bagan star who spoke strictly on the condition of anonymity. "I want to stay far away from club politics. I have played for this club for many years winning several trophies," he said.
"I feel this merger is basically a sell-out of the interest of local boys, at least for now. The fans, instead of fighting over the club logo and emblem on social media, should raise their voice for footballers. Any member of a champion team deserved to be treated better. Does merger mean abject surrender by one side?" It is a question worth pondering.
Get the latest reports & analysis with people's perspective on Protests, movements & deep analytical videos, discussions of the current affairs in your Telegram app. Subscribe to NewsClick's Telegram channel & get Real-Time updates on stories, as they get published on our website.
Subscribe Newsclick On Telegram