Coal Miners' 3-day Strike Draws Support from Local Community, Environment Activists
The workers have resolved to continue their agitation against the Centre's move to open up coal sector to private player through non-cooperation means.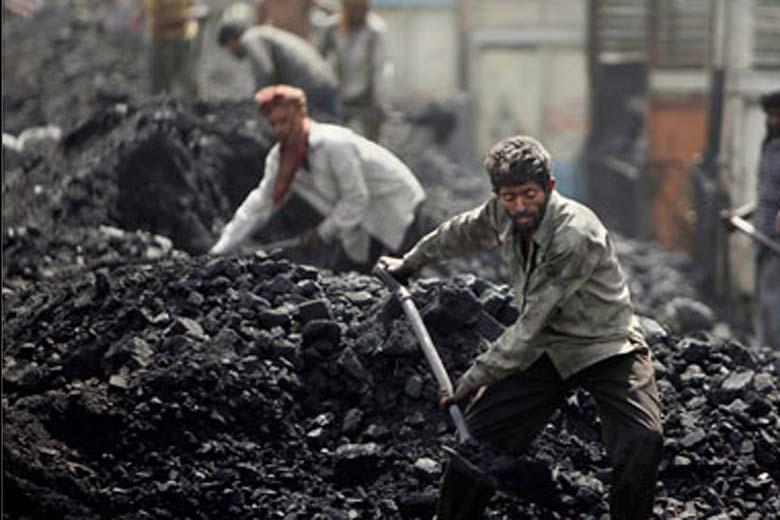 Silence has gripped at least 400 coal mines and 75 establishments spread across nine states for the past 72-hours, as normal production and dispatch supply chains were brought to a near-total halt owing to a three-day strike by coal workers.
The strike was observed across all the subsidiaries of the public sector miners, with the silence being broken only by the slogans raised by the workers, who were protesting against further opening up of the sector to private players through introduction of commercial mining.
As many as 5.3 lakh coal miners – both, permanent and contractual – participated in the strike during the last three days, which translated into a total workforce participation of more than 95%.
At some places, production reportedly continued, however, not fully, only through contractual workers, who were employed by private outsourcing companies.
All five union trade unions in the coal sector, including the ones affiliated to Rashtriya Swayamseval Sangh-backed Bharatiya Mazdoor Sangh (BMS), supported the work strike, that had commenced on Thursday, July 2.
A virtual meeting between union leaders was held on Saturday to "discuss the future course of action," S.Q. Zama, secretary-general, Indian National Mineworkers' Federation (INMF), told NewsClick. The unions will continue to oppose the Centre's decision to commercialise coal mining even in the future, he told.
D. D. Ramanandan, general secretary of All India Coal Workers' Federation (AICFW), said that if the decision is not rolled back then the coal workers will register their agitation through "non-cooperation means".
"The stubbornness of the Centre is known clearly to us. This is a continuous movement against its policies for which the workers are ready to fight even in the coming days," he said.
The recent developments in the coal sector are part of the Narendra Modi – led central government's response to the COVID-19-triggered economic disruptions, that is marked with a privatisation spree in the public sector.
These reforms, which have drawn flak from civil society groups and environmentalists as well, are ironically, touted as a package for Atma Nirbhar Bharat (Self Reliant India).
Also read: Amid Lockdown, Lakhs of Coal Workers Begin 3-Day Strike Against Commercial Mining
Last month, the Centre went ahead with its decision to launch the auction of 41 coal blocks for commercial mining. These included coal blocks in states like Maharashtra, Jharkhand, Odisha, Chhattisgarh, and Madhya Pradesh.
The opening up of commercial mining to the private sector unleashes not only possibilities of labour exploitation – at an unprecedented scale – but also poses a threat to the lives of landowners and people living nearby mining sites, along with environmental damages. As a result of which the three-day work strike of coal miners also drew support from the local community and environmental activists.
Speaking of Jharkhand, Manthan of Jharkhand Janadhikar Mahasabha (JJM), a group of several civil rights groups, said, "Most of these coal blocks [now up for commercial mining] are in areas which have a large proportion of tribal population, whose livelihoods will get destroyed through commercial mining by private groups. These people have not been consulted before taking such a huge decision and it is of great concern whether their rights and livelihoods will even be considered by the Centre," he said.
On Friday, the Jharkhand state government led by Jharkhand Mukti Morcha's Hemant Soren also reportedly raised its differences with the Centre on coal mine auction. In a writ petition filed in Supreme Court, it said that nine coal blocks in the state that are up for sale fall in the Schedule V area and are governed by acts that prohibits transfer of land from a tribal to anyone else.
According to Manthan, who was speaking from Jharkhand's Jamshedpur, the local community in rural areas, nearby the coal mining sites, have "welcomed" the work strike by coal workers. "Protests are bound to be observed by the gram sabhas in these villages in the coming days," he said.
Likewise, Kanchi Kohli, an expert on environment governance at the Centre for Policy Research appreciated the industrial strike action, suggesting not to isolate the Centre's move as merely a sectoral issue. "The commercialisation of mining, with reduced liabilities for private entities, must be looked at together with the Centre's other decisions that includes so-called reforms in labour regulations and dilutions in environmental laws. When understood in this manner, it seems that the Centre no more wants to play its regulatory oversight function altogether," Kohli said.
The implication of policy decisions in such a direction, according to her, must be studied in a "holistic manner", that is to say, "to consider both, the occupational health hazards [posed ahead of coal miners] and the cost to the environment at large."
"The workers at mining sites and the local community around it shares more or less similar living environment, even though the exposure to direct pollution for them would be different. Hence, they both mark their protest against entry of private companies, who do not have a good track record for maintaining healthy living conditions, in and around mining sites," she told NewsClick.
Having said that, she suggested, "Even though the workers' strike is valid in its own way, a coming together of voices of even the local community along with that of coal miners in the future will further strengthen such a movement.
Also read: Why Modi Government's Claim of 2.8 Lakh Jobs from Commercial Coal Mining is a Myth
As far as the recent three day action that concluded on Saturday is concerned, it was met with an "overwhelming" response, that was by and large same at active underground and open cast mines of the public sector enterprise Coal India Ltd. (CIL), and its subsidiaries and another PSU, namely, Singareni Collieries Company Ltd. (SCCL), INMF's Zama told NewsClick.
Ramanandan of AICFW pegged the losses at not less than Rs. 400 crore to CIL and around Rs. 100 crore to SCCL due to the three-day strike. These figures are, however, "nothing" when compared to the potential losses that the PSUs and the government will have to bear, if the decision to commercialise coal mining is not withdrawn, he added.
"The huge dividends that CIL pays to the government will decrease since profits will now be shared with private players. The generated employment, if at all, will be marked with precariousness. The coal mining job will be further contractualised and the workers will have no job security These are the detrimental results, that the workers are currently opposed to," Ramanandan explained.
Not just coal unions, but time and again industry experts have also accused the Modi government, since its first term, of handing over the control of the nation's resources to private entities – both, domestic and foreign at the cost of nation's energy security as well as livelihood of millions.
Coal mining in India was nationalised back in 1973-74 and currently about 92% of the mining is done by the two PSUs.
Last year, when the government had allowed 100% foreign direct investment in the coal sector, the decision met censure and likewise, coal miners too registered their opposition through an one-day strike.
In a joint statement issued on Saturday, the central trade unions also congratulated the coal workers, saying that the they have put up a "heroic and united battle" against the "handing over" of mineral resources of the country "for loot and plunder" by private corporates.
Get the latest reports & analysis with people's perspective on Protests, movements & deep analytical videos, discussions of the current affairs in your Telegram app. Subscribe to NewsClick's Telegram channel & get Real-Time updates on stories, as they get published on our website.
Subscribe Newsclick On Telegram